Do you feel like being a 'creative' or an 'artist' is just too darn hard?
Like it's a constant mental battle? Battling with your feelings of inadequacy and the ever increasing pressure to create something that is 'perfect', and let's not forget original!
Maybe you tell yourself that you weren't born a creative and should just quit and leave it to those who are actually gifted?
Well, you're not alone. Every artist, (and human let's be honest here), has these exact thoughts throughout their creative lifetime. The difference is how you let those thoughts affect your journey.
Take a deep breath, and find comfort in knowing we've all been there.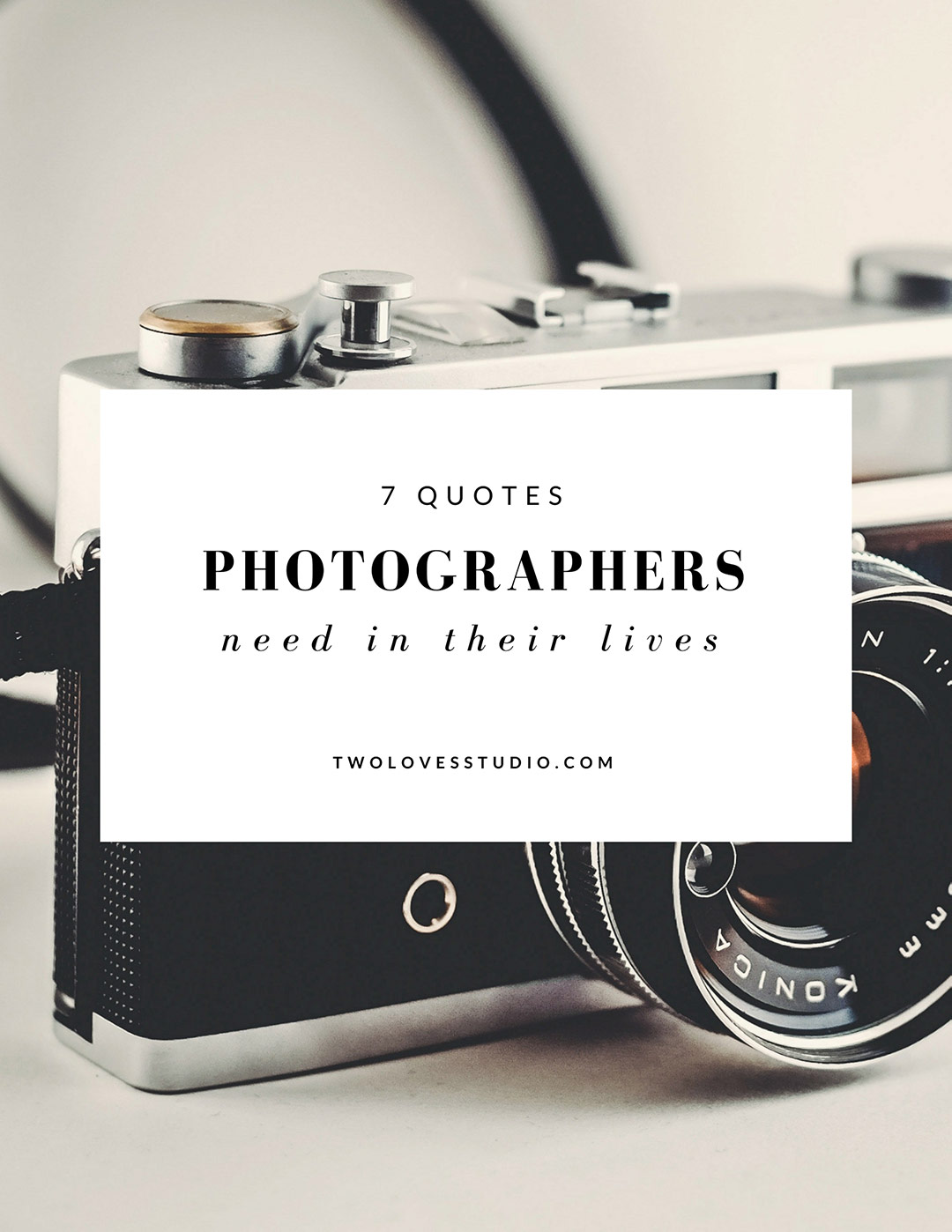 7 Quotes Photographers Need for Inspiration, Motivation, and Comfort on Their Journey.
1.  Art isn't a result, it's a journey ~ 

Seth Godin
Often when we create something and fail, we attach this precious idea of our creative worth to the result or outcome.
Failed shoot? A poorly executed idea? Didn't turn out the way you wanted? Well, guess what, your worth as an artist (and a person) isn't attached to that result.
Focus on the bigger picture, your journey as a photographer. We're all at different stages on our journey so how can you compare results?
Love this? Read Seth Godin's: The Icarus Deception: How High Will You Fly?
2.  If I waited for inspiration, I'd never have any work ~ 

Chuck Close
Art isn't about gaining exclusive access to some fancy schmancy, inspiration dripping club where you get to exclaim I am a 'true artist' because I have a degree in art wank and get moved by a plastic cup with popcorn glued to the rim, (I've actually seen this in a gallery once. True story).
Sometimes you just need to create in order to keep moving on your photography journey.
Don't wait for inspiration to dictate how quickly you move along that path. Shoot, create, find out what works and what doesn't.
3.  Everything has been done before, do it better ~ 

Steve Simon
There are very few original ideas left out there, so you could work on the premise that you'll most likely not be the owner of one in your lifetime.
Depressing thought? Not really.
Art doesn't have to be original, never seen before to be appreciated. See images that you appeal to you? Shoot it! Do it better.
Make it yours.
Love this? Read Steve Simon's: The Passionate Photographer: Ten Steps Toward Becoming Great.
4.  Your work is something you do, not who you are ~ 

Austin Kleon
You're going to make crappy work, I can guarantee you that. It's part of the journey baby, whether you like it or not. But guess what, crappy work is not who you are!
Liken it to Goyte's – Somebody That Used to Know, it's just something you did once, (or twice. Or if I am honest, once a week). So there. You're not crappy.
Frame this for when you need a reminder and don't get attached. Thank me later.
Love this? Read Austin Kleon's: Show Your Work!: 10 Ways to Share Your Creativity and Get Discovered.
5.  Anyone who isn't embarrassed by who they were last year probably isn't learning enough ~ 

Alain de Botton
Ah yes. You're probably thinking that this is what those annoying 'glass half full' people say, to try and pull you out of your funk.
Why do they do that? Well, the real reason is they care about you and the second, IT'S TRUE.
I'm glad you're embarrassed by your work. Me too. By so much of it. I say good, it means your learning and pushing boundaries.
Time to relax and have a brownie.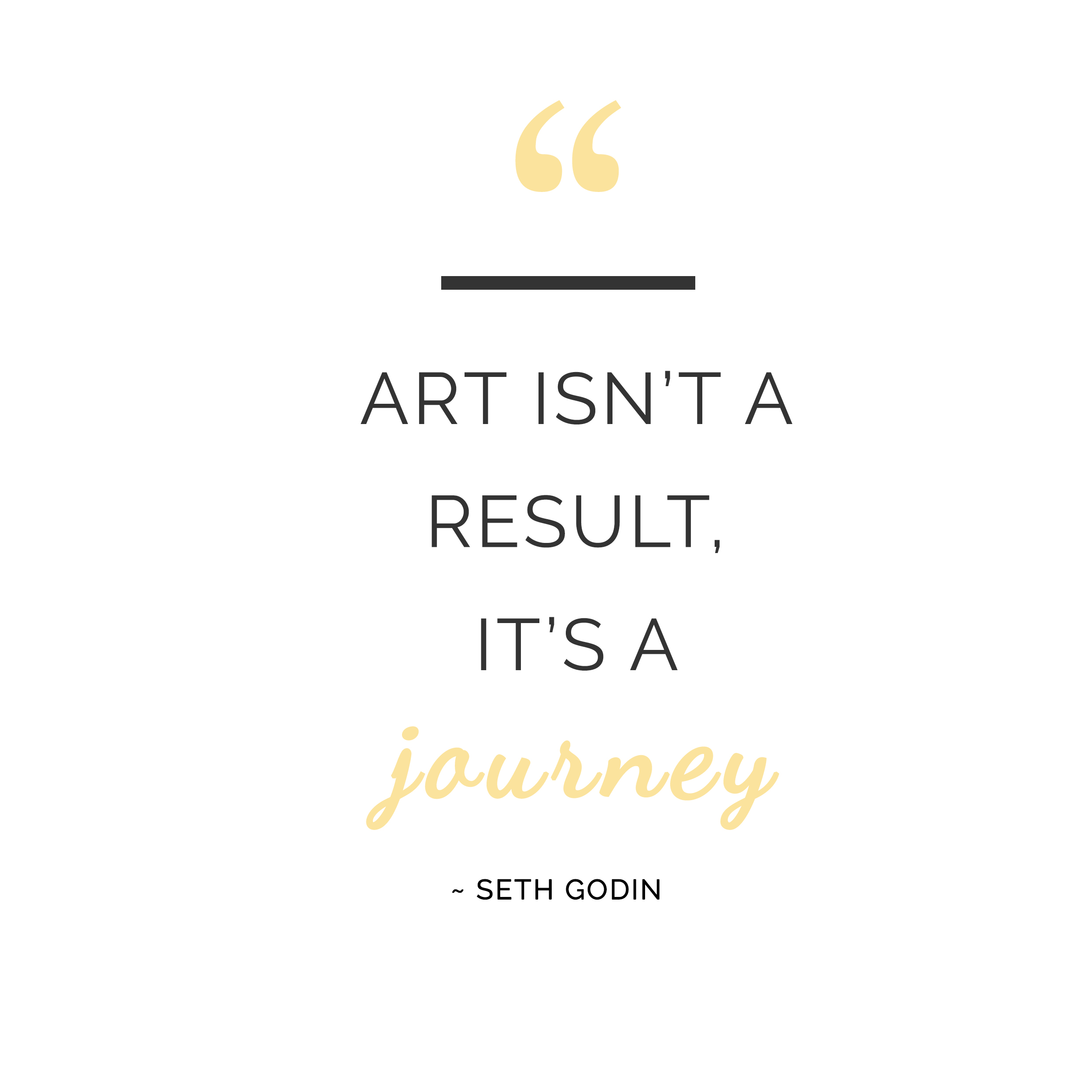 6.  Creativity is not a talent, it's a way of operating ~ 

John Cleese
By definition, we're all creative. Creativity is the hallmark of our species.
Don't let current social ideas tell you that you need to a) be able to draw to be an artist (I can't draw!) or b) that your output needs to fall into the 'creative arts' category.
If you are alive, you are a creative person. Not to burst your bubble that hey, we're all actually creative, because this is actually great news. Don't fall into the trap of thinking you're not creative or will never strike a creativity gold mine, cause mate you were born with it!
Now go forth and be human.
The sad news is that most of us will never be randomly approached by a client with a bag full of money and a contract to sign up for our dream job.
Does anyone else even know what your dream job is anyway? Have you put it out there into the universe? Well, the great news is that you don't need to! Who is this journey for anyway?
You, remember? So don't wait. Life is too short to wait. Give yourself the gift of creating those personal projects that really make you feel alive.
Self-assign that dream job.
Do you have any quotes photographers need? What photography quotes inspire you? Please comment and share the love!