This is an accidental addition to my Finding Breakfast series. A summer dinner I created, that I thought would work better as a light and summery brunch. For those of us who love that savoury meal, with a hint of sweet.
As I sat down to eat, the table I'd take a few shots and served up on just looked so calm and inviting. The Light was soft and resembled the summer rain we'd just had and hot breeze that was moving through our apartment. I instantly knew that I'd accidentally stumbled upon the essence and pace of this project without even trying. Although it might have been the wrong time of the day, this was destined for to be apart of Finding Breakfast.
Creating something unintentionally that turns out to be just what you are trying to project in your life is amazing. I hope this series allows you to do the same.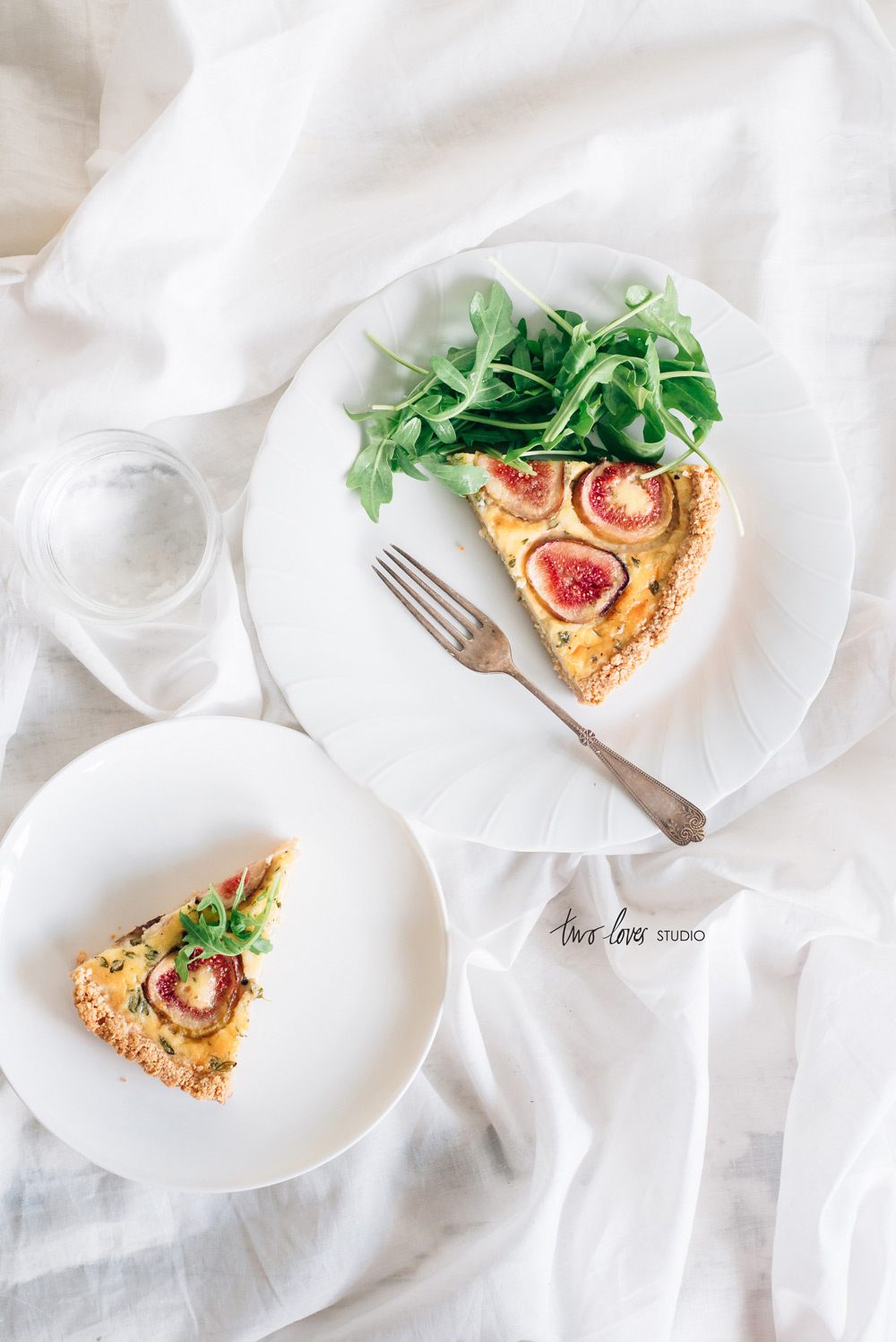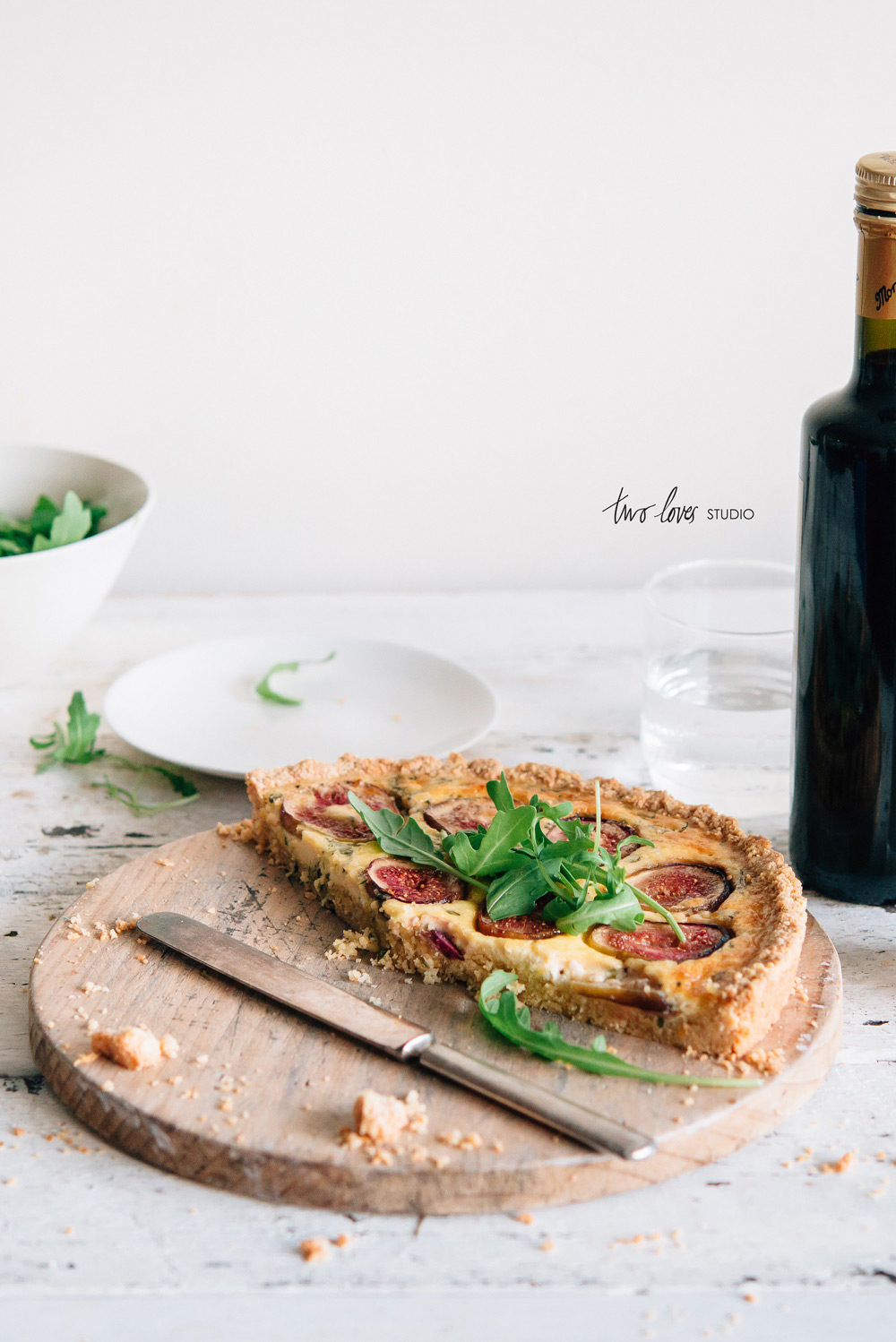 …….
Fig & Goat Cheese Almond Meal Tart
Ingredients
Tart Case
400g (14oz) blanched almonds (or 2 1/2-3 cups almond meal)
1/4 cup tapioca flour
Pinch of salt
50g (1.7oz) butter, softened
1 egg white
(for a 25cm (10″) tart case with a removable base, adjust as necessary. For a smaller case, use less almonds and butter.)
Filling
3 eggs
2/3 cup cream
Generous handful of fresh lemon thyme, (leaves removed from stems)
50g-100g (1.5-3oz) fresh goat cheese (depending on how strong your cheese and your taste is)
salt pepper to taste
3-4 fresh figs, sliced
Fresh rocket and balsamic vinegar to serve.
Directions
Preheat the oven to 180C (350F).
In a food processor, blitz the almonds until they resemble a fine meal or flour. In a bowl, combine the almond meal, tapioca flour and salt until throughly mixed.
Once mixed, add the butter and mix with your hands by squishing the butter between your fingers and combining with the almond meal until the mixture resembles fine breadcrumbs. Add the egg white and mix with your hands until the mixture starts to stick and feel more dough like.
Press the mixture into the tart case and create a boarder around the case. (If your tart case isn't non-stick, you might want to  lightly grease it). Prick the base with a folk all over and freeze for 15 minutes. Remove and bake in the oven for 15-20 minutes. (The base should still be light coloured and not browned). Remove and allow to cool.
In a large bowl, beat the eggs and cream until fully combined. Season with salt, pepper to taste and add the lemon thyme. Mix until combined. Crumble up the desired amount of cheese and mix. Pour into the tart case. Place the sliced figs on top of the mixture.
Bake in the oven at 160C (320F) for 30 mins, then 180C (350F) for a further 20-30 mins. The filling should have hardened and browned slightly. Allow to cool slightly, then serve with fresh rocket and a drizzle of balsamic vinegar (and any goats cheese you have left over).