It is our experiences and fond memories with food that strengthens our connection to food photography. However, in order for the connection to be truly moving or inspiring, it is those subtle yet powerful concepts of design and composition in photography that really have us hooked. No, it's not all just about the food.
My style of food photography takes a bold and clean approach, whereby the focus is on the main subject and the intricacies and beauty of the food itself. Negative space is a technique that I actively use (and love) to not only make the main subject stand out, but to create an appealing image in my work.
Yet, I use negative space in a completely different way in food photography to how I'd use it in say my travel or landscape photography. Let's take a look at what I mean by that.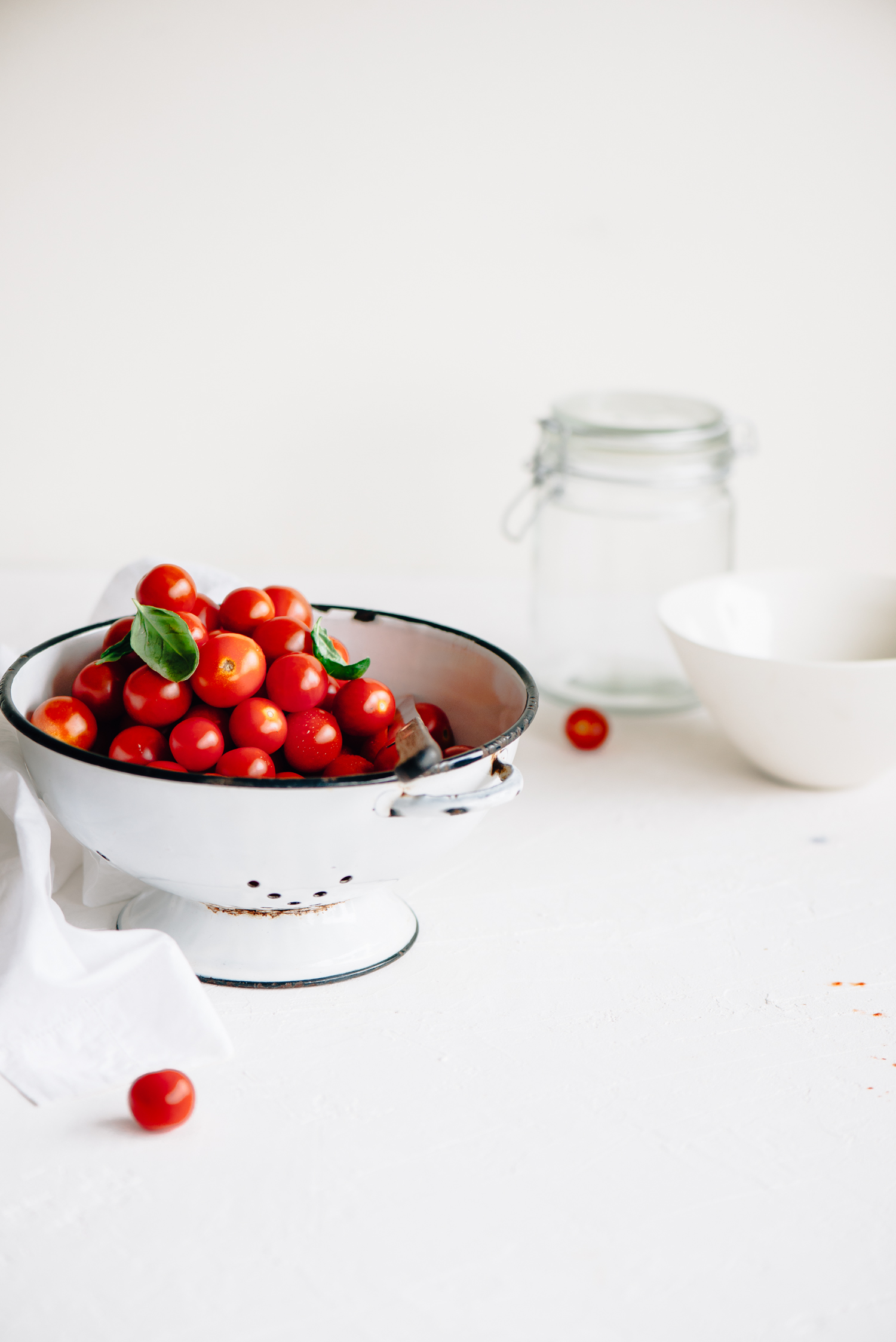 But first, just to make sure we are all on the same page, we'll cover what negative space actually is.
Negative Space.
Most photographers know the definition of negative space and put simply, negative space is the empty, neutral or white space around a main subject within your image. Conversely, the main subject is your 'positive space' and the feature of your image.
The three main reasons photographers use negative space in photography are to:
Emphasise the main subject: It gives the image some breathing room and doesn't overwhelm your senses, letting your eyes know exactly where to look.
Create harmonious and interesting compositions: It allows you to look deeper into the image and holds your attention for longer.
Add context, scale and shapes a story: It allows you to connect the image to nostalgia, or experiences you've had.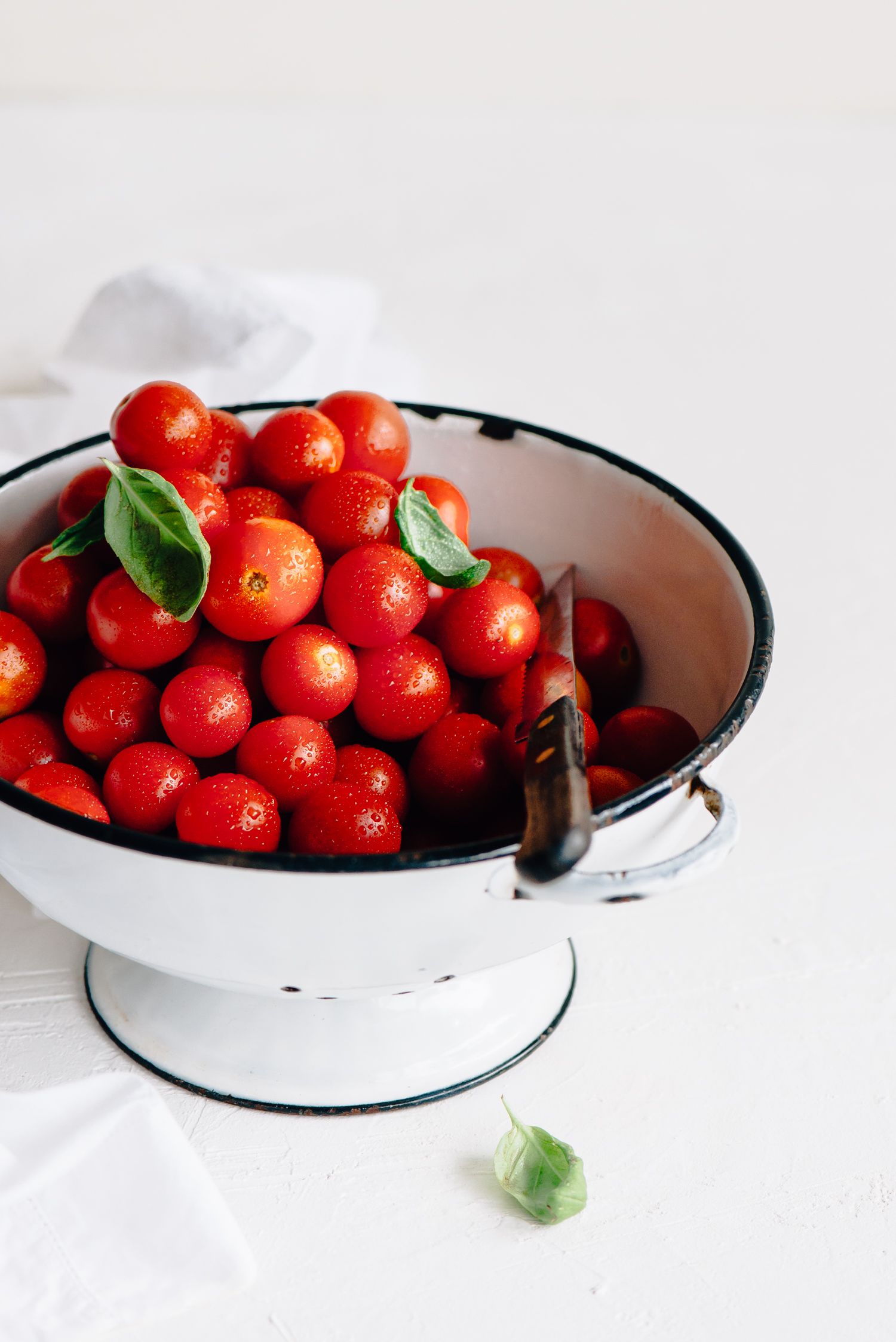 Passive Space in Food Photography.
As food stories (foraging, preparation, cooking and eating) occur in very agreed upon places (homes, kitchens, restaurants, farms, gatherings), food photography relies on these 'agreed upon' elements to create a food scene to convey a story about the dish itself. An empty space can sometimes be a little too abstract and not send the intended message. The space in my opinion doesn't have to be bare or empty to generate the feeling of negative space in food photography. Therefore I like to use a technique I am defining as Passive Space. It has a similar conceptual outcome, yet allows for the emotional connection of a food scene.
Passive Space in food photography could be something as simple as a linen or bowl placed within the shot that isn't distracting. Here I have used a plain bowl, linen and cutting board that matches the colour of the background and an empty, clear jar. Although they don't seem to add much except an 'outline' within the shot, your brain immediately can tell that they are pieces associated with the overall subject and allows you to keep focus on the shape; colours and textures of the hero in the shot, our subject – the cherry tomatoes.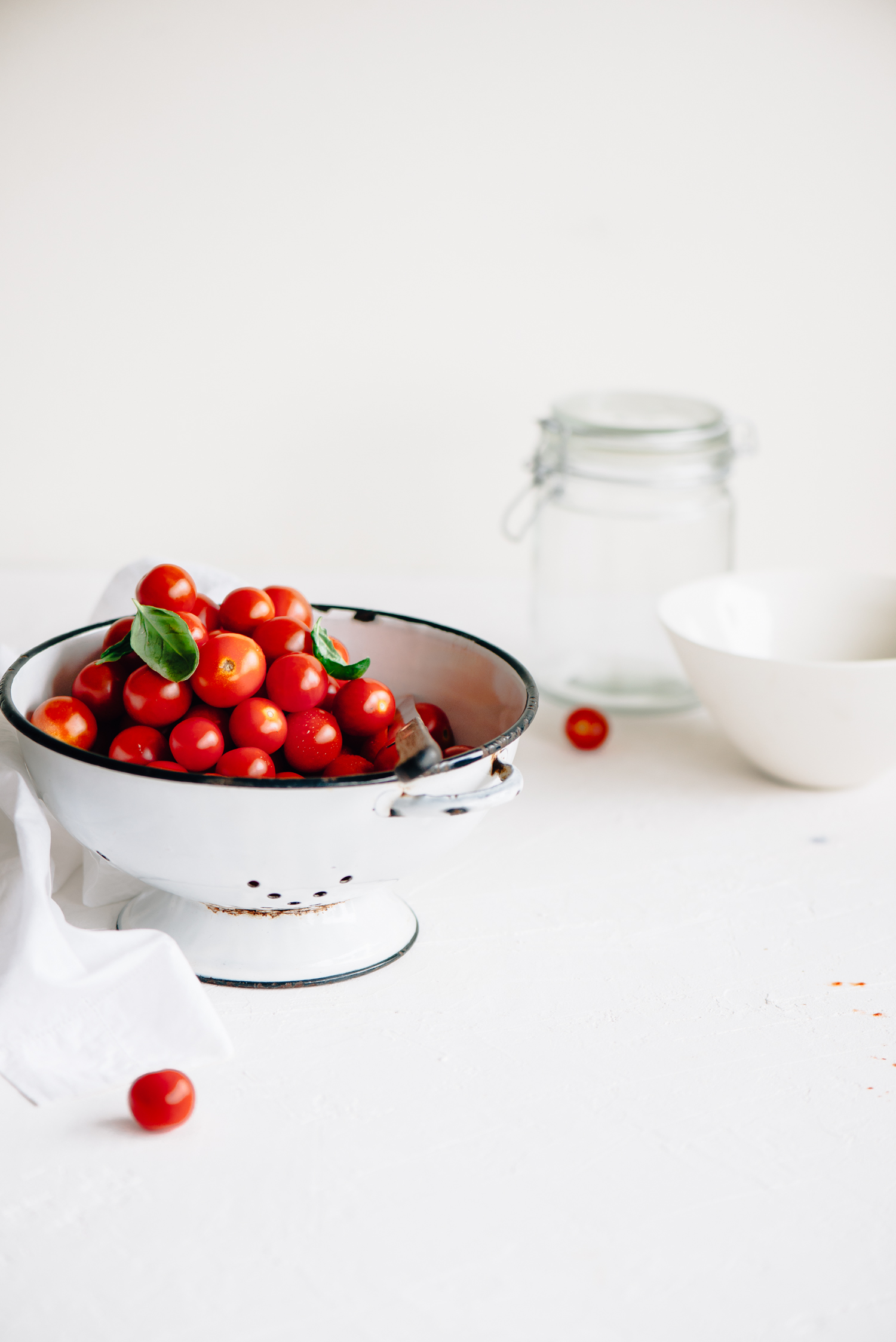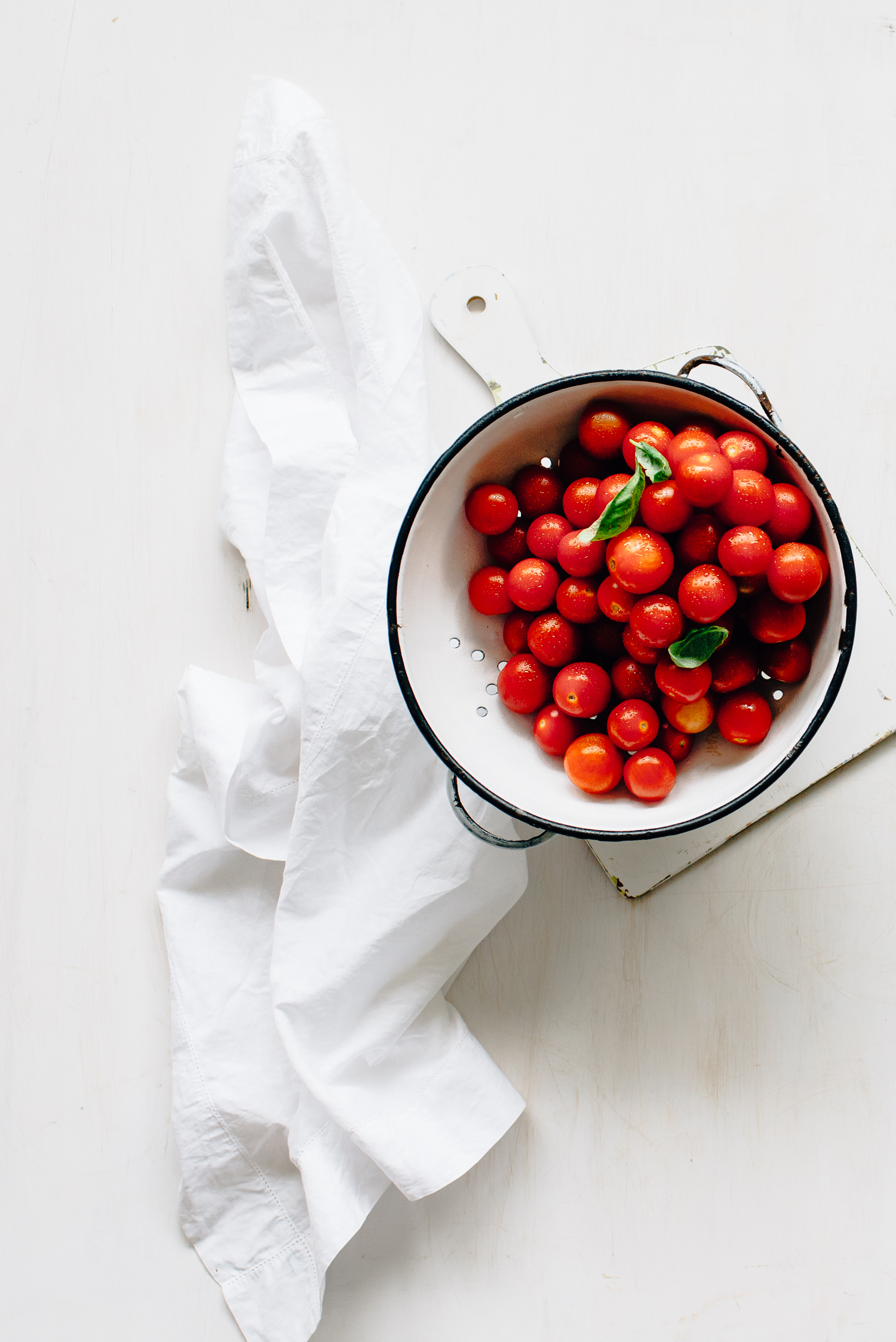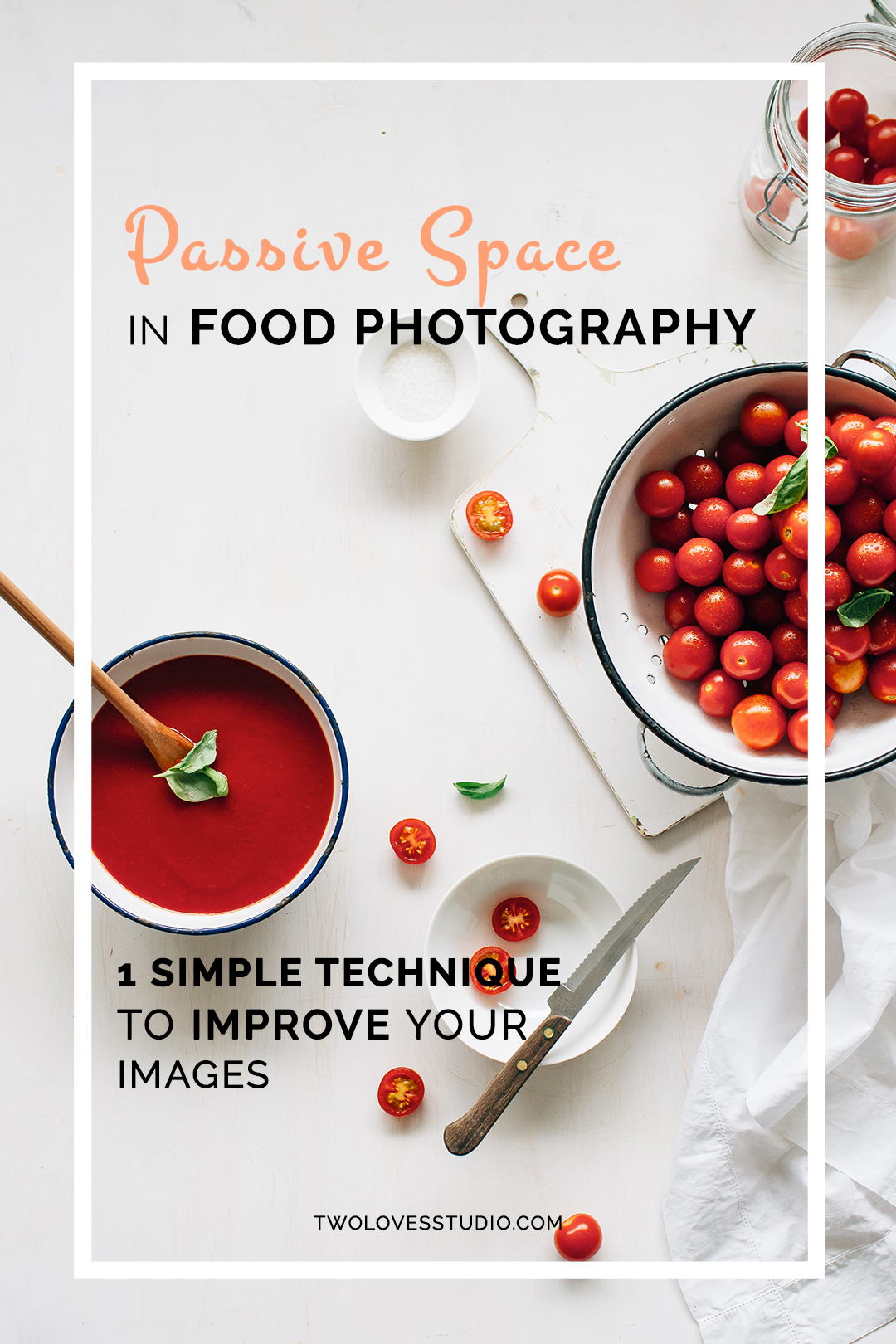 Creating Passive Space in Food Photography.
Now this isn't to say that negative space doesn't have a place in food photography, or one is better than the other, but rather to get you thinking about how creative elements can interact differently between styles of photography – specifically food photography.
When you next set up a food shoot and want to utilise the visual power of negative space, yet still draw in the viewers emotional connection via props and food elements, think about this idea of Passive Space.
To create a shot that is a little more interesting and powerful, try using these examples or ideas to create something bold and clean!
Examples and Ideas:
Neutral linens, or ruffled/crumbled linen background to add some texture but stay passive in the shot
Neutral or white plates, bowls
Clear glasses/glass jars. You can even add water to add a little interest
Shadows from props sitting just outside the frame
Neutral placements/cutting boards/trays/paper or even newspaper that isn't too text heavy
A textured background (if shooting straight on or similar angle) that will add interest when blurred at large apertures
Edges or corners of tables, benches or the background you're shooting on if possible