Let's talk about modifiers or more specifically soft modifiers for food photography to help you take incredible photos that are good enough to eat.
I'm going to explore the six modifiers that I use in my photography and share a little insight into how and when I would use them for my food photos.
Now I don't want you to get too caught up on the specific brands that I'm using, because some of them are secondhand and may not be available anymore.
In this post, I will link to the modifiers that I am using. Starting from the smallest and working all the way up to the largest. The ones I use to create moody light, but also bright light and lastly I'll finish with my favourite modifiers.
Your only job is to find the specific modifier that you need for your type of light or the brand of light that you shoot with!
6 Soft Lighting Modifiers for Food Photography
In this post, we are looking at the following 6 soft modifiers: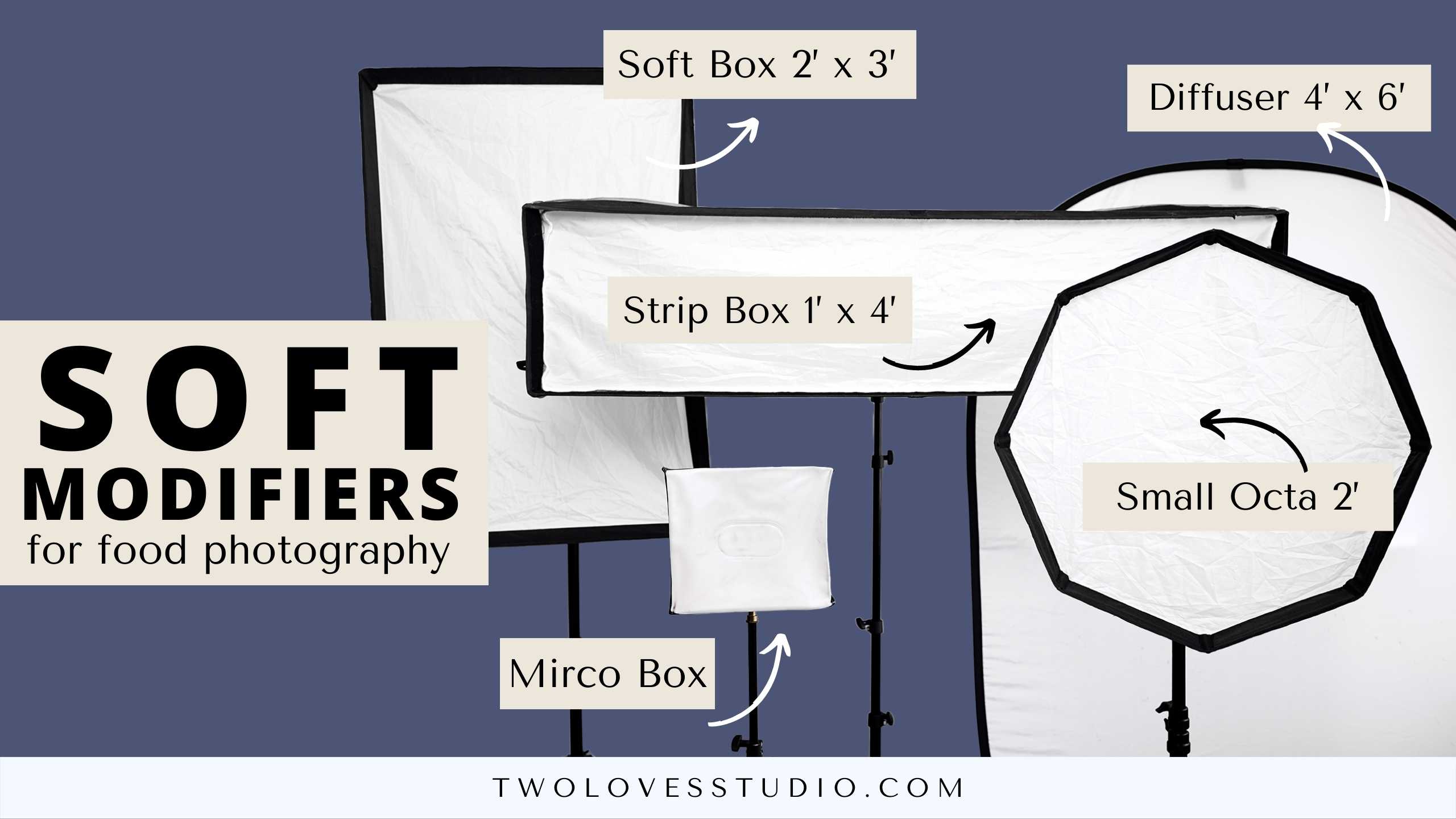 Focus on The Size and The Shape of Your Modifier
Your focus should be on the size and shape of the modifier. It's important to focus on the size, shape and type of light that you get out of your soft modifier. The reasons will vary depending on:
The size of your food
The size of the scene that you are lighting
The position of your light and the distance from your subject
The first modifier is a micro box and it's a really small, softbox. That's going to go on something like a speed light that you are going to use as an off-camera flash.
While I haven't used this for some time, I do have a little bit of a soft spot for it. I think it can create something really dramatic and moody, just like I have done here in this chocolate cake shot.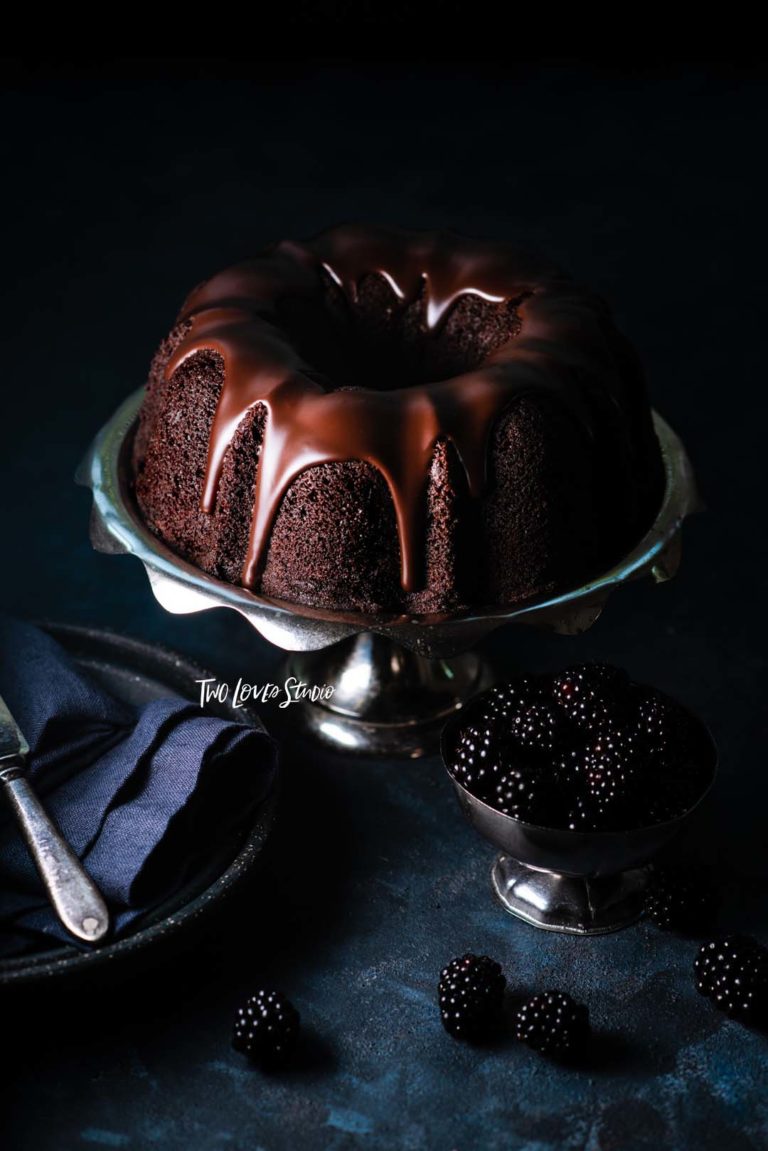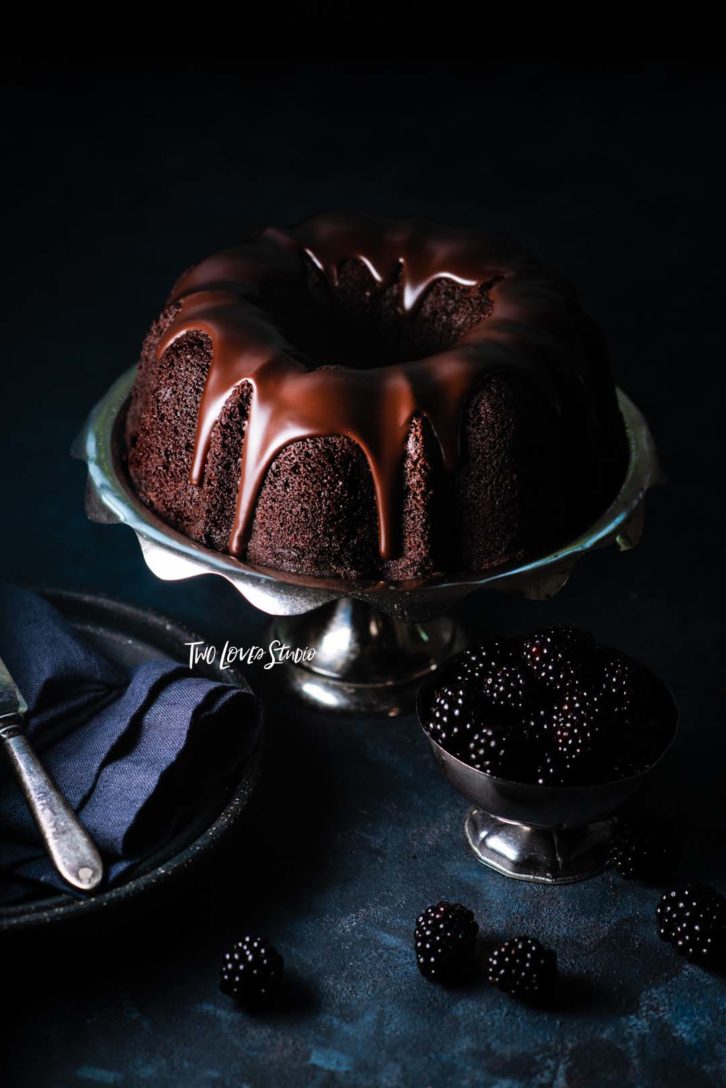 What I like about this modifier is it has a lot of fall off so it allows me to create something really low-key. It helps if we have highlights and shine within our food to highlight those textures.
One of the things I loved about using this with my speed light in the beginning was I could just hand-hold it and I could actually move it around the food and see what I was creating. It helped open a lot up for me.
The second modifier is called an Octa box. This soft modifier is a step up from the micro box we just covered. While it's still on the smaller side, the great thing about this one is I can use it with my strobe light. It is approximately 2ft wide (or 60cms) and it's round in shape.
This modifier is primarily used in portrait photography, but I like to incorporate it in my food photography to light food portraits. I like to be able to use this when I need the background to transition into dark shadows.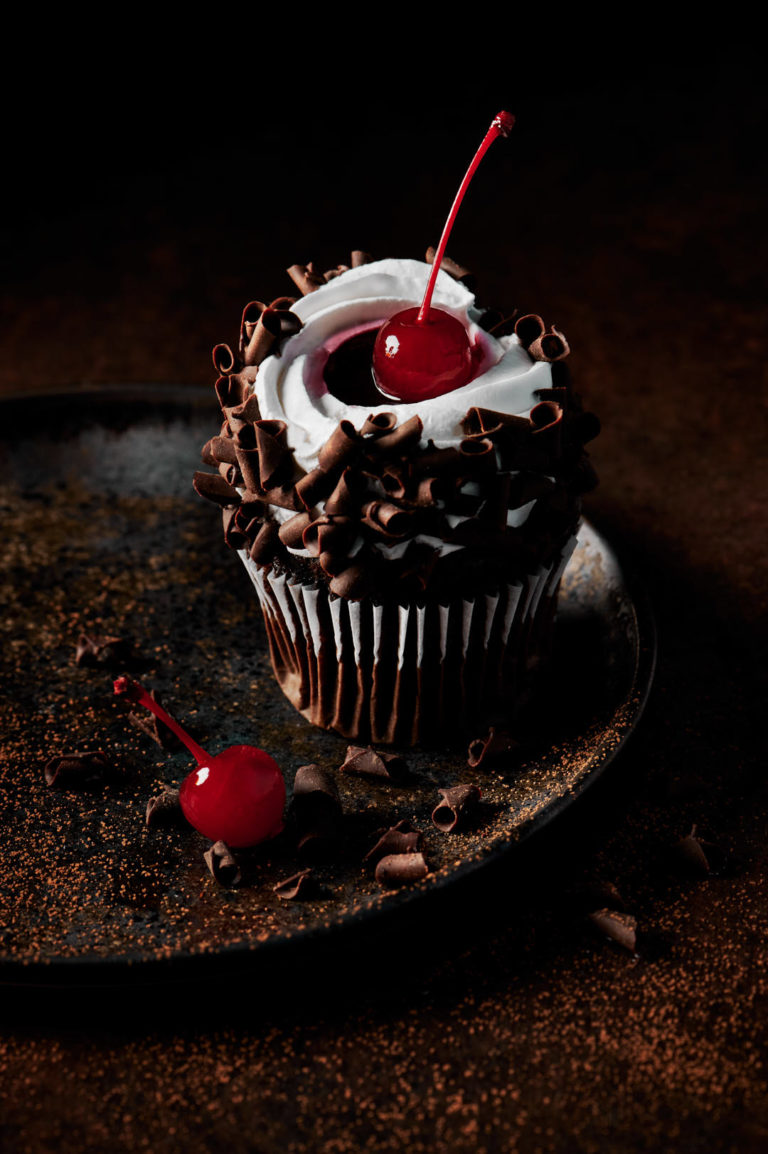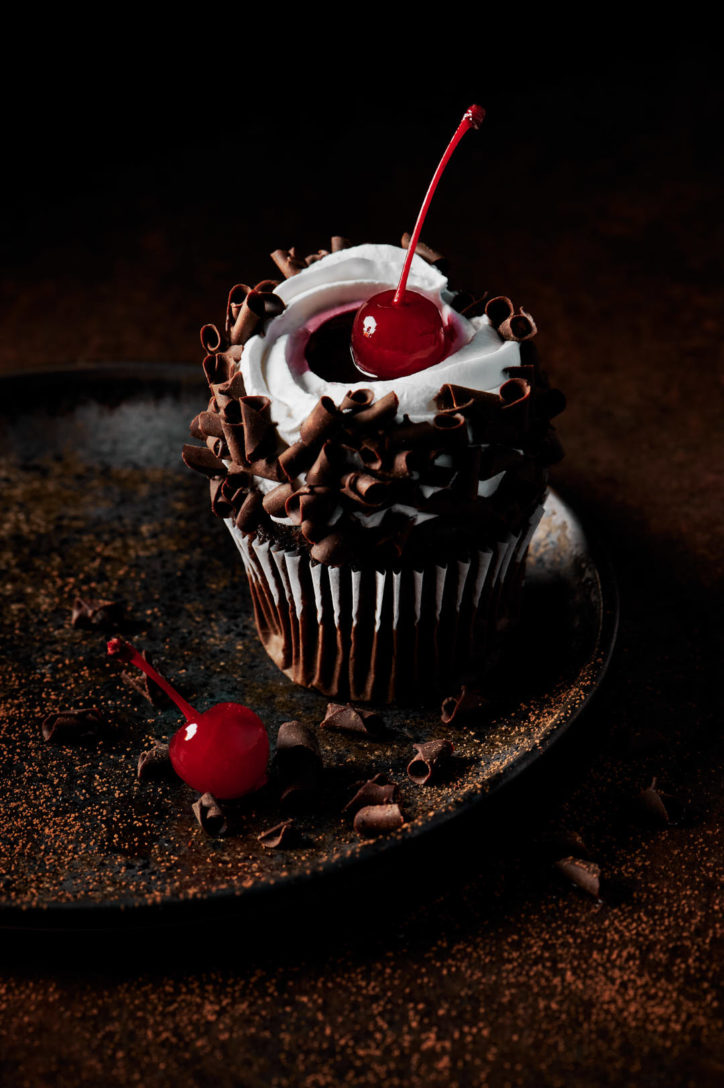 The classic softbox is a very common starter artificial light modifier and a great all-rounder. Commonly it's 2ft by 3ft (or 60cm by 90cm ). Having that extra foot in height can really help if you have an average-sized food photography scene.
I use it for my moody work where I need to light a little bit of a larger scene and where I need a little less fall-off. When shooting this Empress 75 cocktail, including the cocktail shaker I needed to light a little bit of the background.
Using the classic softbox helped me get a little more light on my scene than the previous Octa box would.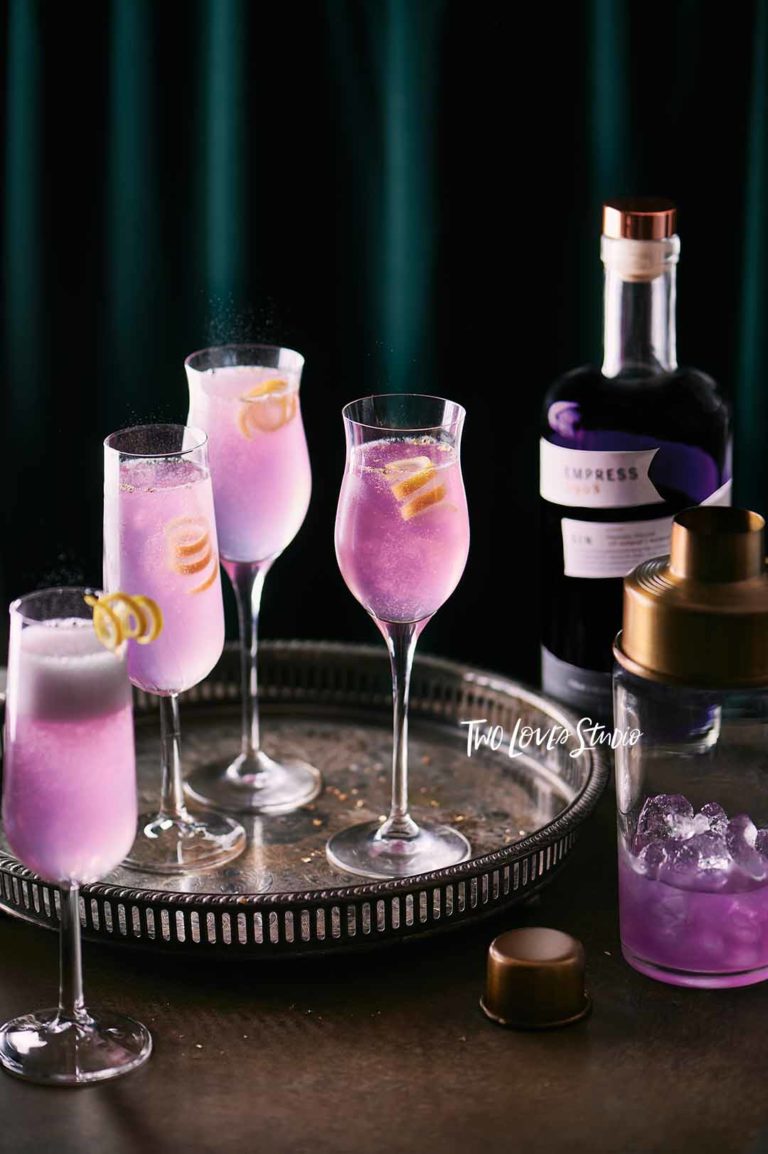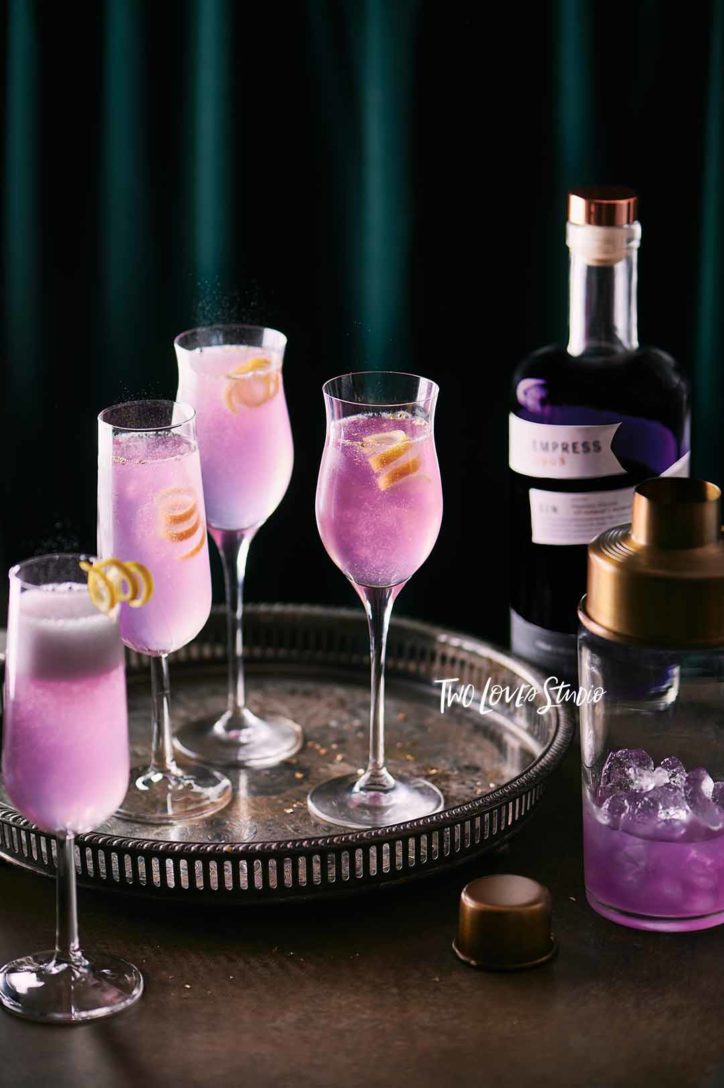 The next one we're gonna look at is what's called a strip box. The one I have is 1ft by 4ft (or 30cm by 120cm). So it's a tall and thin modifier.
Now, technically area-wise, it's actually smaller than the classic softbox, but because it's such a tall modifier, it can be larger to work with, so keep that in mind for your shooting space. It's also important to note, it's larger to store.
One reason I love this modifier is it gives me a bit of a creative edge as not many people use it. I like that I can achieve different looks for my shoots because of its height. It also allows me to create both bright and moody work.
If I use it in a tall sense, I can create more light across the scene or I can flip it to be horizontal and create something that feels different.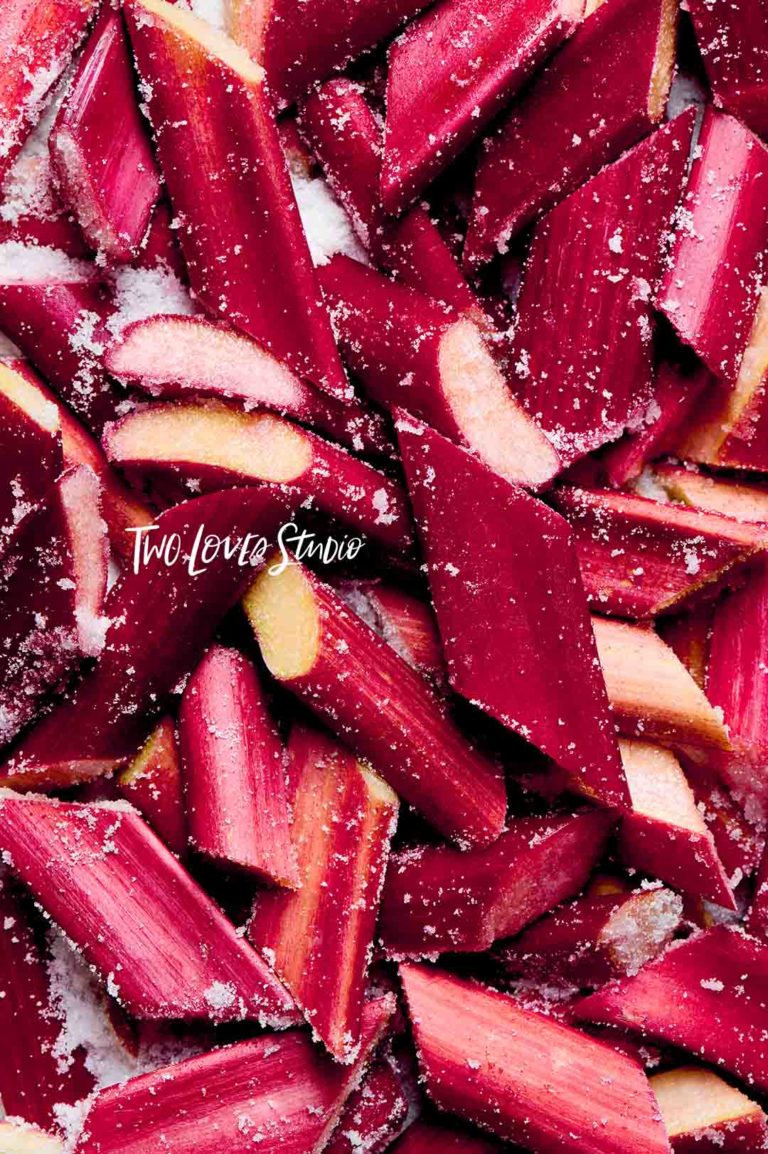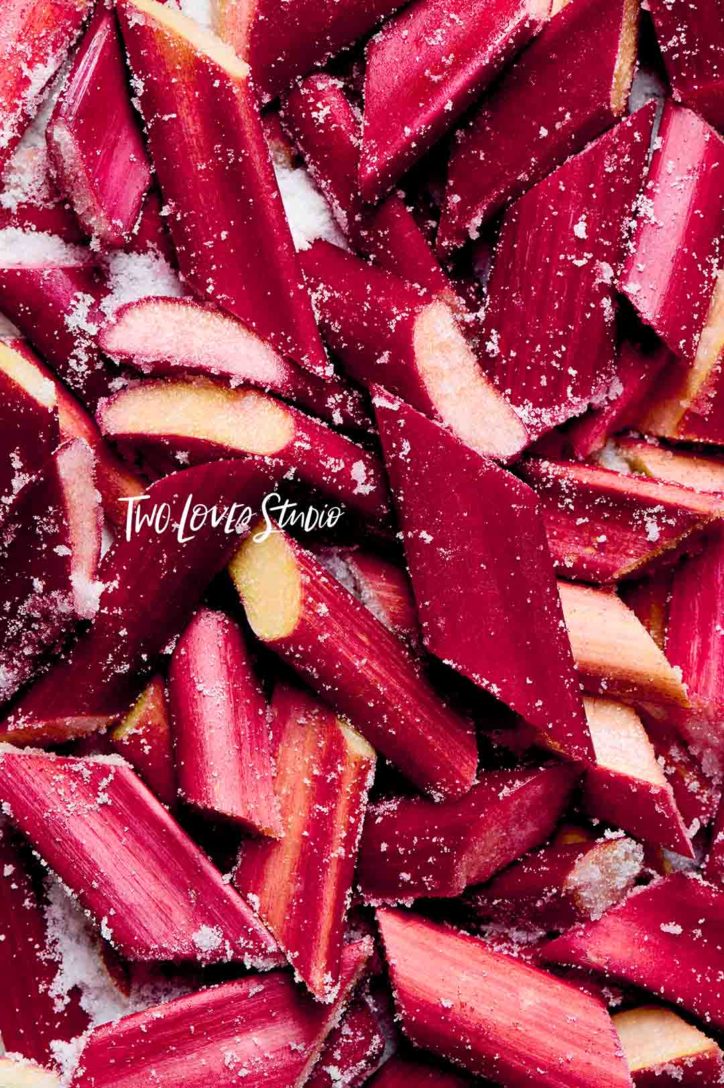 In this macro rhubarb shot, I've used the modify in a tall sense to create light across the scene and feel really bright. There's light coming from the top of the scene and can spread over my scene in a different way than the others that I've previously shared.
Also, I can use it in a moody sense with this apple shot, and having it in that tall fashion is creating more light across the table. I actually used a grid to help me get those moodier shadows. Then I can use it to tilt it at an angle. So it's not quite horizontal and it's not quite tall.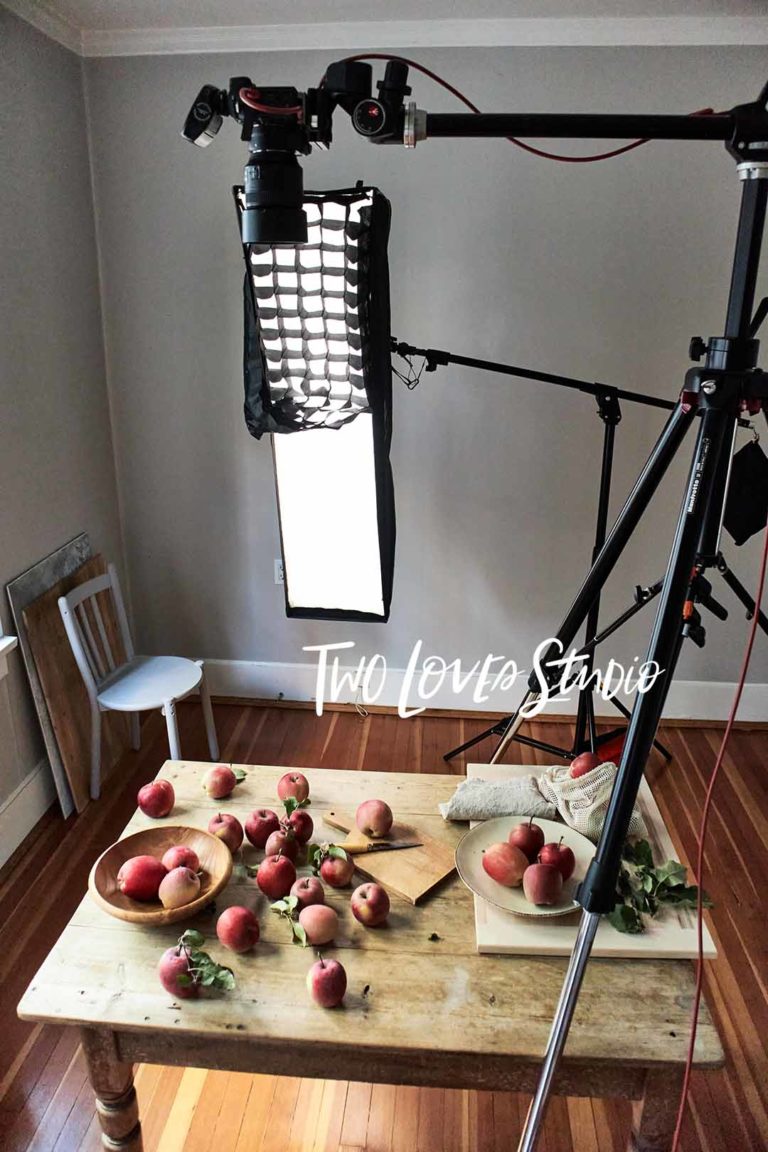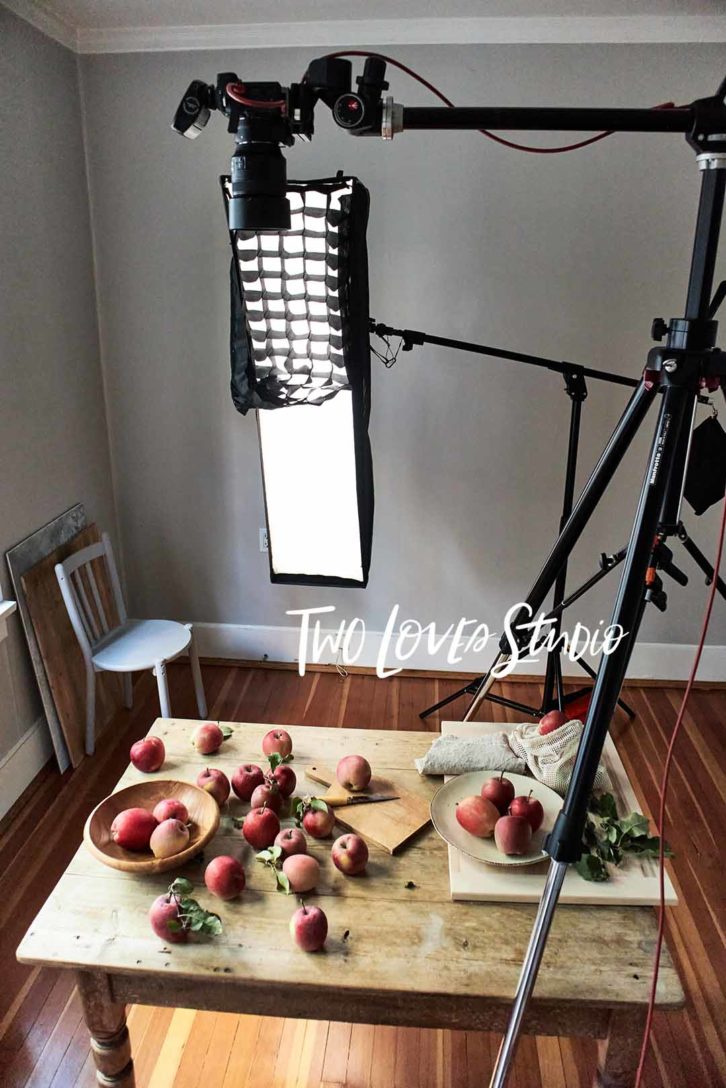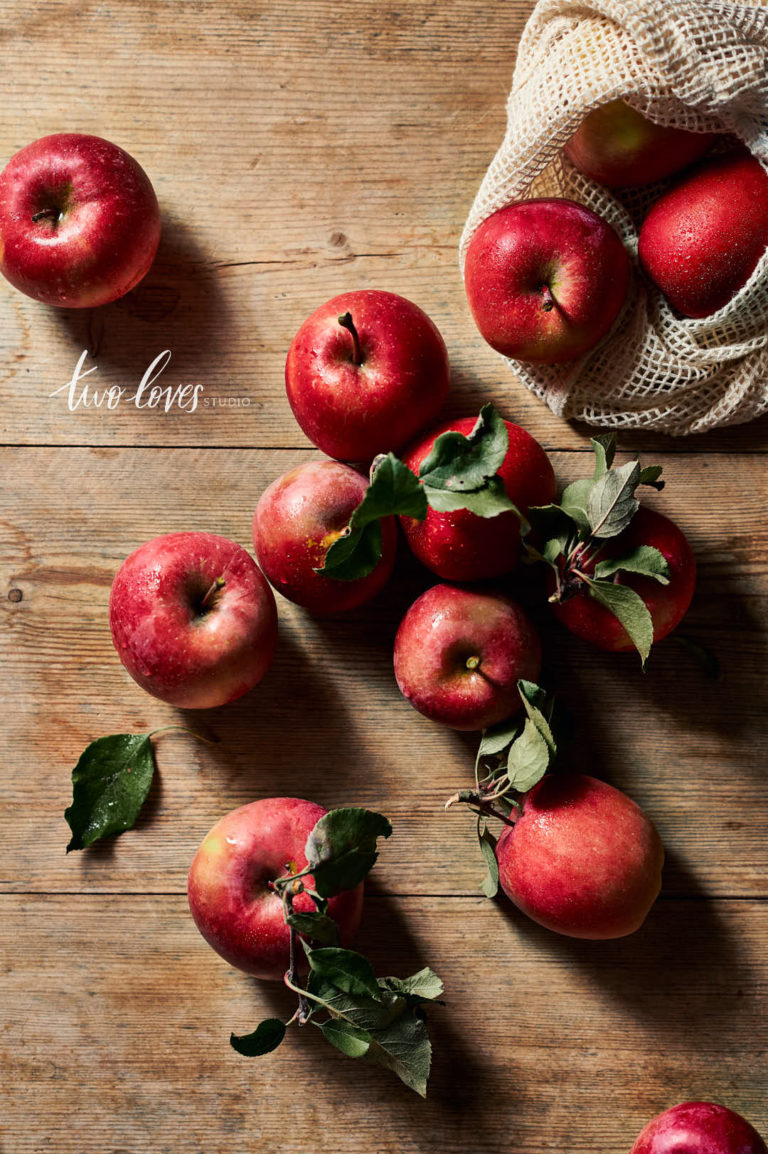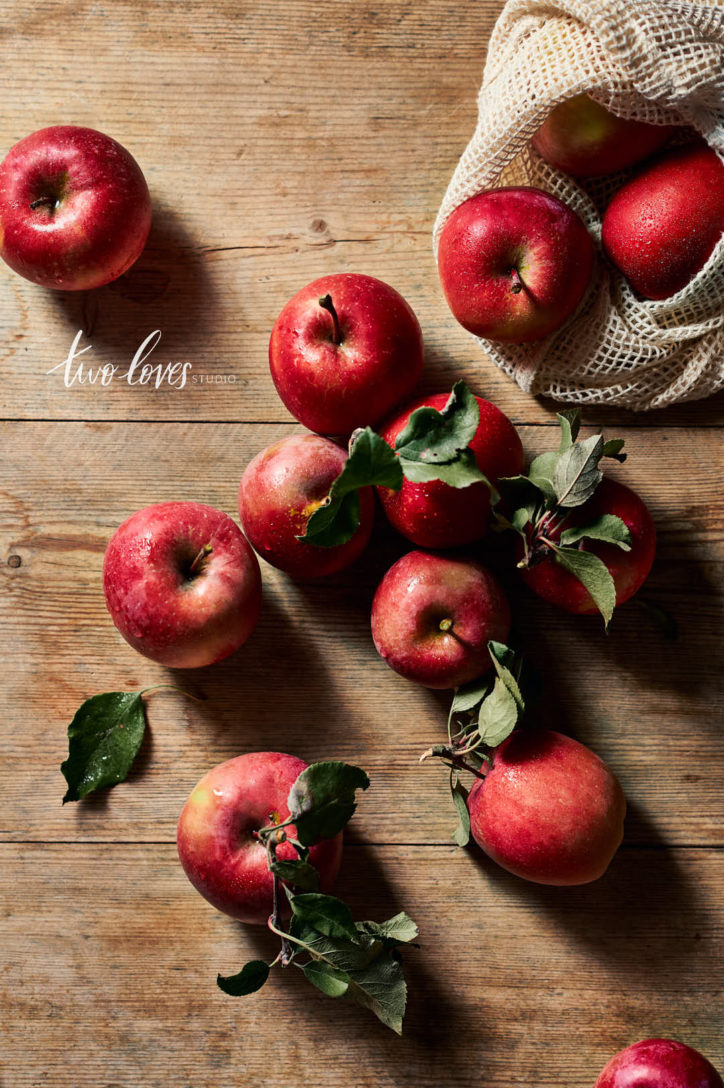 It allows me to create something that's very dramatic that has a lot of shadows and is just lighting the foreground.
This is my absolute favourite soft modifier that I use in like 80% of my photography and is something we actually use for natural light is a large diffuser that is 4ft by 6ft (or 120cm by 180cm).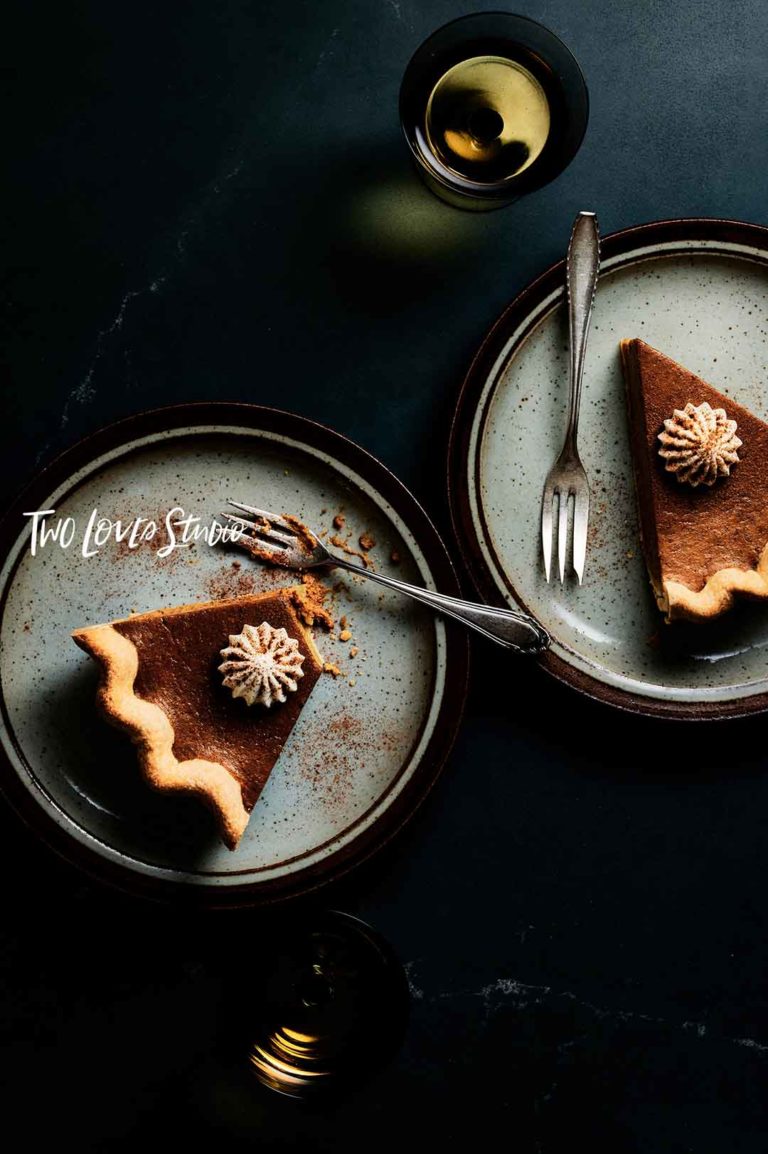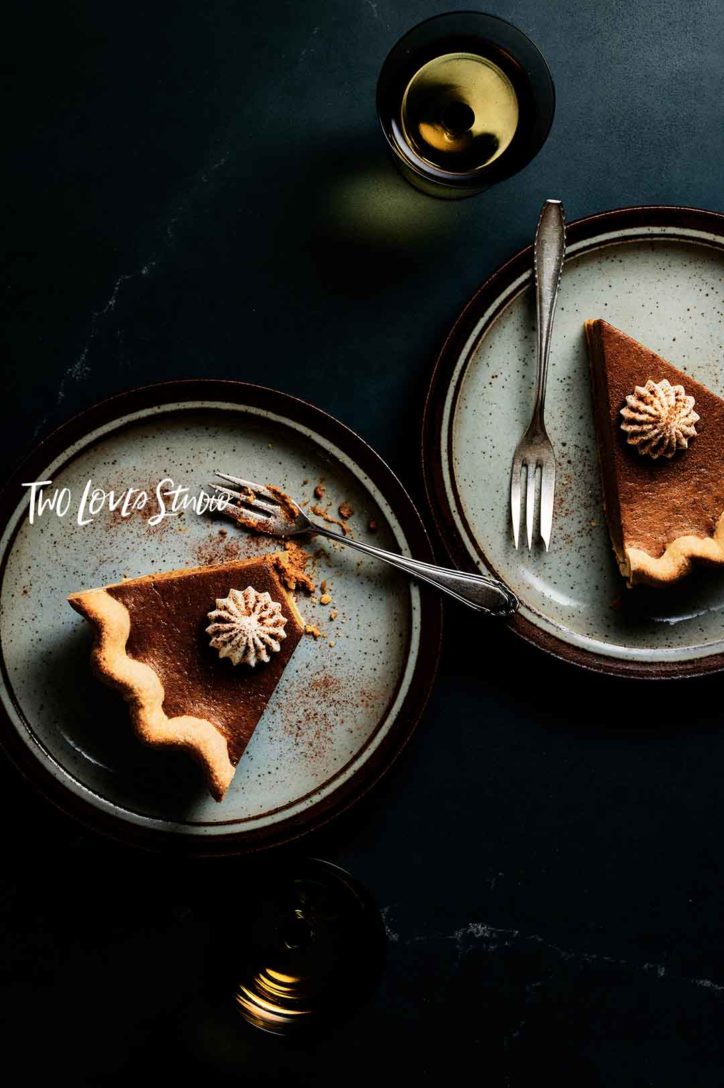 I tend to use this to create beautiful, bright work that replicates natural window light. You can see in these shots that I have used this large modifier setup to light the biggest scene. This creates lots of beautiful light and shadows.
If you'd like to see how I use this modifier and how I set up a scene, check out my go-to artificial light setup video.
The last one is a super large Octa box. It is 69" across (also 175cm). Now this is not something I use all the time, but I keep it with for when I'm on location or I'm working in studios and I need to light a really large scene or set.
When I do photography in my little studio at my house, it is way too big to use. I can't even fit it in the room! So if I need to light something at home, I will use a smaller modifier. But if you are thinking of doing a lot of studio work and are shooting large table scenes to light, this is something worth considering.
Being a minimalist when it comes to gear and wanting the best bang for my buck, my two favourites are the strip box and the 4' x 6'diffuser. I love these two the most because they allow me to create both bright and moody work. They're really easy to store and set up and allow me to create different scenes.
I know lighting gear is really personal to each of us, and I would love to know what your go-to soft modifiers are for food phtography. Let me know in the comments below.
---
If you're interested in checking out more of my gear and how I use it, check out these posts:
Food Photography Equipment: The Gear You Need
Simple One Light Photography Setup: Moody Black Forest Cupcake
VIDEO: Simple (Yet Beautiful) Artificial Light for Food Photography