This post may contain affiliate links from products and services we love and trust.
Moody Martinis just taste (and look) better.
For this moody martini shot, I wanted to imitate a dark, cloudy day with just a little bit of light coming through a window. This isn't exactly hard to do since living in the Pacific Northwest it's fairly cloudy 9 months out of the year.
However dark, cloudy window light isn't always the best lighting for capturing drinks and making small details stand out, so I opted to create the look I wanted in my garage studio using a couple of strobe lights.
Read on to find out how to create your very own, moody martini shots!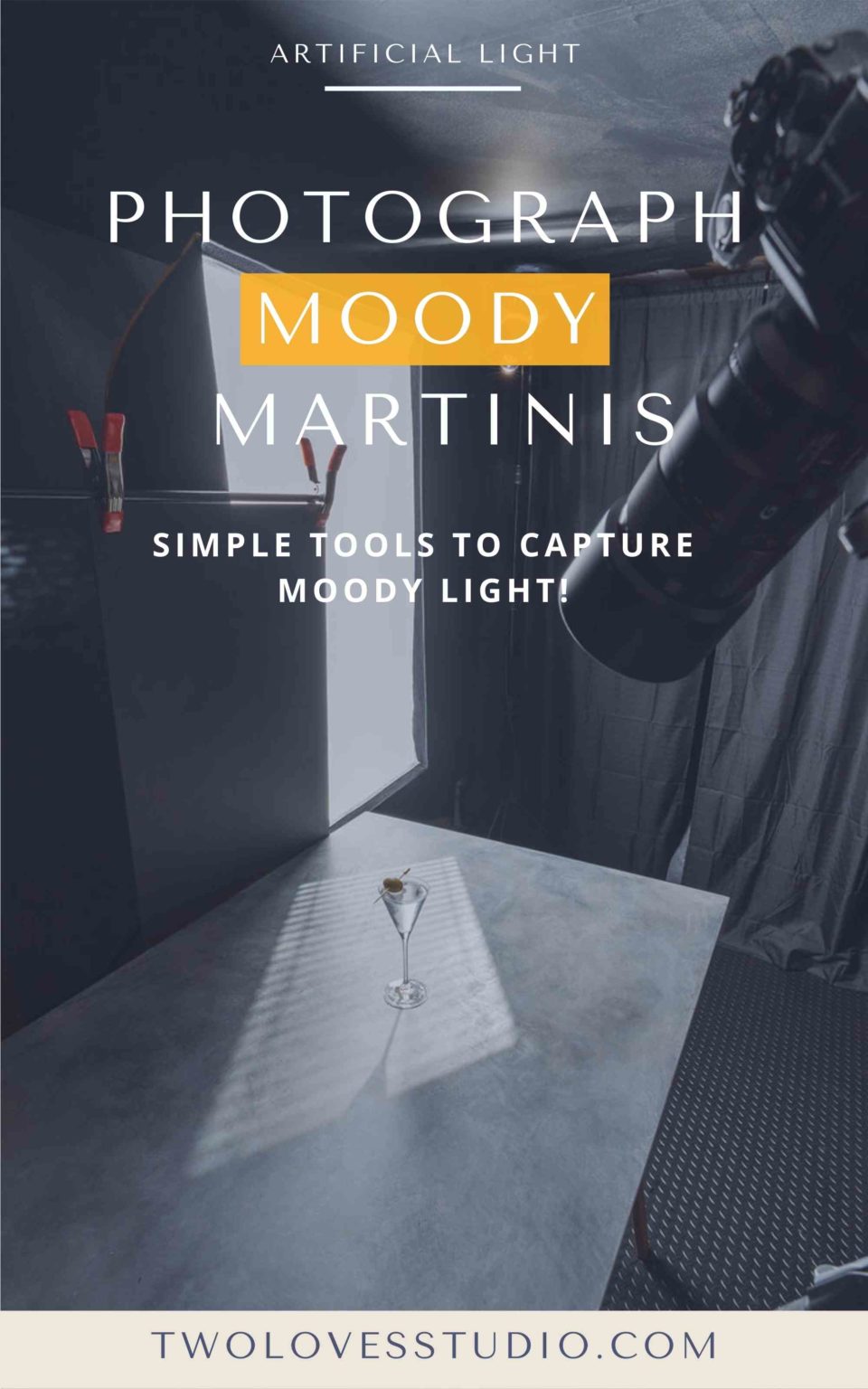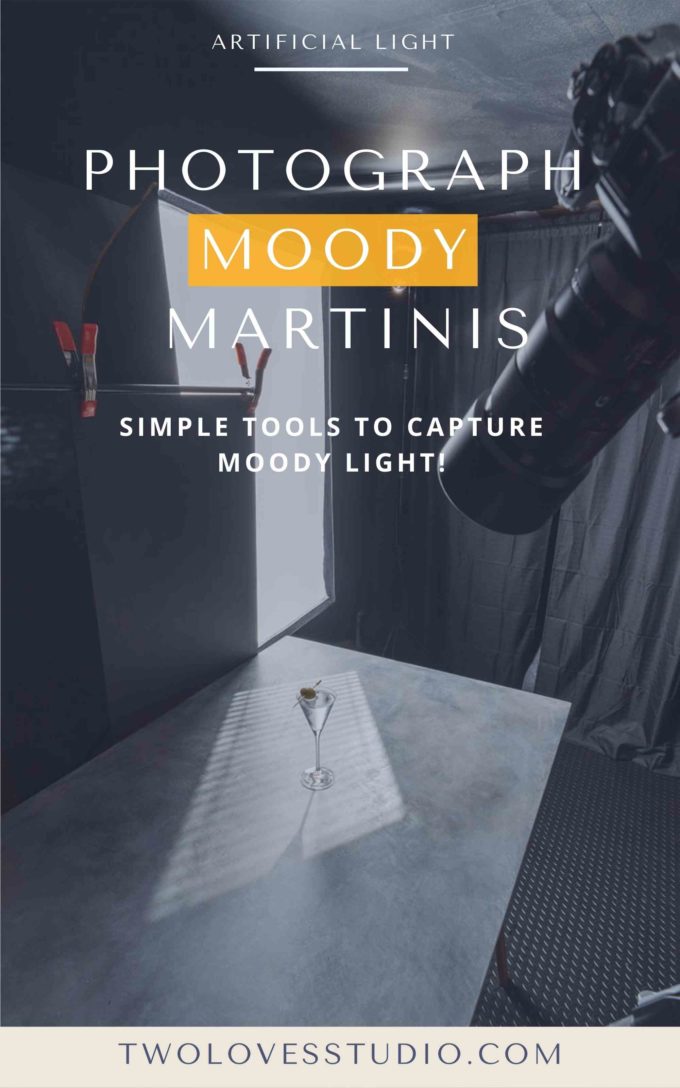 Gear Used: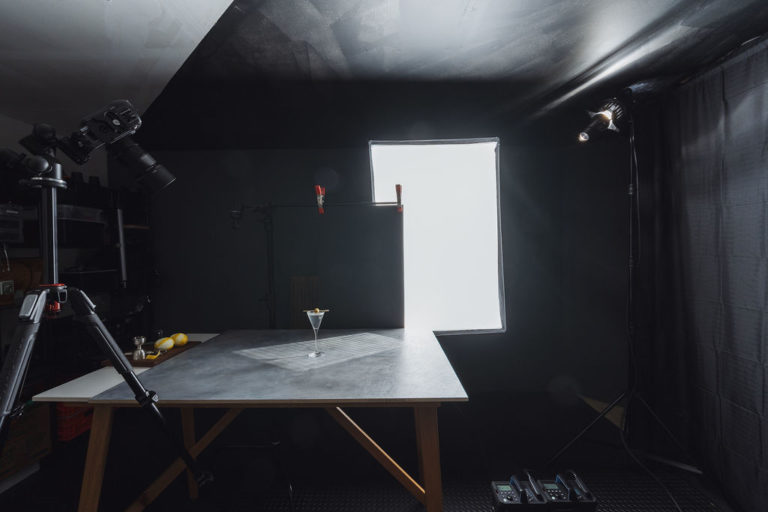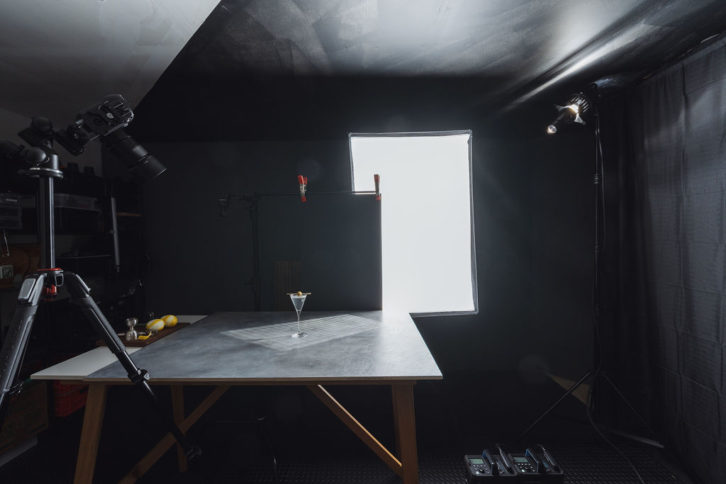 Shaping the Light for a Moody Martini Shot
First, I used an optical snoot on one of my strobes with a metal insert (or "gobo") that shapes the light to look like it's showing through window blinds.
That part is pretty easy, however, using this light alone was far too dark and shadowy and obscured the details of the Martini.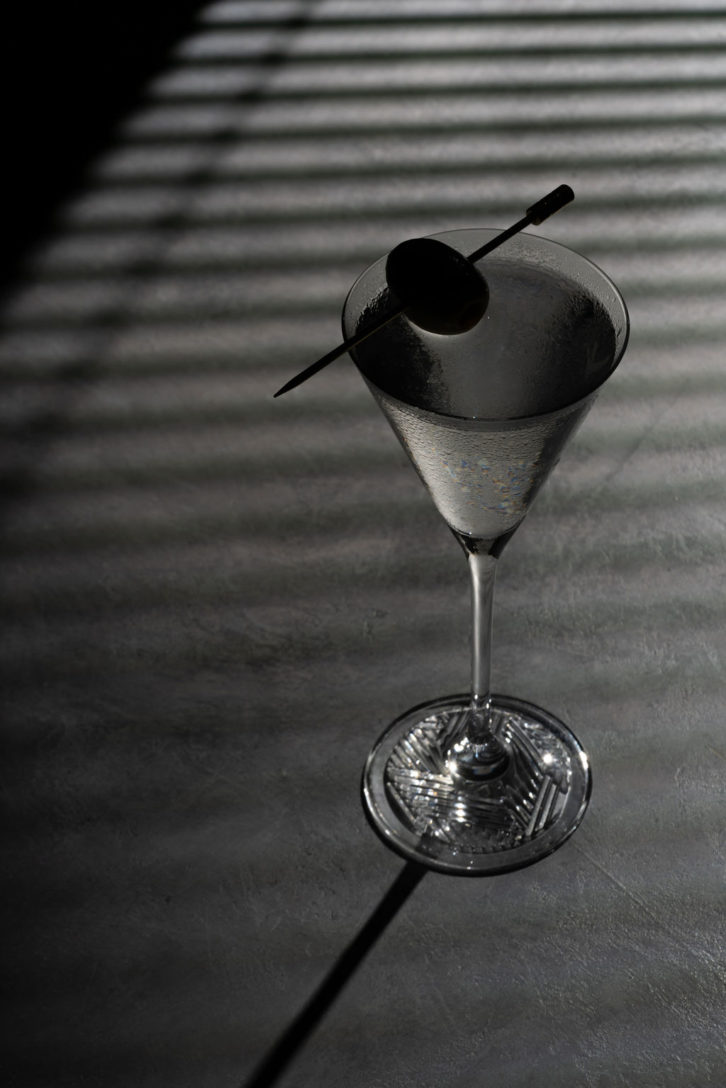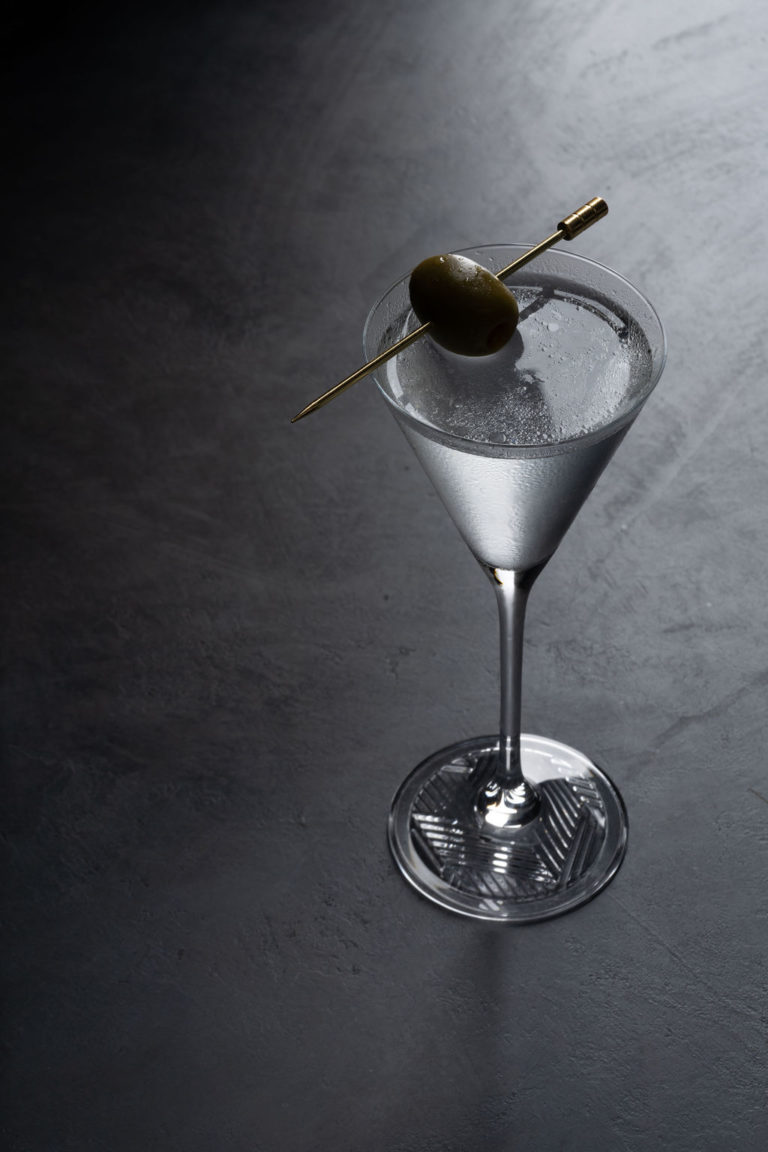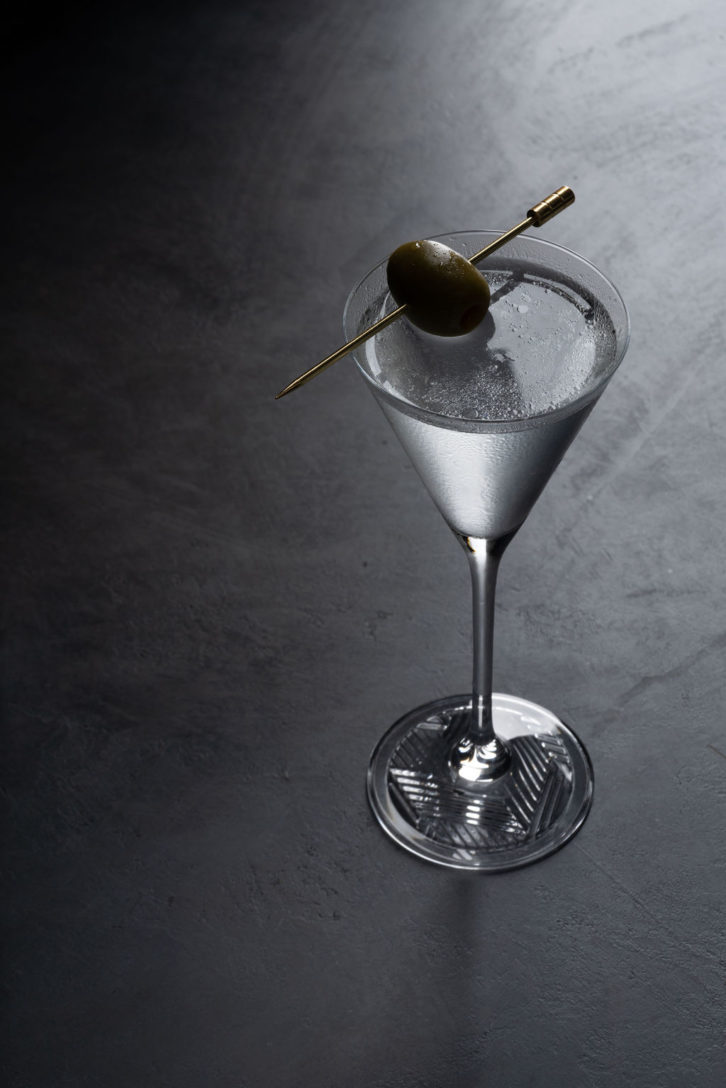 I placed a second strobe behind the subject in a large softbox and flagged it off slightly with a black poster board. This strobe provided more light to illuminate the glass and the details of the moody martini drink and make it stand out from the grey surface.
Emphasize Moody Drink Texture with Backlight
Backlighting is always really flattering for capturing most cocktails, as it helps emphasize the drink's texture (such as the droplets on the glass, and lemon oil on the surface).
When used properly, backlighting can also give a cocktail a subtle "glow" that really makes the drink pop and look extra inviting.
Flagging off this backlight with a poster board added a bit more drama and shadow vs. if the strobe wasn't flagged off at all. Also, adding in more shadow allowed the "window blind" effect from the snoot to appear more pronounced when both lights were used together for the final image.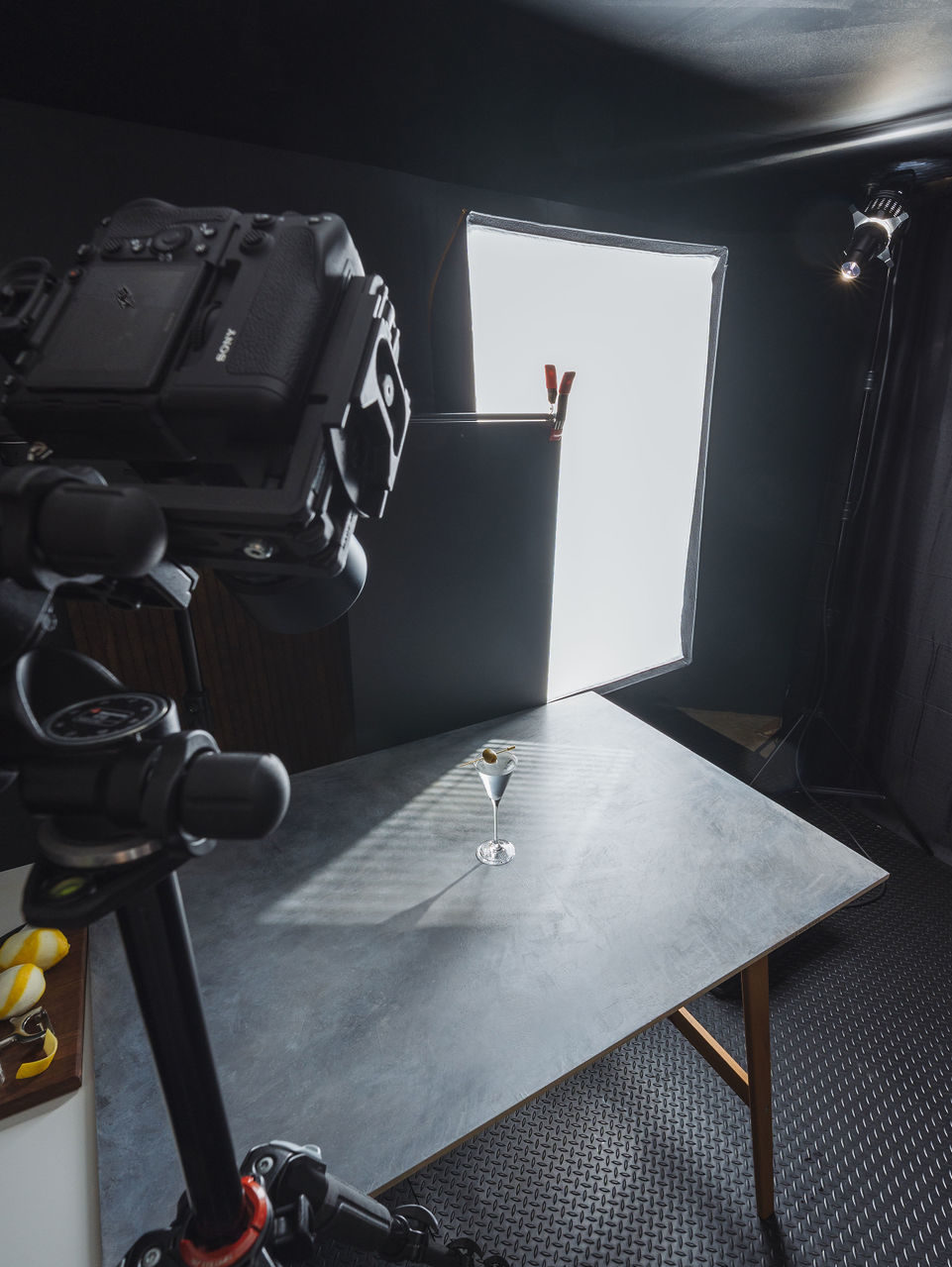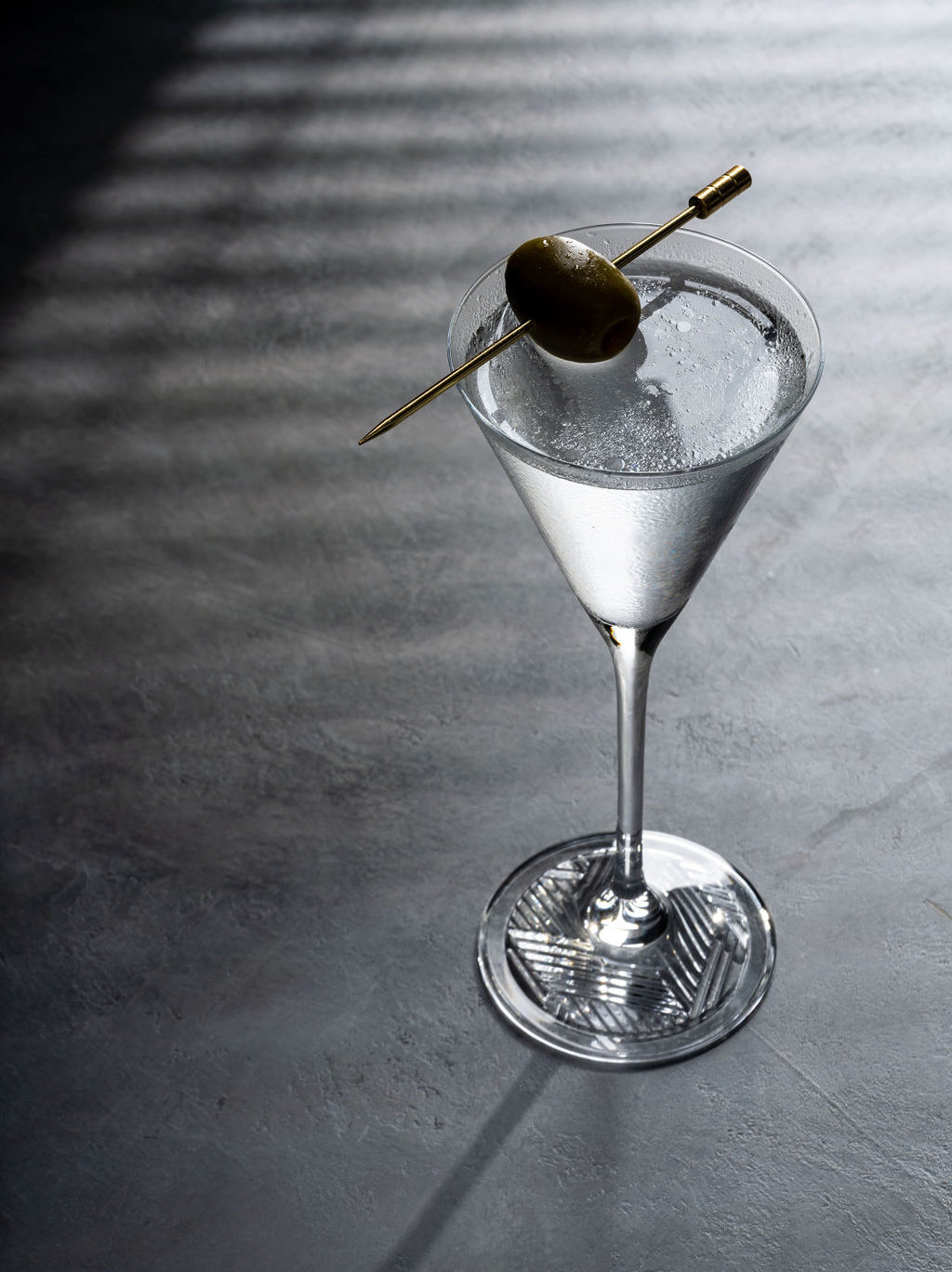 I went for a nearly monochromatic look. The gold cocktail pick and dull green olive really are the only other colors in the image. I was able to capture a ton of detail using a 90mm macro lens. Thanks to the 1200 watt strobes, I kept my ISO at 100 and stop down my aperture to f/16.
Use Depth of Field for Your Moody Martini Shots
Depth of field can be nice in cocktail imagery. However, I can't stand drink images where just the rim of the glass is crisp. The focus falls off too quickly due to a low aperture, blurring the rest of the drink.
With drink photography, I'm generally looking for ways to:
Stop down my aperture to get a broader focus area with more details in perfect focus.
Shooting at f/16 kept my entire cocktail looking incredibly crisp and sharp.
Although it's a darker, moodier image, the moody martini itself is still really striking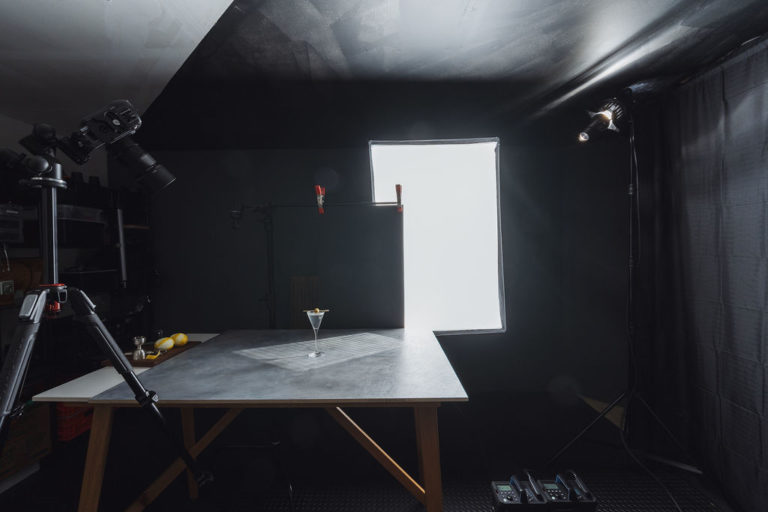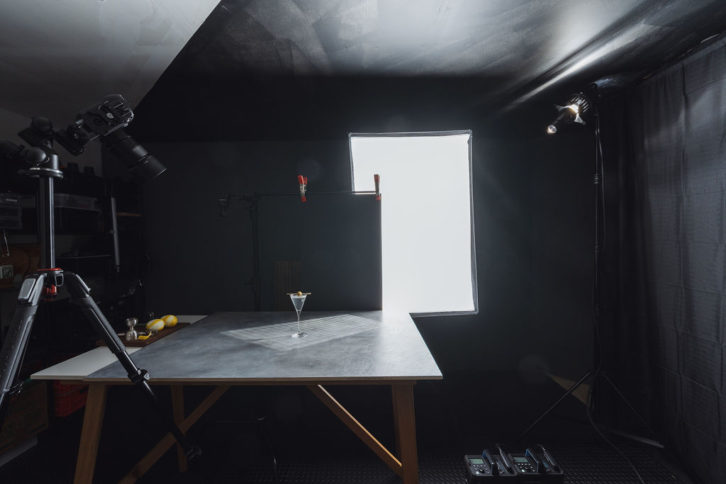 Like the majority of my work, this is a relatively minimalist image. No other props or styling elements were used to frame the subject.
I try to use light and texture to make the drink I'm photographing look as dynamic and interesting as possible. Even with a drink as simple and familiar as a Moody Martini.
---
Jordan wrote this post. Thank you, Jordan for sharing your tips on moody martini shots using artificial light. Interested to find out more from Jordan, join the Cocktail Camera Pro Enrolment waitlist here!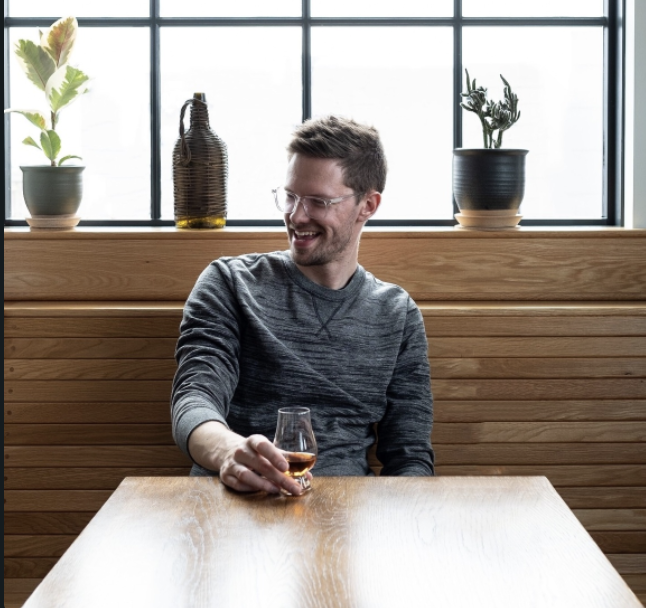 Photographer + Educator
Jordan Hughes is a full-time creative in the food and beverage industry. He works as a photographer, recipe developer and media consultant for respected brands, bars and restaurant groups. Founder + Educator at Cocktail Camera.
Come say hi on Instagram.