For those of you who don't know me well, my favourite cuisine is Asian. I would eat Asian fusion every night if I could and there is no shortage of amazing Asian fusion restaurants in Melbourne. I also have a love affair with soup. One of the first recipe books I owned was the 'Soup Bible', so it is no surprise that I get beyond excited when I have a delicious Asian soup put down in front of me. Matt makes the most incredible Hot & Sour Soup, from boiling up the stock himself, with fresh ingredients, lots of sauces and even a fire cracker chilli from our little chilli plant. It is a heavenly aroma that fills the house all day, and then I eat about 4 servings at dinner until I am nearly physically sick! I get him to make double the recipe so we have left overs for days, but we only mange to have left overs for about one day! A serious soup addict. I have included the stock that we make during the day, but if you don't have the time then you can use stock cubes or bought stock instead.
---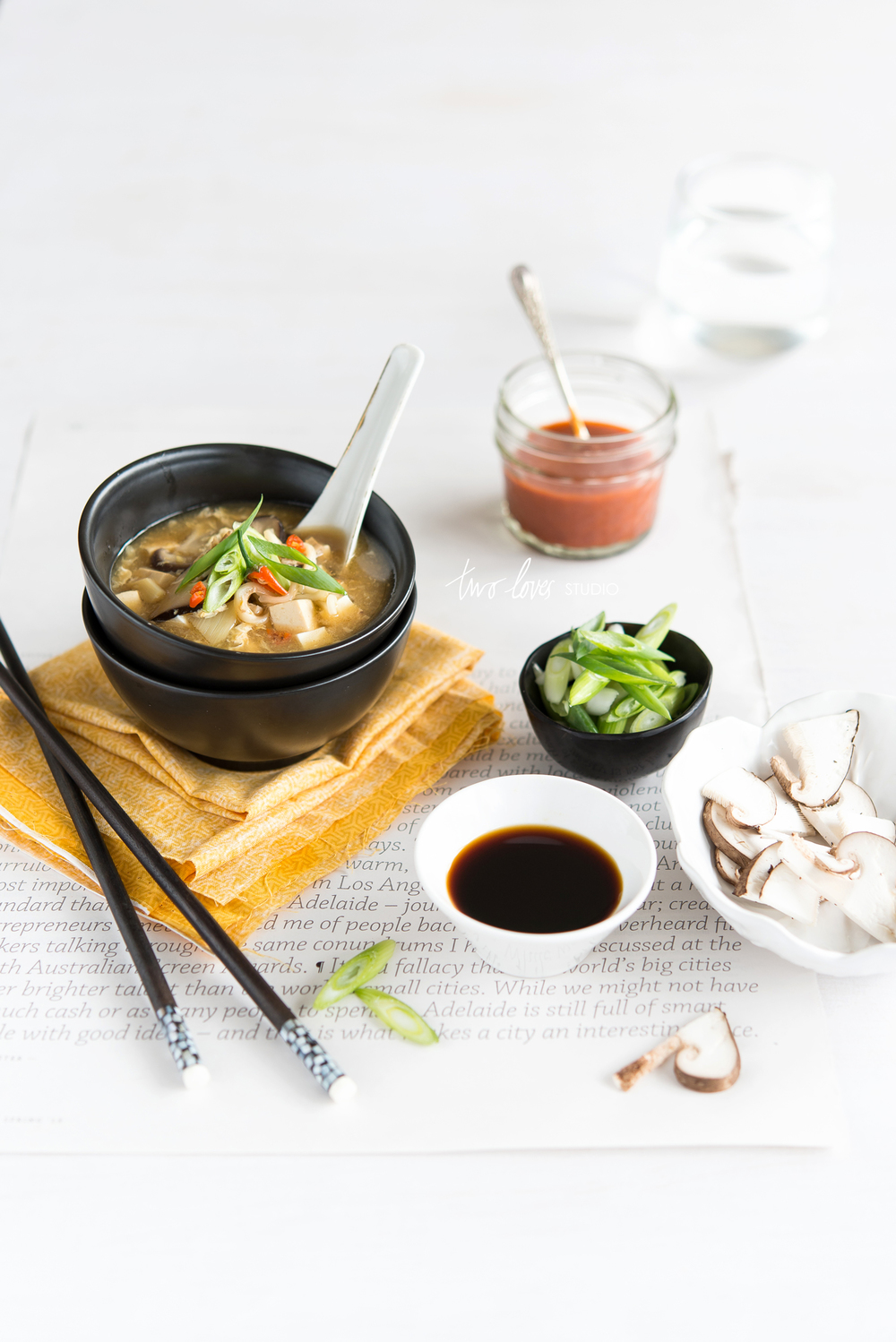 ---
This was the first soup pic that I have ever done! I have always been daunted by how to make liquid look good, but this soup is just so photogenic with all the bits and bobs of tofu, shredded chicken, shiitake mushrooms, noodles, egg and green onions. I have also been saving a newspaper that Matt picked up for me on a work trip to Adelaide – City Mag. Such a wicked read, its design is so beautiful that I have stashed some pages to use as backgrounds. A page or two also made it into my Beet Chips post.
Hot & Sour Soup
Serves 4-6
Ingredients
Stock
1-2 chicken carcasses
1 large carrot
1 celery heart
1 onion
2 garlic cloves
5-10 whole peppercorns
3 bay leaves Small handful of fresh thyme (optional)
Large pinch of salt
Olive oil
Soup
8 tablespoons rice vinegar (extra to taste)
2 tablespoons cornstarch
2 tablespoons sesame oil
4 tablespoons ginger, minced
8 cups chicken stock (from above or a pre-bought one if you're short on time)
500g (1lb) silken tofu, cut into cubes
1 small can bamboo shoots (230g/ 8oz)
2 tablespoons soy sauce
1-3 fresh chillies (depending on how hot you want the soup), finely minced Shredded chicken bits from the stock (from above)
10 shiitake mushrooms, finely sliced
125g (4.4oz) long life noodles (egg noodles or ramen)
2 eggs, lightly beaten
3 green onions, sliced for garnish
Sriracha sauce to serve
Directions
Stock
Preheat oven to 210C (410F). Place chicken carcasses onto a roasting pan, and roast until they begin to brown, approx. 15-30 mins. In the meantime, roughly chop the carrot, celery heat and onion. Turn off the oven and let the carcasses sit in the warm oven.
Over medium heat, add a lug of olive oil to a large saucepan and the roughly chopped veggies, garlic and salt. Lightly sauté until they soften up. Add the carcasses to the saucepan and fill with water, about an inch from the rim of the saucepan. Add the peppercorns, bay leaves and fresh thyme. Bring the stock to a boil, then reduce the heat and simmer. Simmer for at least 1 hour. From time to time skim any fat and particulates from the surface. The longer you simmer the more flavour will develop.
Remove the carcasses and place them onto a chopping board. Allow to cool. Strain the stock through a fine sieve. Discard the stock ingredients. You should be left over with 5-7 cups of stock. Add enough water to make up to 8 cups.
Once the carcasses has cooled, use your fingers to remove the left over meat. Cut this into small pieces and discard the remainder of the carcass.
Soup
In a small bowl, combine vinegar and cornstarch until thick and smooth. Set aside.
In a large saucepan, heat the sesame oil. Add ginger and sauté for 1-2 minutes, but don't let it brown. Pour in chicken stock and bring to the boil. Add the tofu, bamboo shoots, soy sauce, chillies, chicken bits and mushrooms. Reduce the heat and simmer for 3-5 minutes. Add cornstarch mixture and stir until slightly thickened.
Taste the soup. If needs more salt, add more soy sauce. If needs more spice, add more chilli or sriracha sauce. If needs more sour, add more rice vinegar. Add each or any of these to taste.
Add the noodles to the soup and allow them to soften. Stir in the lightly beaten eggs just before serving. Serve with sliced green onions and sriracha sauce on the side.
---