Got tethering issues? You've probably found this post because you're in the middle of a shoot and your tethering stopped working.
If you're like me, tethering is integral to your workflow. It's not just plugging in a cable—it enhances your creativity and allows you to take better photos in real-time. 
Tethering connection issues are frustrating. Trust me, we've all been there. The only way to remedy this is to go through a troubleshooting checklist.
Quick Tethering Connection Issues Tips
Here, I'm going to share my top tethering troubleshooting tips so that you can get back into your creative workflow stat. These are:
Check that your camera is supported
Restart your computer
Turn your camera on and off
Unplug and reconnect
Check your memory card
Confirm your camera is recognized
Turn off sleep mode
Try a fully charged battery
Check for updates
Test another cable
Check for a loose or damaged port
Consider whether you need a booster
Wait to make upgrades and updates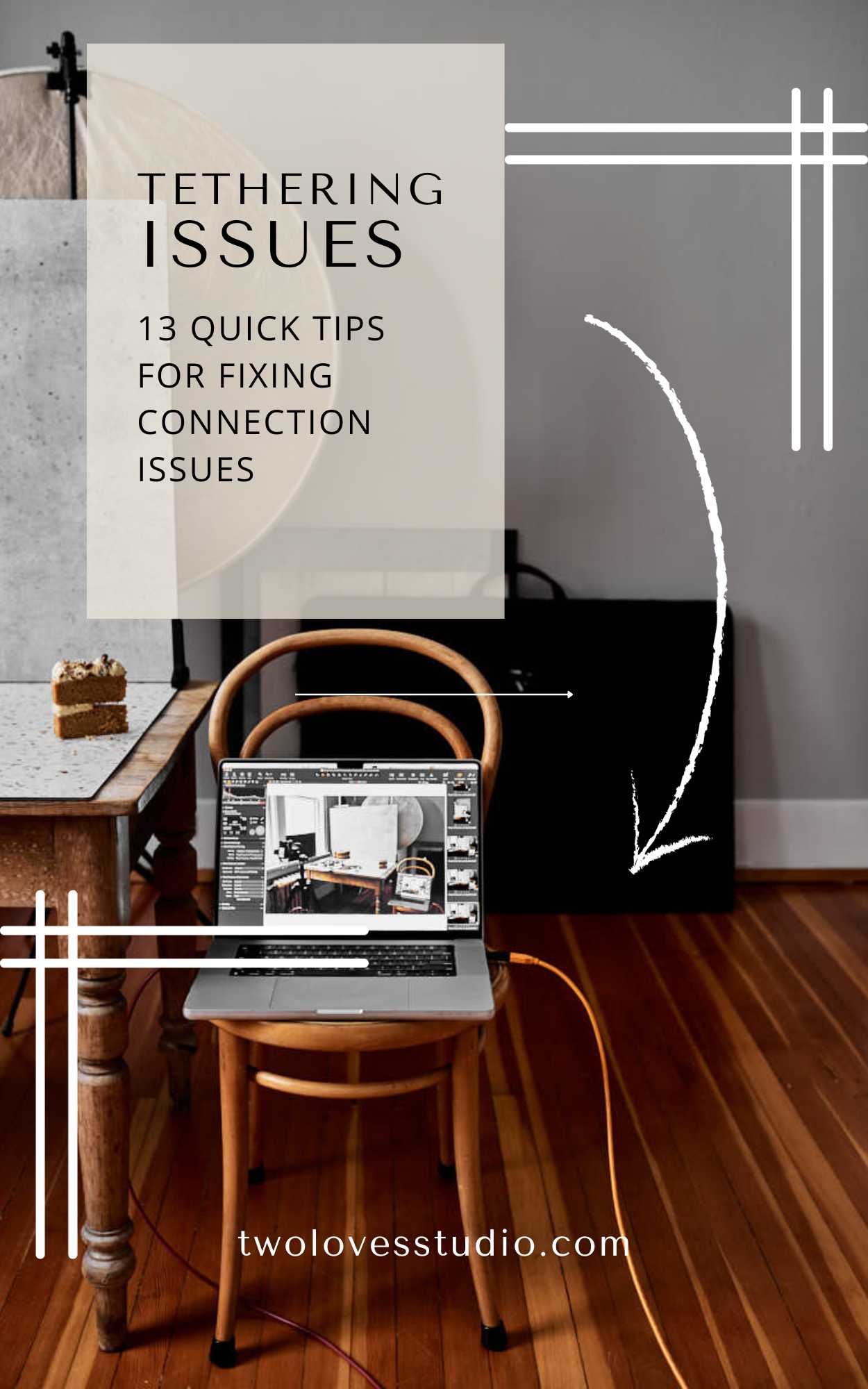 Try these tips before you do anything else
1. Check that your camera is supported
This should be the first thing you do: make sure your camera is supported by the software you're using.
Sometimes, older cameras are the problem—but new cameras can have just as many issues. It can take a little while to update the software and get in, so you want to check that your camera is working with the software.
2. Restart your computer
In many cases, a computer restart just fixes things! I know that it can be annoying to take the time to restart—but if it solves your tethering connection issue, it can be the fastest way to get you back to your shoot.
3. Turn your camera on and off
This is the troubleshooting tip that works for me the most often. Super simple to just switch your camera off and then back on—and it just might solve your problem!
Still having issues? Run through these quick tips
If the above three tips didn't solve your tethering woes, we'll need to move on to some other solutions. Move through these quickly and see if one of them will take care of the issue.
4. Unplug and reconnect
Unplug your camera and try plugging it back into your computer. If possible, try using a different port. I can't tell you how many times this has worked for me!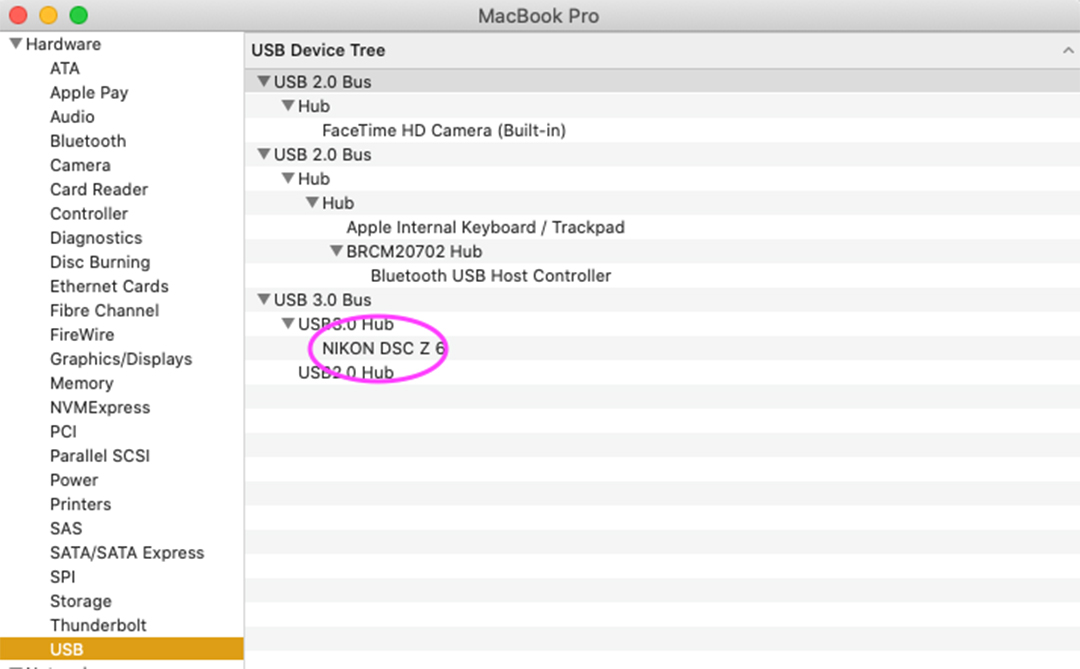 5. Check your memory card
Memory cards are different depending on your camera make and model, and sometimes the formatting of the card can be wonky. Try tethering with the memory card in, then with it out. If it's still not working, grab a freshly formatted memory card and try that.
6. Confirm your camera is recognized
Most cameras have a little icon to let you know that they're connected to the computer. My Nikon has a symbol that says "PC" and I know when I see that symbol, the computer is properly reading the camera.
7. Turn off sleep mode
Sleep mode can definitely interrupt your tethering connection. If sleep mode is on, make sure you turn it off before trying to tether.
8. Try a fully charged battery
If all else fails, grab a brand new battery to make sure that your tethering connection issues aren't the result of a dead or dying battery,
No luck? Let's dig a little deeper
I've taught thousands of students how to edit and faced lots of tethering problems from the community. While these solutions might seem a little obscure, give them a try!
taught thousands of students how to edit
9. Check for updates
Update to the latest software or check for a firmware update for your camera. These are super important and unfortunately, they take a little longer to try, but keep them in mind if nothing else seems to be working. 
10. Test another cable
It could be your cable, so I recommend testing another cable—like the one you use for your hard drive. Sometimes it's not something you've done but a faulty cable from the start. Trying a new cable can eliminate this as a potential problem.
11. Check for a loose or damaged port
In some cases, you can loosen or weaken the port that the cable plugs into on your camera. Usually, this happens because you're not using a tether block to keep the cable stable—and it's nearly impossible to fix.
You'll be able to identify this as the problem if your tethering connection bounces in and out if you move your camera. You might lose your connection, but then it returns once you put the camera down. Push the cable into the port really hard and tape it there. If your connection stabilizes, it's a good indication that your port is damaged.
If you have a damaged port and you can't afford to get a new camera, try using a tether block. This will make sure your cable is stable and won't move around at all.
12. Consider whether you need a booster
Long cables sometimes require boosters. If you're using a cable that's longer than 3 metres or 9 feet, a booster can help stabilize your connection. This isn't always an issue with newer computers and newer cameras, but it's something to keep in mind!
13. Wait to make upgrades and updates
If nothing else works, it might just be an issue with the software—and sometimes fixing that is beyond our control. You have to wait for the company to release an incremental update that might solve the problem.
I don't tend to update my software right away. I usually wait a bit to see if the community notes any issues. If there aren't any, I'll go ahead and do the update myself.
Kick your tethering workflow up a notch
My workflow relies heavily on tethering, so I know how annoying it is when something breaks. I hope these tips have helped you get back up and running!
If you're ready to discover what a professional tethering workflow could look like, check out my mini course, Tethered Flow.