Hooray! You've made it to Part 3 of pricing your food photography. You now have some hard figures in your food photography pricing and you're ready to shoot them over to your next (or even first) client! In this post, I want to chat to you about how to get the most out of your pricing.
Over the years of selling my food photography services I've had it all; yeses, nos, pricing myself too low, pricing too high, successful and failed negotiations, being paid in product and services, overseas exchange currencies to even being taken to a meeting to tell me my services were too expensive.
Haven't read Part 1 or Part 2 yet? Get on it, I'll wait.
FOOD PHOTOGRAPHY PRICING PART 3 IN A NUT SHELL!
6 Tips For Confidently Pricing Your Food Photography Services

How to Deal With Lowering Your Price

How I Price
Here are my takeaways so that you can get the most out of pricing your food photography services.
6 TIPS FOR CONFIDENTLY PRICING YOUR FOOD PHOTOGRAPHY
I know, I know. There's so much to think about isn't there? Yet more tips? Yes. You will need these at some point, so better to scan over them now and when you need them you can come back to this post and nut out a plan of action.
These are the most useful tips that I have learned over the years of selling my food photography services.
1. THE DIFFERENCE IS YOU!
It's that age old saying, you're one in a million. No one can be like you. You'd better believe it.
We've all seen those photographers who are making a living out of their services and just between you and me, they're not very good. I'd even say you're better, and they're making a living out of this. A real living! Want to know why? Because they're one of a kind. They are great to work with, fun, reliable, they know their market, they respect their clients, they keep their clients coming back for more.
No matter how many other photographers there are out there, the difference between them is you. You are one of a kind too. You are the only one who can produce the style you do, coupled with your passion, personality and outlook on your craft.
This is a real advantage for your pricing and a point of difference. So don't be intimidated when potential clients tell you so and so is charging this much and so should you. Well, you're not so and so are you? You are you.
2. IT IS BETTER TO INCREASE YOUR PRICE LATER THAN DECREASE.
You've got to start somewhere right? Waiting until you have all the skills and the perfect food photography pricing structure will see you never actually putting it into action, because it can never be perfect. You will learn things along the way that will forever adjust it.
So where do you start? Well, I would suggest to err on the side of caution.
Increasing your pricing six months down the track looks like your business is flourishing and your gaining more skills, than reducing your pricing because your current skill set didn't match up with perceived value.
3. PRICES IN WRITING COMMAND AUTHORITY.
It's as simple as that. Prices that are in writing are more believable. Everywhere you go, anytime you buy something there is a written price, on a menu board, a price tag, a price list. Service based businesses are no different.
When I was looking for a wedding photographer, I was sent pdf's, links to beautifully designed price lists with the packages they offered. I worked. Those written prices commanded authority and that these photographers had successful businesses and knew what they were doing.
Food photography is a little different to wedding photography. Weddings are generally the same in terms of aspects to be captured throughout the day. Editorial or advertising food photography will be unique to each job. So it can be hard to have a written price list.
In lieu of a written price list, when you've got the full brief details, send the client a written estimate, branded with your logo, contact details and business number.
This looks much more professional than just typing it into an email. The client also sees this figure with some authority and that you didn't just make it up on the spot.
4. GIVE ESTIMATES NOT QUOTES.
When 'quoting' a client it is important to call your initial pricing an 'estimate'. Estimates are not legally binding, (at least not in Australia), and is an effective way to indicate the likely cost of a job without committing to prices and terms.
You can't guarantee all the production costs 100% of the time. Things change. What happens if you are required to work overtime on the shoot due to an unforeseen circumstance? Estimates will still give the client a good indication of the scope of the costing, then send a final invoice once the job is completed.
5. ALWAYS GET A NON-REFUNDABLE DEPOSIT BEFORE THE JOB
Always. Make it clear to the client that in order to book their food shoot in, they will need to pay a non-refundable deposit. The deposit will depend on the value of the overall job and associated production costs. If the client pulls out or doesn't end up paying you the final invoice for whatever reason, the deposit will help cover your initial time and any pre-paid production costs.
It also shows the client that you are serious and have other work that you'll potentially be missing out on if they pull out last minute. Deposits are also part of daily life. There are a lot of services you have to prepay fully or put down a deposit on.
Act like a true business and you will be viewed as a true business.
6. SELL BENEFITS WITH THE ASSOCIATED ESTIMATE
The way to sell clients on your services is to present the price with what benefits they will receive for the price, or to put it better, the value they will get.
Value includes things like;
The number of images they will receive
Method of receiving the images
Image turn around time
Hours of shooting and styling included
Post production and retouching
Image use
Number of edits that can be request etc
Including these things in the estimate will help the client to see what their paying for and what they'll receive in return.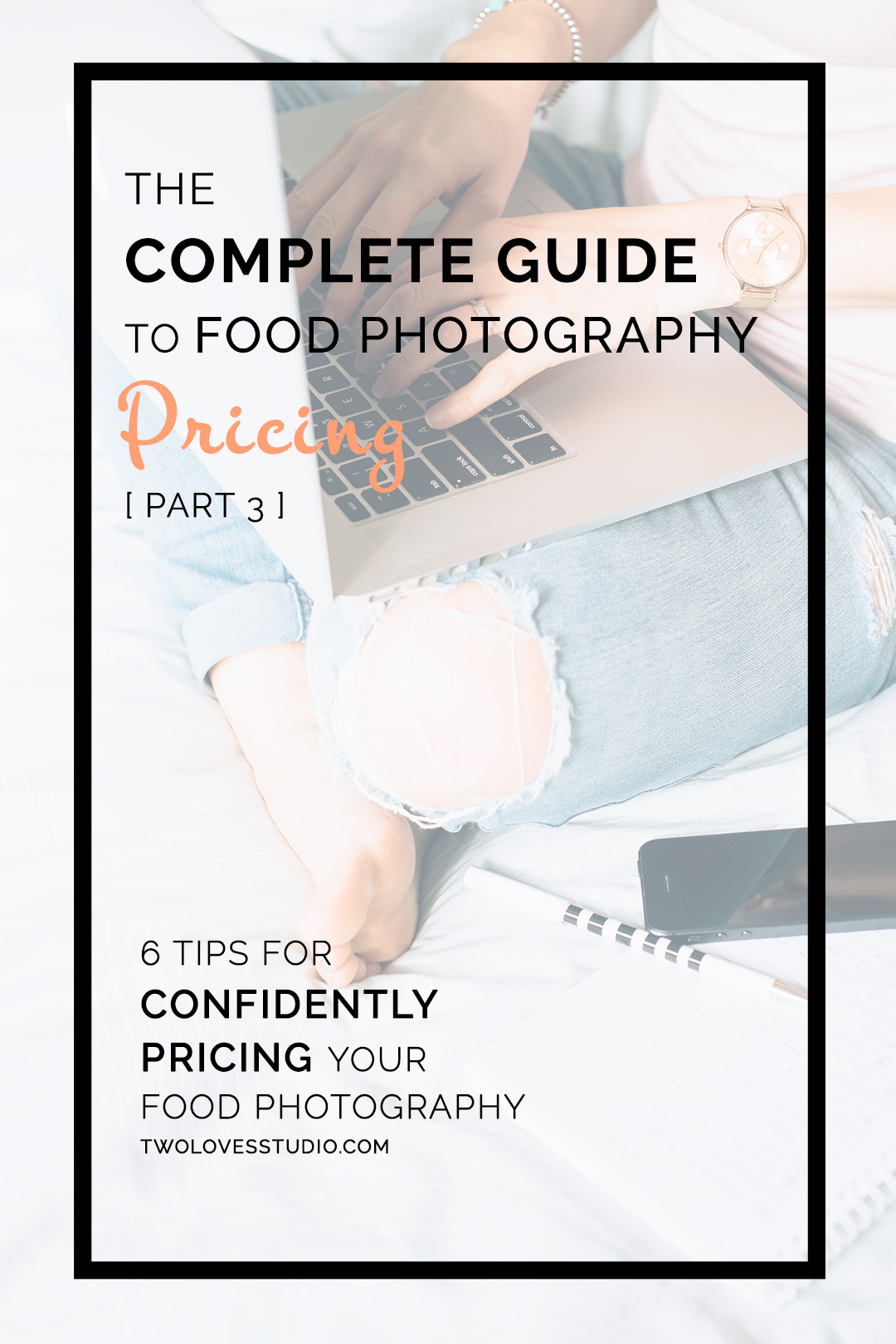 HOW TO DEAL WITH LOWERING YOUR PRICE
It is going to happen. You will always get people who want to get more out of you for less monetary return. You'll also come up against client budgets.
Decide first if you want to work with this client on the particular job. If the answer is yes, then to maintain good client relationships, I think negotiation is always ok. I've read articles you've put together list of points as to why you shouldn't negotiate, but as long as you're in control of your side of the negotiations, I think it's part of the process.
Firstly, never just lower your price because the client can't afford to pay you what you're worth. This just says to them that you are charging too much, or worse don't understand how to charge. It's hard to recover from that.
If you need to lower your price, take away value and benefits as well.
Here is what that looks like:
Just say you estimated a client a 2hr food shoot for $500, supplied 10 images and would have the final images ready in a week.
The client only has $350. You could offer instead, 1hr food shoot, 5 images to be supplied in 2 weeks. (If that still makes sense in your food photography pricing product.)
Here you're removing value, which is why the price can be reduced. Never just lower your price for the same amount of work and  benefits. I don't like to say never, but never!
HOW I PRICE
Each job is different, so getting all of the information from the client so you can give them an estimate is essential. However in order to 'quote' them you will need to base their requests against your base pricing.
I have two different approaches to pricing. The first is a concept based pricing method and the second is a half-day/full-day rate.
For magazines, editorials, advertising, books, digital story telling where there is a defined concept for a food story, I will charge based on the scope of the concept. Meaning I will charge a 'fee' to produce the concept (and all the time involved and production costs). I usually include licensing in this fee for small clients, however larger clients will be charged an additional fee for image use in the respective medium.
For shoots like portraits, interiors, events, street photography, in-situ shots etc, I will charged based on either a half-day shoot (up to 4 hours) or a full-day shoot (up to 8 hours). This is usually jobs where I am just responsible for the photography and there is no styling or preproduction costs.
It is beneficial to have a day rate as a lot of commercial places will ask you for one. I am more comfortable quoting this than an hourly rate.
In either case, I supply the client with a predetermined number of shots. Additional shots are attract an additional fee. I have standard turn around times, and I try to produce final images well before the 'by-when', but I will charge a premium for images that need to be turned around in less time.
Just landed on Part 3 or need a refresher? Check out Part 1 or Part 2 and start getting paid for your food photography!
If you have any tips that get the most out of pricing your food photography, please share below.
RELATED: The Complete Guide To Food Photography Pricing Part 2
​