In this post I am going to walk you through the three types of costs you need to know for your food photography pricing. By the end of it you'll be inputting figures into your food photography pricing structure like it's nobody's business!
Now that you have read the first edition to this three part series, the Complete Guide to Food Photography Pricing (Part 1), you've started to think about who your ideal clients are, how much you'd like to make per year, and have married those two up against your confidence, the quality of your work and its perceived value.
If not, do through a quick recap of Part 1 here, including completing your FREE Worksheet 1 – don't want to skip laying that foundation, go on, I'll wait.
ACTION:

Have your completed worksheet from Part 1 handy with the figure on how much you want to get paid per year.
FOOD PHOTOGRAPHY PRICING PART 2 IN A NUT SHELL!
With a solid understand of the factors that influence price from Part 1, you're ready to dive into those nitty gritty figures.
In this edition we're going to look at the following cost categories in detail to start enabling you to put together a pricing structure:
Your Labour Costs – the cost 'per minute'

The Production Costs – the production and creative cost for each shoot, (food and props)

COGS Mark-Up – to cover overheads and that profit yo!
At the end of this post you'll be able to craft some solid figures of your own with my FREE PRICING SPREADSHEET.
A little random tid bit about me if you didn't know – I have a degree in Business Accounting (and Teaching), so I love my spread sheets! (You should have seen my epic spreadsheet for my wedding! Ekk)
PRICING
By now you're starting to realise that there's a lot of factors that go into pricing your food photography services! Let me tell you that each job is so different, there's no hard and fast rules unfortunately.
But after you have completed this series you will know where you sit in the ball park and the overwhelming feelings of quoting jobs will slowly slip away. Promise.
Let's start getting those cost types under our belt. There are three things we need to determine before you can hit up those fancy spreadsheets:
Your Labour Costs – the cost 'per minute'
COGS Mark-Up – to cover overheads and profit
The Production Costs – the production and creative cost for each shoot, (food and props)
LABOUR COSTS – COST 'PER MINUTE'
Your time isn't free! It's the most valuable aspect of your pricing. It is where you can make profit as it doesn't technically you're not out of pocket when you trade time for money, (although there is a limit to your time in service based businesses).
To work out the labour cost for each food photography job, you'll want to work out the cost 'per minute'.
Cost per minute is based upon the annual wage you've set yourself per year, the amount of weeks in each year you want to work and the hours you'll work per week.
Cost 'Per Minute' =

(annual wage) ÷ (working weeks) ÷ (hours per week) ÷ (minutes per hour)

 
MARK-UP –  OVERHEADS AND PROFIT YO!
In order to cover your fixed costs and overheads, like camera gear, website, advertising, your office set up, etc and leave room for profit, you'll need to charge additional fees to your labour costs.
To work out the mark-up on your pricing product, you'll want to use a Cost of Good (COGS) model.
I use the 35% cost of goods model.
Put simply, this means that out of our final pricing product (100%), 35% of that pricing product will be the cost of labour and materials (when you choose to put materials in, like for the cost of a print) and 65% of that pricing product will be a mix of fixed costs it takes to your your business and profit.
Mark-Up =

35% cost of good model: (100 ÷ 35) = 2.85
As everyone has a different level of lifestyle and the costs associated with maintaining that, you can use a different markup value or model, the concept is still the same.
PRODUCTION COSTS – FOOD, PROPS AND CREATIVE COSTS
Getting into production photography, like food photography, where there are multiple costs to consider in order to execute a job, you'll want to ensure that you are covering the out of pocket costs.
Costing these into your pricing structure can be hard, and it is debatable as to how transparent you should be with these associated costs.
If you're just getting started on your pricing, then my advice would be to get the client to cover these at cost plus a small sourcing fee.
Production Costs =

(production and creative costs) x (sourcing fee %)
The sourcing fee will be a percentage around 5%-20% depending on the level of professional you are. This fee essentially covers your time in sourcing food, props, stylist, studio hire etc to execute the job. On larger jobs you will sometimes encounter a producer who will do this for you, however most smaller jobs will require you to source food and props at a minimum. Who covers that time? Here is where the sourcing fee comes in.
Large production houses will be used to being charged a fee for just about everything, but your smaller clients won't. Itemising the production costs separately from your fees allows for transparency.
This gives the client a sense of how much these additional factors will cost and that you're not just pocketing this additional cash.
It will also allows both parties to negotiate where savings can be made without your profit taking a direct hit. (We'll get more into this in Part 3).
PUTTING IT ALL TOGETHER – PRICING PACKAGE EXAMPLE
Now we've talked the talk, let's walk the walk and put this into action.
Your pricing package is going to be quite simply:
Your pricing package =

(total minutes for a job) x (cost 'per minute' ) x (the COGS mark-up) + (material costs, food and props) x (souring fee %)
Let's do this for real, and go through an example.
Just say, I want to work 48 weeks per year, at a regular working week of 40 hours per week, and I think that $45,000 (pre-tax) annually is reasonable to ask for my skill set. (This is just an example).
My cost 'per minute' = $0.39

($45,000) ÷ (48 weeks per year) ÷ (40 hours per week) ÷ (60 minutes per hour)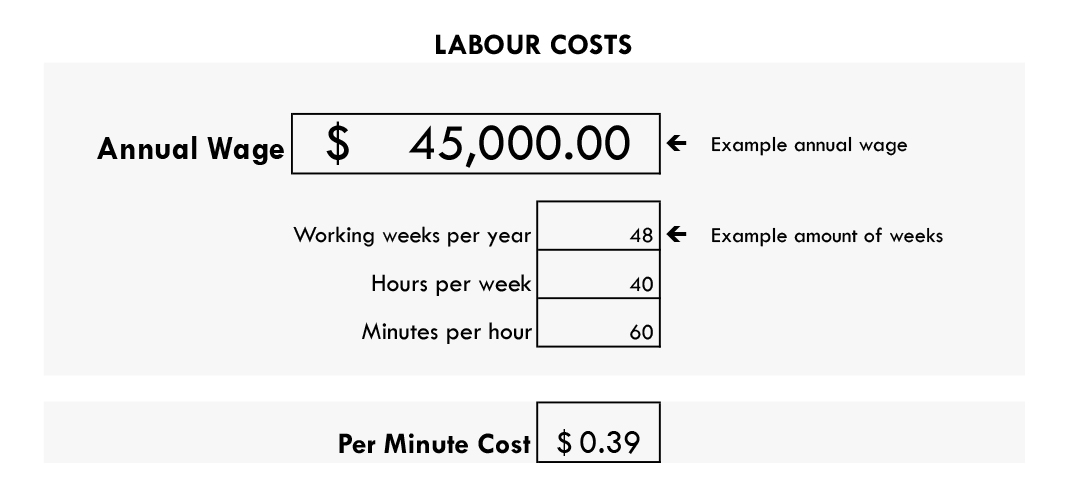 And I've been asked to cook and shoot a recipe for a blog. The recipe is an easy recipe and has been tested and supplied to me.
I will need to get the ingredients, cook the food, style the dish, source the props, shoot and edit the digital files. I have estimated the entire job will take 6 hours to complete.
Total Time Cost = 6 hours (360 minutes)

(Creative, 2.5 hrs) + (Shoot time, 1 hr) + (Post Production, 1 hr) + (Cooking, 0.5 hrs) + (Admin, 1 hr)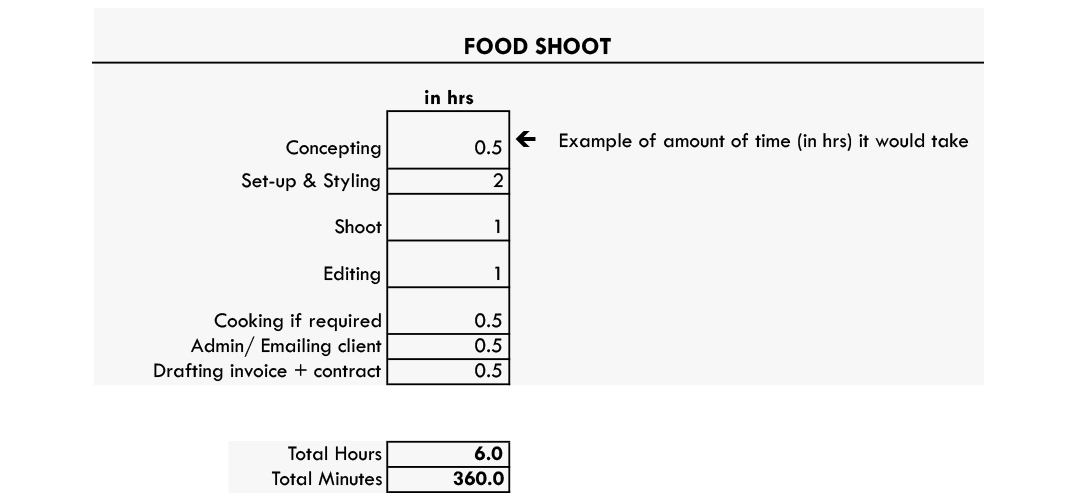 Now if my cost 'per minute' is $0.39 and it takes me 6 hrs (360 minutes) to complete this job, my labour cost will be $146.63 for the job.
Labour Cost = $146.63

($0.39 per minute cost) x (360 minutes)

To get the total 'creative fee' for this job, we need to mark-up our labour cost figure by our 35% COGS model. Remembering that our mark-up is 2.85.
Total Creative Fee = $ 400.78

(labour cost, $146.63) x (mark-up for fixed costs and profit, 2.85)

Let's assume that I had advised the client that they would be responsible to cover the shoot's product costs and I estimated they would come in around $200. (You will get better at estimating over time)
Production Costs = $147.35

(food, $67.40) + (props, $34.95) + (production costs, $45)
To get the total 'production costs' for this job, we need to multiple our production cost figure by our sourcing fee of say 15% (for example).
Total Production Cost = $ 169.45

(production cost, $147.35) x (sourcing fee, 15%) + (production cost, $147.35)

TOTAL CREATIVE FEE
Now you have your total creative fee for a simple shoot, it's time again to think about to the influences of pricing from Part 1.
Quality?
Does the Quality of your work match this price? Should the price be higher, should it be lower?
Perceived Value?
Does the Perceived Value of your work match this price? Will the client feel that $400.78 is worth getting you to shoot this dish? Is it going to bring them more views on their blog, get the recipe shared more? Do they have affiliate links they can tap into if the post goes viral? Should this price be higher due to those factors? Are they a small blog without traffic, should the price be lower?
Confidence?
Does your Confidence as a photographer match this price? Is spending 6 hours on this small job too much? If not, should your price be lower as your still starting out? Can you knock it over in less time? Should your price be higher as your a more efficient and confident photographer?
I know these can be daunting questions at first, but trust yourself – you can totally work them out!
Have a good hard think about that price and go with your gut. Higher or lower. What will it be? Remember you can reassess your pricing. It's not set in stone.
SET UP YOUR PRICING STRUCTURE – FREE PRICING SPREADSHEET
Congratulations on making it this far! You're totally ready to start putting together your own pricing structure.
Have you still got Worksheet 1 with you? Ok good. Remember when you did your last shoot and you wrote down how long each little bit took you to do? Great. We'll you'll need that to fill in the FREE pricing spreadsheet.
ACTION:

Download the Pricing Worksheet and fill in the coloured cells with
Your annual wage

Weeks per year you want to work

Hours per week you want to work

The sourcing fee percentage you want to charge (5%-20%)

Production and creative costs if known (you can take a recent job or personal project you did as an example)

Time (in hrs) it took to complete your last job from start to finish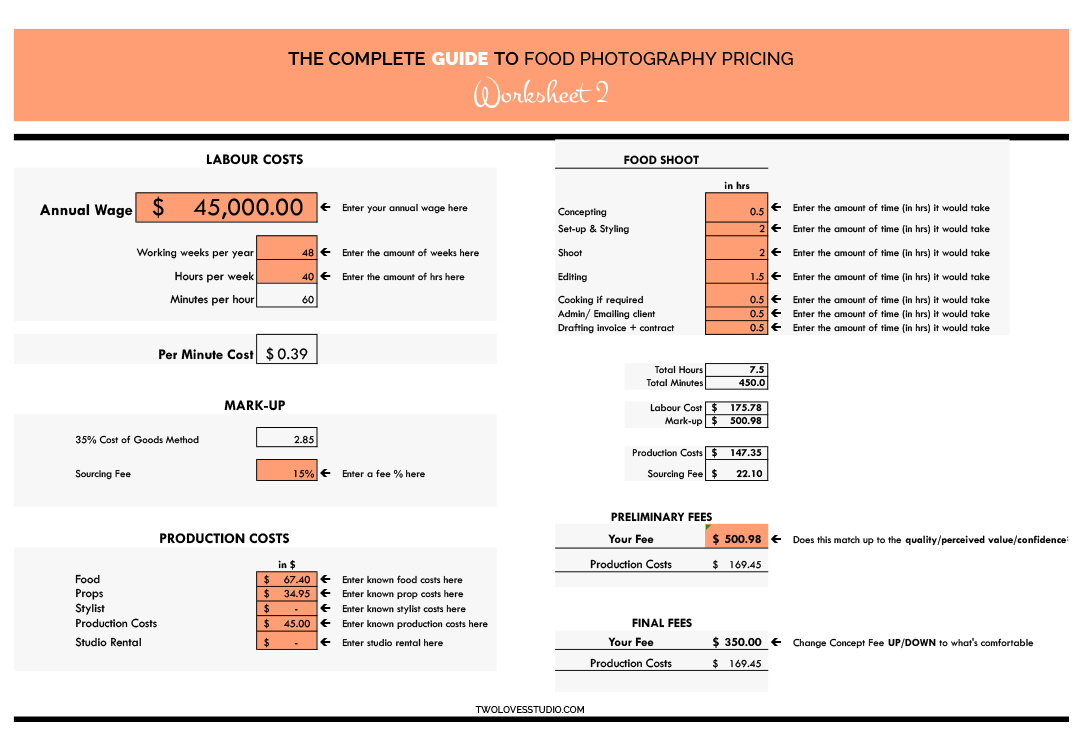 HOW DO YOU COMPARE?
So what did you come up with? Still feeling like you don't know if you are on track or not?
PetaPixel talks here about price ranges for different levels of photographers from hobbyist to student to semi-pro and pro.
So how do you measure up? Did you find this helpful? Still need some direction? Leave a comment below!
Next up, Part 3. Tips to get the most out of your pricing!