You've read the prop tips and prop mistakes. Now it's time to use those to build your food photography prop collection.
But where the heck do you start?
I wish that when I was starting out someone would have given me a food photography prop checklist that would tell me all the things I would need. It would give me something to work with.
After 7 years on the job, these are the things that I think you need in order to executive client work. Then there are 'nice to haves'.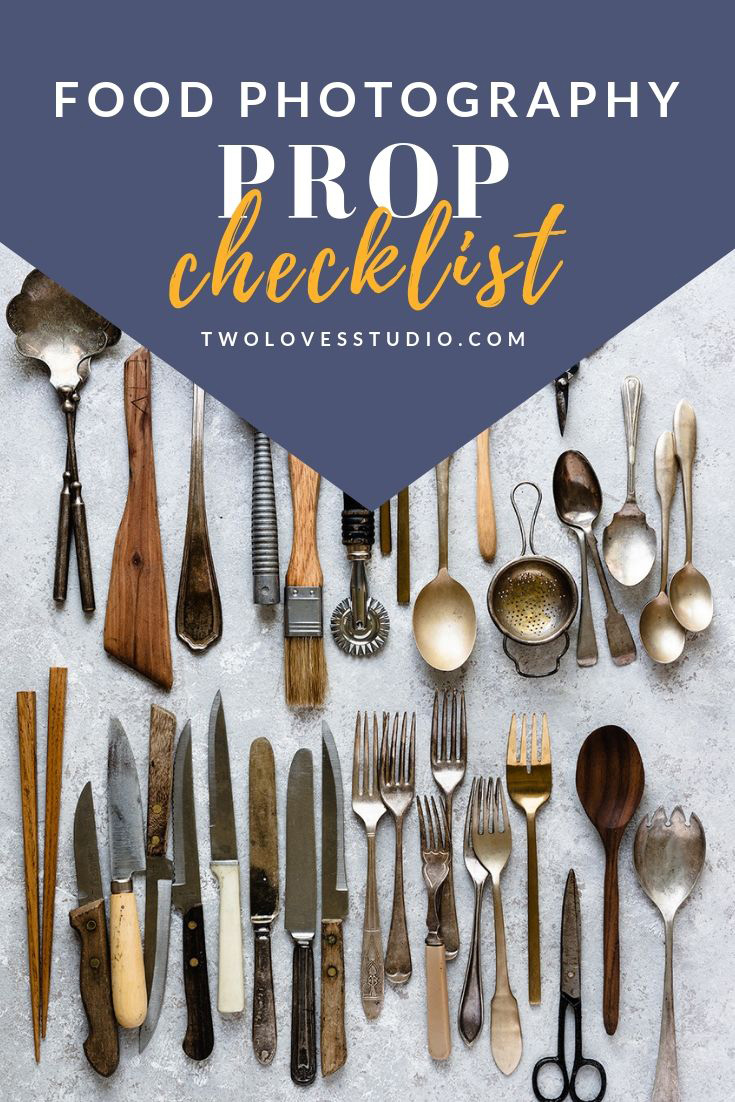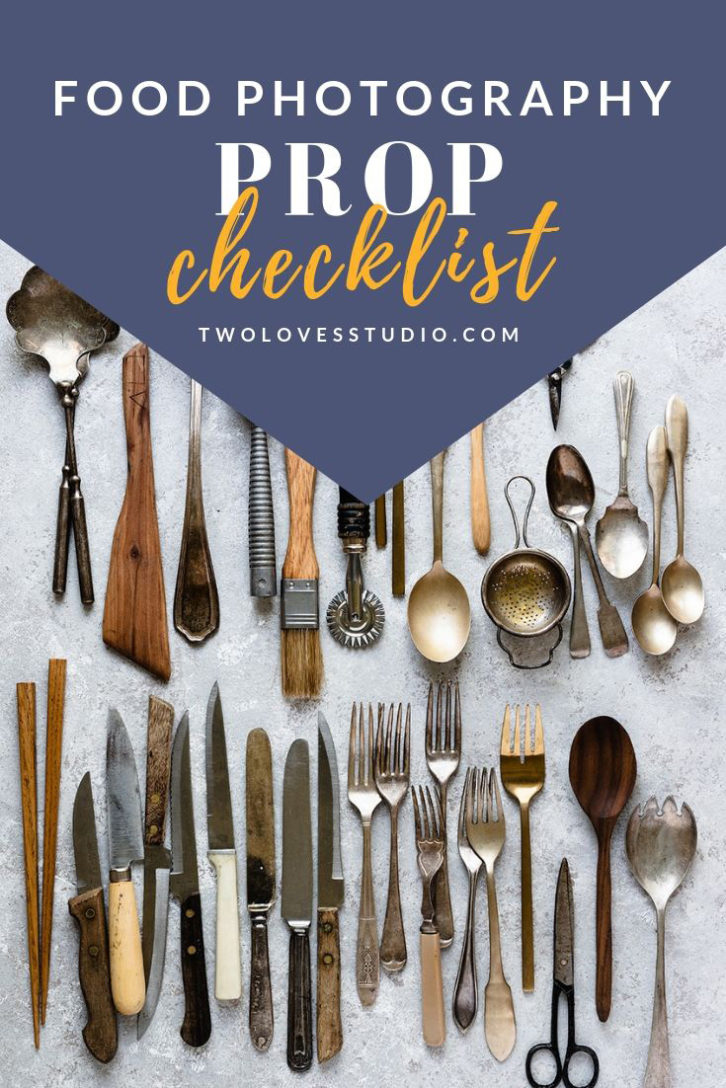 Download The Food Photography Prop Checklist.
Click to get access to this free food photography prop checklist and start your collection today the right way!


Bowls
When it comes to bowls, you will need a few different sizes. Both in volume and height.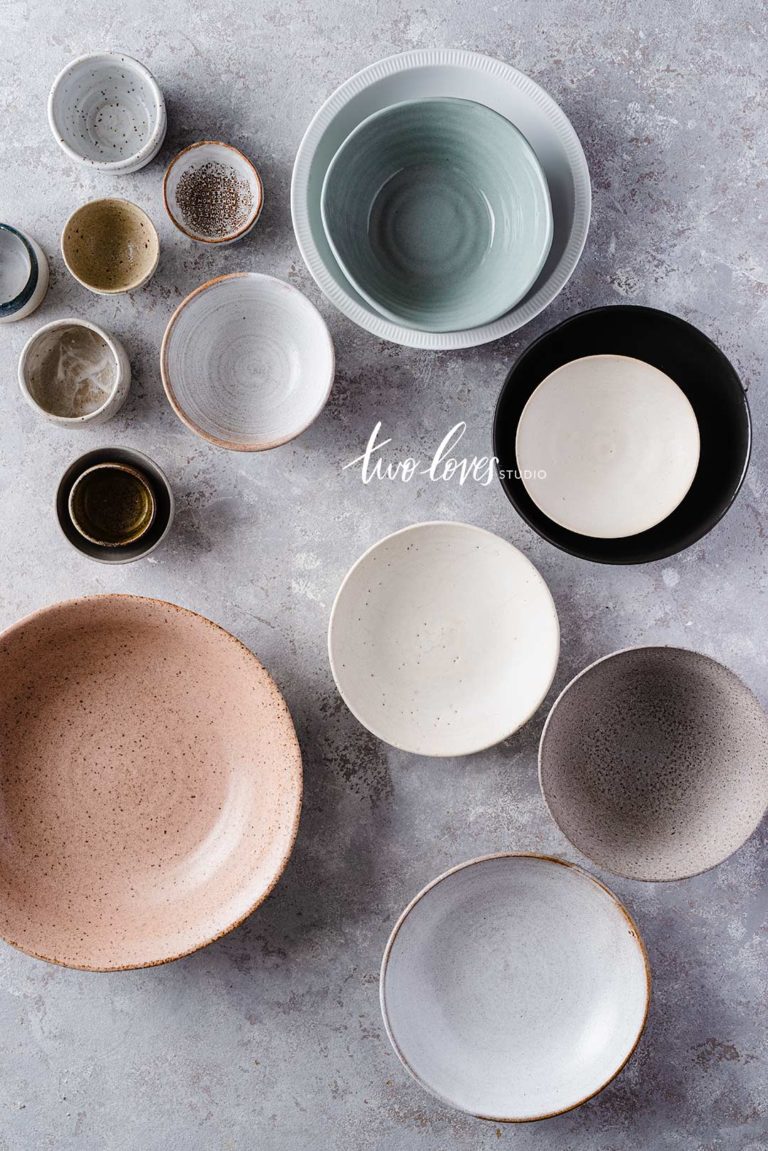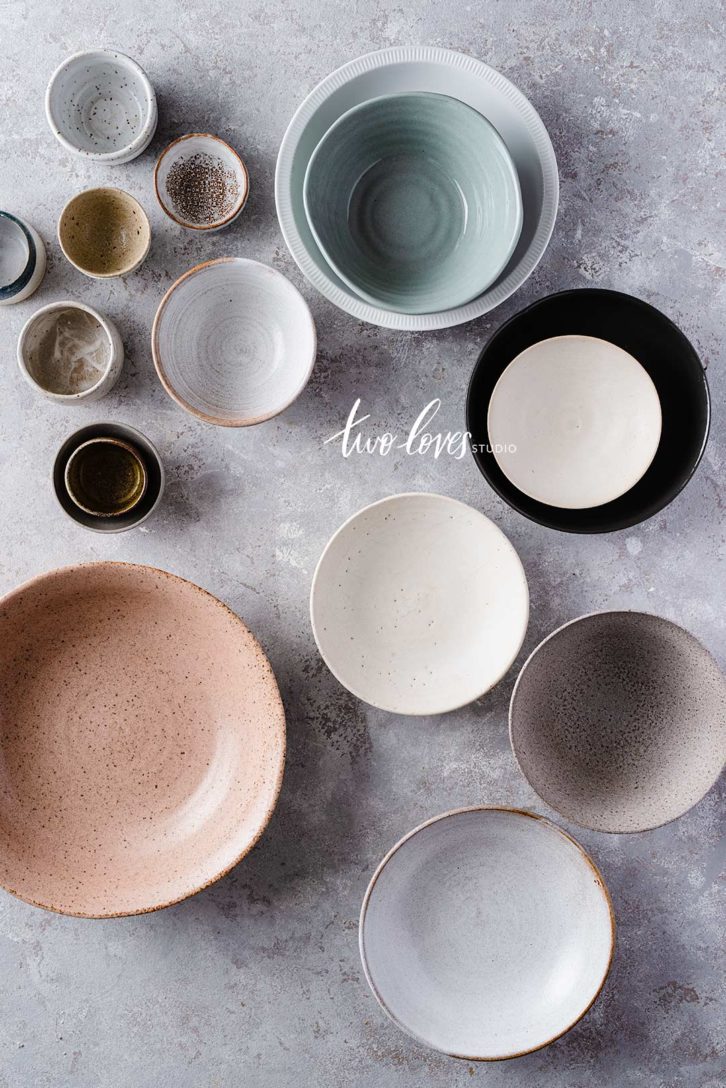 You'll want to collect:
Serving Dishes (extra large)
Soup/Noodle Bowls (medium to large)
Ice Cream or Condiment Bowls (small)
Pinch Bowls (tiny little bowls)
Plates
You'll also want a variety of plates in size. Neutral colours and subtle texture work across multiple moods.
Look out for:
Platters + Serving (extra large)
Plates (medium to large)
Side Plates (small)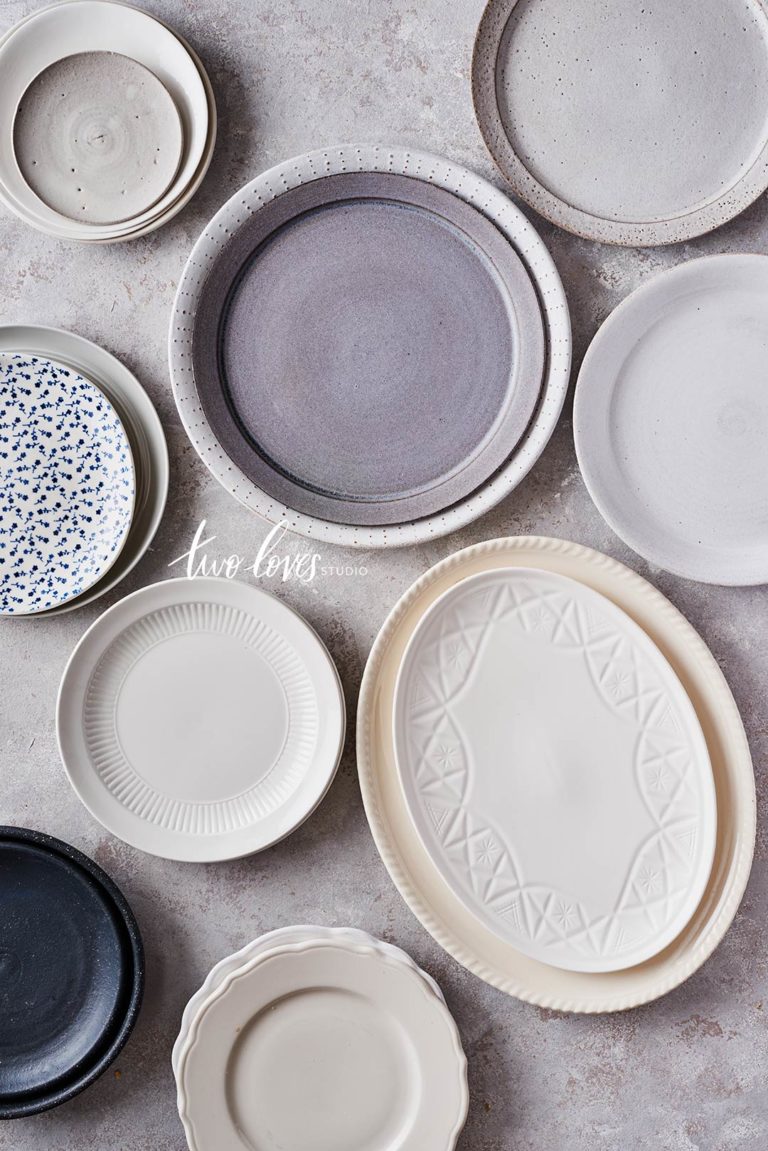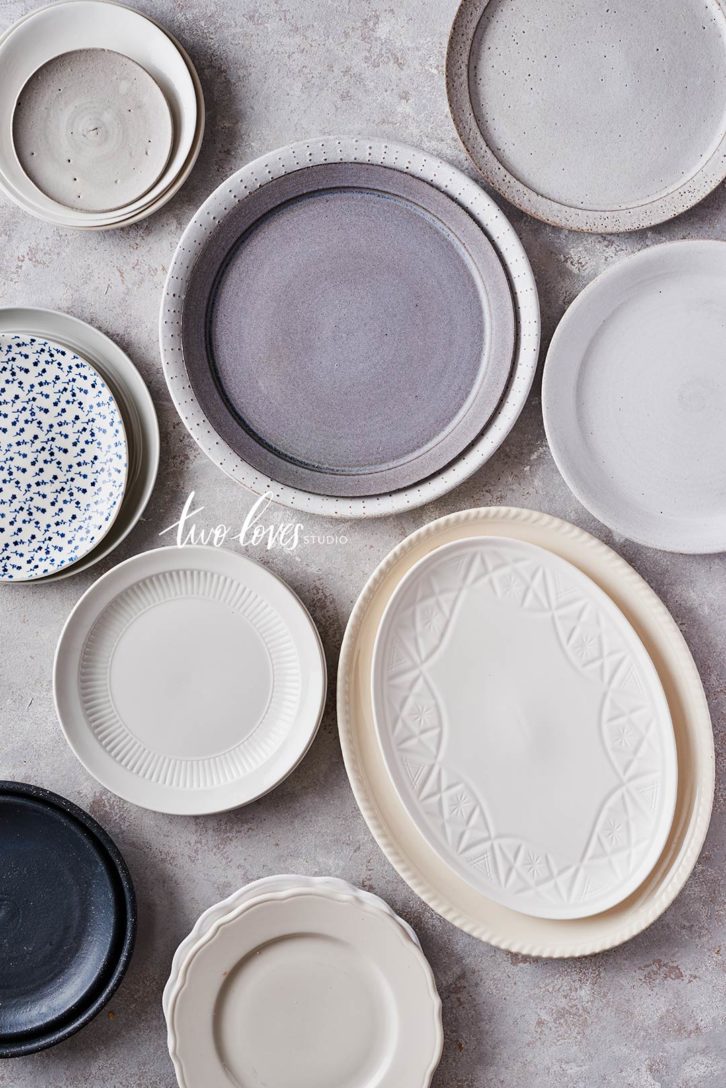 Vessels
The next group is where I lump a few things into this vessels category. Mostly it's props that will hold liquids, (but aren't limited to). Here, you'll also want a mix of different heights, sizes and volume capacity.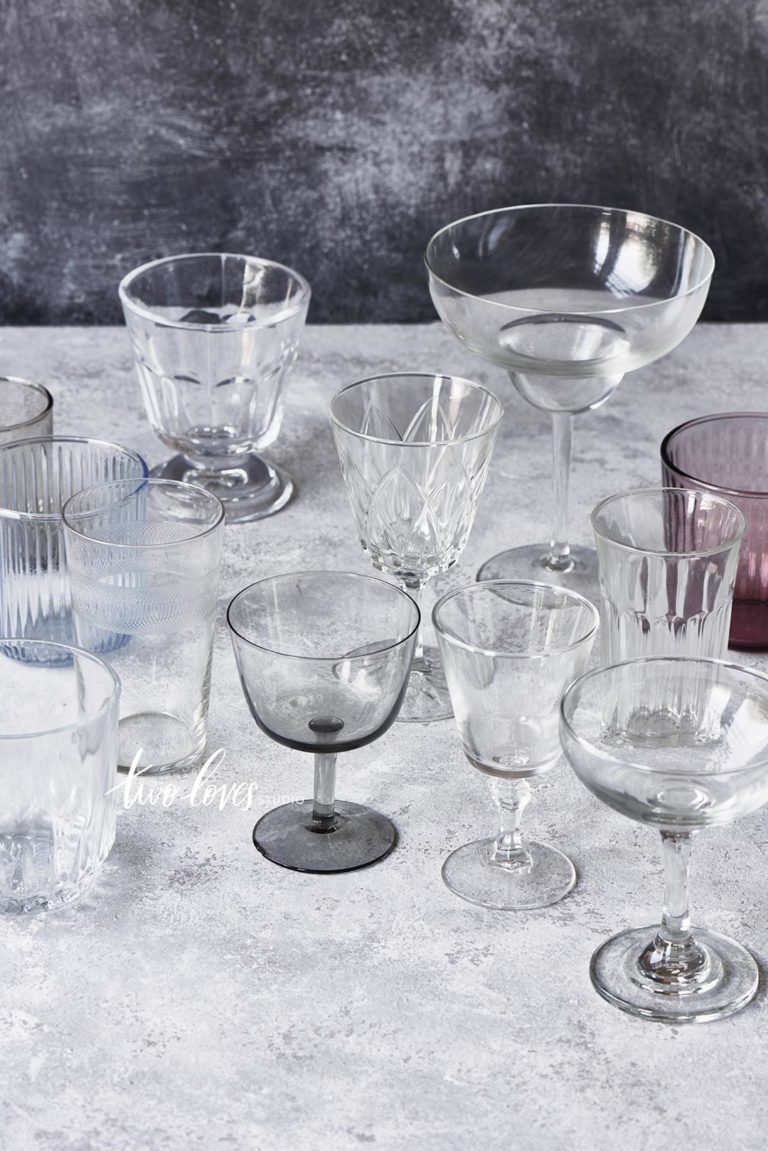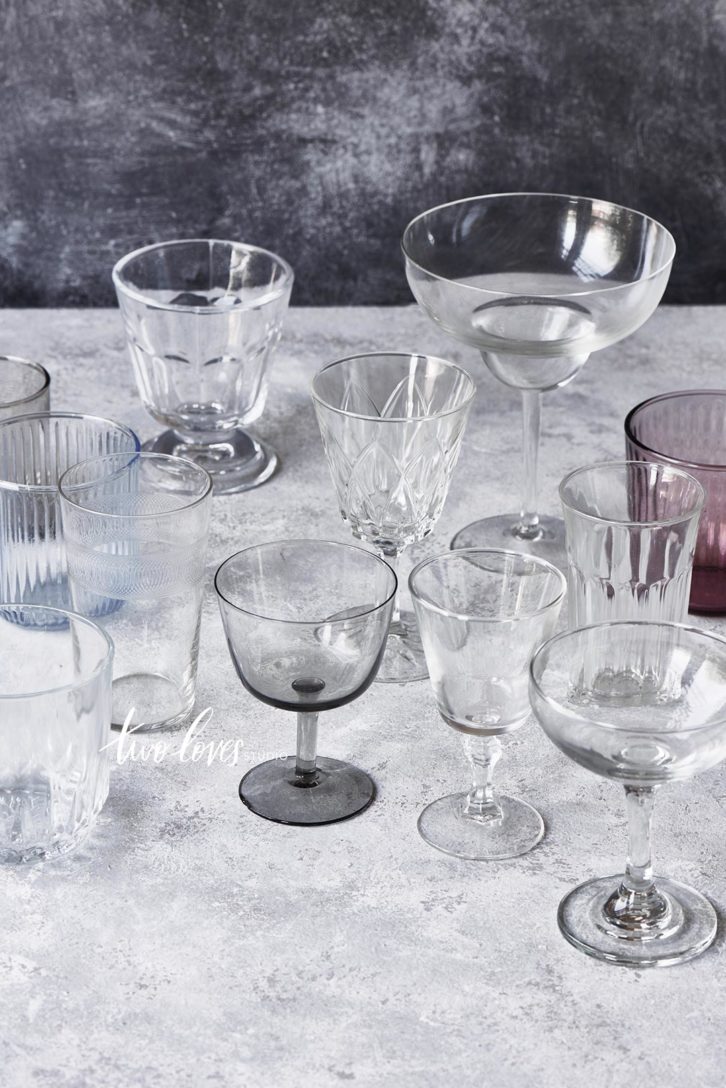 You'll want to find:
Tea Cups (medium-small hot beverages)
Alcohol/desserts (medium-small)
Water glass (medium-small)
Pouring + Sauces (small)
Cutlery + Serving
Quite easily the hardest to source for vintage and at the right size. I found a lot of my collection from my Mother and Grandmother, but also vintage, thrift and antique stores.
When it comes to cutlery look out for:
Knives + Forks + Spoons (rustic + luxurious)
Serving Utensils (rustic + luxurious)
Paring Knife (vintage)
Teaspoons (rustic + luxurious)
Ice cream scoop
Sugar duster (small)
Pastry brush
Herb Scissors (small)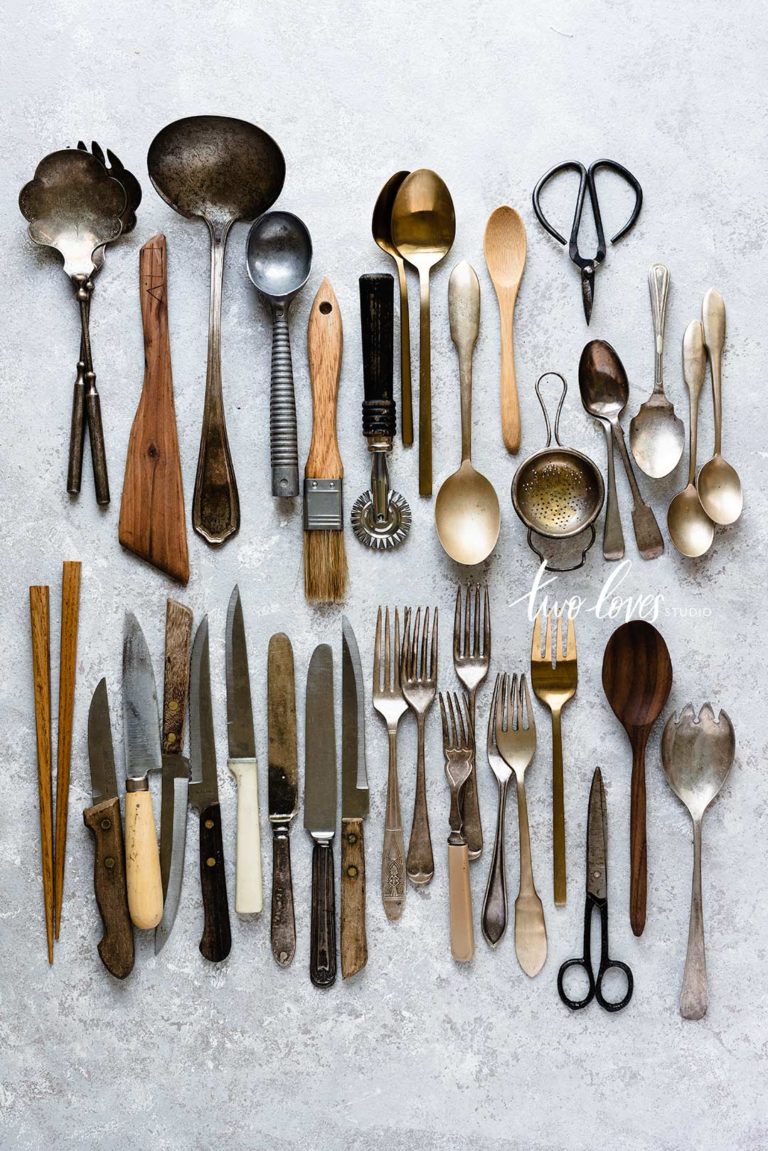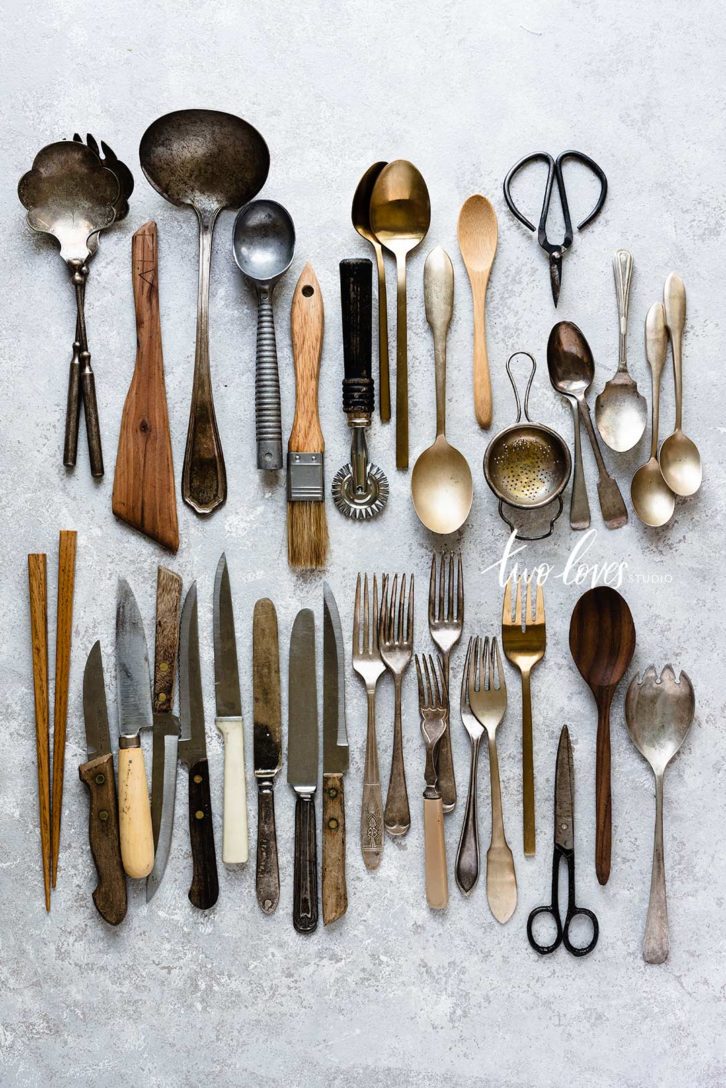 Linens
Are fairly straight forward, with linens you need two types. But it's finding the quality linens that is the hardest. Always go for actual linen. It's buttery soft and will work with you in the styling process.
Napkins can be stiff and don't style well. They are cheaper than linen, but you get what you pay for.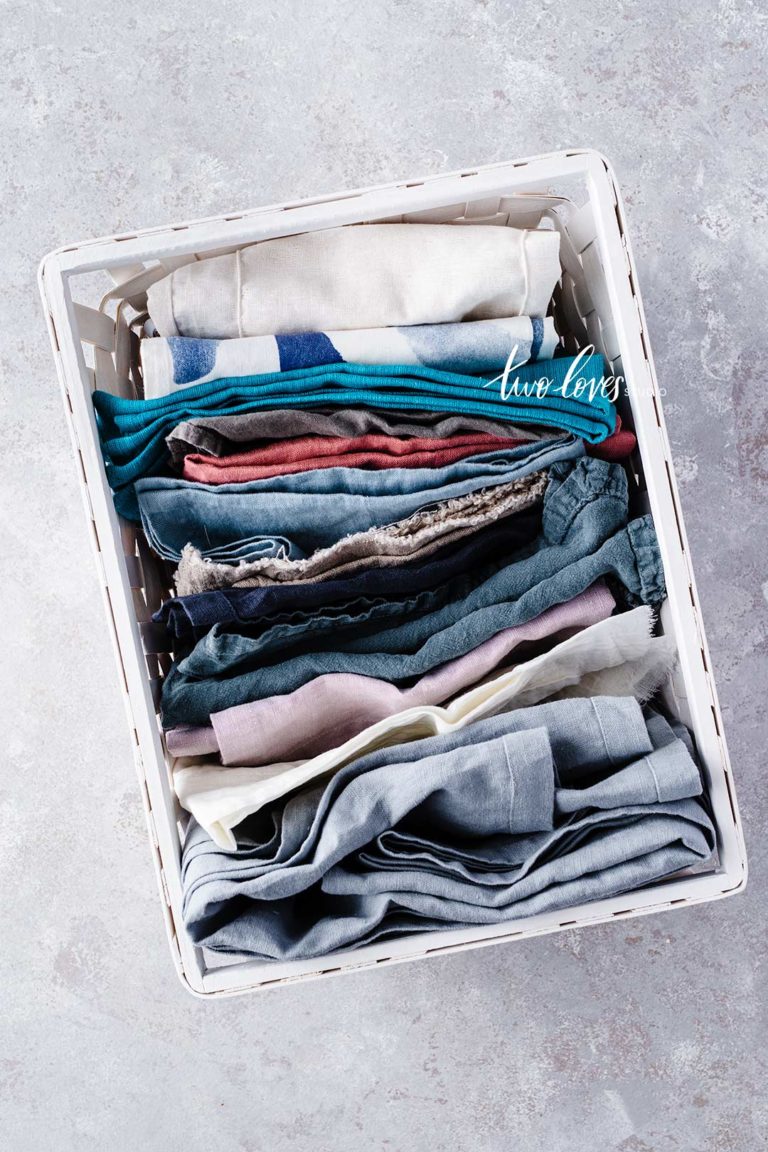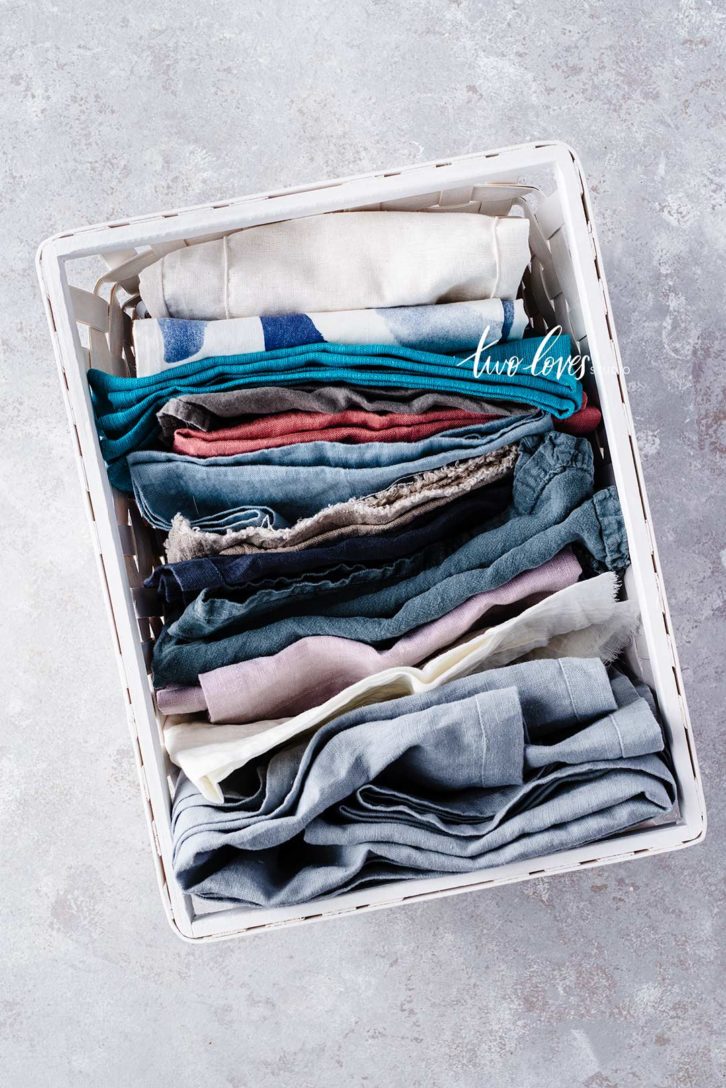 Add these two items:
Napkins (medium + small)
Tablecloth (large)
Baking
Is my most enjoyed category of food photography. I have a sweet tooth and so I love to bake, shoot and eat! Food styling props for baking are also best when they are a little vintage. A little bit of 'pre-loved' goes a long way.

Get your hands on:
Wire Cooling Rack
Cake Stand
Baking Pans
Baking Trays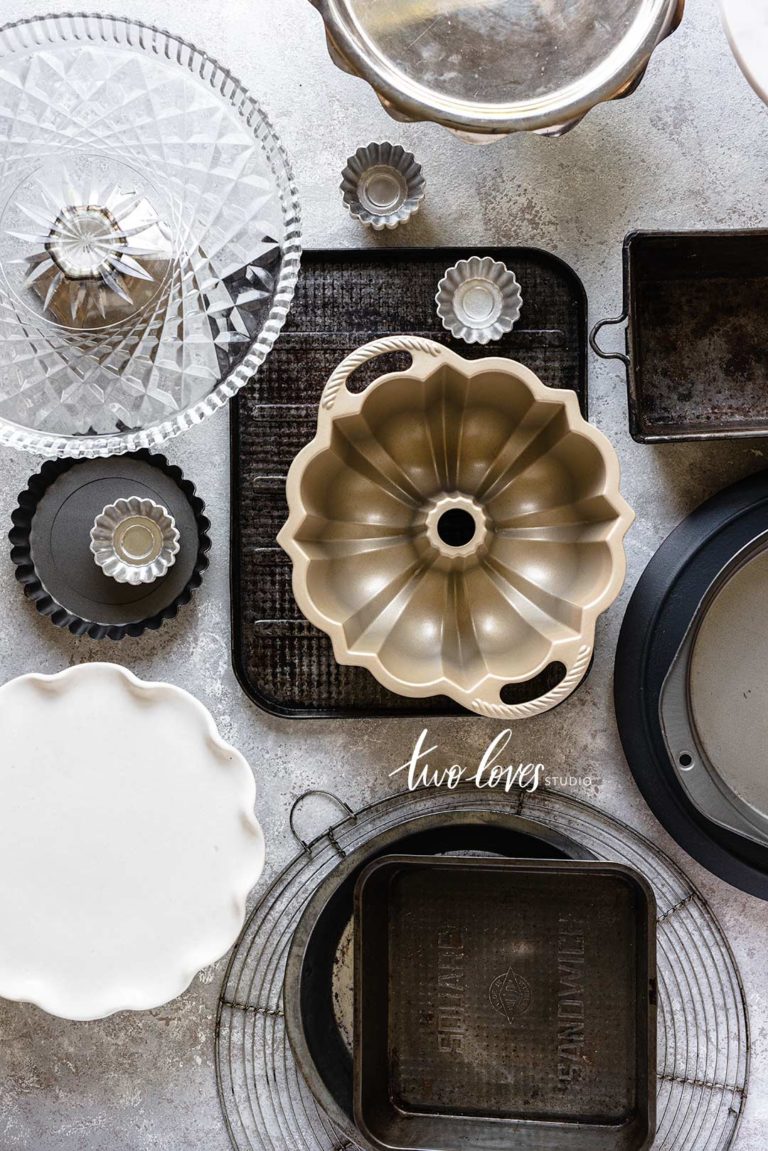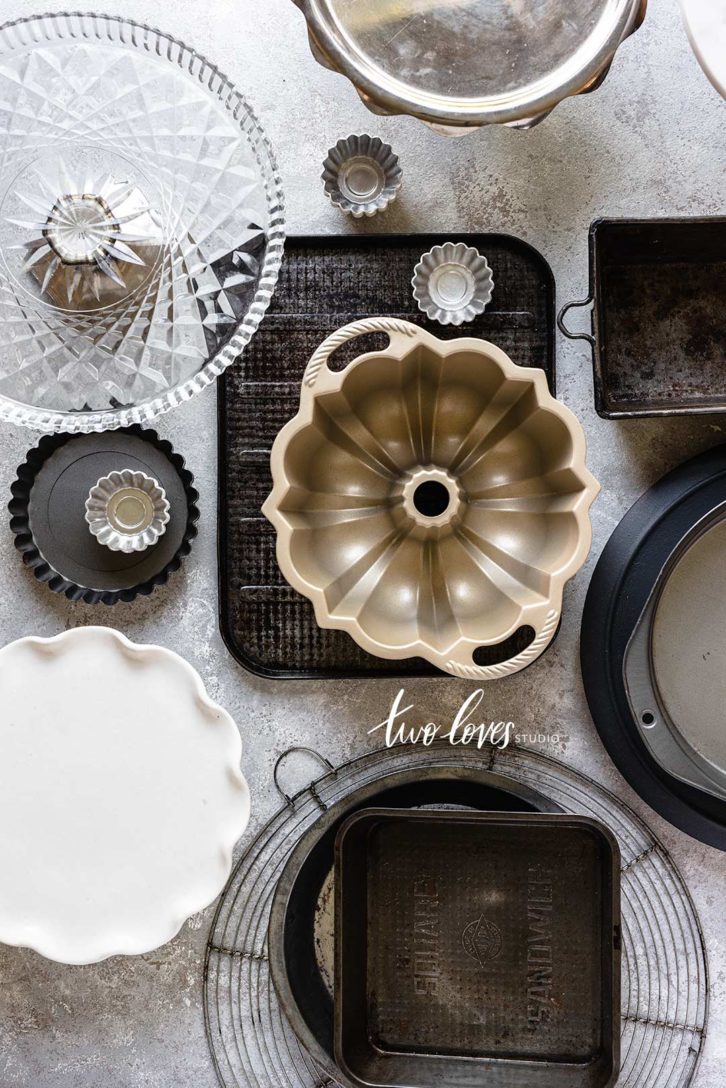 Other Nice-to-Have Food Styling Props
These props aren't essential when you are getting started but they are something you will want to have at some point, as they will likely come up in a client shoot.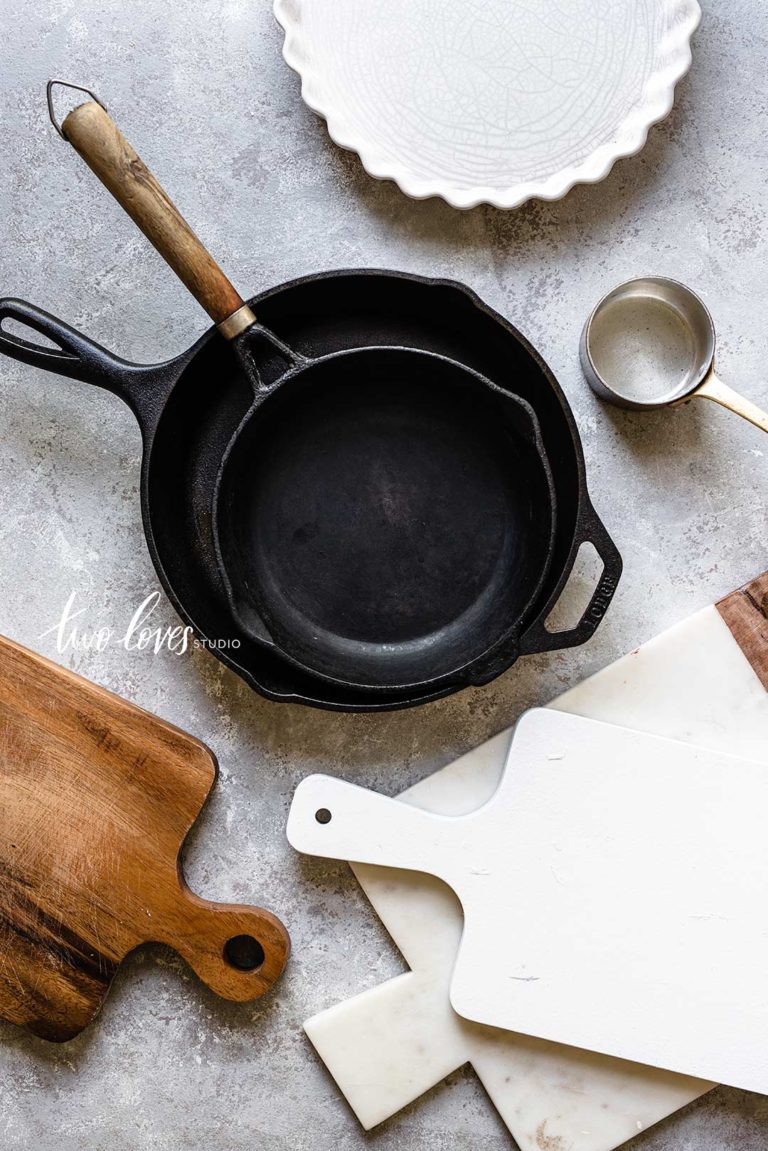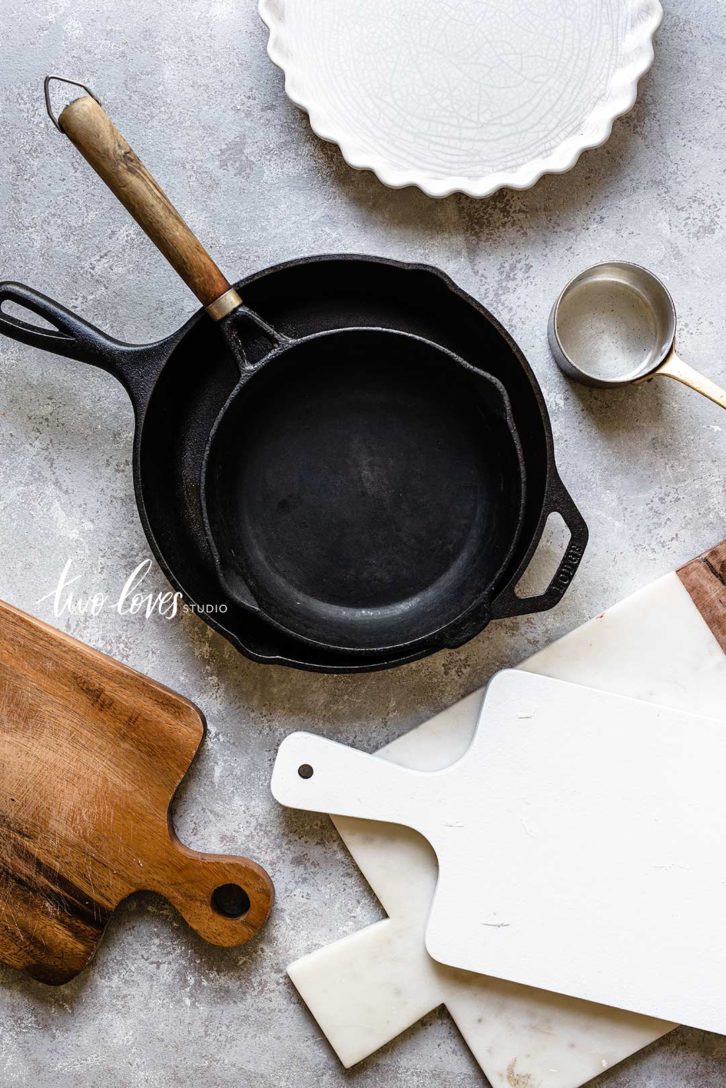 Keep an eye out for:
Cutting Board: Wooden or Stone
Skillet
Butter saucepan (small)
Pie Dish
Mortar + Pestle (small)
Trifle dish (medium to large)
Popsicle molds
Backgrounds
Are probably the most important prop of all. They are the backbone of our shot and can really make or break a concept. While it's definitely possible to create your own backgrounds, it is important to also buy some from the best in the business.
The texture and quality that some can produce is unmatched.
Light grey marble
Grey-blue textured
Dark grey/charcoal textured
Blush pink
Textured wood
Textured white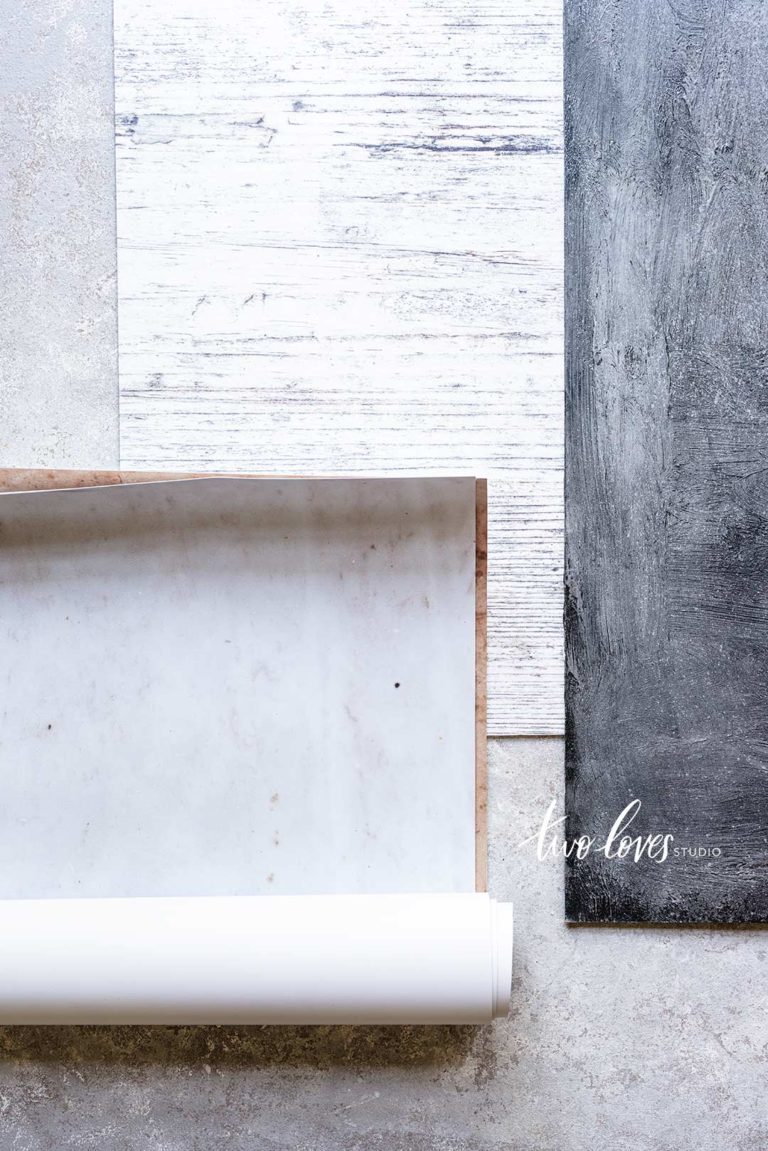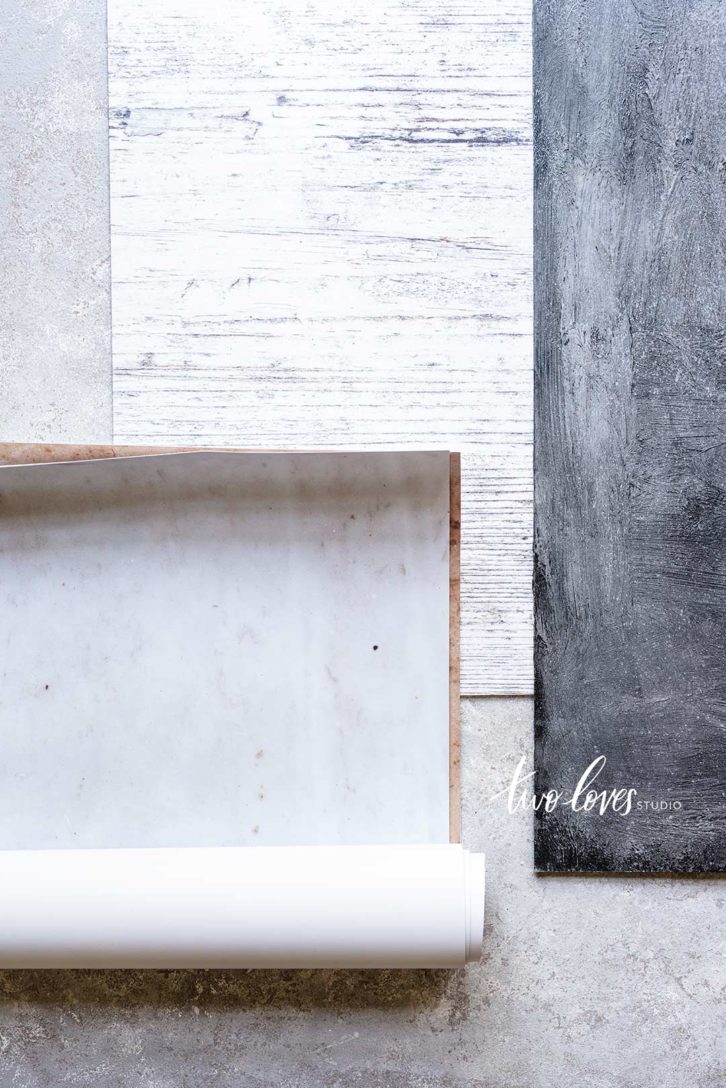 Where To Buy Food Photography Props.
I know this is your next question and I will leave some tips on where you can go to find your props.
Finding food photography props takes time and is something you will always be doing. So get started, and then keep a keen eye out!
Esty
Thrift, vintage and antique stores
Local ceramicists and markets
Instagram, (there are quite a few curated ceramics accounts you can follow for ideas)
Before you run off and get started, be sure to check out these related posts.


Related: Food Styling Prop Tips That'll Save You Money.
Related: Food Photography Prop Mistakes You're Making.
Don't forget to download the food photography prop checklist!
Are there any props that I've missed that are crucial to start a food photography collection? Or do you have a favourite place to find props? Let me know in the comments below.