The tilt-shift may just be a food photographer's lens of choice. Why? Because using a tilt-shift lens in food photography can allow you to precisely control the plane of focus like no other lens can.
A tilt shift lens can be a great choice for shooting food if you require a mix of depth of field and control over what's in focus.
If you've clicked through to check out the links to the lenses, you'll see that they are pricey! Yikes. You might be thinking, that you'll just never be able to afford a specialty lens like that.
But the great news is that you can rent lenses. If you're in a major city, there is more than likely going to be an opportunity for you to rent a lens to play with.
But first, I know you're curious to read about what a tilt shift lens is and how it works. So let's get into that. This post contains affiliate links.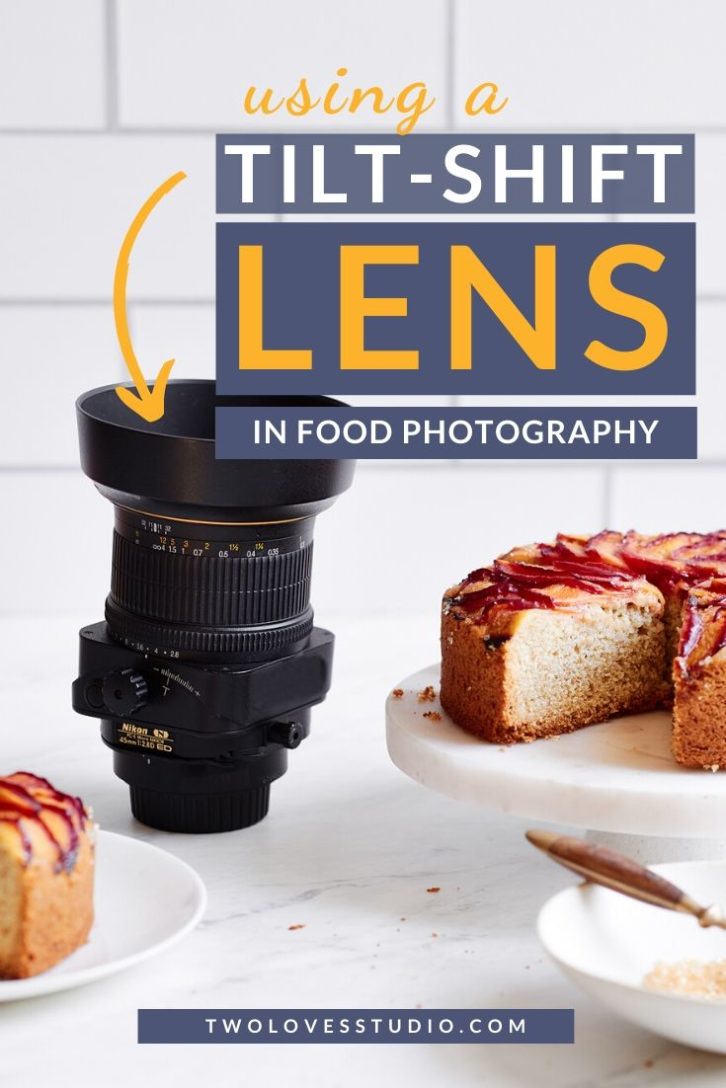 What is a Tilt-Shift Lens?
Tilt-shift is a lens that encompasses two unique movements, being a tilt movement and a shift movement.
This allows you to control the plane of focus and control the convergence of parallel lines.
If you're unfamiliar with the plane of focus, I've done a whole post about it you might want to check out. Visually this is what it looks like.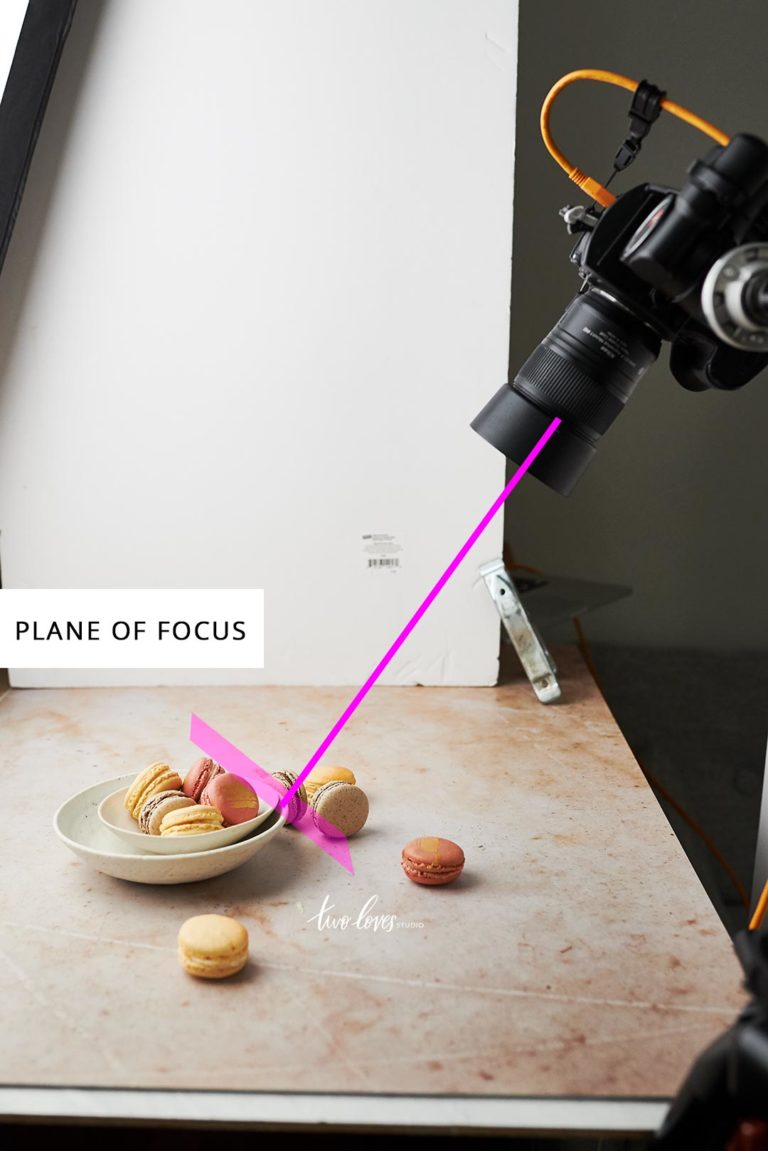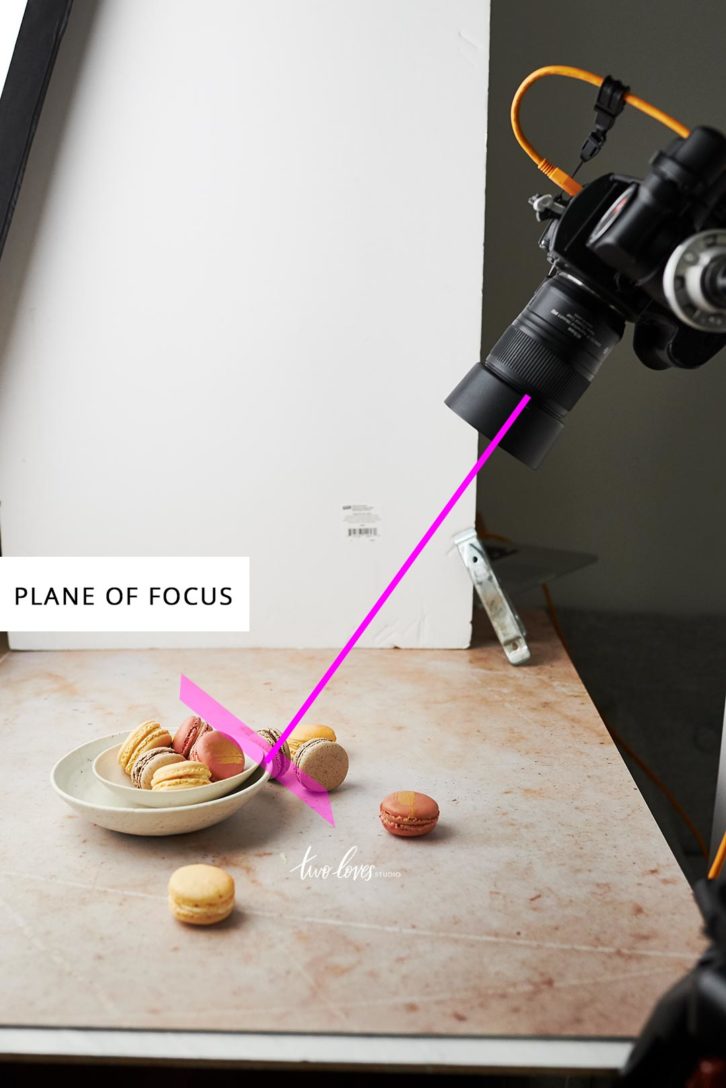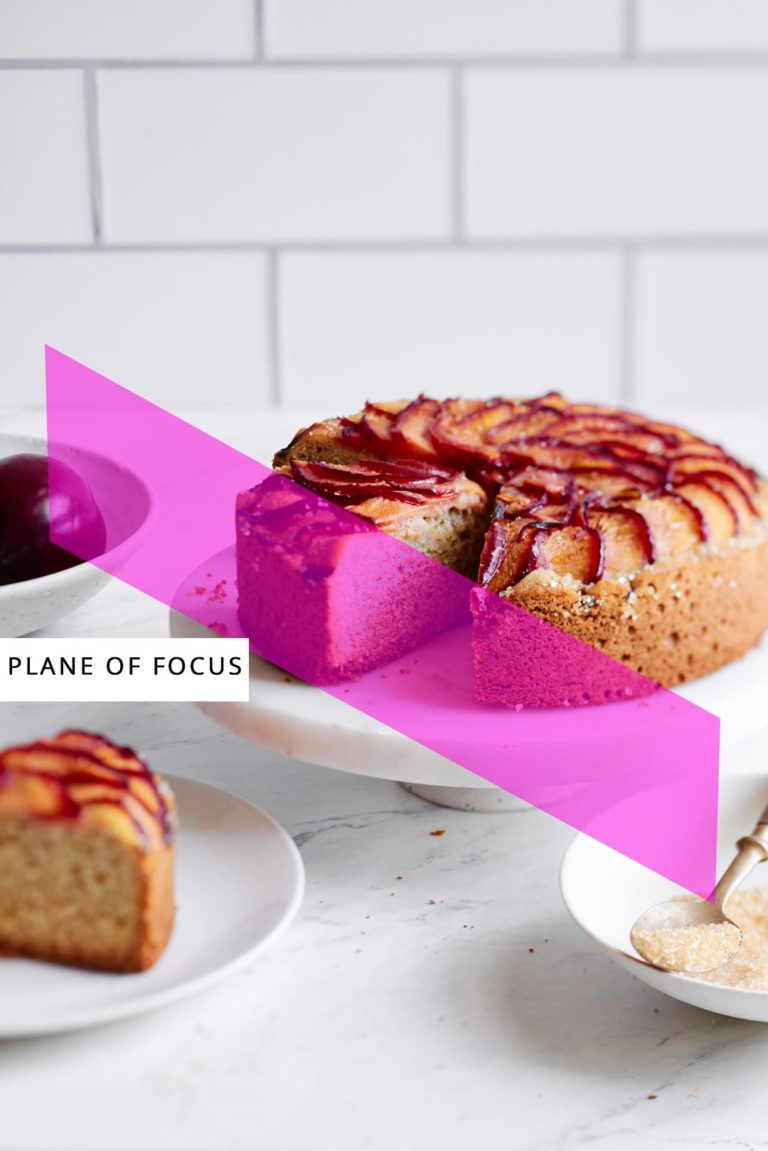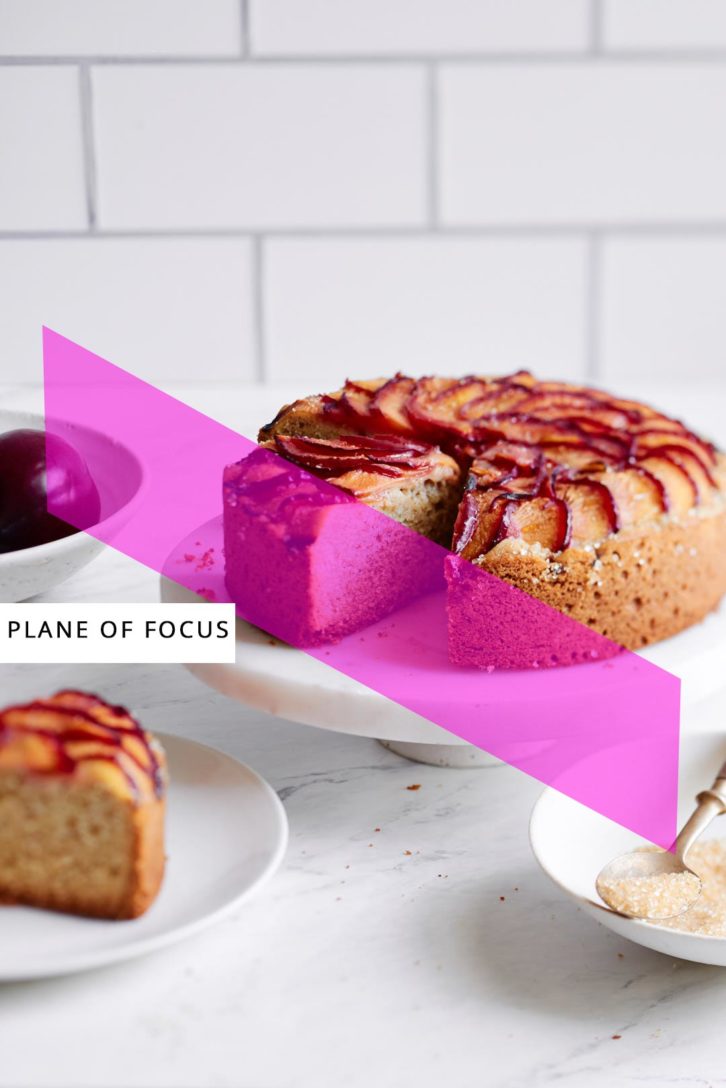 You can see the difference between a normal lens and a tilt-shift lens. The lenses I have used in this post are the:
The 'PC' stands for perspective control, signalling a tilt-shift lens. Other brands may use 'TS' for tilt-shift. But they are the same thing.
Let's firstly get into the *tilt* function.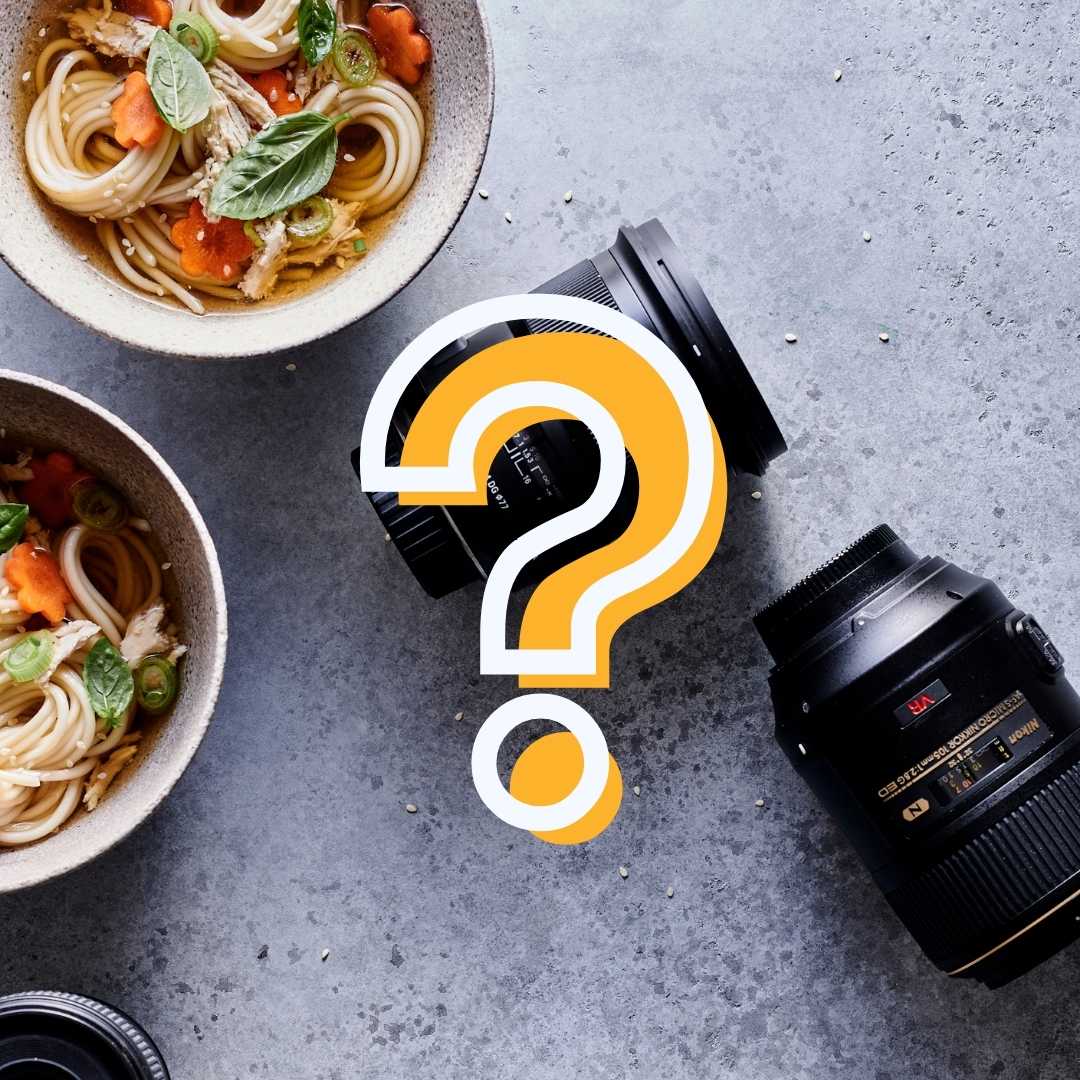 Lens Quiz
Which Lens Matches Your Food Photography Style?
The Tilt Function Changes The Plan of Focus.
TILT – the tilt function is used to change the orientation of the plane of focus.
In a regular lens, the plane of focus is parallel to the sensor in the camera. When you focus on something, everything at that distance will also be in focus.
When you tilt a lens, the plane of focus is *no longer parallel* to the sensor. This creates an 'angled' plane of focus. Now when you focus on something, everything at that angle will be in focus.
Let's look at this visually.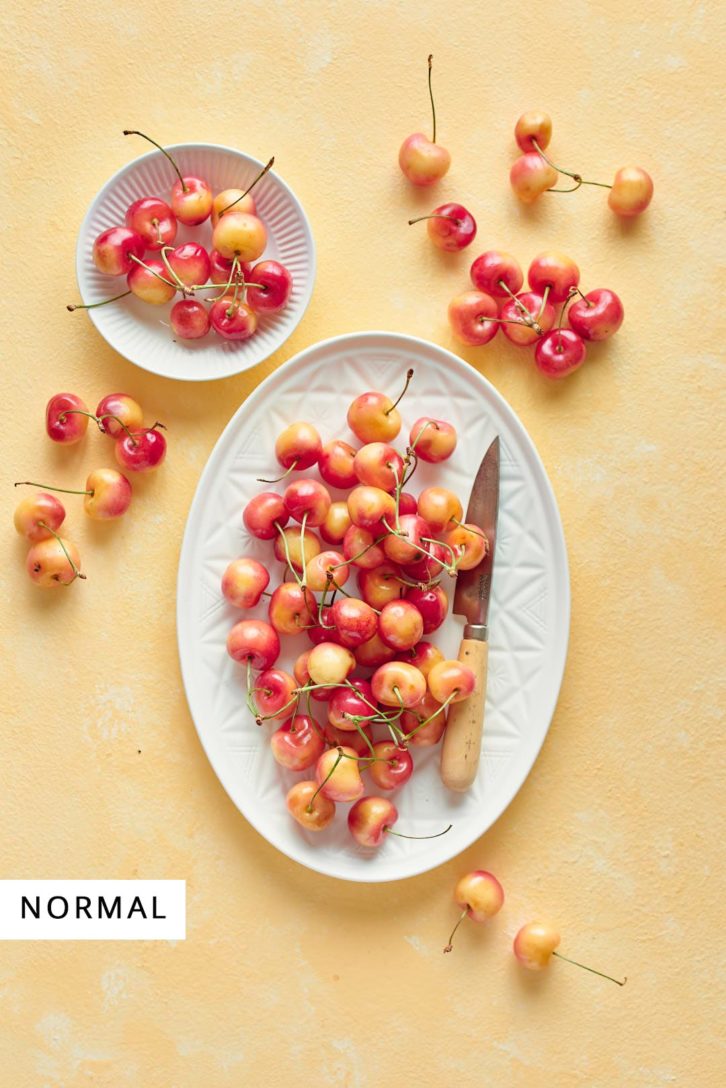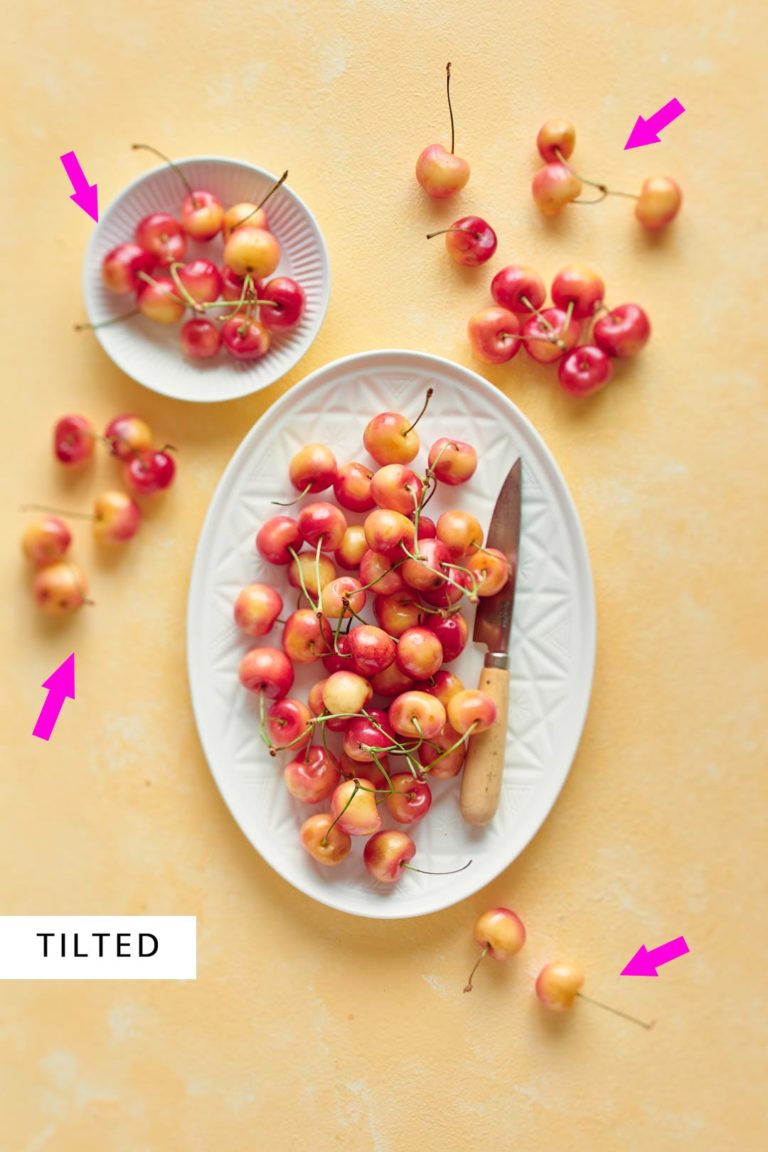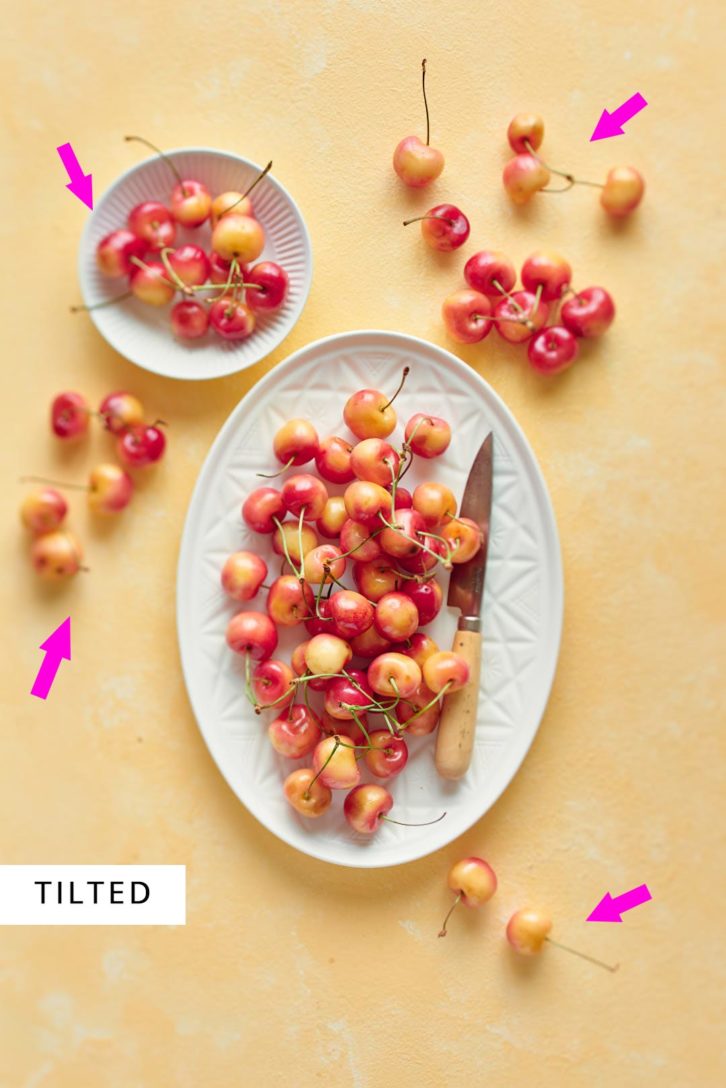 The image on the left is using the tilt-shift lens normally, without any tilt or shift function. In this shot, the plane of focus is parallel to the table and the subject.
The image on the right has had the plane of focus tilted. It is no longer parallel with the background. It has instead been angled so that the cherries in the middle are in focus, but the surrounding subjects are out of focus.
Let's take a look at that shot closer. It gives us a nice mix of focus.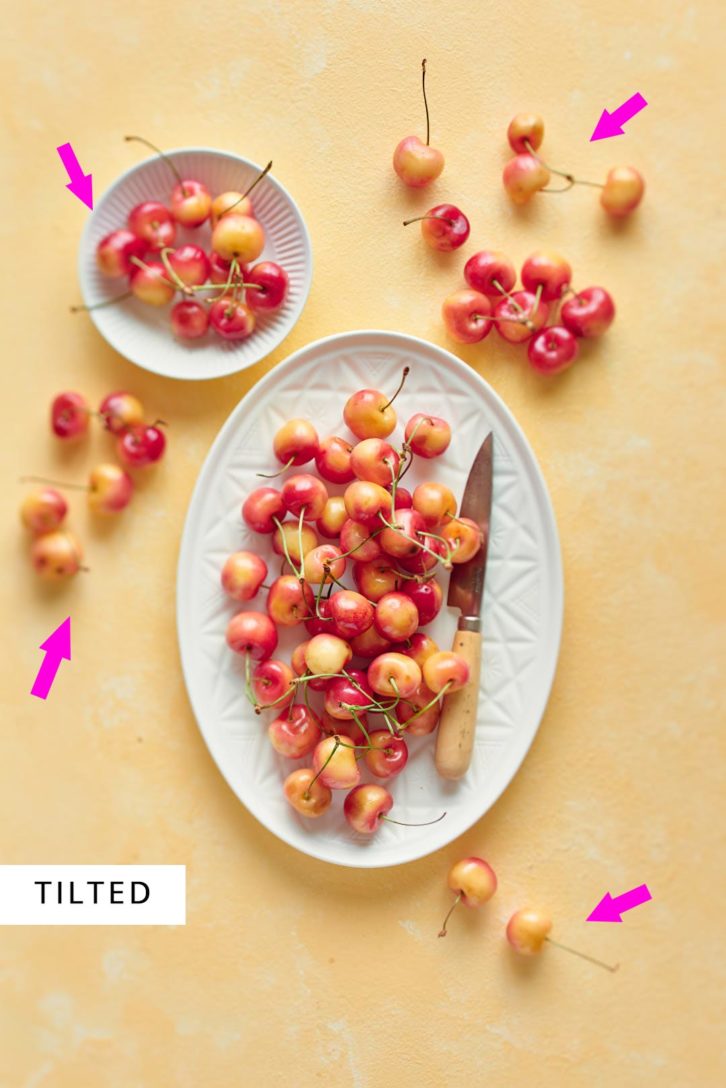 The Shift Function Adjusts The Position of The Subject.
SHIFT – the shift function is used to adjust the position of the subject within the image without moving the camera.
Just read that one more time. We are adjusting the position of the subject, but not moving the camera. How is that possible? By shifting just the lens.
This means that you can still get the angle you think works best for the shot, and capture things otherwise outside of the frame without moving the camera.
Simply by shifting the lens up/down or side/side. It also allows you to control or correct converging lines, so that parallel lines in the field remain parallel in the image.
Let's look at this visually.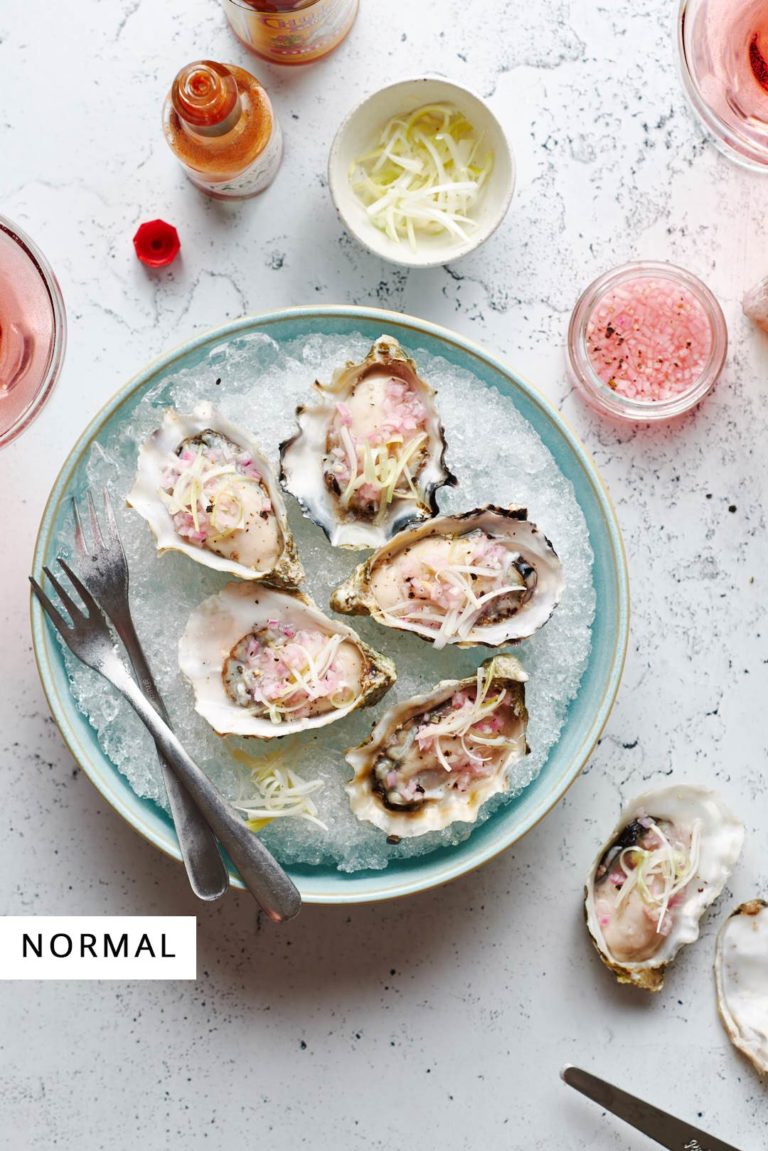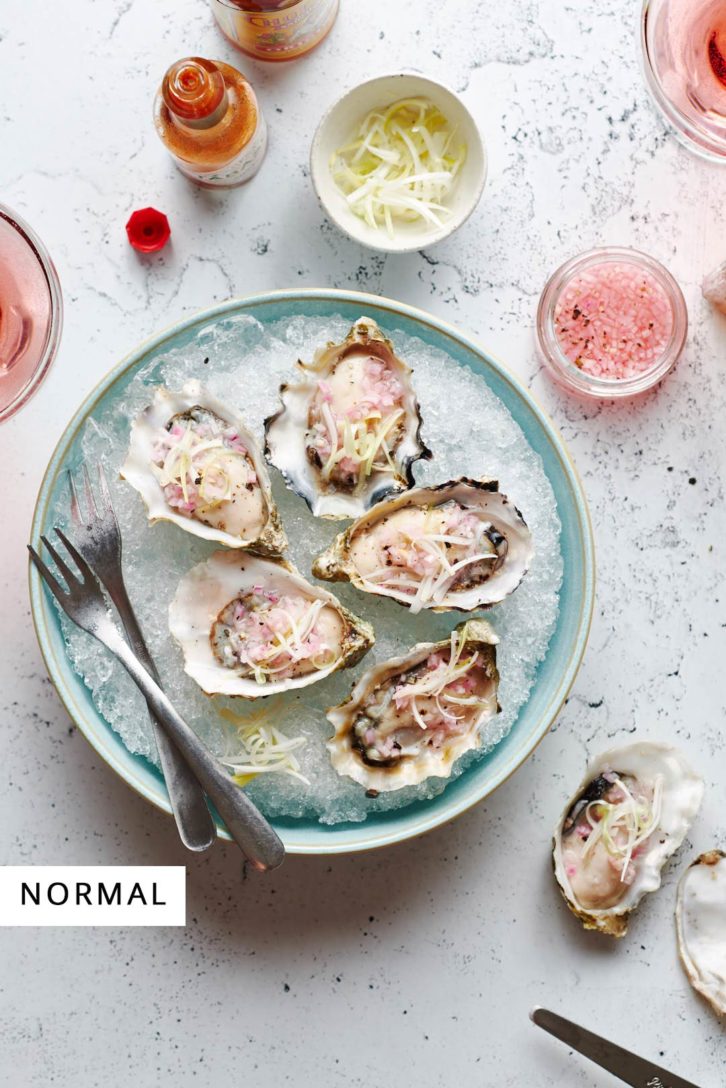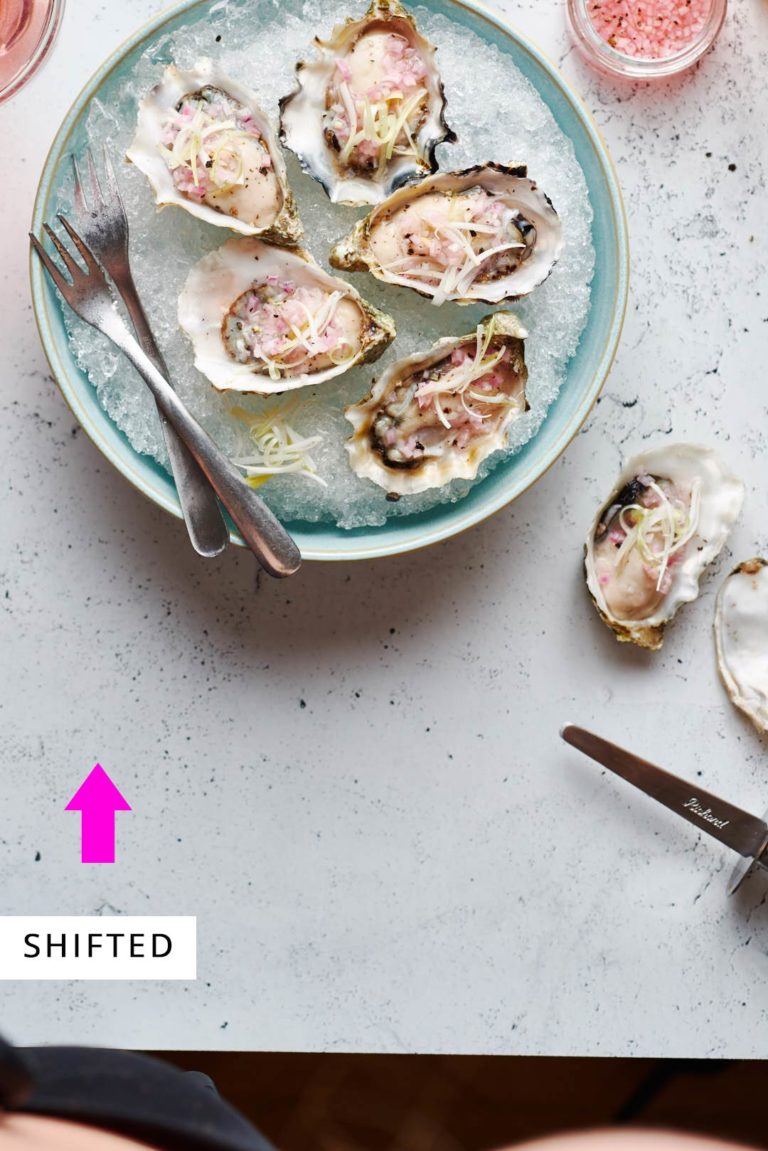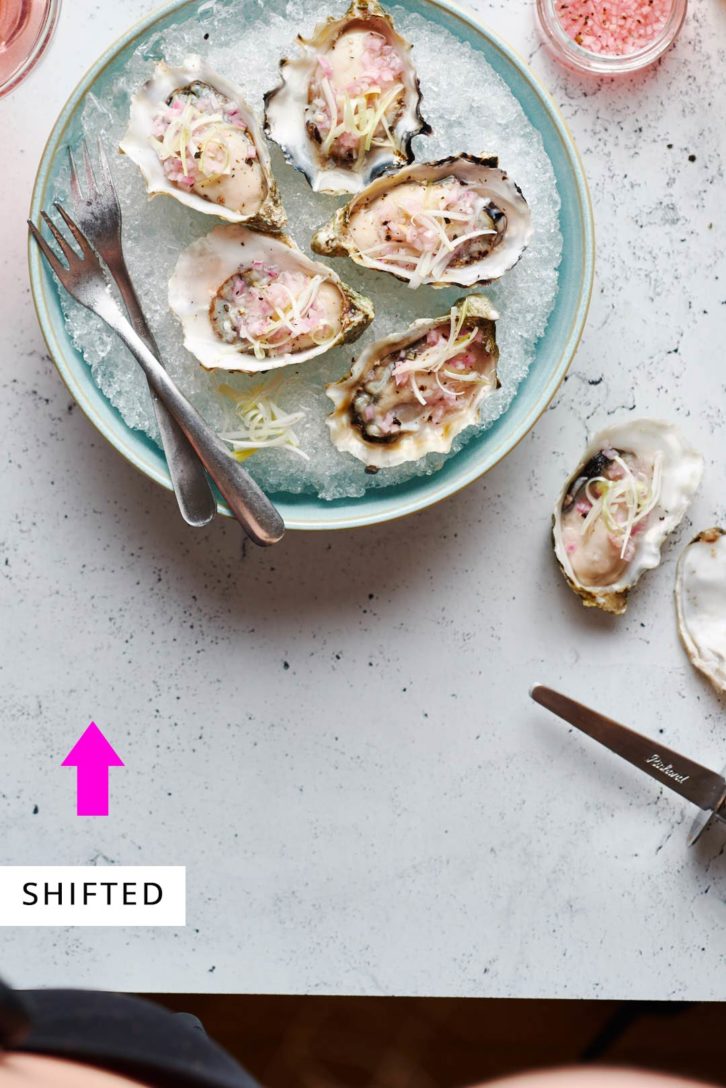 In the images above, the lens was shifted so that we are now capturing more of the negative space at the bottom of the frame, (and even some of my legs!).
This is NOT the same as just moving the camera. Moving the camera changes our perspective. By shifting the lens, we have the same perspective, but we essentially cropping outside of our original frame.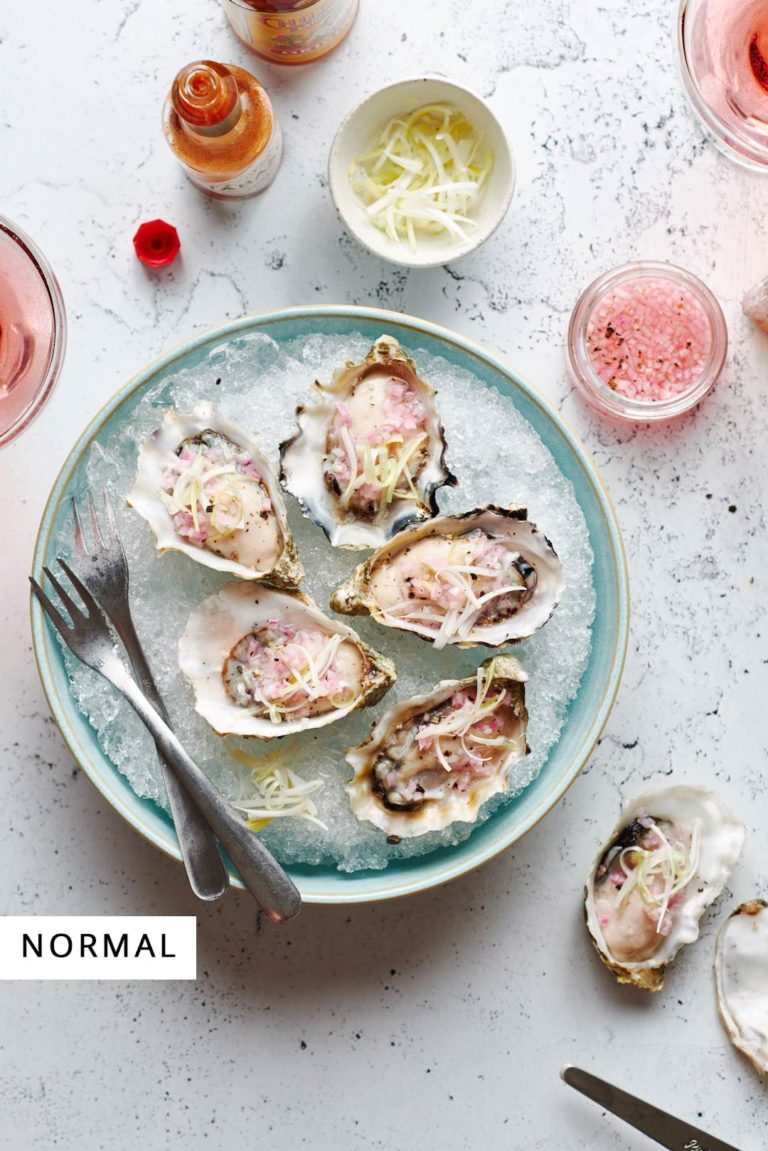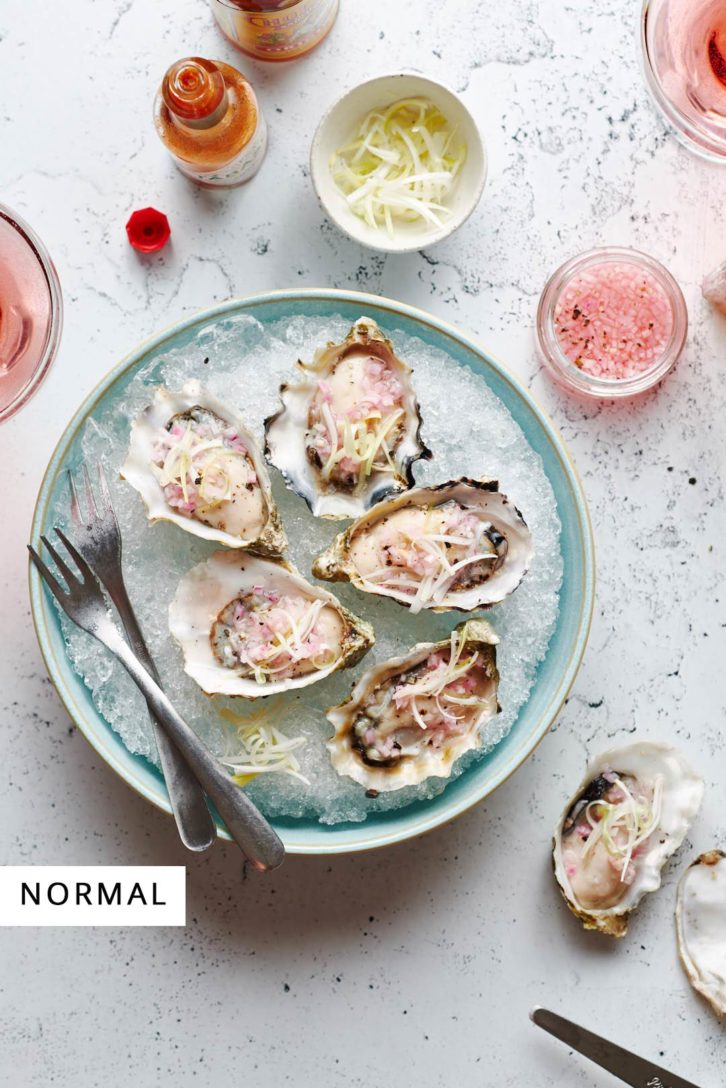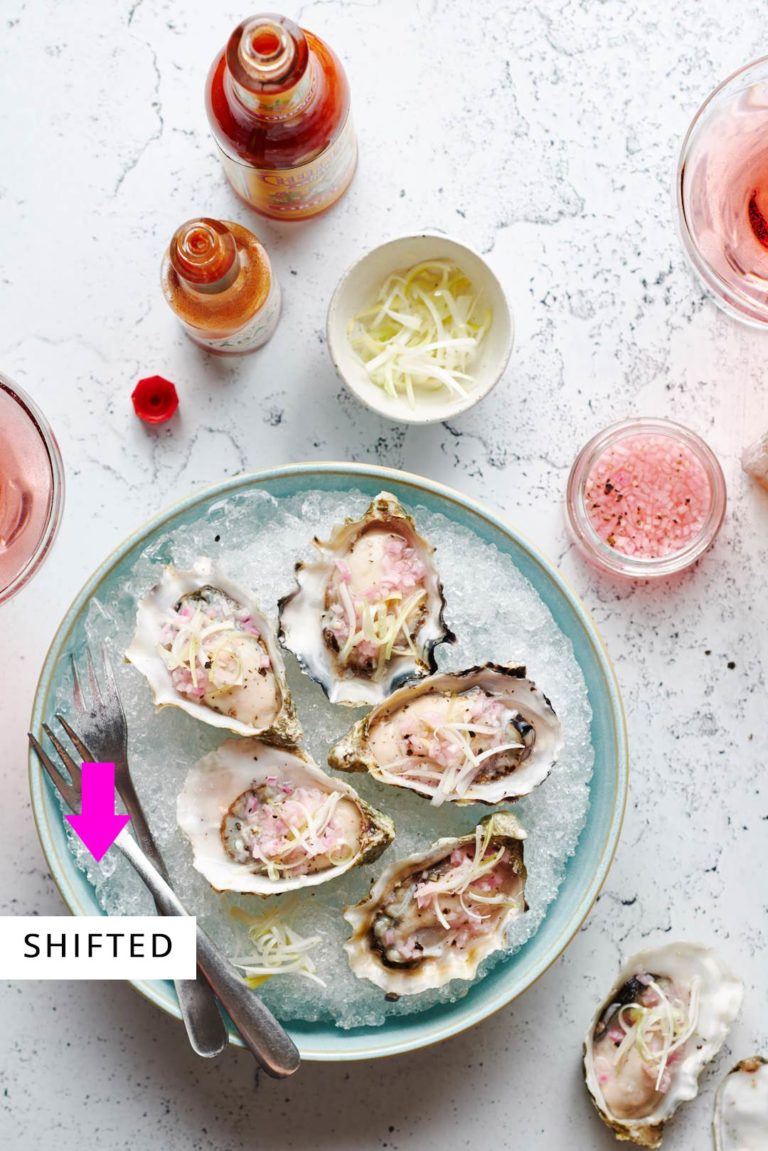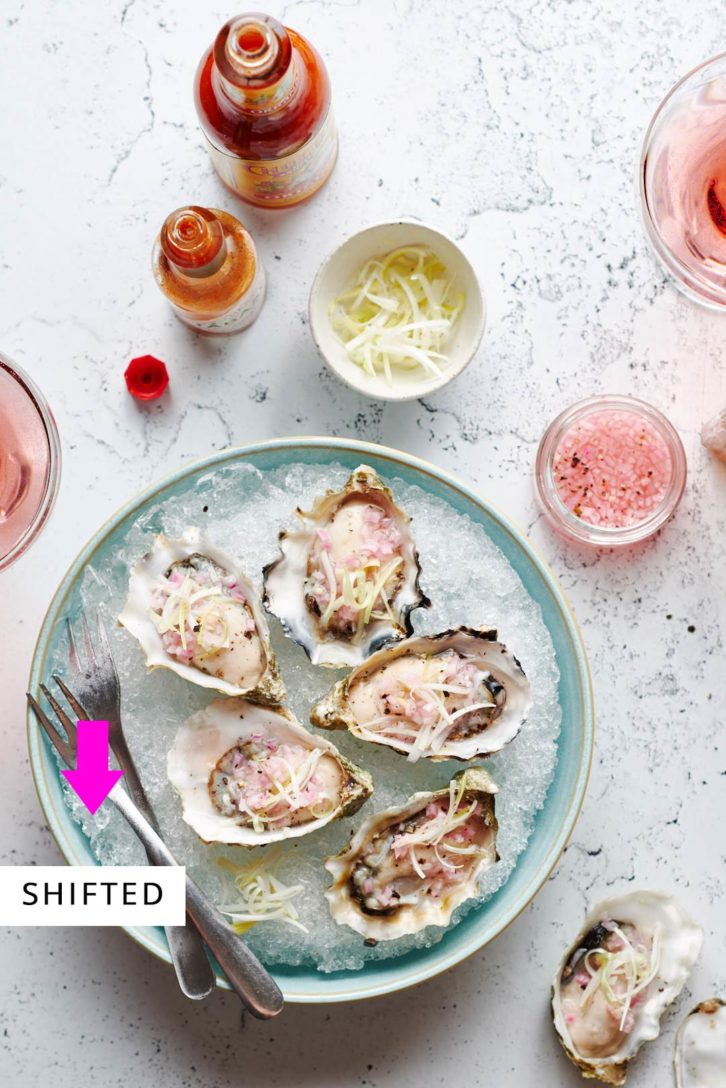 It's the ability to find the best perspective for your subjects, then having control over how much to add or remove through the shift function.
Check out this little clip to see a Tilt-shift lens in action. (Although not food photography, it helps to understand converging lines if you were like waaah?).
Using a Tilt-Shift Lens in Food Photography
If that didn't leave you totally confused, I'm sure you're eager to know how a lens like this would improve your food photography.
A number of commercial and professional food photographers use this lens, with a fellow advertising food photographer sharing with me on Instagram that he almost exclusively shoots commercial jobs with his tilt-shift.
There are two main reasons for using this lens for food photography, (and no surprise there is one for the tilt function and for the shift function).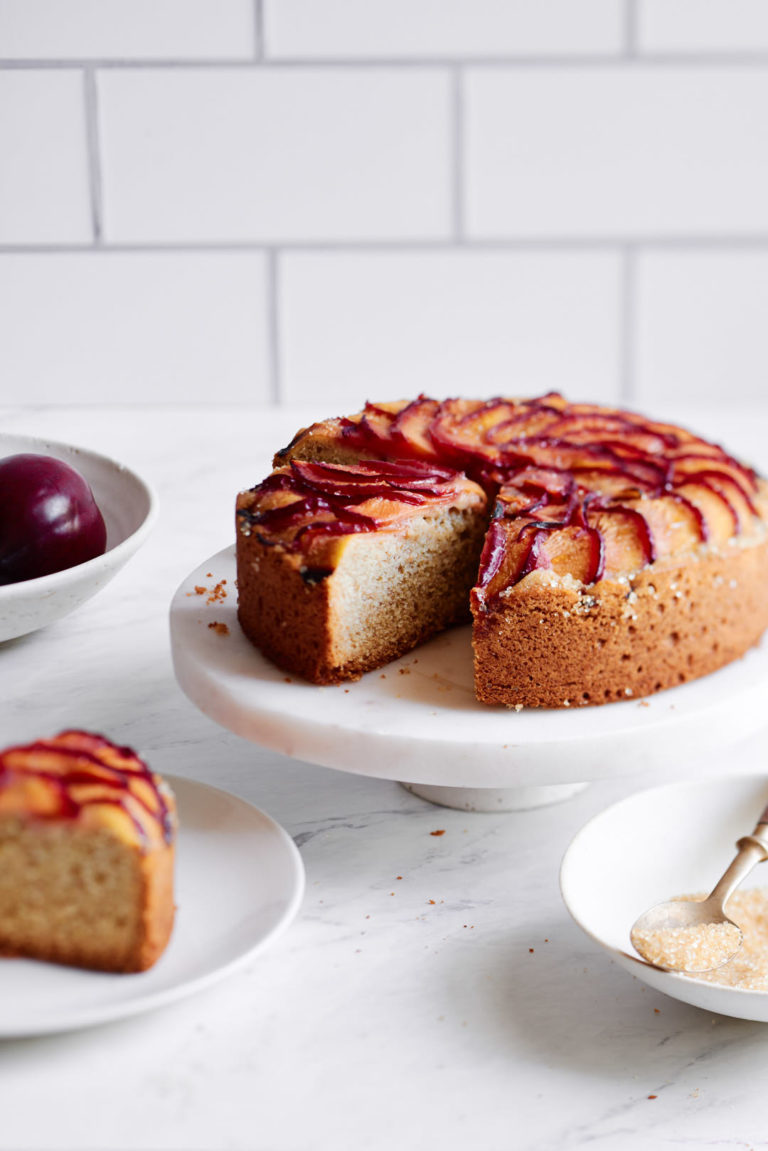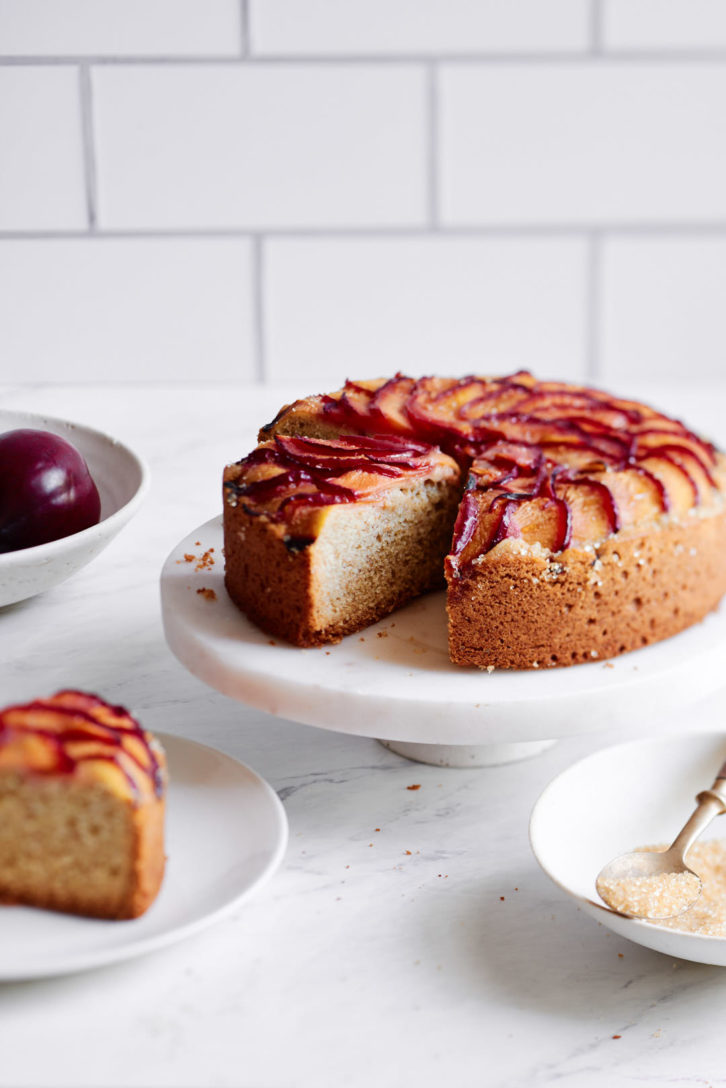 Mix of focus/blur control. You can selectively control the plane of focus, allowing the dish at the front of the image to be super in focus, whilst the background story is superbly out of focus.
Angle/subject position control. You can shoot a dish in its most flattering angle, and control how much of the story/props around the frame are included without changing the camera angle, distance or the subject placement.
This is really powerful for shooting cover or product/packaging images.
Why use a tilt-shift lens?
Have you ever admired a photo and tried to replicate it's technical aspects only to find that you failed miserably?
Well, there are a lot of images that I am now seeing were potentially shot with a tilt-shift lens in food photography, and that's why I wasn't able to replicate its aspects.
I 'read' a lot of photos and some of my favourite images I am starting to see must have been shot with a tilt-shift lens.
I guess I can't say for certain without asking the photographer, but images like this, this and this are now possible with a tilt-shift lens.
Allowing you to capture that delicious combo of super in focus front dish and blurry everything else that differs visually from my 105mm Micro.
The struggle between getting the 'correct' or most flattering angle of a dish and being able to capture the subjects around it is real. Especially when shooting images for potential cover shots, packaging or when text is to be applied.
With a tilt-shift lens, you can have the power and freedom of capturing the angle you want whilst being able to play around with negative space or passive space for cover images, simply by adjusting the shift function up/down or side/side.
Renting a lens can cost less than $50 for the day to rent. It's something where seeing is believing.
Two Loves Studio was not paid to write this post, however, it does contain affiliate links. If you purchase an item from an affiliate link, Two Loves Studio does get a commission on the sale which goes towards continuing to provide awesome content. Only affiliates for products/services I believe in and that align with my values appear on this site.