Zoom lenses look and sound impressive. My 24mm-70mm is bigger than most of my primes and it sounds like I know my shit when I tell people I have a range of focal lengths with just the flick of the wrist.
Most of us when we get a new camera get the kit lens and nine times out of ten it's a zoom.
But are you falling into the creativity sucking trap that is what I call the 24-70 syndrome?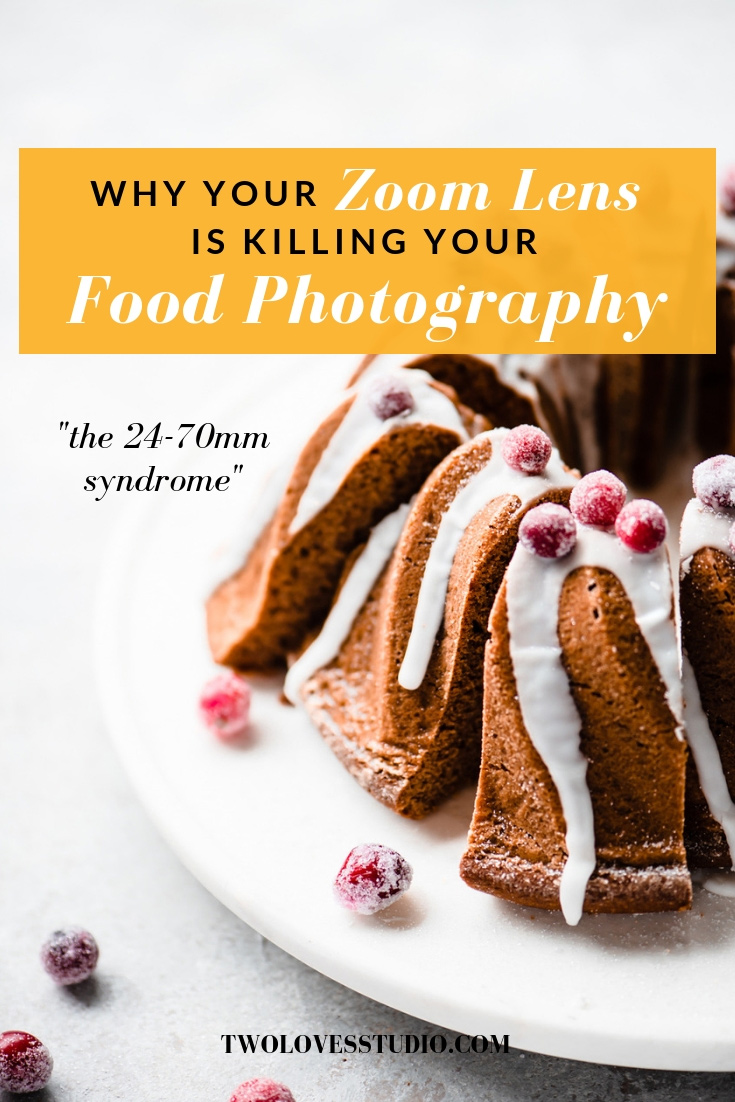 Click here to get the FREE PSEUDO PRIME LENS EXERCISE.
Why Your Zoom Lens is Killing Your Food Photography
**You must know this is not a 'zoom lens bashing' session or a gear advice post, but rather a thought-provoking piece**
It's not the zoom lens per se that is killing your creativity, but rather how we use it and our thoughts around it.
I guess you could say I am biased towards prime lenses, and I solely shoot with them at this point in time, and here is why.
The 24-70 Syndrome.
Back towards the start of my photography journey, this was the lens I taught myself with (lucky I know!).
It was my dad's lens and I liked it because it allowed me to shoot at 35mm on a cropped sensor camera (meaning that I was shooting at the equivalent of a 50mm).
But inevitably the novelty of its zoom capabilities got the better of me and I was zooming in and out like nobody's business.
At first, it was mind-blowing. 'How cool that I can go from 35mm to 70mm in one second flat and not have to move at all'!
Then the reality set in after a while. My composition was getting lazy and suffering.
As food photography is essentially still life and we have to create it, the power lies in composition both on the table and through the lens.
Rather than moving things on the table, I was zooming in and out with the lens. Rather than changing my point of view, I was zooming in and out with the lens. Things felt off and out of balance.
TIP: Master a prime lens and focal length to boost your creativity skills then move to a zoom lens.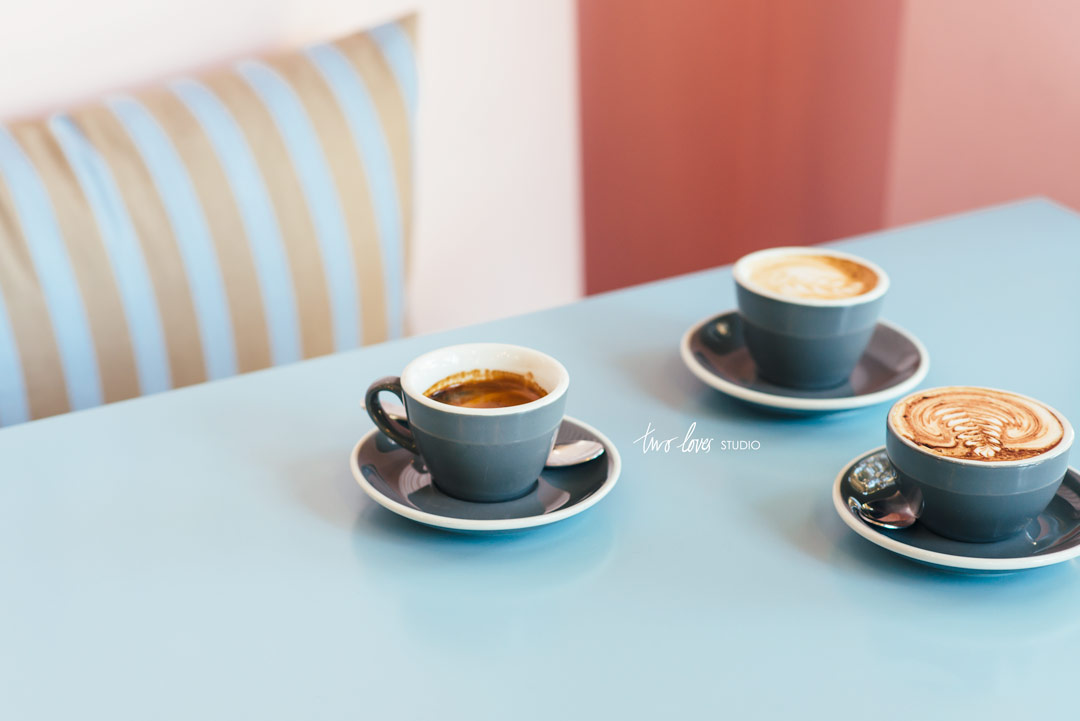 MYTH 1: Zoom = More Options. Prime = Limiting.
Size doesn't matter. Zoom is simply zoom. That's it ~ Josh Johnson
It's easy for us to think that zoom lens gives us more options. Sure, it gives us a range of focal lengths to play with, but this doesn't equal more options for creativity.
They aren't necessarily synonymous.
Photography is all about HOW we see, rather than WHAT we see.
Standing in one spot is only seeing from that one spot. Zoom lens or not. To see something different, to feel something different, we have to move somewhere different.
When it comes to food photography you're only limited by how you see its story, rather than your lens.
Food photography happens right in front of us. The story of food, the close connection.
TRUTH 1: Zoom Lenses Make Us Lazy.
The 24-70 Syndrome can see the power go to our heads. We zoom in, zoom out instead of remembering to move our bodies and angle of view.
It makes us lazy as photographers, our composition suffers as our view of our food stories have become limited.
When we rely on zoom, we don't truly get to know each focal length. It's like that saying, to truly know someone spends 24 hours stuck in an airport with them.
o truly know each focal length, you have to spend considerable time with just you and it. Having those uncomfortable moments and those moments of pure surprise.
The ultimate end going being not just improved and connected creativity, but having a dish to shoot and instantly knowing what focal length will allow it to shine. You're that experienced with your prime kit.
Pure Surprise.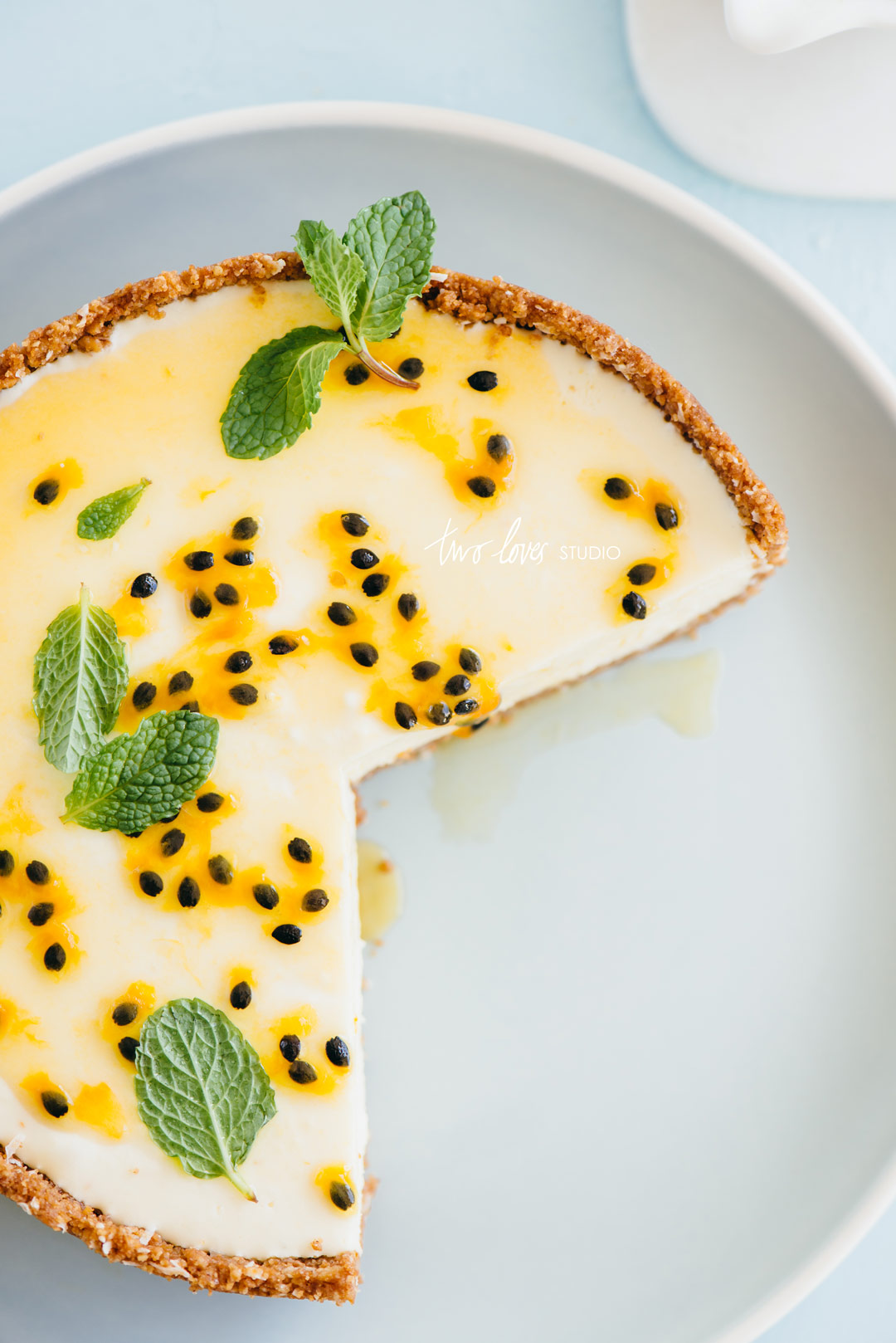 For me, this image is the true meaning of surprise I'm talking about.
I didn't knowingly capture this (as much as my ego would like to say that it did).
I had my 105mm macro on to take shots of the cheesecake at a 45-degree angle and needed to get some overhead shots to complete the story.
In my mind, I had planned on changing lenses but simply didn't before I made the set up for overhead. I picked up the camera, climbed up my set ladder and whoa, was I close.
Almost blinded by the passionfruit syrup invading my eyeballs.
Instantly I saw a composition I would never have if it weren't for the mistake of not changing the lens. Working with the same focal length allowed me to capture something creative I wouldn't normally.
It's these moments that make us stop and think, constraints can be a good thing when they allow us to see differently.

TRUTH 2: Constraints Can Make You A Better Photographer.
Limiting yourself can make you a better photographer. It's all about how you see rather than what you see, and what you see will depend on how much you're willing to move.
When shooting with our zoom lenses we are tempted to make our food scene fit exactly as we want, rather than seeing this as an opportunity to be pushed creatively.
Shooting with a prime lens or at one focal length forces you to see the world in a certain way, and when the world doesn't fit the way you exactly want you have to be more creative ~ Eric Kim
Shooting one focal length forces you to see the world a certain way if it doesn't fit the way you want you have to be creative @erickimphoto
We tend to think of constraints as bad. Constraints can be our muse. They can make us grow, and allow us to find aspects of our photography we'd never have otherwise found.
Constraints have a Goldilocks quality: too many and you will indeed suffocate in stale thinking, too few and you risk a rambling vision quest. The key to spurring creativity isn't the removal of all constraints. Ideally you should impose only those constraints (beyond the truly non-negotiable ones) that move you toward clarity of purpose ~ Adam Richardson
Shooting with a prime lens is therefore what I'm now going to refer to as a Goldilocks constraint.
It allows us to move towards clarity of purpose and nurtures creativity.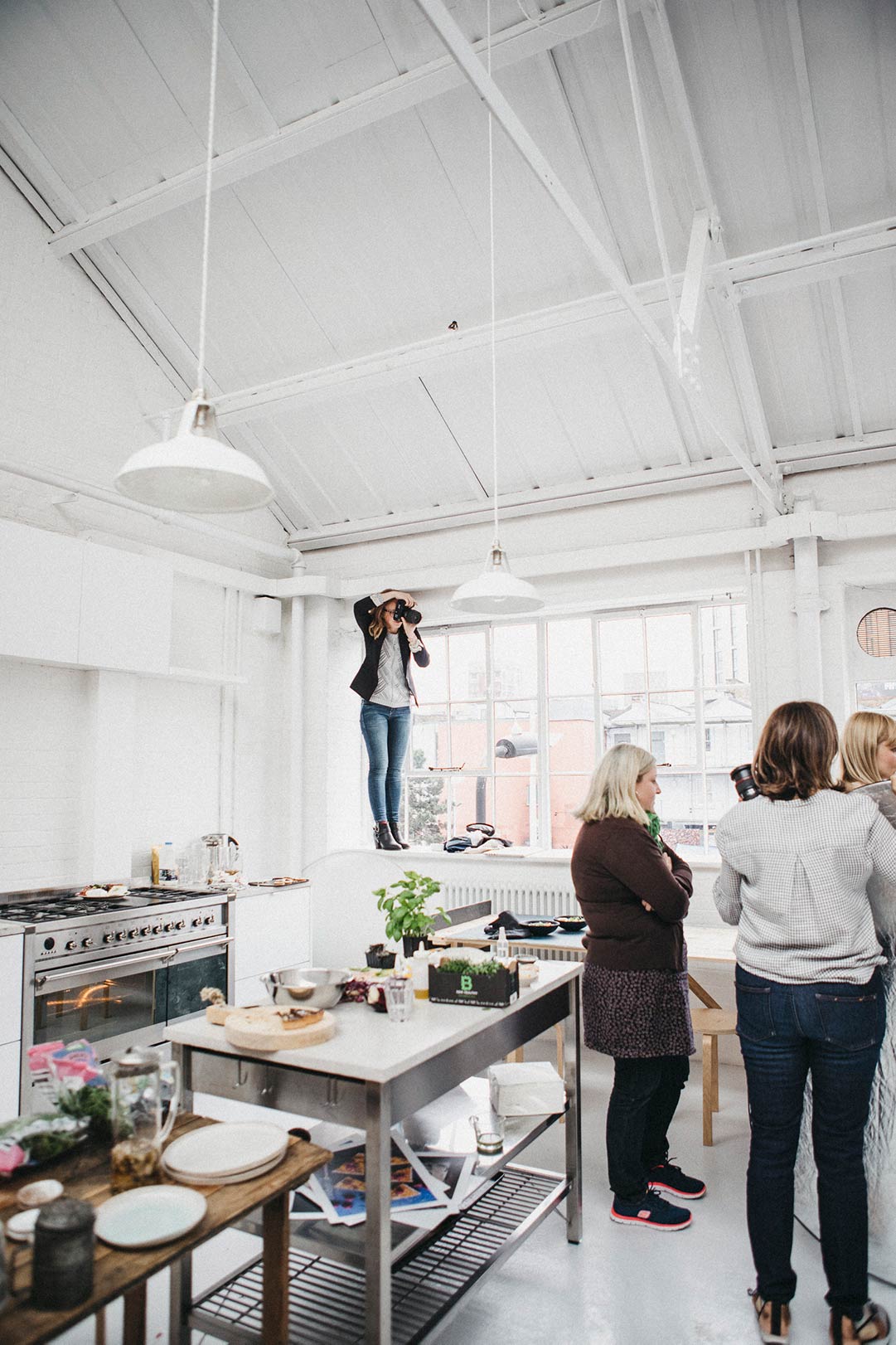 Prime lenses can force us to change our perspectives, and our body's position, to capture something different.
The Capture With Constraints.
For me, this tight shot is an example of constraints being your muse.
I've begun to be able to see 'around things'.
Rather than zooming out further or giving up on this shot, I chose to move up and down the hallway until I could capture just a glimpse of this quiet table for two at a local cafe.
The cafe was busy, but this shot would lead you to believe that you were able to walk into the most secluded and secret spot in town.
It's simple, yet it keeps you wondering many things. Like is who will I find when I take one step further joining me at the table.
There is a peacefulness that I wouldn't have captured hadn't I used 'foot zoom'.
You only need a couple of these moments to really make you understand how powerful the exercise below can be. I hope you're up for the challenge!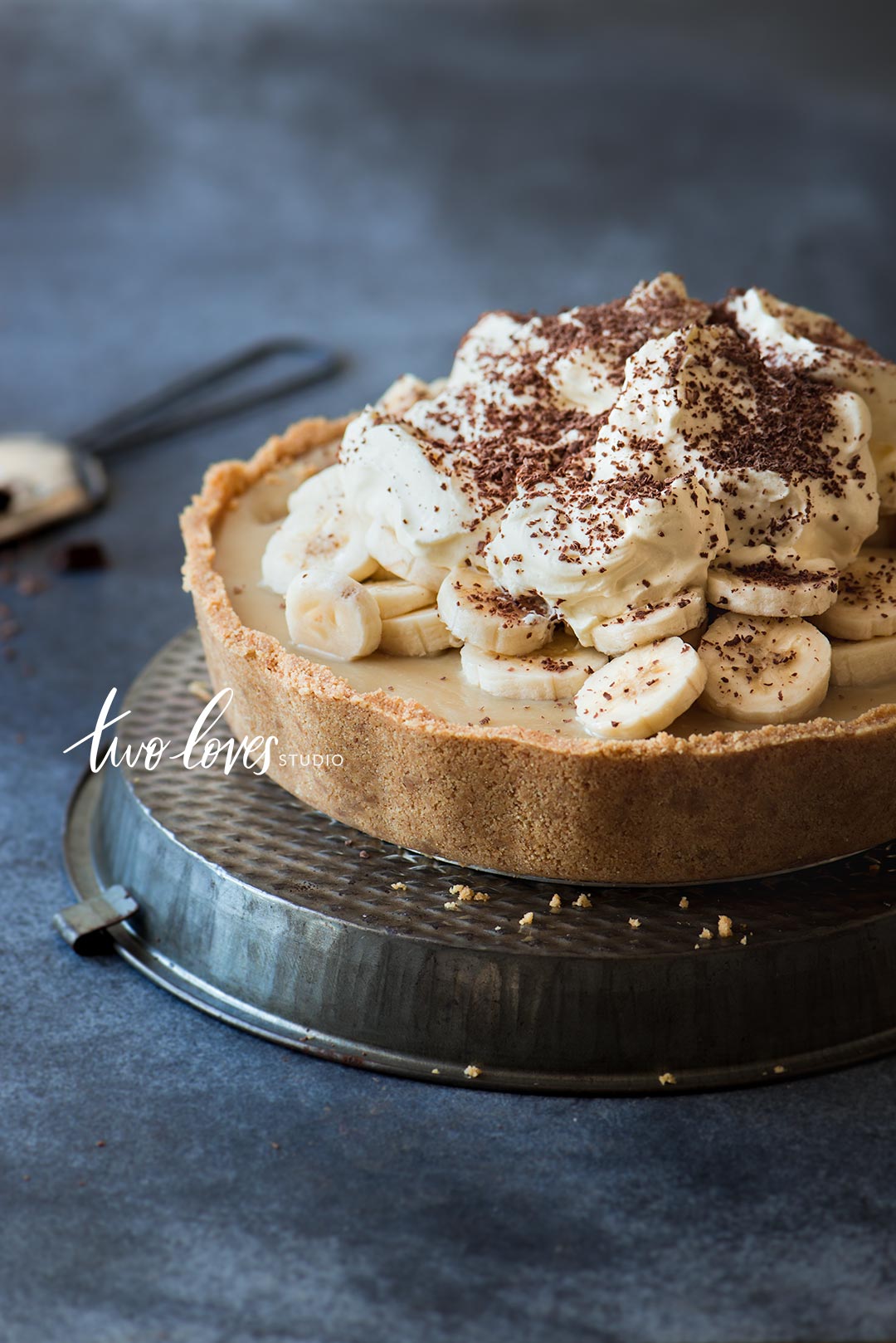 EXERCISE: Creating a Pseudo Prime Lens
Before you start a listing on eBay to rid your life of that zoom lens you've treasured till now – do no such thing. Rather, turn your zoom into a pseudoprime lens for a day.
If you do have a prime lens – perfect. Make it your best friend for the day.
Pick a focal length and set it to that for the day.
Some would say to go as far as using electrical tape to secure your chosen focal length, but if you have some self-control you won't have to. Up to you.
Use 'foot zoom'.
Can't get the composition you want? GREAT. Crouch, move, experiment, see, be, feel, (move, move, move). Up, down, side to side, nearer, farther.
Get uncomfortable.
When that urge to change focal lengths is so strong you can't fight it off anymore, you're there. That creativity is being nurtured my friend, so stick with it.
Click here to get the FREE PSEUDO PRIME LENS EXERCISE.