This post is written from the perspective of photographing in manual mode.
Knowing my camera settings won't necessarily help you. Sure, camera settings matter, and yet they don't.
Of course certain settings control light and DoF, freeze and blur motion and capture sharp, in-focus, quality photos. But what those exact settings are depends on a range of things.
Unless you are shooting in the same space as me, at the same distance, with the same light, the same lens and are going for the same creative elements as me, your settings will be different.
Shooting with natural or artificial light makes a difference too.
Instead, what matters is understanding the relationship between concept and desired exposure. This will help you unlock the best camera settings for food photography.
That's where this guide will help you! We'll cover general guidelines for camera settings, including:
In this Ultimate Guide to Camera Settings for Food Photography, I'll cover each of these with images and example settings.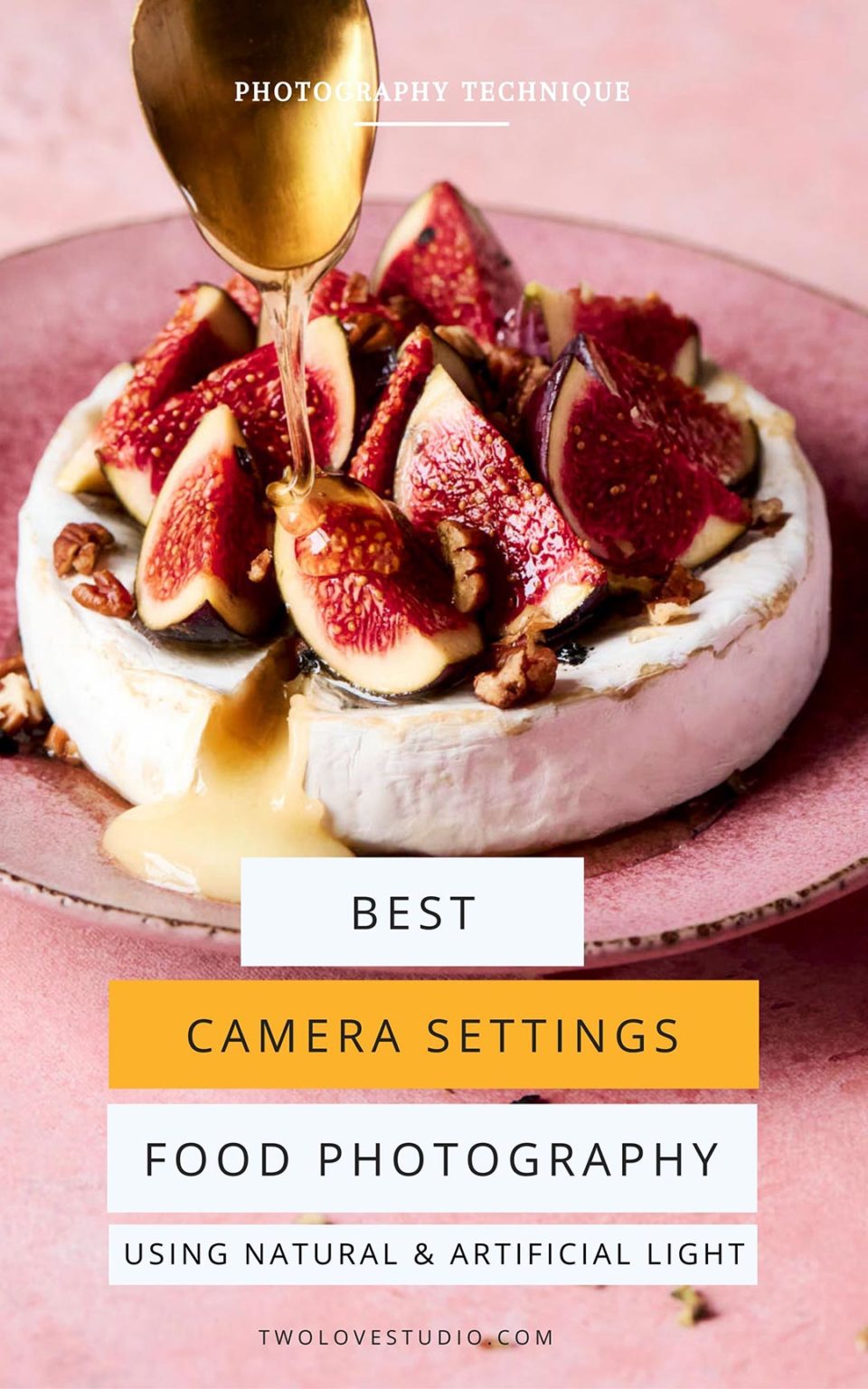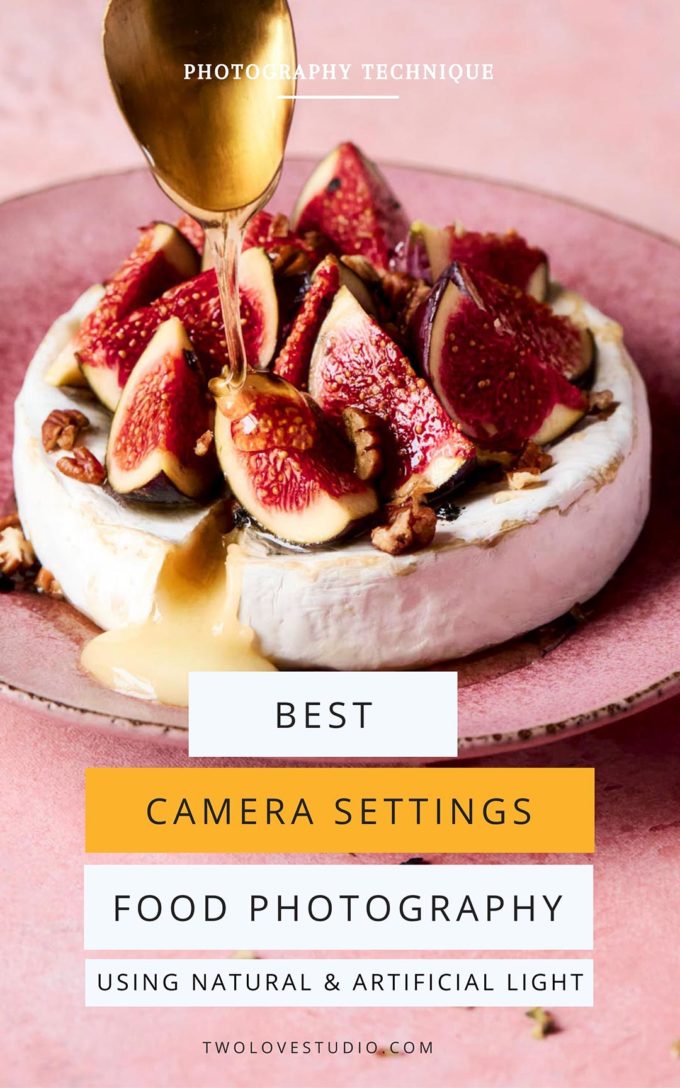 The Relationship Between Concept & Desired Exposure
It's important to understand that the relationship between our creative concept will be dictated by settings that will get us to optimal, desired exposure.
Our settings are going to be affected by the following:
The amount and quality of light we're using
The type of light, either natural or artificial command different settings
What lens we're photographing with
The distance we are from our subject
What creative elements we want in our photos i.e. motion blur, shallow DoF
Because settings are dictated by the above, these are general guidelines for settings rather than hard and fast rules. However, when it comes to still life, we're more likely to predominately alter our shutter speed as subjects don't move.
Camera Settings For Food Photography: Achieving The Best Quality Images
For the best quality images, we need to shoot in good quality light with a quality lens. Assuming we're photographing in good quality light, generally speaking:

Low ISO and fast shutter speeds give us get the best quality images.
This is certainly reflected in the use of artificial light, strobes or flashes specifically, and is one of the reasons photographers like artificial light. Our ability to change the power of the light, allows us to select a low or base ISO and faster shutter speeds.
Lowering the ISO to base ISO gives us the least amount of noise or grain. Faster shutter speeds help to increase sharp focus and reduce camera shake.
We want to aim for the lowest possible ISO and fastest shutter speed that still gives us the desired exposure for the concept.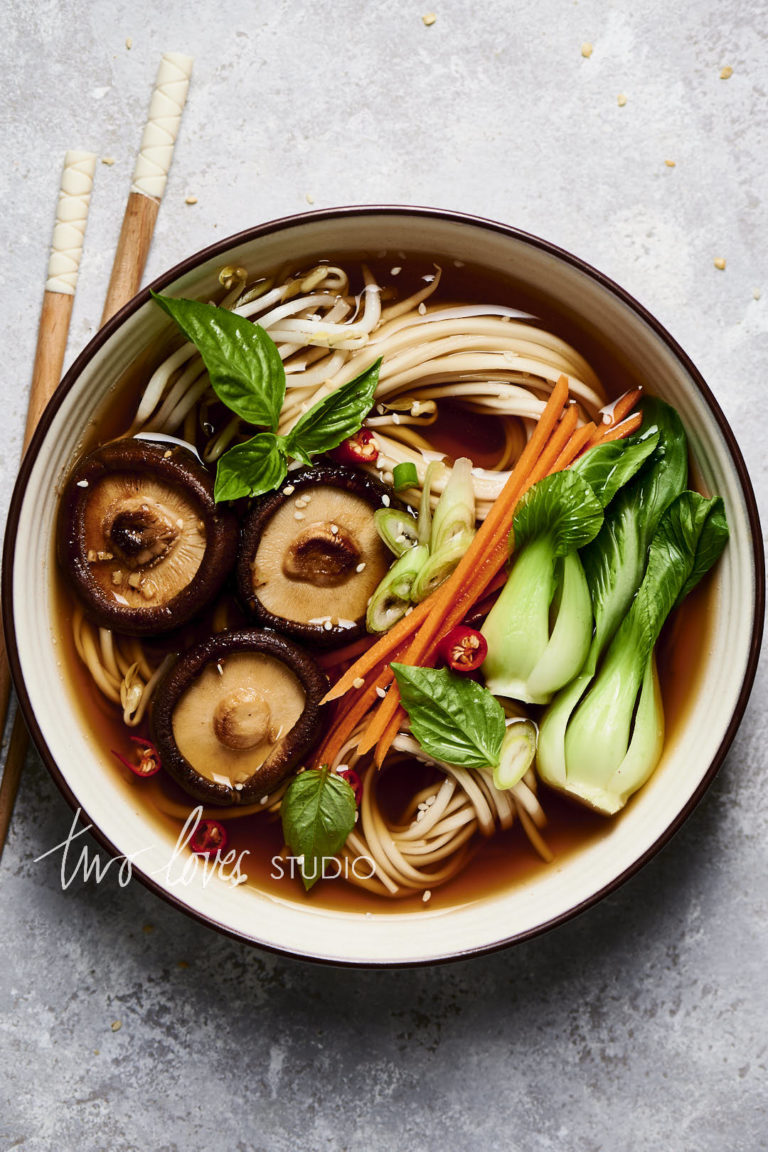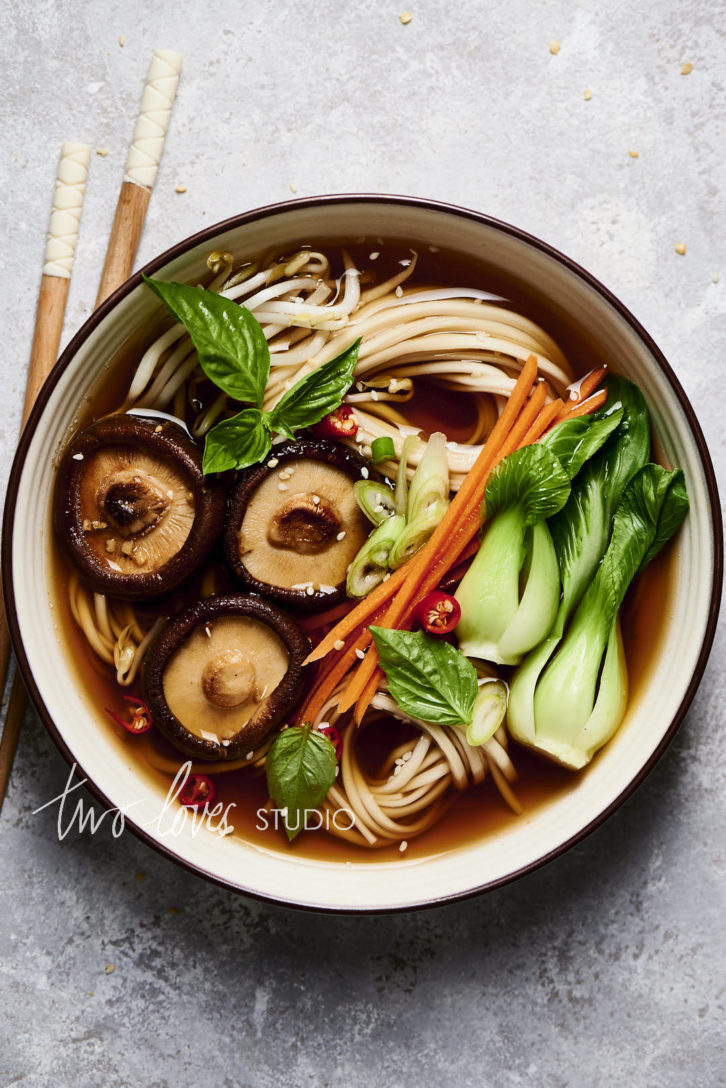 Base ISO on the Nikon Z6 is ISO 50.
It's the combination of settings, a good quality lens and flash that can give a quality look to an image. But that doesn't mean you can't achieve good quality images outside of flash photography.
How to Use Your Settings to Control Light
One of the main reasons we photograph in manual mode is to control each setting to bring our creative vision to life. Optimal exposure is a relationship between shutter speed, ISO and aperture.
To let more light into our camera, increasing aperture or ISO, or reducing shutter speed will result in increased exposure.
To reduce the amount of light into our camera, reducing aperture or ISO, or increasing your shutter speed will reduce exposure.
The combination that we choose will depend on:
ISO – how does the camera handle ISO and are our other settings still giving us access to optimal exposure?
DoF – can the concept still be communicated with a change in aperture and depth?
Shutter Speed – can the photo be taken on a tripod allowing more room to reduce shutter speed by eliminating camera shake.
Here are some examples: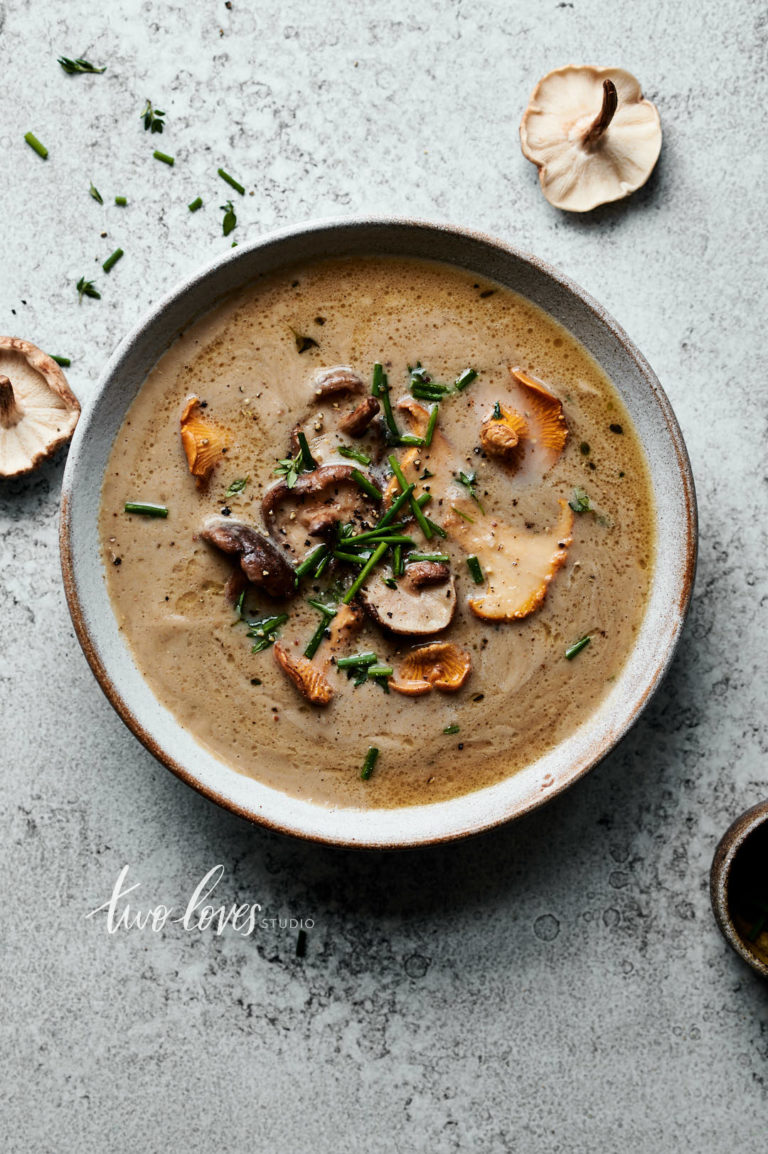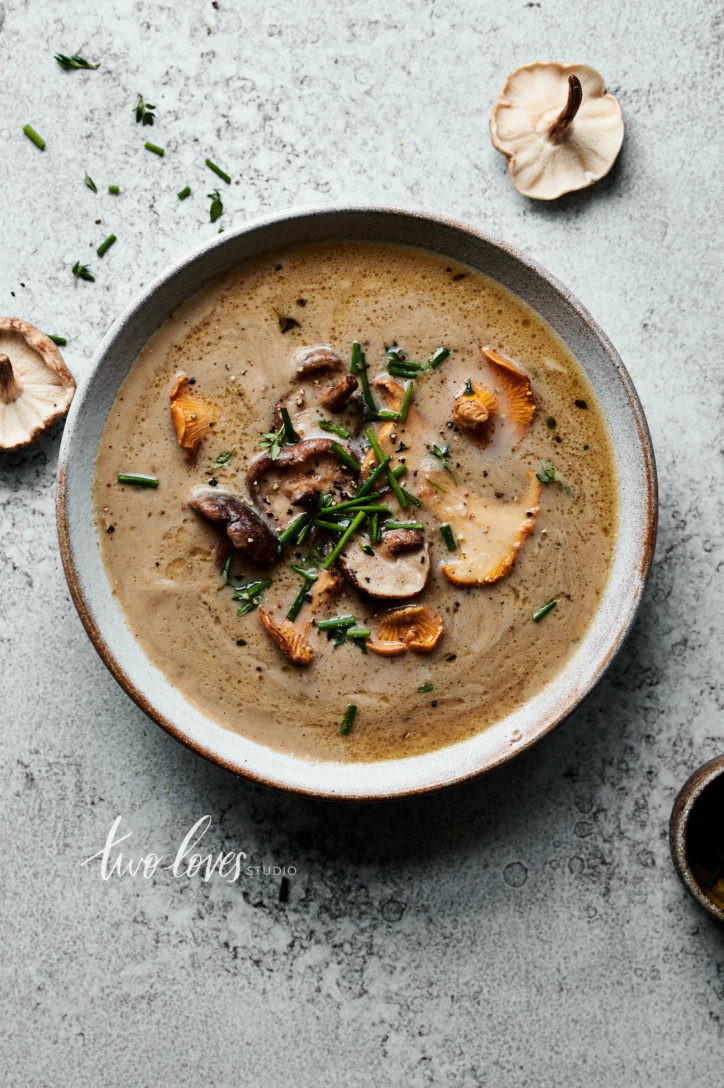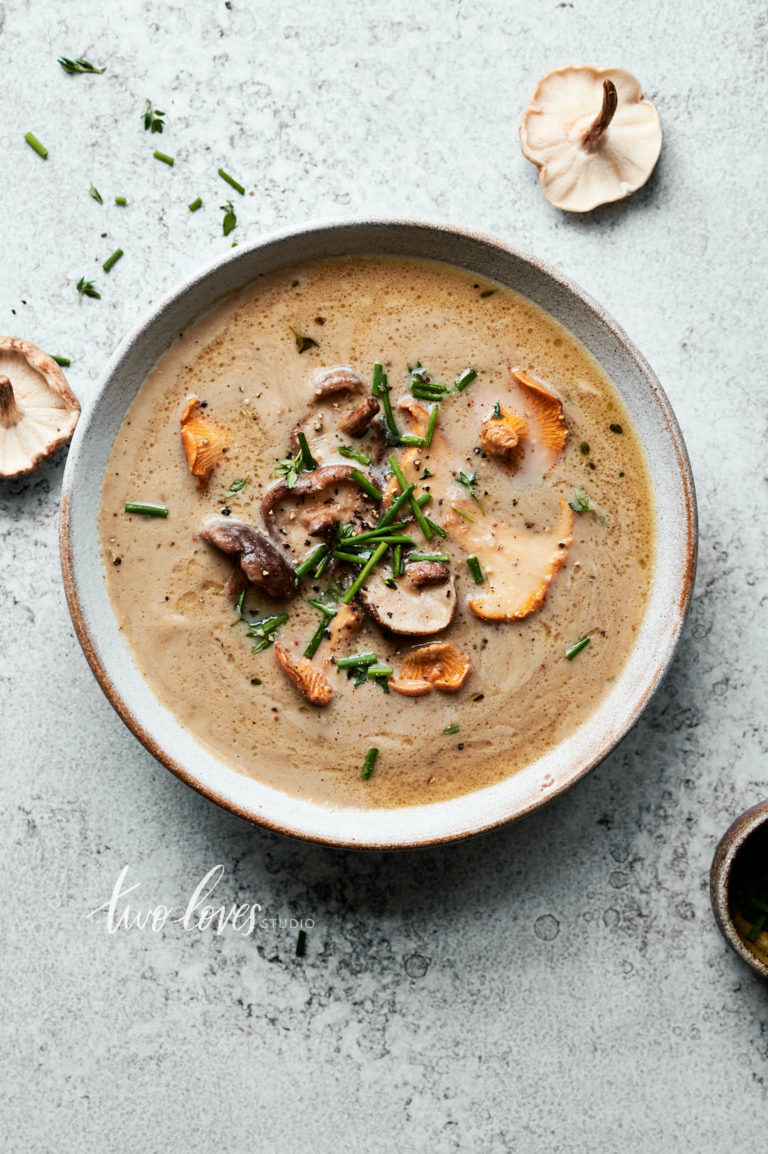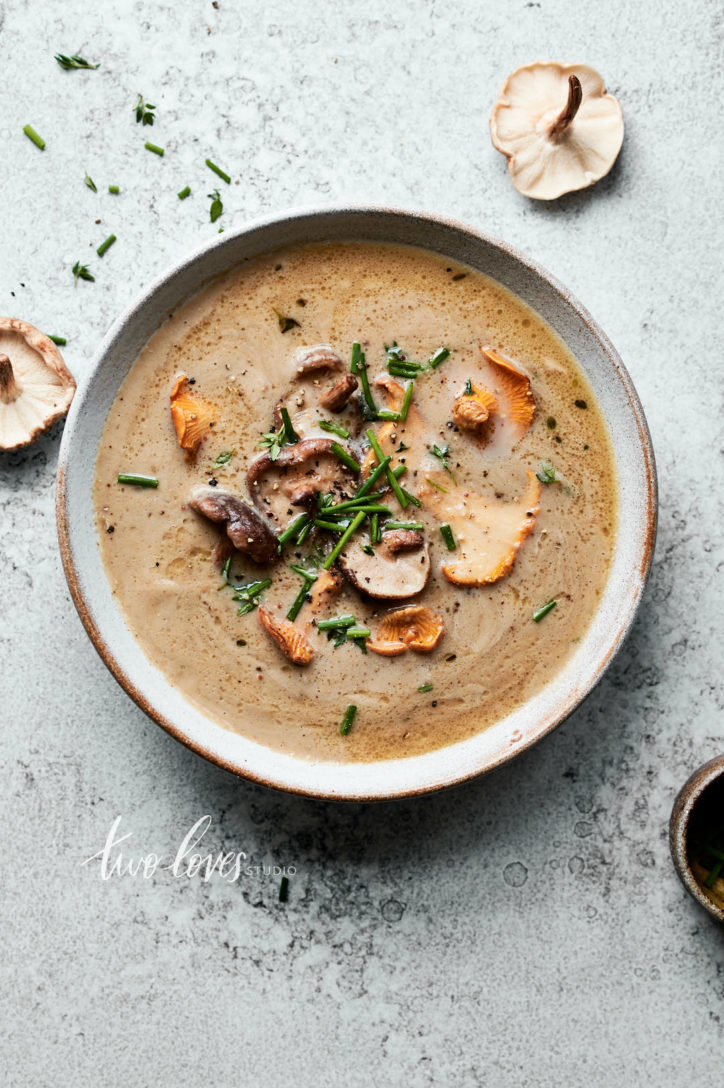 This was shot at sunset in autumn. As the light faded, I chose to reduce my shutter speed (to 1/15 sec from 1/30 sec) to let in more light for my desired exposure. I was able to do this due to shooting on a tripod.
I then decided I wanted to capture a shallower depth of field, and changed my aperture to f/2.8. As I wanted the same desired exposure, I reduced my ISO for quality (rather than increasing shutter speed).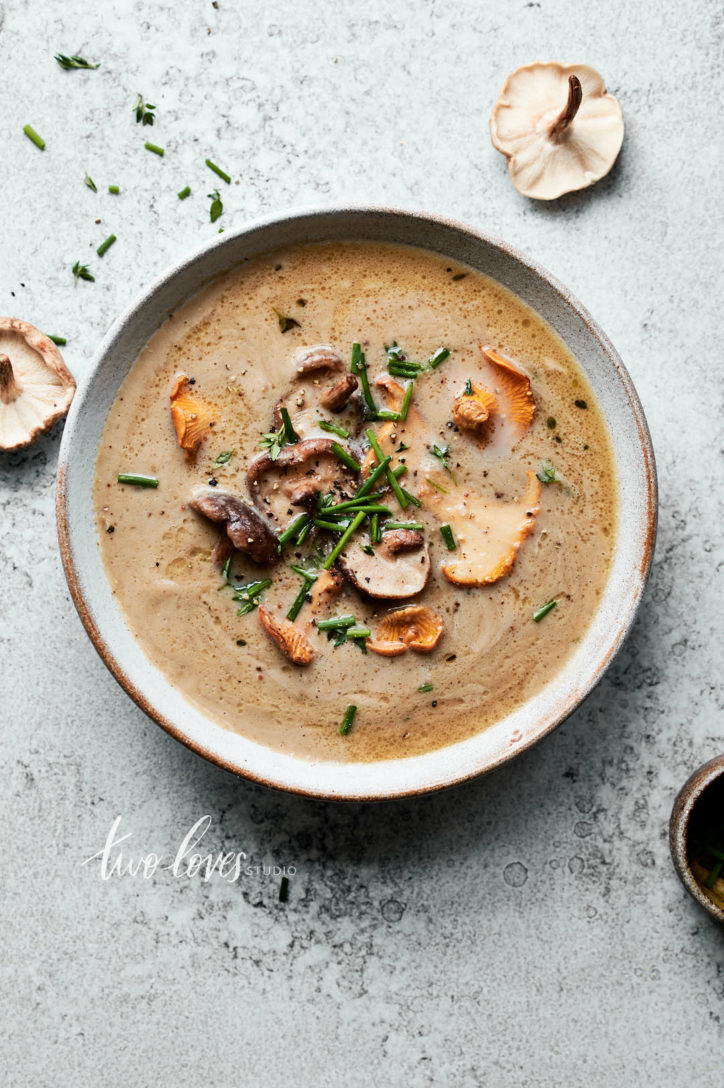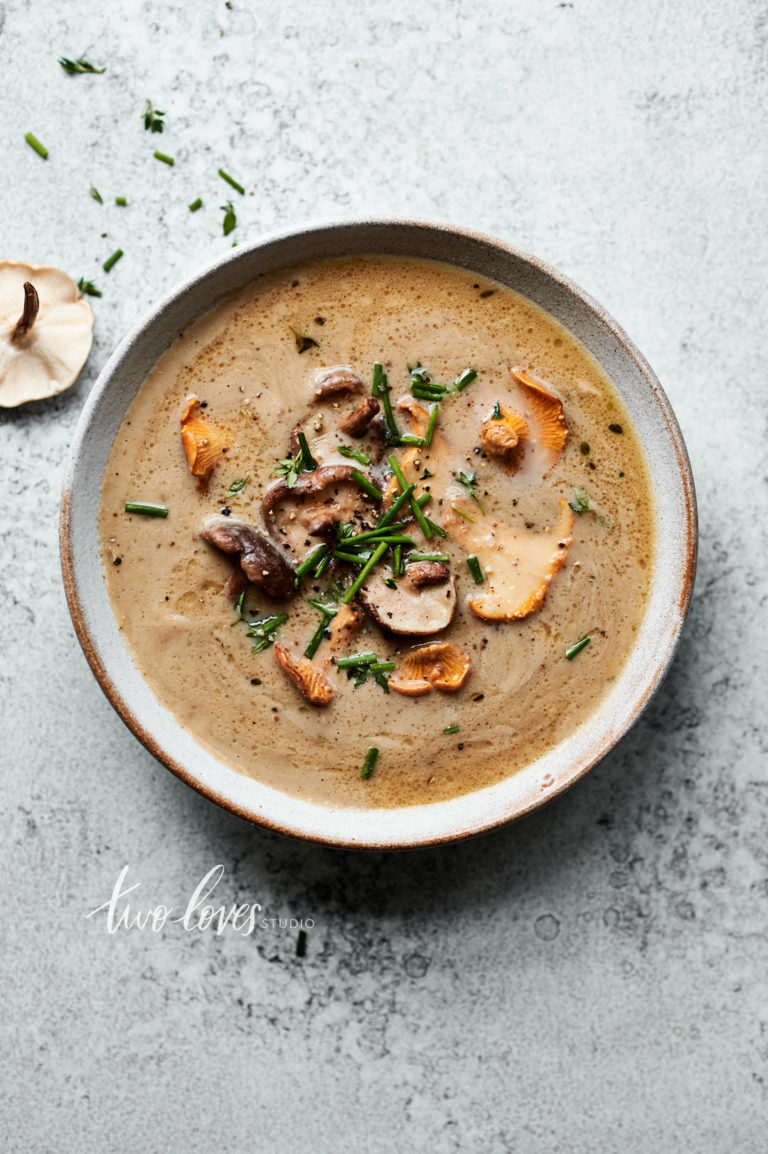 Camera Settings to Freeze Motion
Freezing motion requires a fast shutter speed. When I say fast, I am talking about 1/800 sec and higher.
When freezing motion, it's most important to focus on getting the shutter speed to be fast. The other settings will depend on the type of light we're using.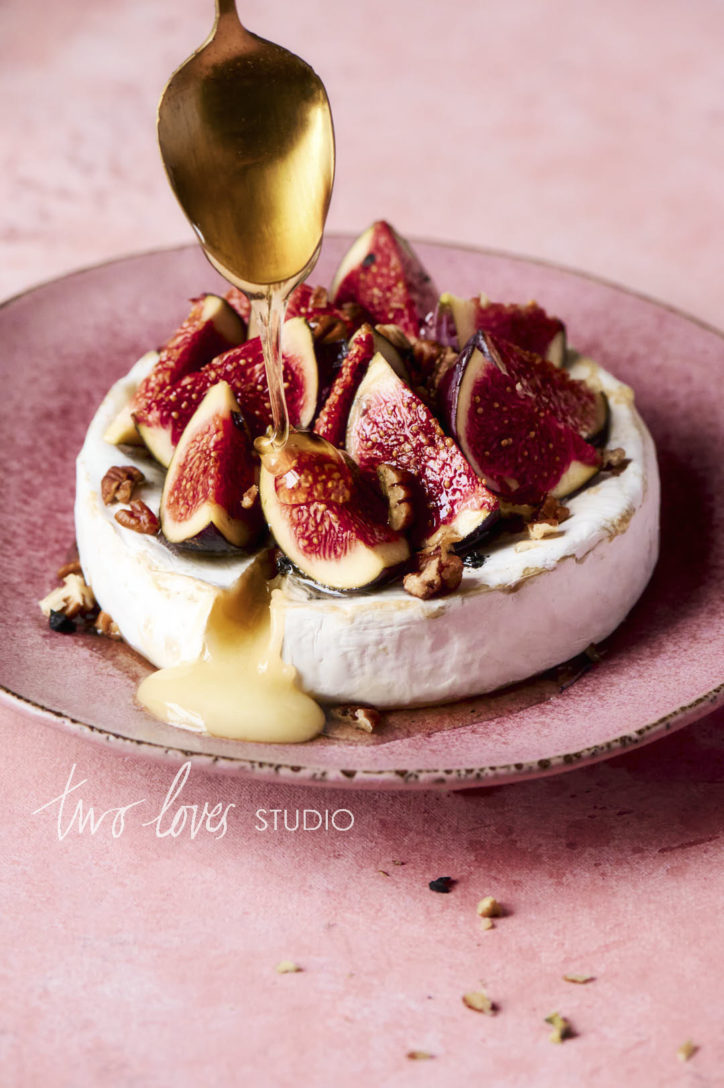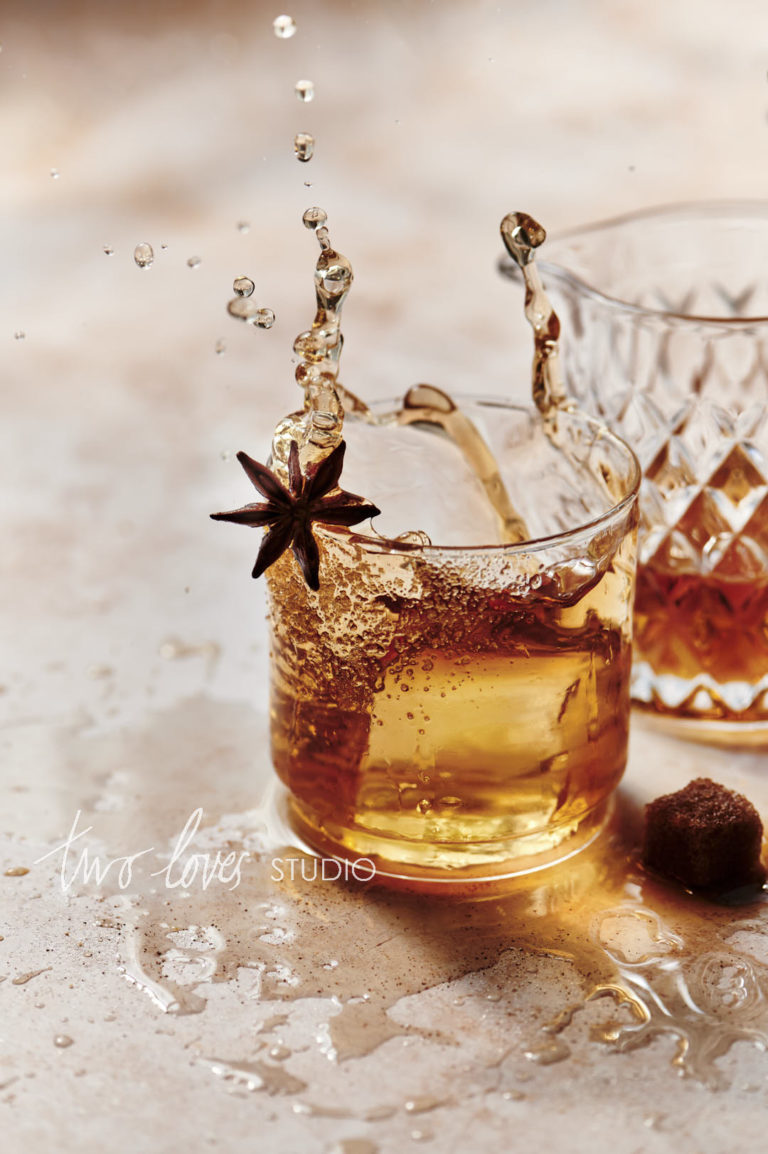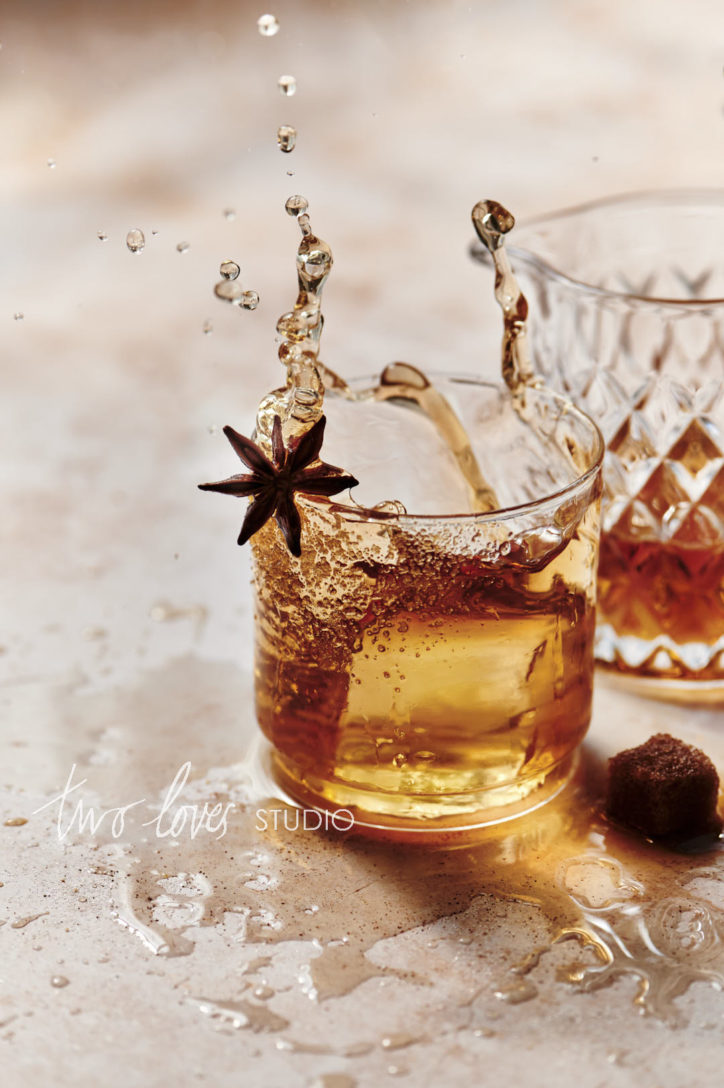 How to Freeze Motion With Natural Light
When using natural light, we aren't easily able to control its power, (unlike with artificial light). Because we need a fast shutter speed, we'll either change ISO and/or aperture to get our desired exposure.
A higher aperture (smaller f-stop) will let more light in. Or you can increase your ISO to increase captured gain (ISO) of the final image.
The exact shutter speed will depend on the quality and amount of light we're using.
I shot this baked brie dish on a light autumn day with my 105mm macro. Because I wanted to ensure the movement was captured in the plane of focus, I decided to use a smaller aperture (larger number) of f/8.
With the combination of a smaller aperture and a fast shutter speed needed to capture the honey drizzle, (1/800 sec), I had to also increase my ISO to 6400.
Camera settings for this photo are 1/800 sec, ISO 6400 at f/8.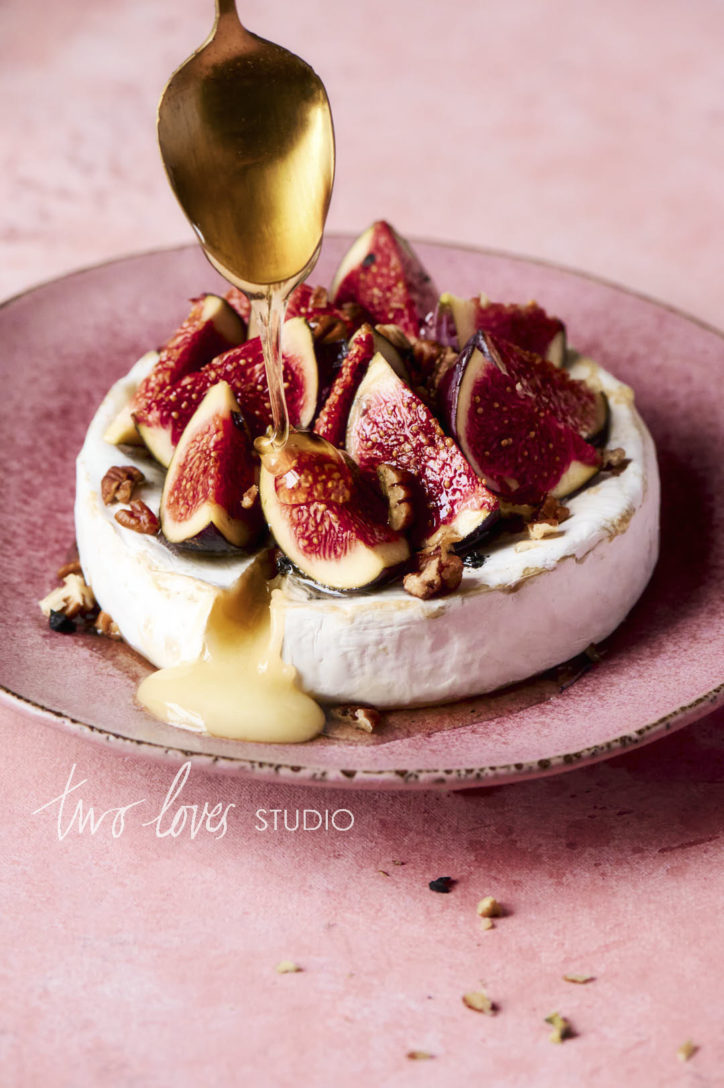 As I had more light to work with, I knew having an aperture with more depth would help me capture the drip in focus. No matter how fast your shutter speed is, if you're subject in motion is out of the plane of focus, it won't be *in focus*. It will be blurry or soft, but not because of movement.
ISO 6400 isn't always an option for everyone depending on the type of camera you have and how new it is. Older cropped sensors won't handle ISO the same way as the newer technology in full-frame cameras.
Now there are two things you can do here if you need to further control the aperture and DoF, allowing me to reduce ISO.
You can move further away and use a narrow focal length (lens). This puts more distance between the camera and the subject. Larger apertures (smaller f-stop) will appear to have more depth than if you were closer to the subject.
How to Freeze Motion with Artificial light
Settings choices will be different when shooting artificial light because we can now control the power of the light.
Most flashes or strobes have what's called a maximum shutter sync speed. This means there is a limit to the shutter speed we can use. This limit is usually 1/200 sec.
1/200 sec might not seem fast enough to freeze motion, but due to the extremely short duration of the flash, 1/200 will indeed freeze motion. When I want to freeze motion with my strobe, my camera settings for food photography be set at 1/200 sec.
Because we can control the power of the flash/strobe, we don't have to increase ISO to reach our desired exposure as we do with natural light.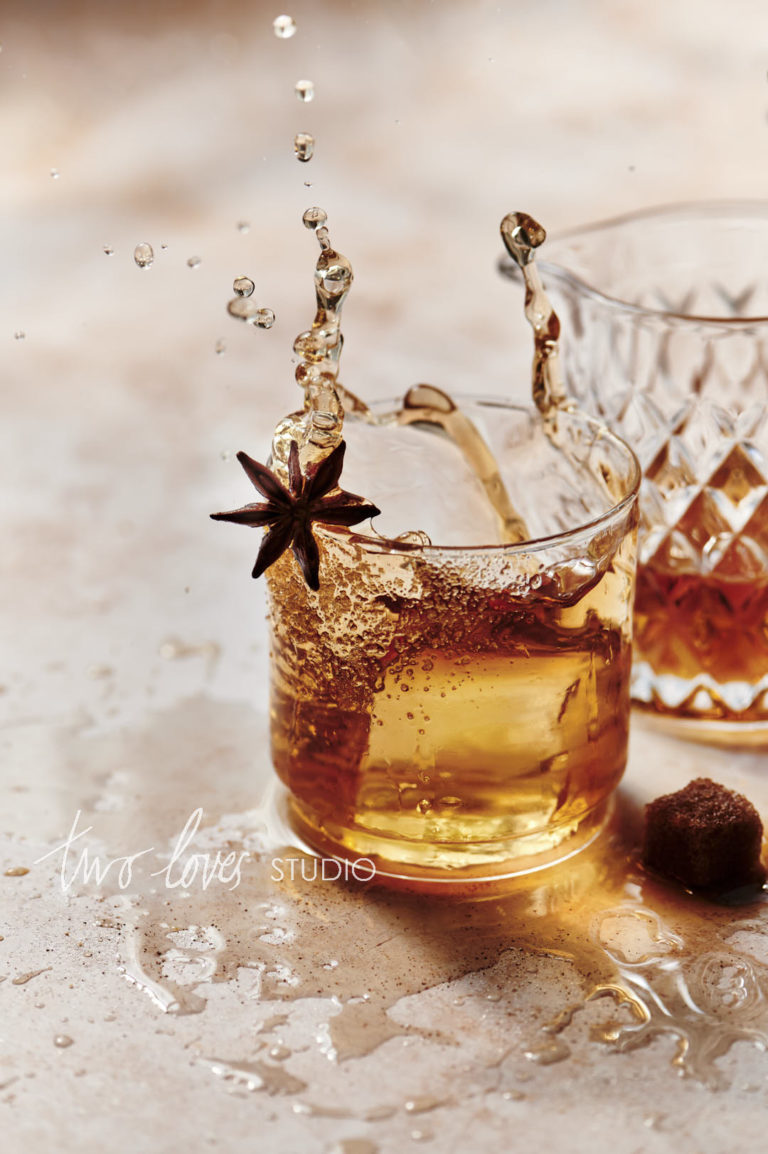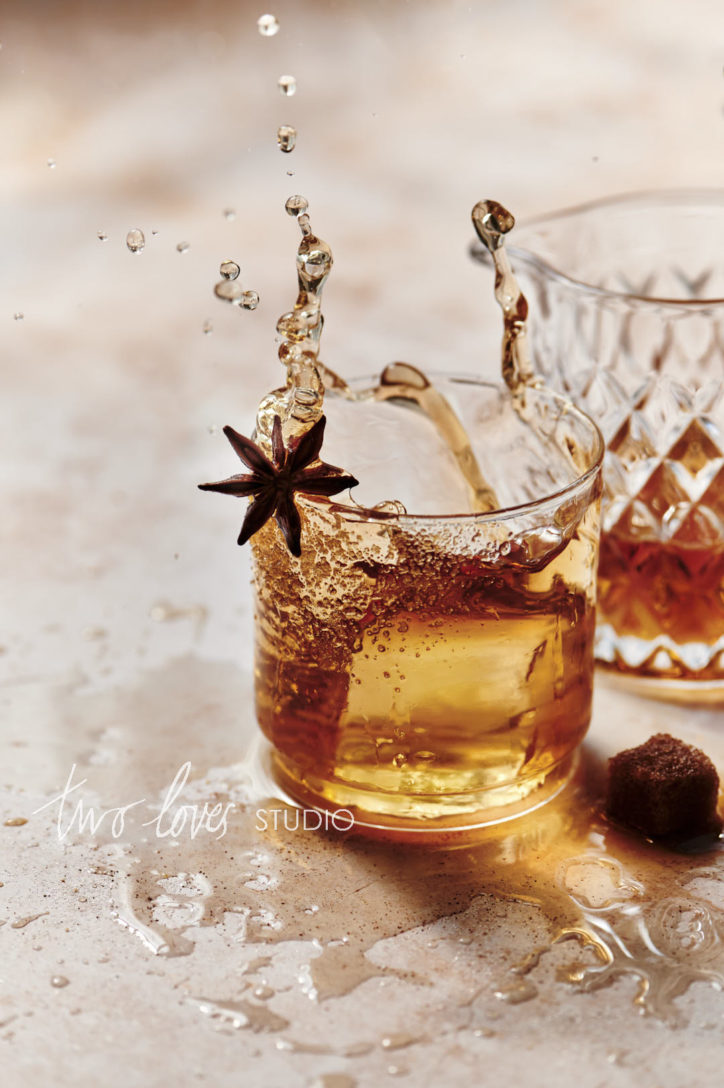 For a bright shot using artificial light, I will reduce my ISO to base ISO where possible or close to, and keep my aperture at an f-stop that matches my creative vision. Then change the power of the light.
The caveat here is that if you're using a fast continuous capture, you may have to reduce the power of your flash/strobe and adjust your settings to accommodate. This is so the strobe can still sync (usually not at full power) and take into account any recycle time.
Where I need to use high speed capture, I'll reduce the power of the light for it to continue to sync. Then increase my ISO as it's generally near or close to base ISO.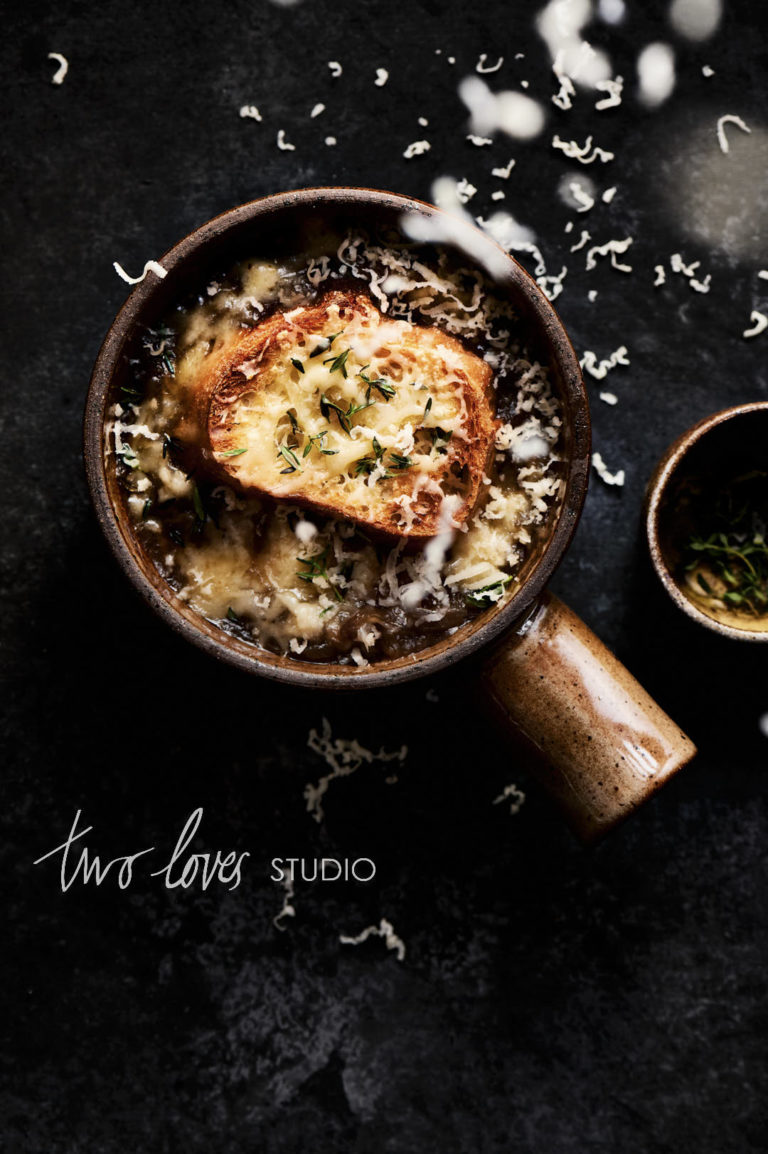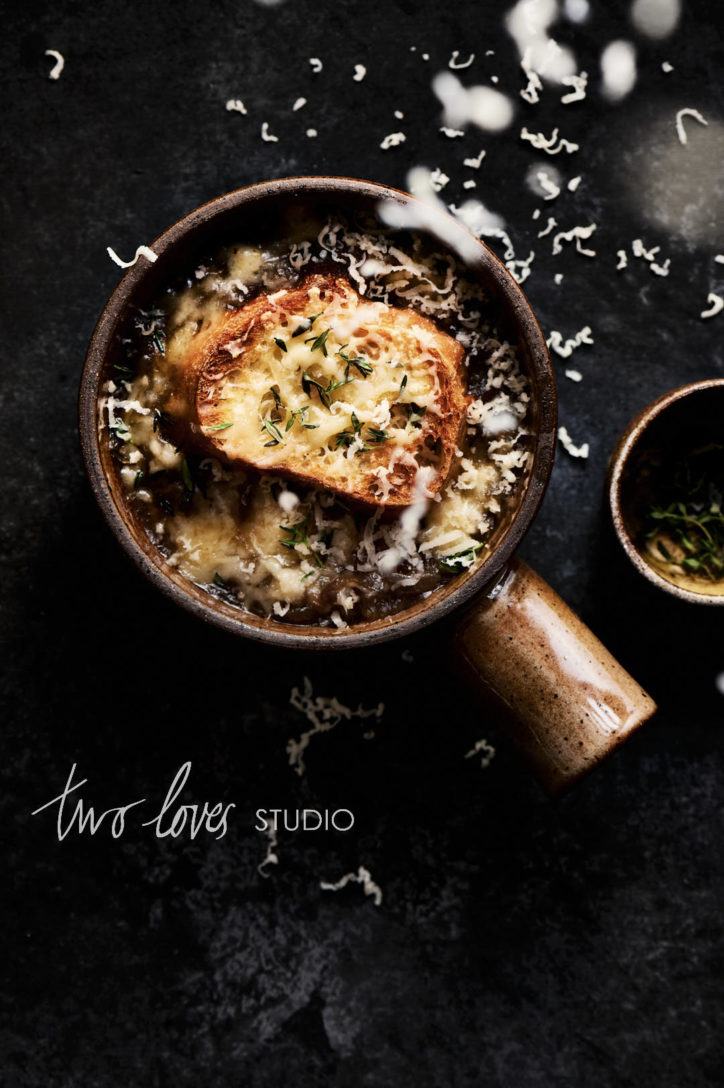 The power of the light for this french onion soup shot was fairly high with base ISO. To use high-speed continuous mode and still sync the strobe, I needed to increase my ISO so I could reduce the power of the light by about half.
How to Blur Motion with Natural Light
Blurring motion or movement in an image is somewhat easier than freezing motion. To blur motion, we need to have a slow shutter speed, generally under 1/200 sec. The slower the shutter speed the more blur we'll see in the movement.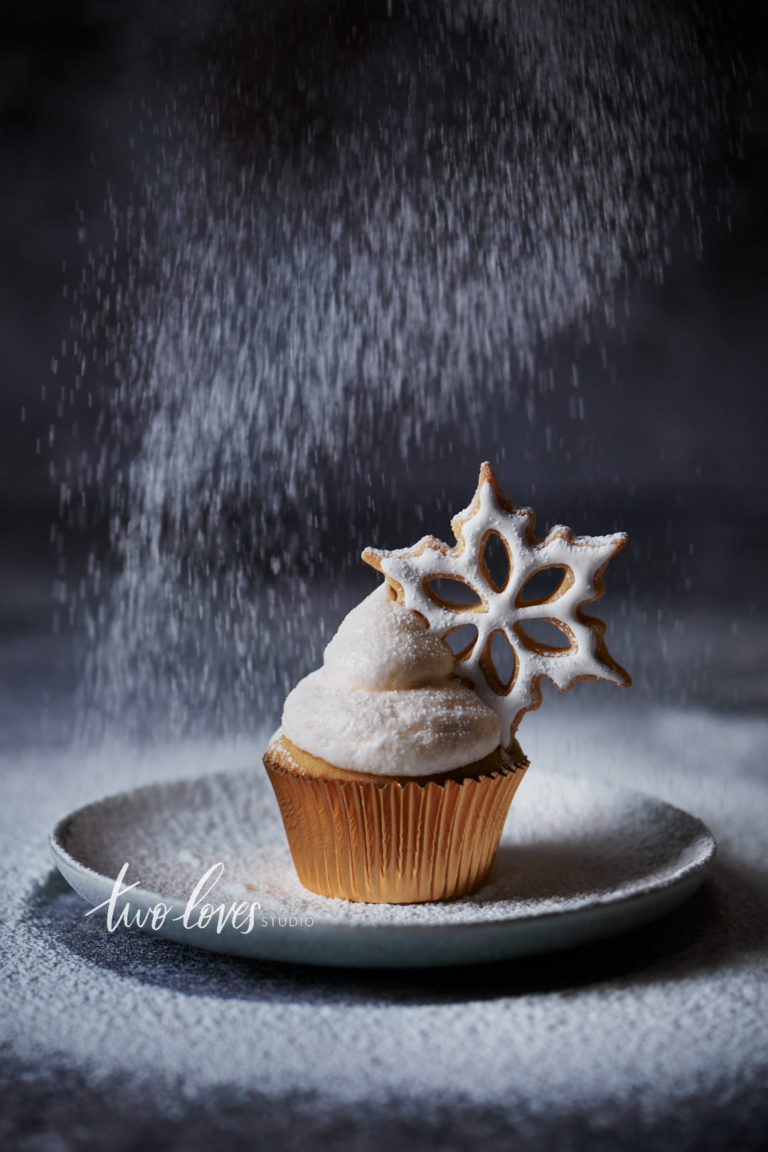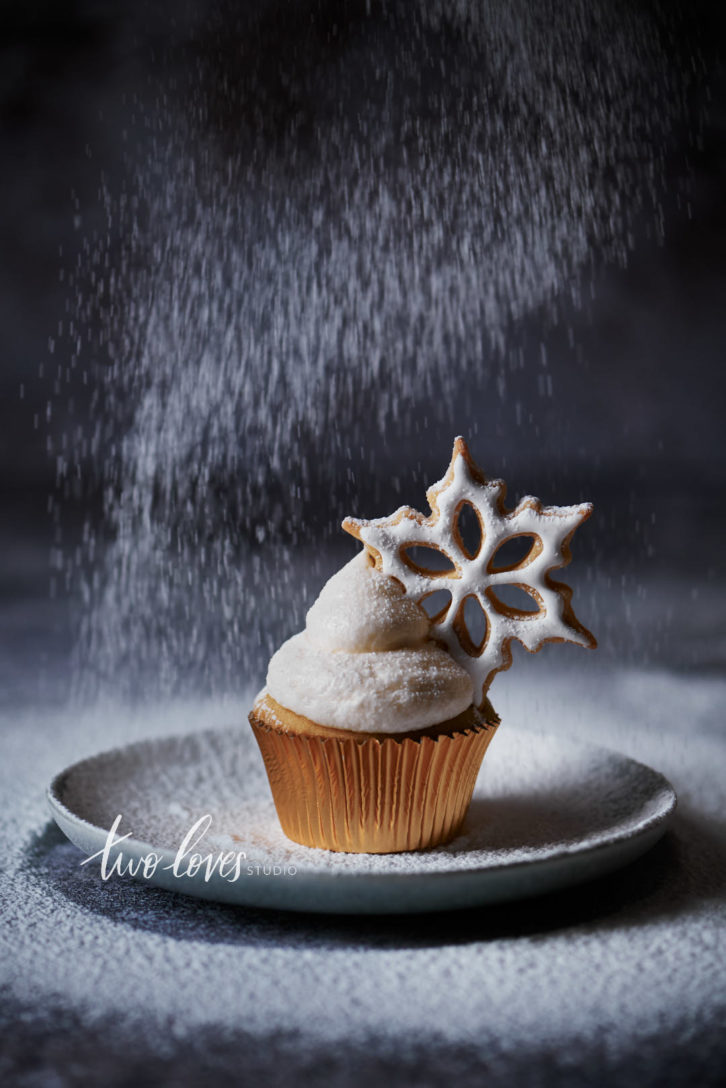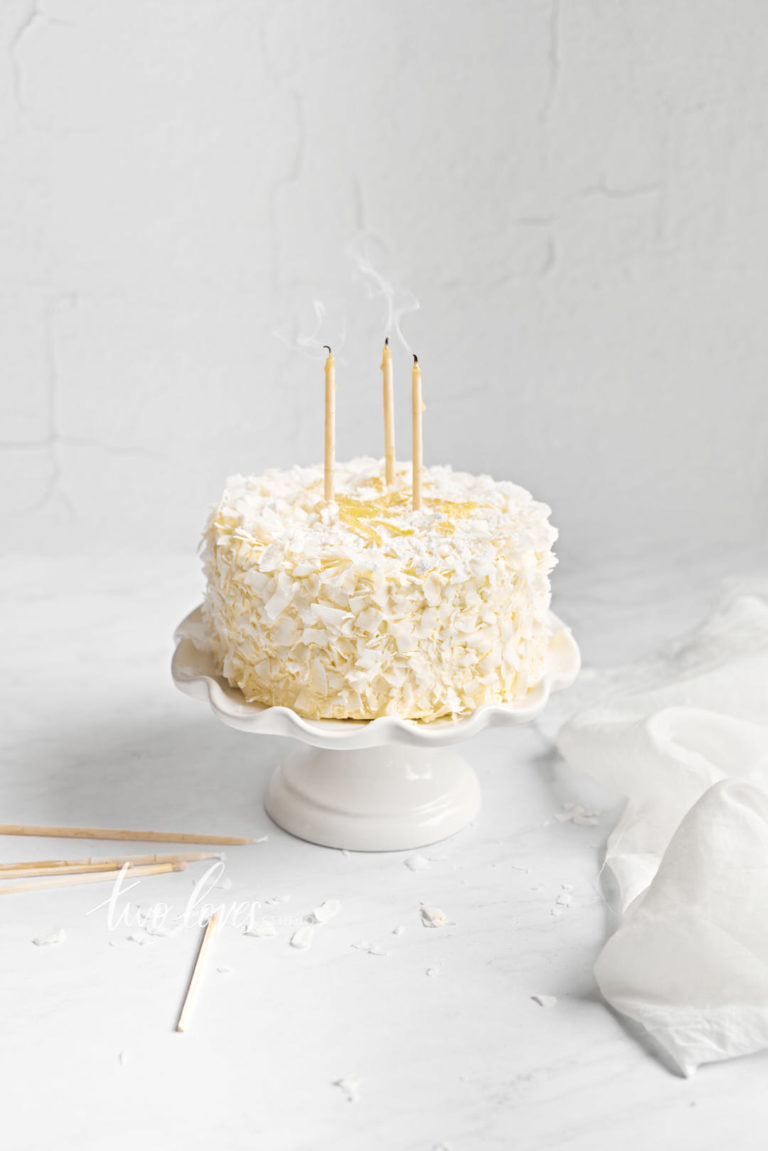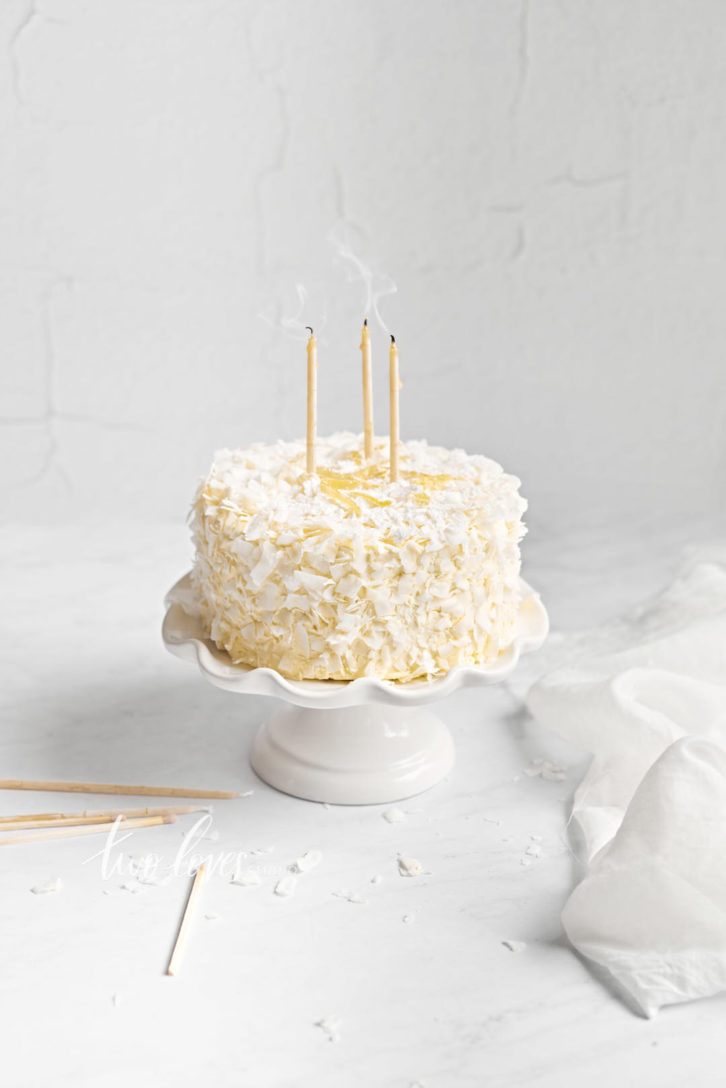 Reducing shutter speed will let more light in. We therefore need to adjust either aperture and/or ISO.
For a bright shot, I'll lower ISO (as long as I am still maintaining optimal exposure) and maintain an aperture to an f-stop which matches my creative vision.
To capture blur in a moody shot, I'm generally working with less light to start with so I may need to either increase my ISO and/or aperture. Here I will think about what f-stop is the highest that can still work with my concept and how far away from my subject I am. Then I will also increase ISO to where I am comfortable with.
The Nikon Z6 that I shoot with handles ISO very well, so I can generally push ISO more than other cameras or older cropped sensors might.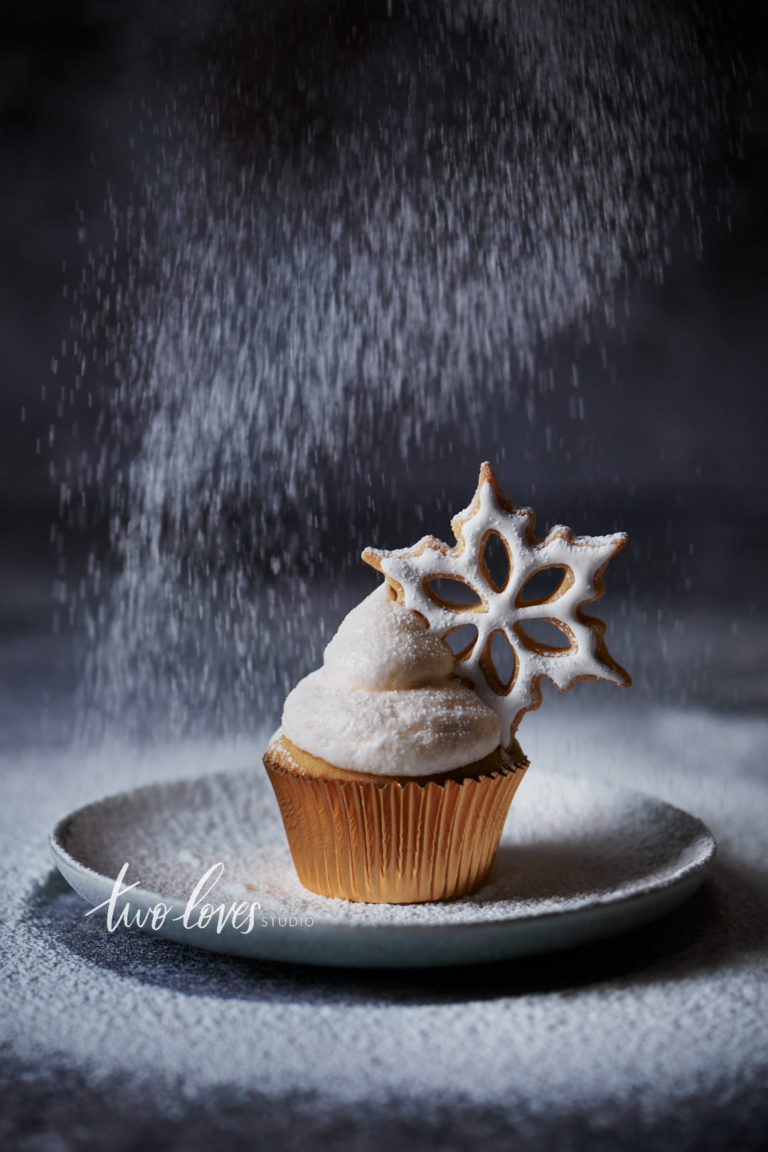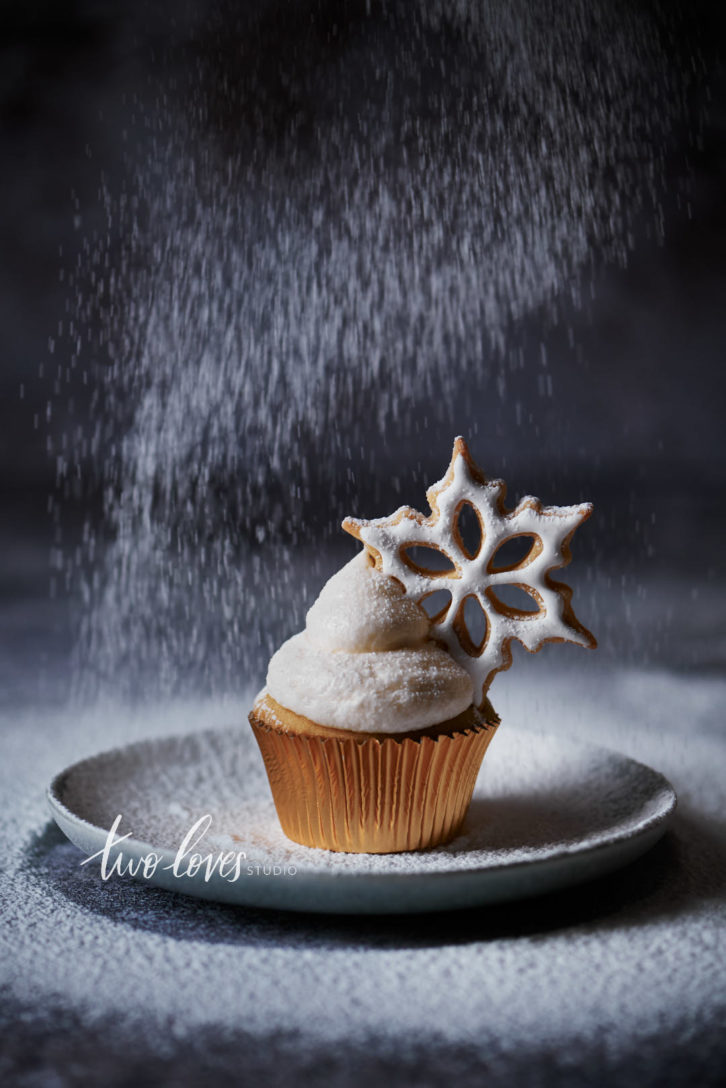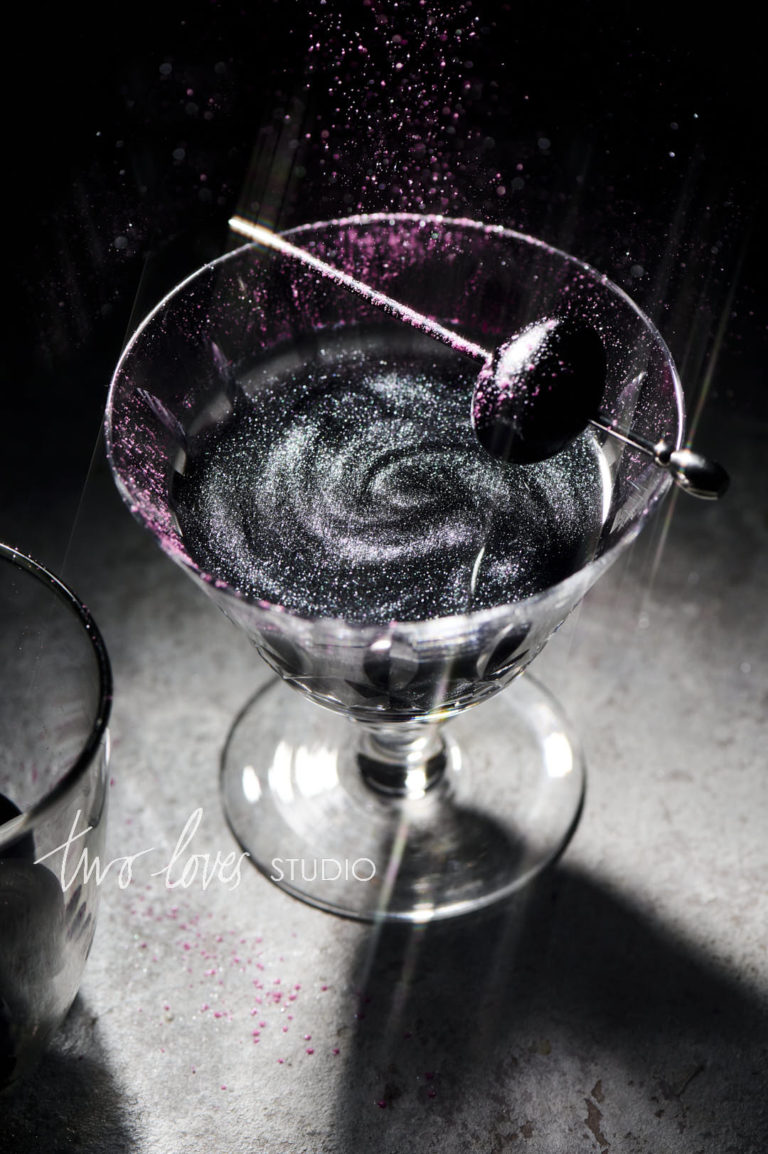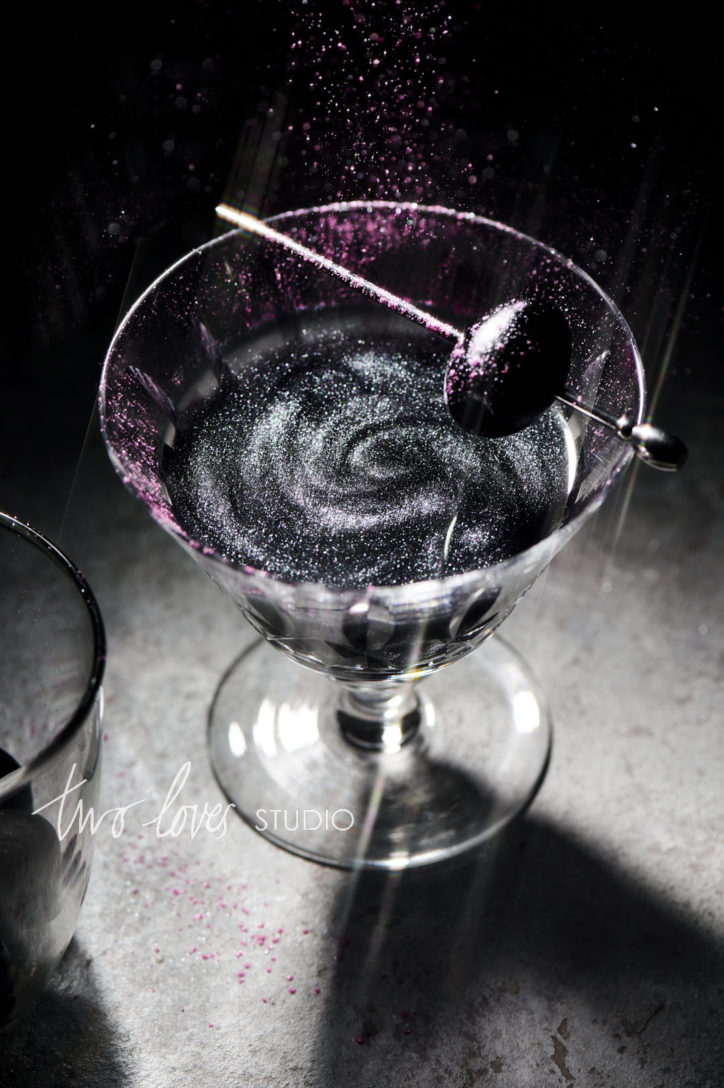 You can see the difference between blurred motion above, on the left, we have a slow shutter speed which blurs the falling icing sugar. On the right, exceptionally quick speed of a flash will freeze the falling edible pearl dust at approximately the same shutter speed.
Blur Motion by Using a Continuous Artificial Light Source.
It is possible to blur movement with artificial light, and by using a continuous artificial light source you can get this look most easily.
A continuous artificial source could be a continuous light like my Aputure Light Storm 120D or the modelling light on my B10 Profoto Strobe.
The main difference between a continuous light that's artificial vs natural light is that we can control both our settings and the power of the light. Often times this means that we won't have to use very high ISO values in comparison as we have the power to change the light.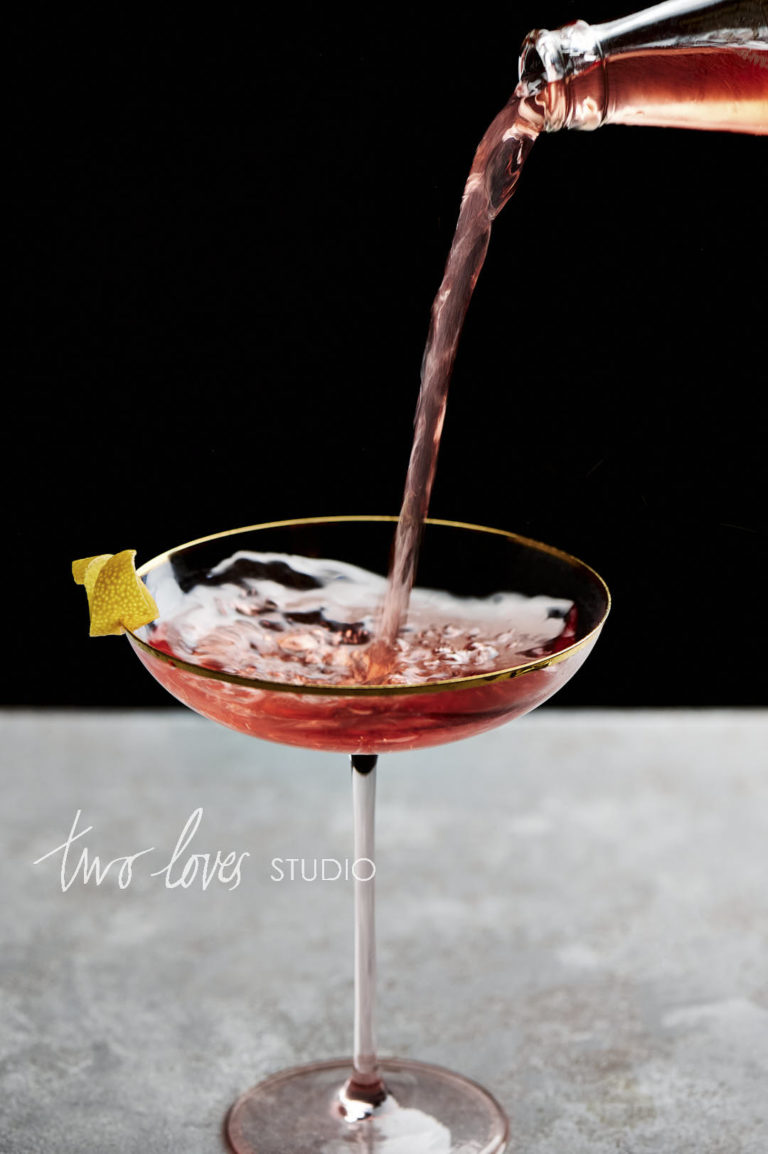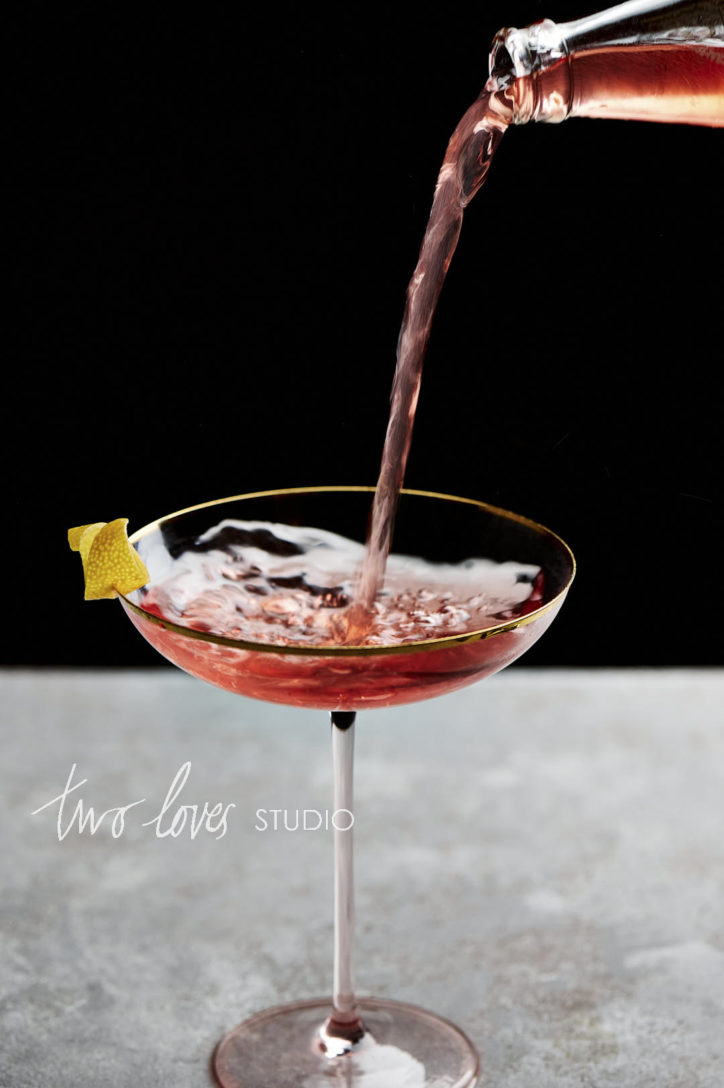 To blur this pour shot, I set my shutter speed to 1/60 sec so the motion was blurred. I used the modelling light on my strobe, which doesn't have as much power as my continuous light.
You can use your shutter speed to give you a degree of creative effect over your movement. For example, this is a fizzy liquid, and you can almost see no bubbles in the liquid due to the amount of motion blur.
Settings for Controlling Depth of Field
A high f-stop (smaller number), will have a shallower DoF. Conversely, a lower f-stop (larger number), will give more depth with more in focus. But nothing in photography is simple. There's always a relationship.
The amount of depth in your photos depends on the aperture we shoot, the distance from the subject as well as the plane of focus.
How to Capture Deep Depth of Field With a Macro Lens
Because depth of field is affected by aperture and distance, it can seem like narrow macro lenses (90mm/100mm/105mm) are more shallow than regular lenses.
That's not the case. Macro lenses have a very generous minimum focusing distance that allows us to get closer to our food.
This compresses the subject and exaggerates the effects of depth of field.
The closer we are to our subject, the more we'll want to test a smaller f-stop (larger number). I usually aim for f/5.6-f/8 as a starting point for my 105mm macro and then reduce it even further to f/11-f/16 if I'm very close.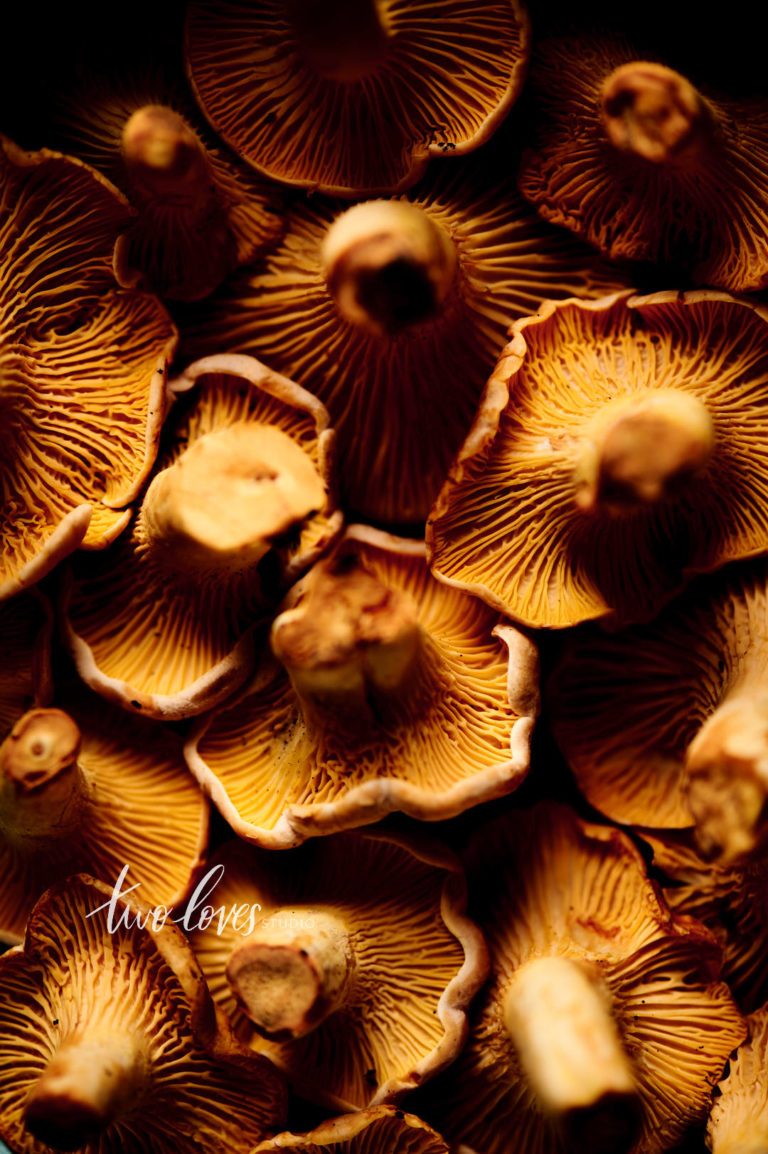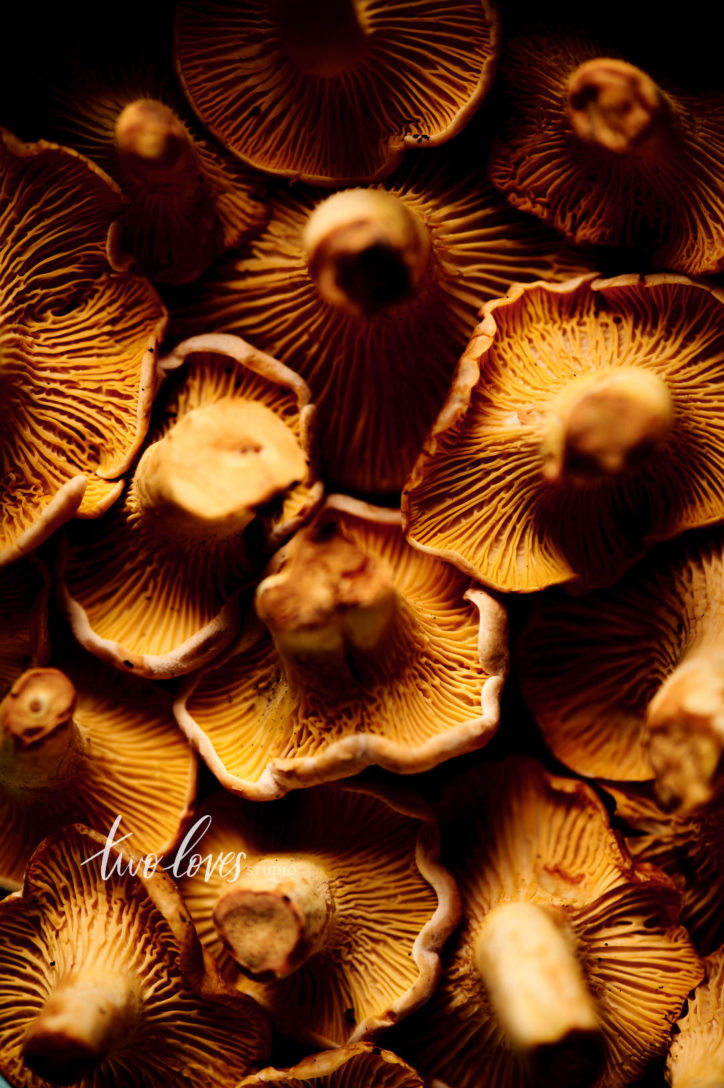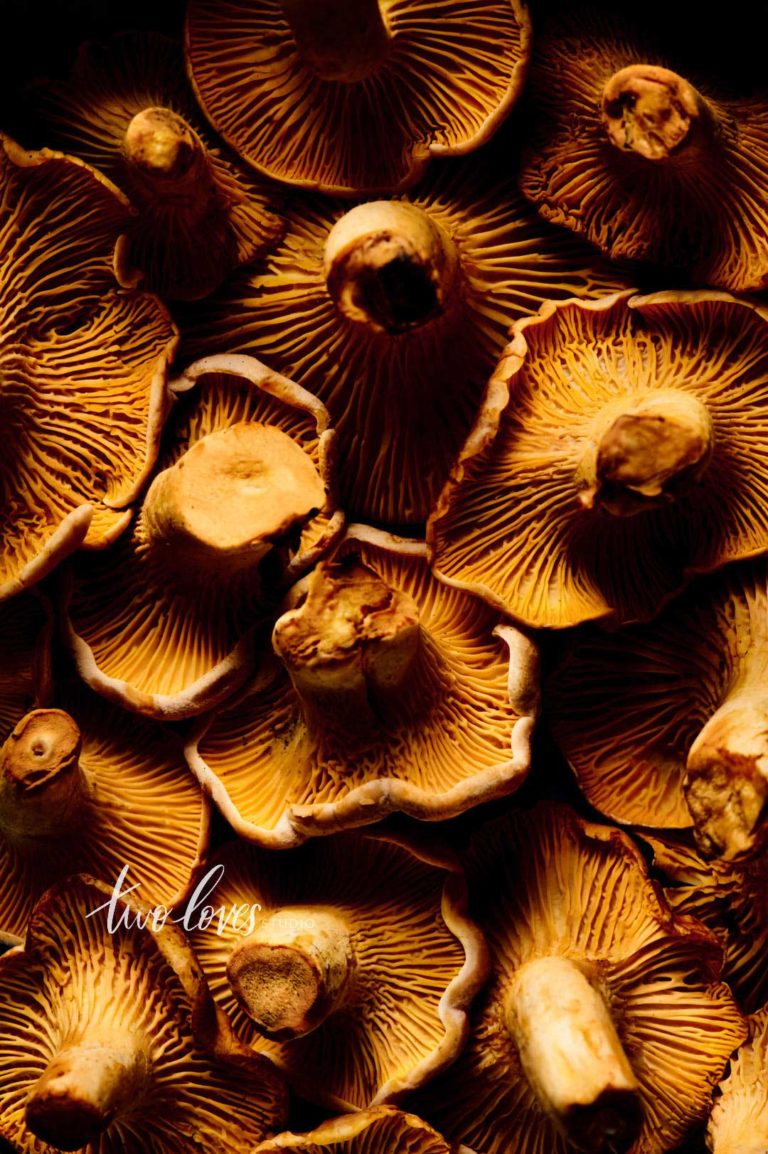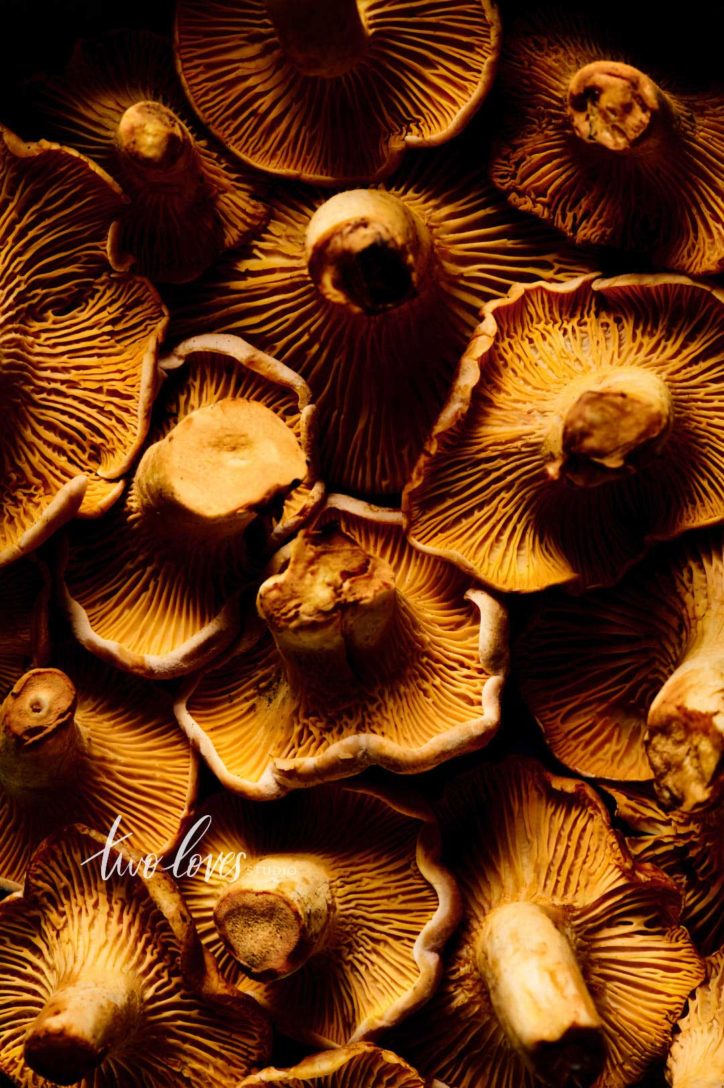 RELATED: Secret to Macro Photography – Plane of Focus
Capturing a Deep Depth of Field With a Regular Lens
Non-macro lenses have a meager focusing distance so we're generally further away from our subject. This means that aperture appears to have more depth.
An aperture of f/5.6 will appear to have more depth with a regular lens than a macro lens. On a regular lens, I will shoot between f/5.6 and f/8 to capture depth.
Always be mindful of your distance and compression, then adjust accordingly.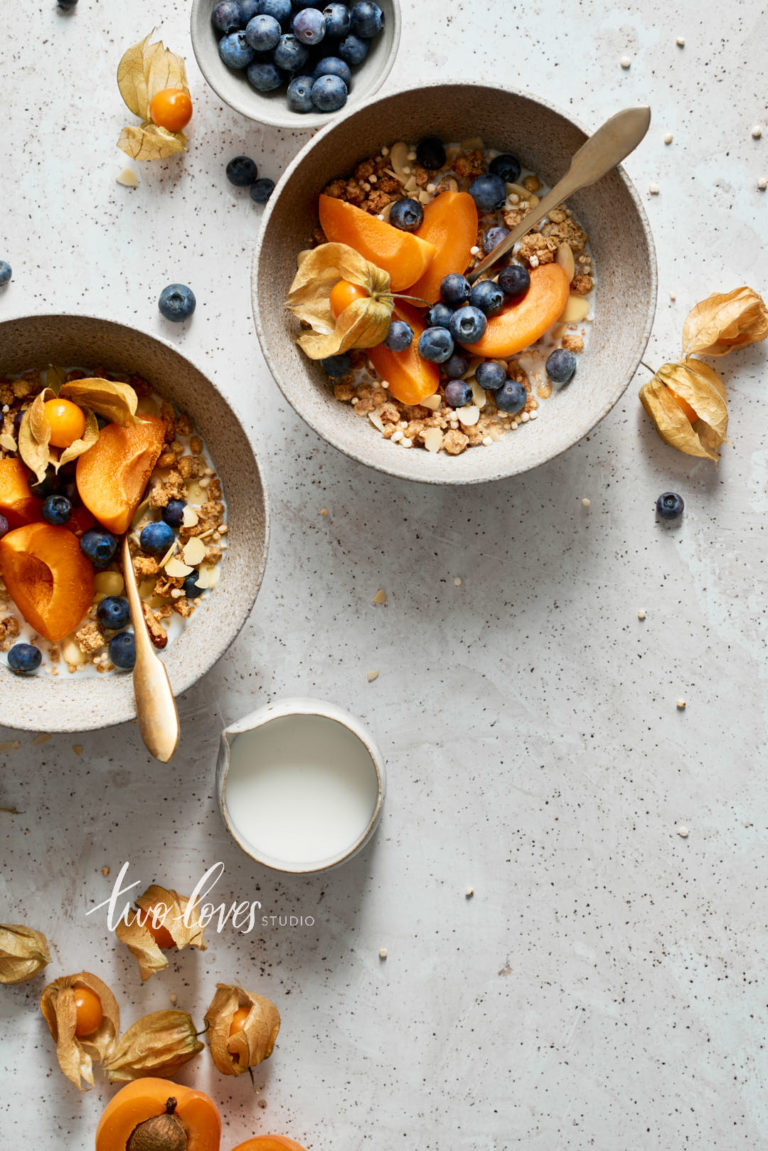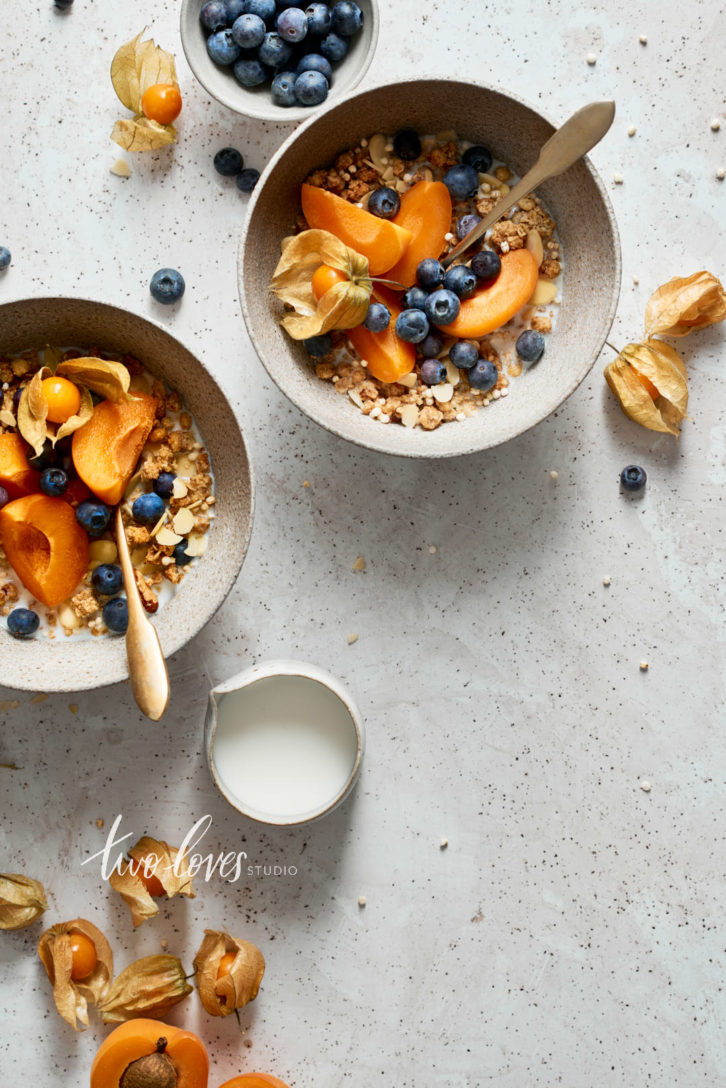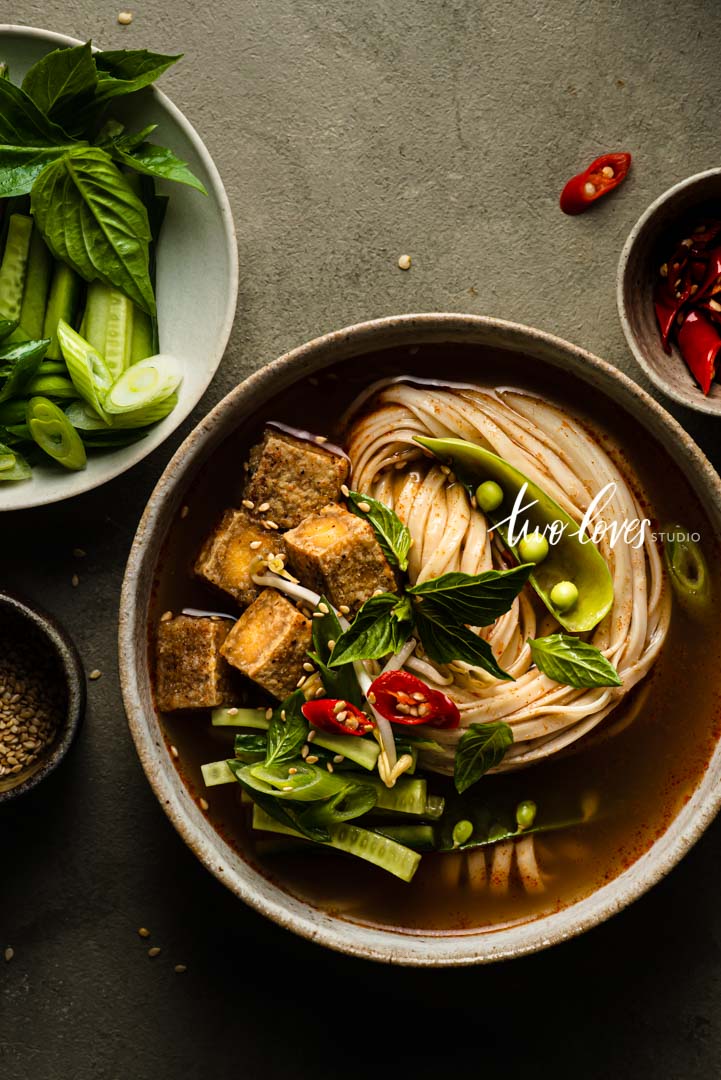 How to Tackle DoF When Shooting Flatlays With Varying Heights
When dealing with varying heights when shooting overhead we want to utilise distance to our advantage.
This means thinking more than just about the camera settings for food photography, or aperture. The trick is to position our focus on a subject whose height is halfway between the background and the top of the tallest subject.
This will allow us to capture more depth than if we were to focus on the extremes, (i.e the background being the shortest subject with no height, and the top of the tallest subject).
In this shot, (was created for my composition masterclass), I would focus my focal point on any of the three fruits with the pink circle.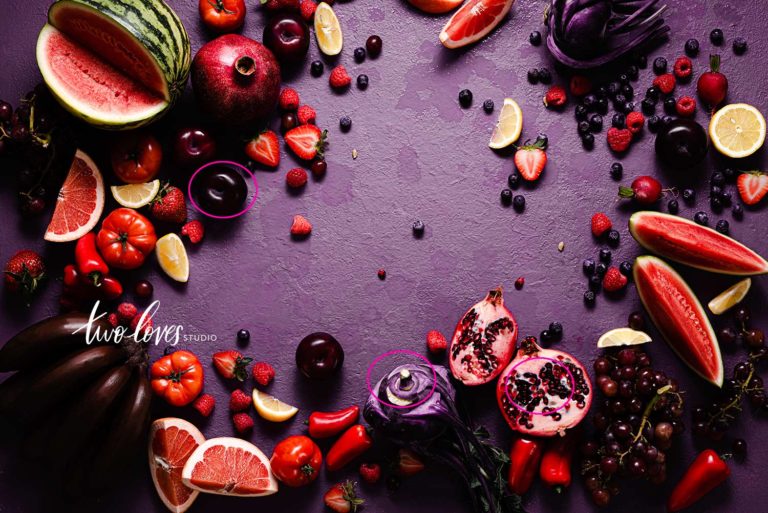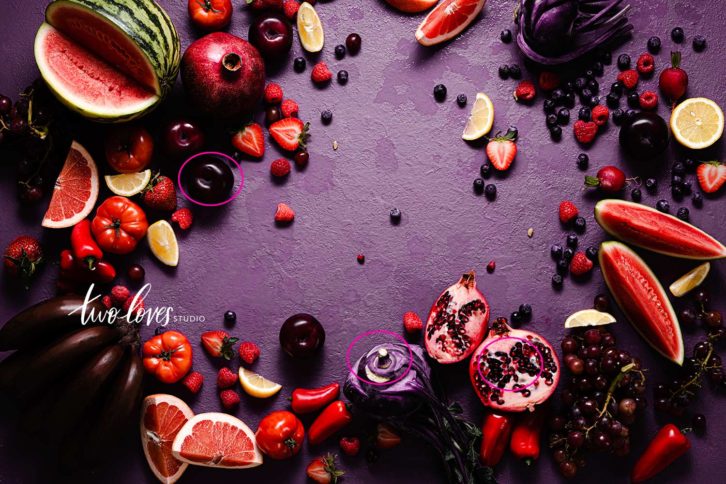 In combination with the position of the focus, we'll want to try to use a smaller aperture (larger f/stop) to capture the subjects in focus.
Camera Settings For Food Photography: How to Capture a Shallow Depth of Field
If we're looking to capture a shallow, yet soft buttery depth of field, the good news is that the closer we get to the subject (or the more the lens compresses the distance) the shallower the DoF will be.
For macro lenses, we can find that f/3.5 might give us a shallow DoF as we're closer. A regular lens however, you might need to go to f/1.8 to get that feel.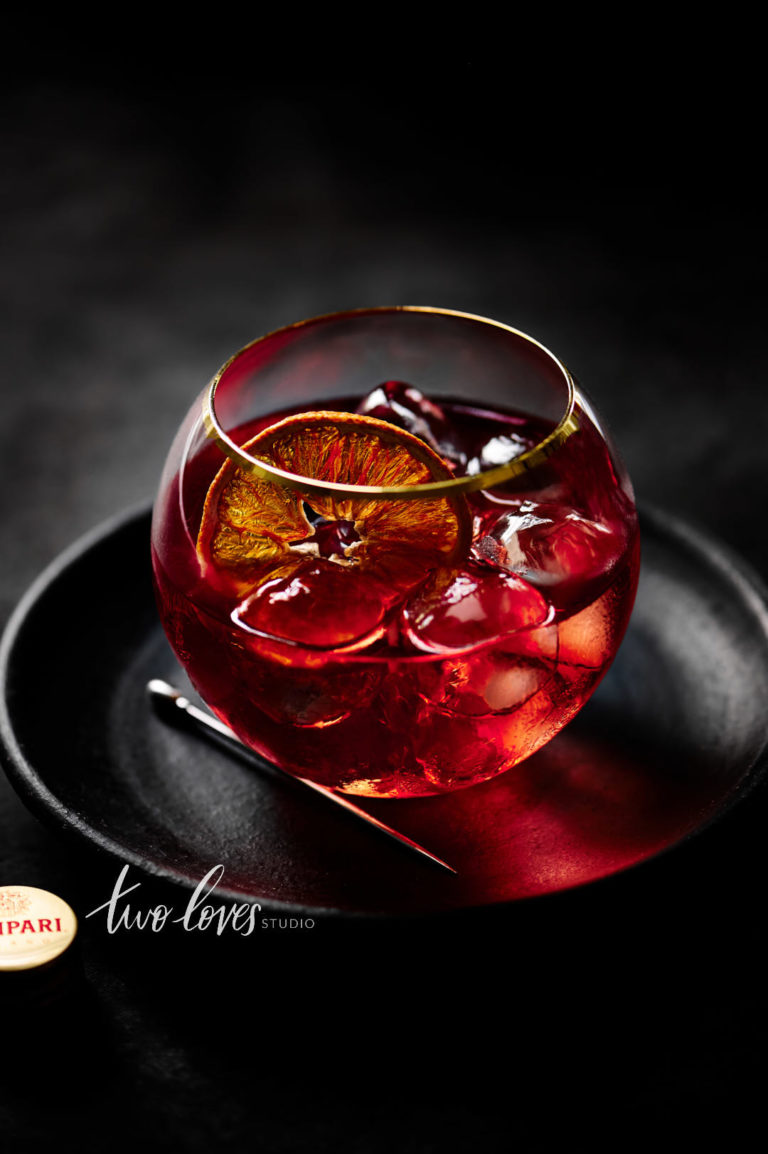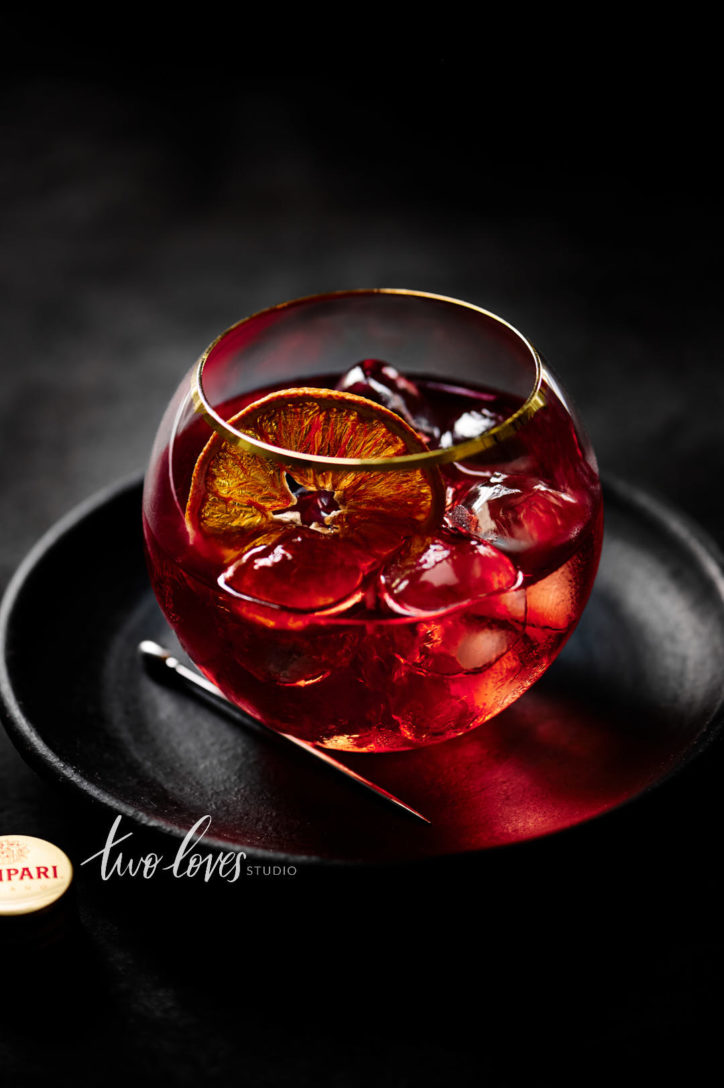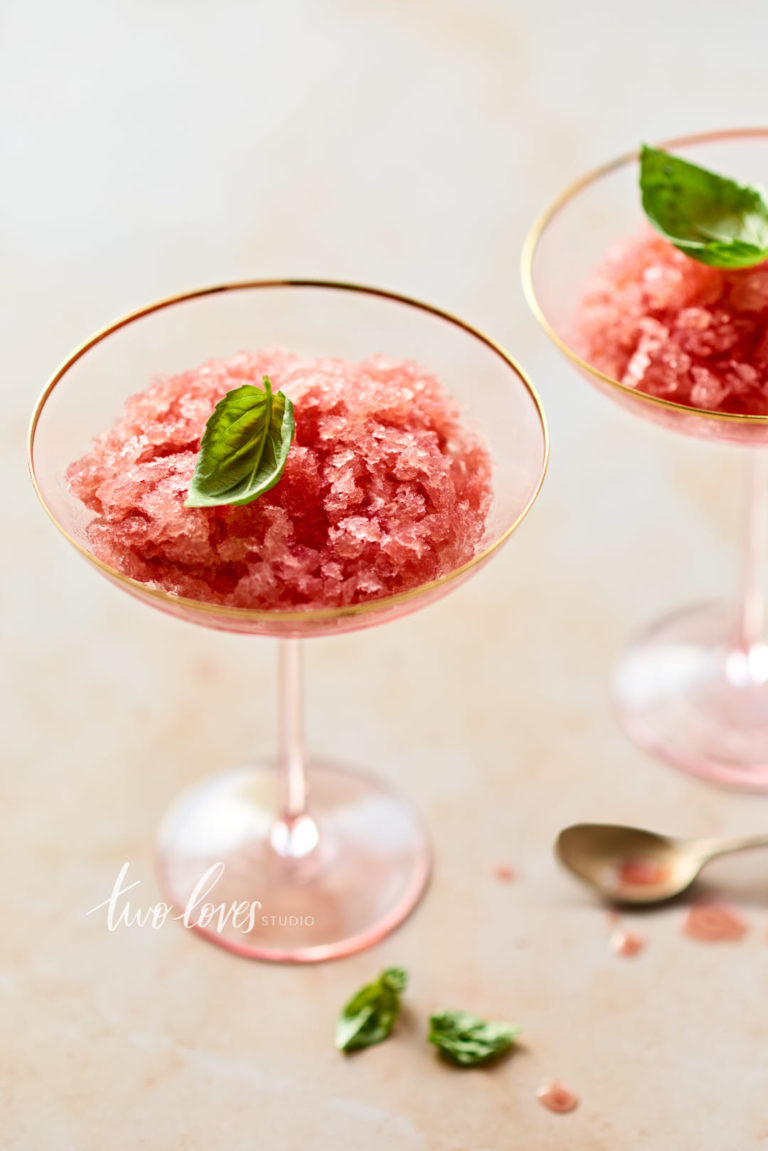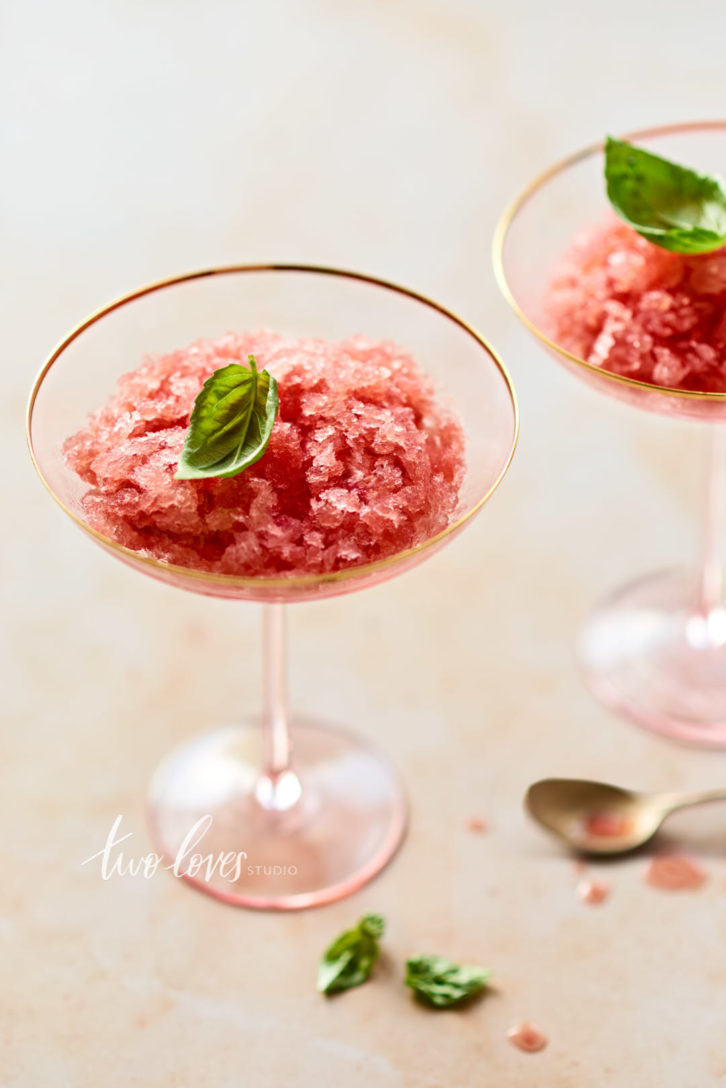 I love my 85mm lens, however, the minimum focusing distance means that I can't get close to my subject. So for portraits, I'm sometimes further away than when I use my 105mm macro. This means to capture that soft buttery DoF, I often need to shoot apertures between f/1.8 – f/2.8 to achieve that look with my 85mm.
From capturing motion to blurring motion, controlling light and DoF, we've covered a lot of guidelines for settings.
If you have any questions regarding the best camera settings for food photography to achieve some of the techniques we discussed in this post – leave me a comment and let's chat.