This post may contain affiliate links from products and services we love and trust.
From beginner to expert, budget to expensive, here are the 4 ultimate food photography lenses you'll want to consider along the way.
Of course, any conversation about lenses needs to start with the 'crop factor'. Essentially does your camera have a full-frame sensor or a cropped sensor?
If that went over your head, check out this post I've done on full frame vs cropped sensors.
My recommendation for these food photography lenses is based on having a full frame camera. If you have a cropped sensor, then you'll have to take into account that additional cropping factor.
Most photographers when they start out will have a camera that has a cropped sensor. I do have a post here on the two focal lengths I recommend for cropped sensors.
My advice is to invest in the best lens you can afford. Your lenses will stay with you throughout your photography journey, whereas you'll upgrade your camera.
Read 10 tips you should think about when upgrading your camera for food photography.
If you decide to upgrade your camera to full frame but you didn't buy FX lenses (compatible with full frame), you'll have to replace them.
Ouch. That can be costly.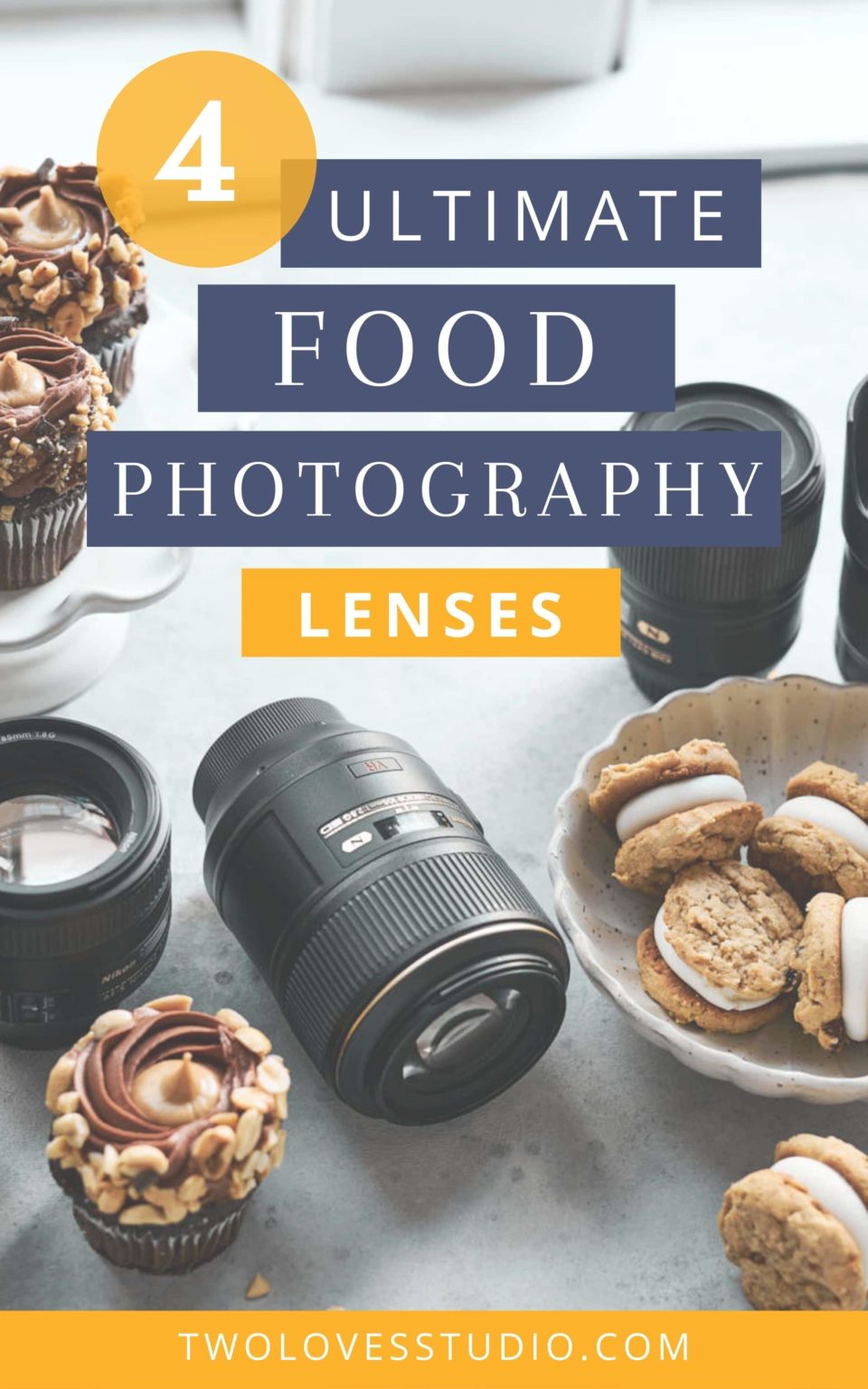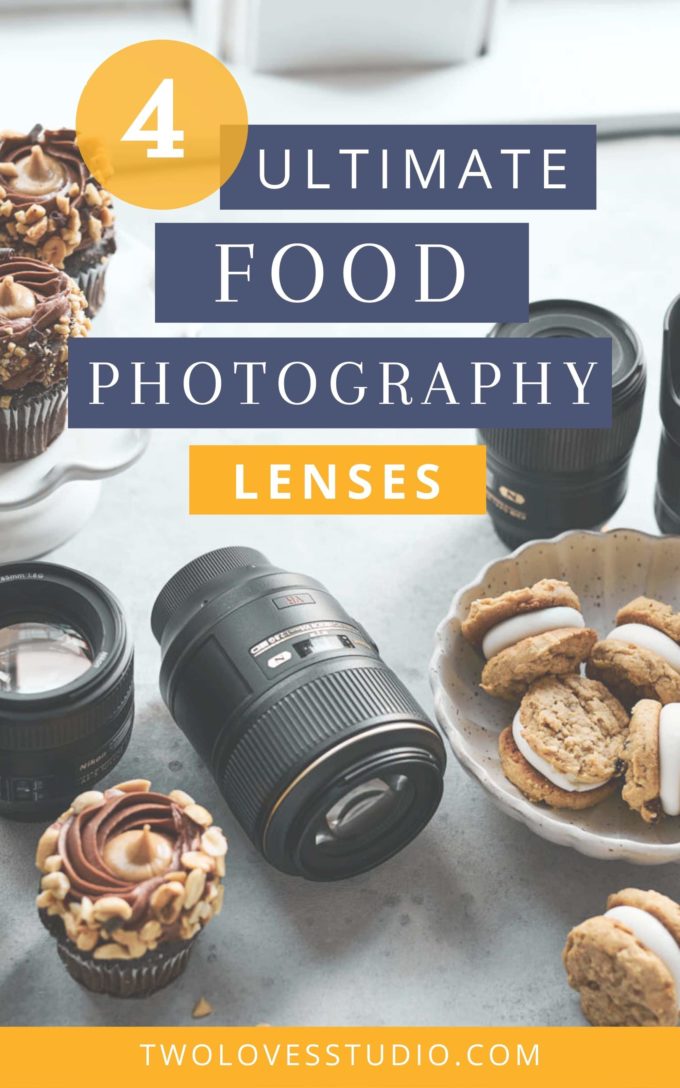 4 Ultimate Food Photography Lenses
I shoot Nikon, and I love the prime lenses in my kit. I use each of these lenses when I am working.
This post isn't about 'exactly which' lens to buy, but rather to consider the focal length that is flattering for food photography.
When shopping for food photography lenses, consider the focal length of the lens and what you're trying to capture.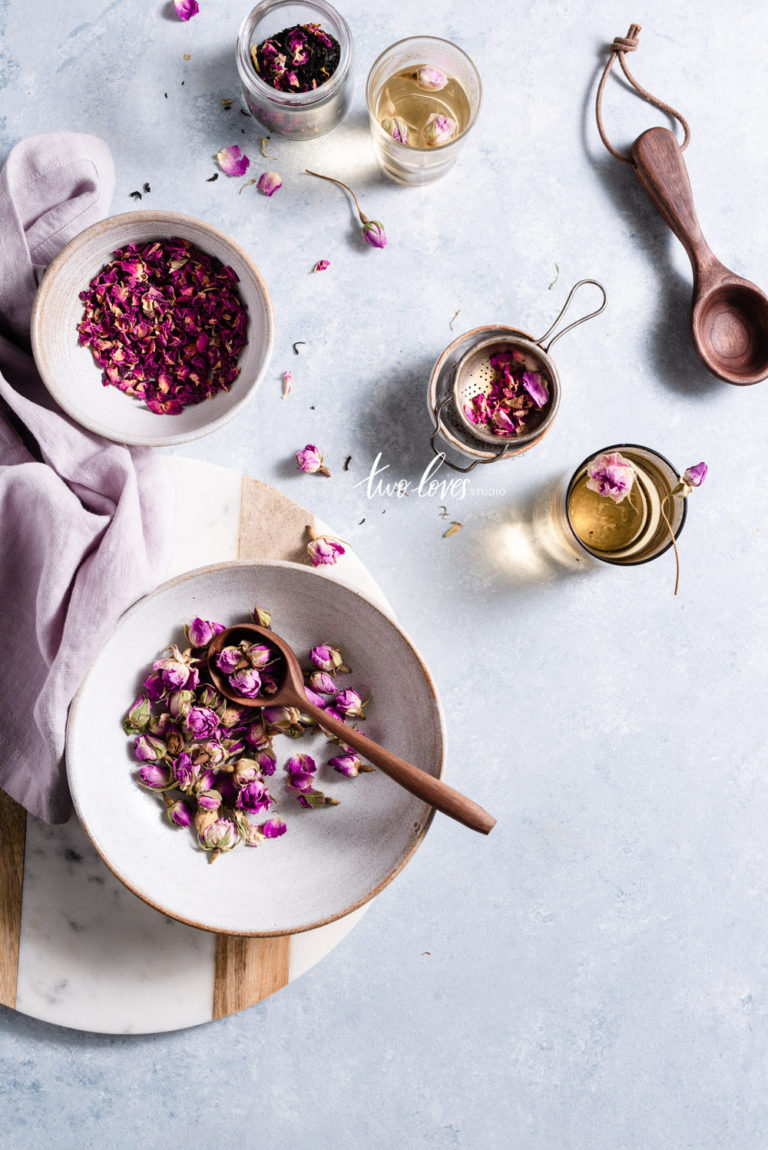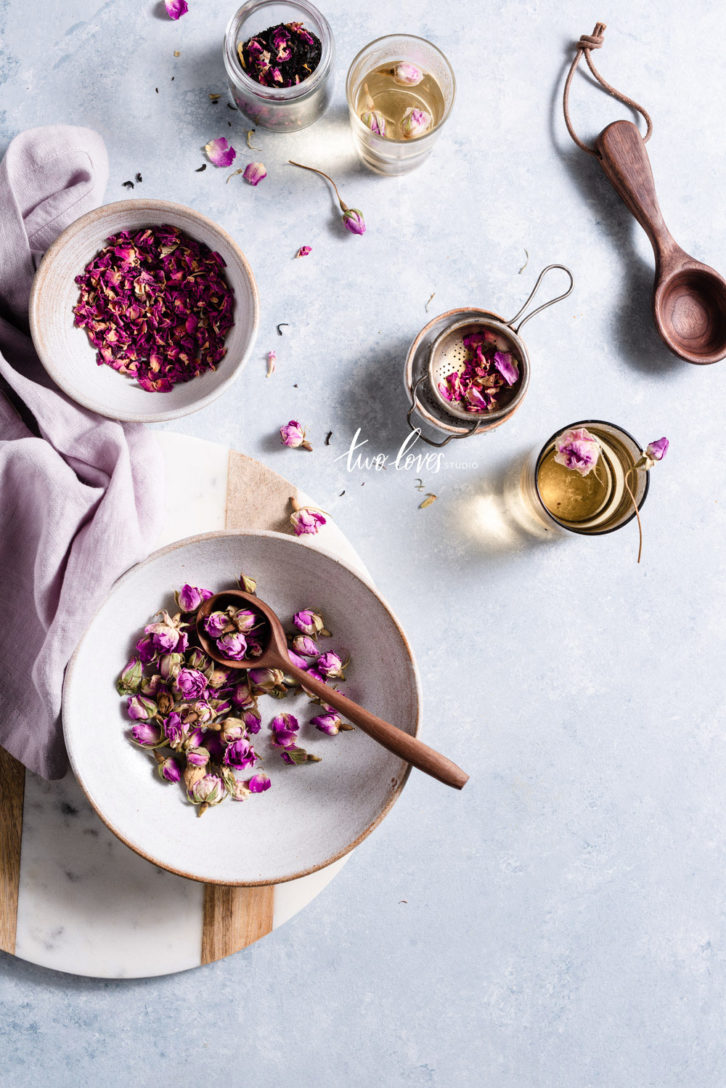 Read: The No.1 Mistake When Upgrading Your 18-50mm Lens
1. The 50mm 'Nifty Fifty'
There is a reason why the 50mm is referred to as the 'nifty fifty'.
It's an inexpensive lens, lightweight, great quality for the price and its focal length lends itself to many styles of photography. As far as food photography lenses are concerned, this is your entry level lens.
But don't let 'entry level' fool you.
This lens isn't crap!
At its price point, it's no wonder it has become a staple part of every photographer's camera bag.
My Nikkor 50mm AF f/1.8D always go with me. On every shoot, on every holiday.
I wouldn't say it is my favourite lens, but it is my 'safe lens'. I can rely on it and it gets me out of tight spots.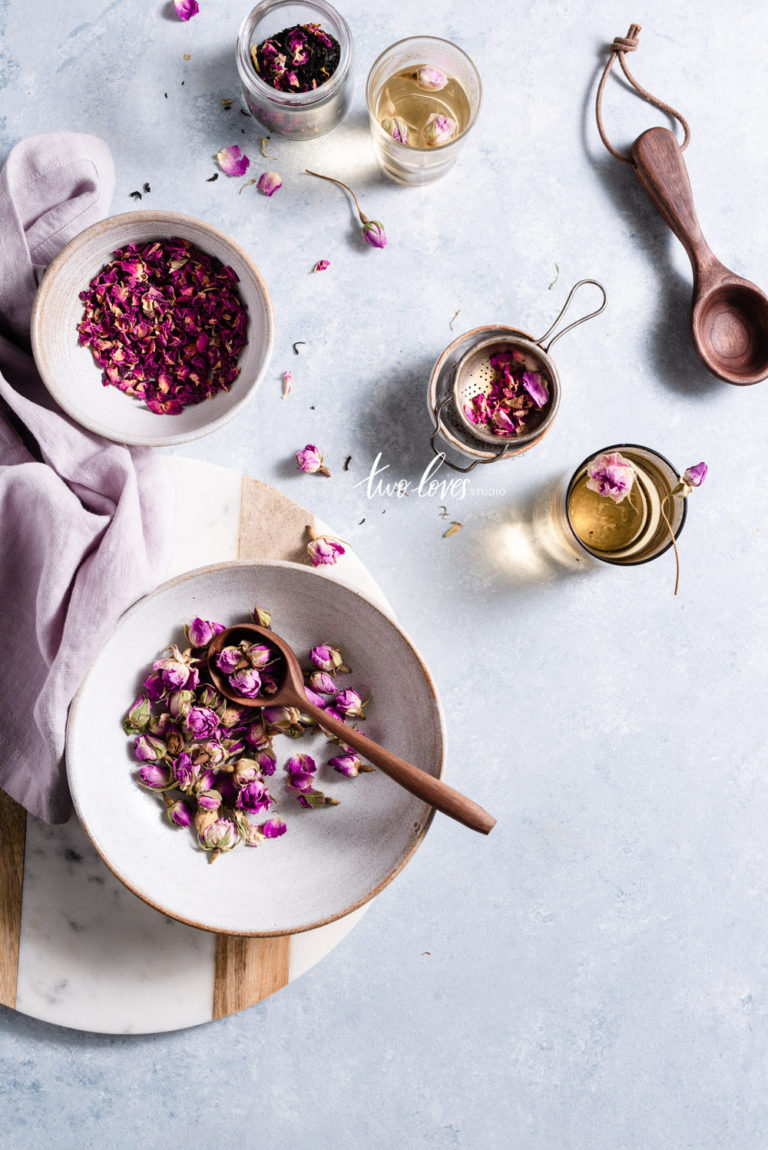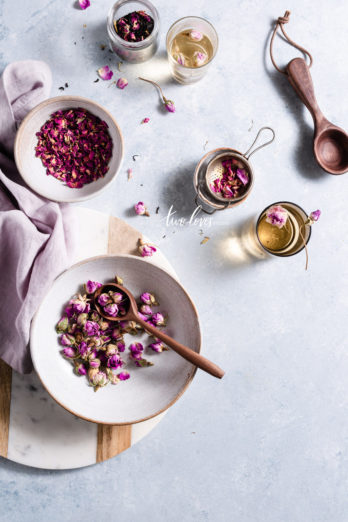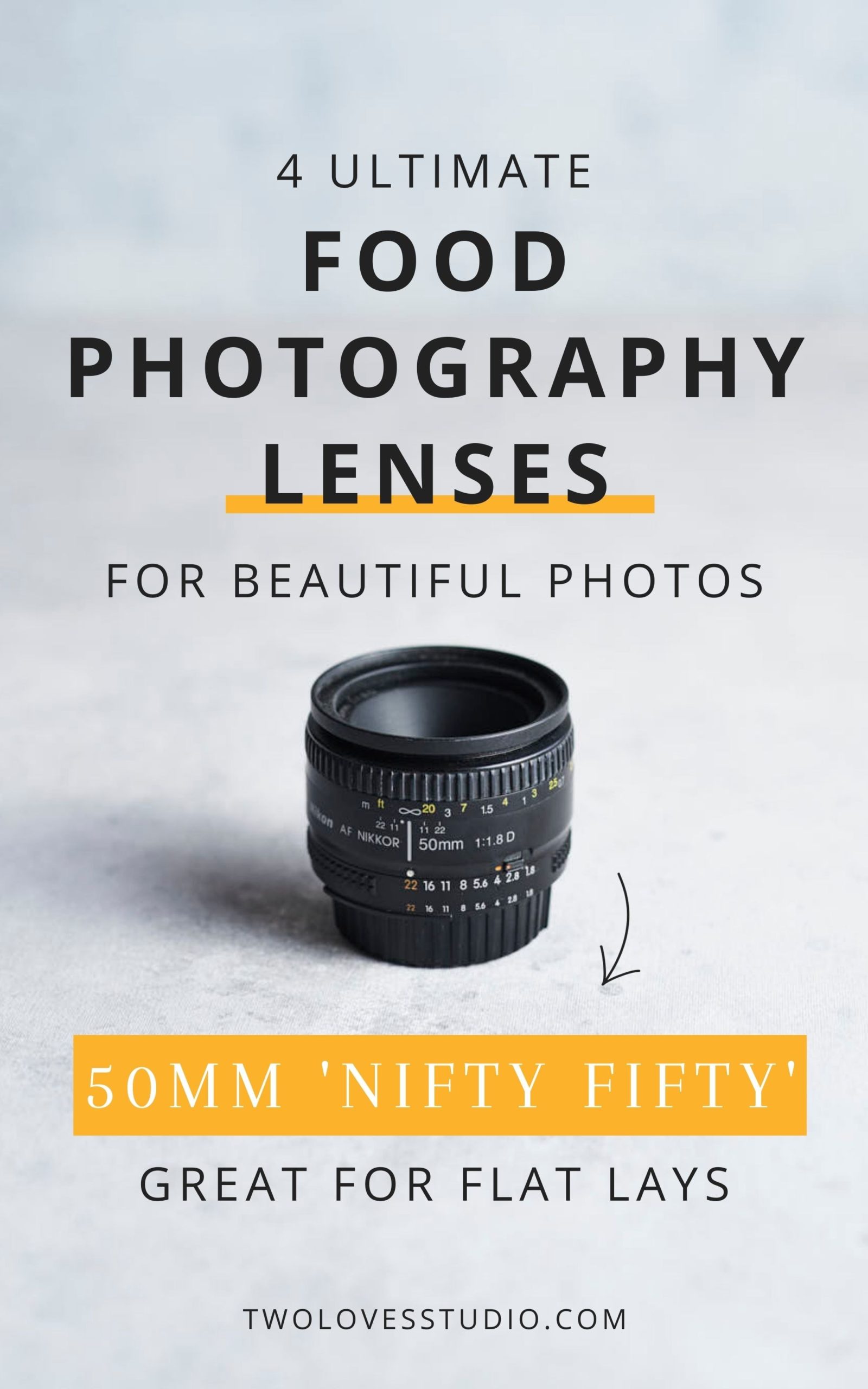 Why is the 50mm a great food photography lens?
It is great for flat lays, table scenes and capturing highly stylised stories where you need to include a lot of elements.
It's a perfect lens to capture a wider scene so you can crop your images in post-processing to create a more powerful image without creating distortion that may come with a wider focal length such as a 35mm.
Use it in low light when you are shooting at cafes and restaurants as can go as high as f/1.4 and f/1.8.
50mm Food Photography Lens
How I use my 50mm
The 50mm is usually my first go to lens for flat lays and overhead shots where I am trying to capture quite a few elements that connect the viewer to my food story.
I will also use it to provide a wide crop for minimal shots where I want to play around the crop of the shot in post-processing.
If you are looking to add a text element as an overlay and negative space is key, I use this lens to provide that option.
As I don't tend to shoot food beyond f/3.5, I don't use this lens to its highest aperture, (being f/1.8). But this high aperture is sure handy to have in low light when you are far away from your subject.
I call this my 'safe lens' sometimes as I know if I am shooting on location or at a restaurant and the lighting is less than ideal I can get safe shots that will get me over the line.
Whilst not ideal to shoot subjects on a 45-degree angle, it is a much better option than a 35mm.
Read: How To Blur Your Background in Food Photography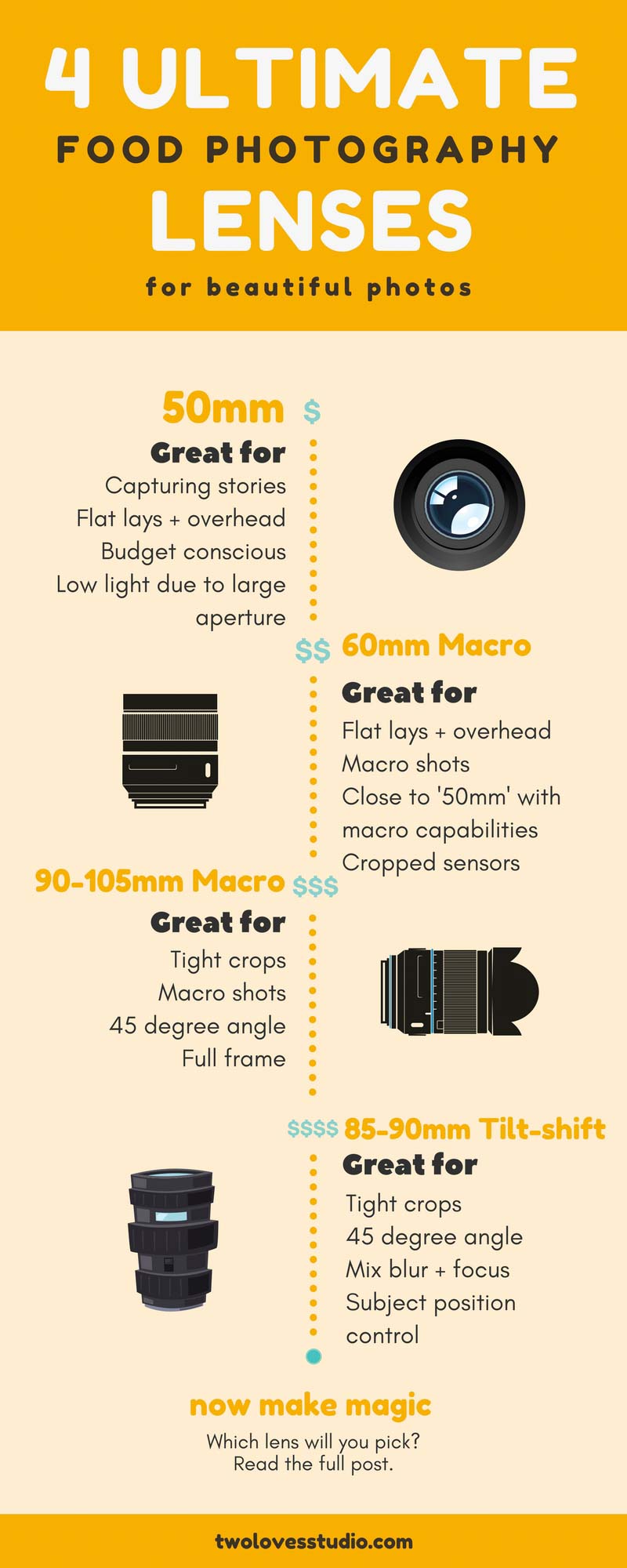 2. The 60mm Micro/ 6omm Macro
The Nikkor 60mm Micro AF-S 2.8G was the first lens that I purchased all by my wee self and remains one of my favourites.
It captures light so beautifully, is incredibly sharp, has one of the prettiest vignetting of any of my lenses and a short minimum focusing distance.
As far as food photography lenses go, this is one is for the smart photographer. Two-in-one, affordable and great quality. You can read more about which specific macro lens you should buy for your food photography in this post I wrote.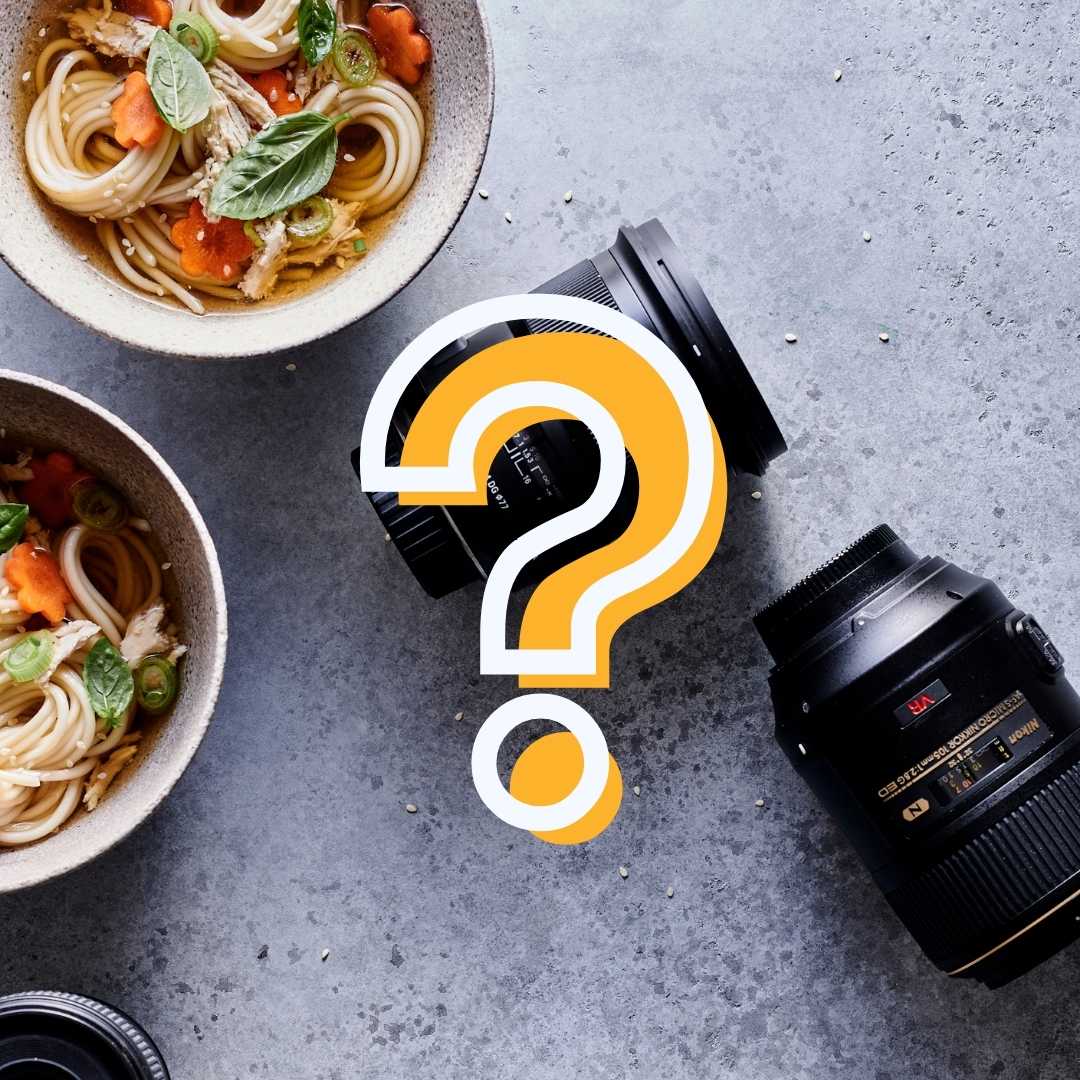 Lens Quiz
Which Lens Matches Your Food Photography Style?
Why is the 60mm Macro a great food photography lens?
It's the perfect combination of (nearly) 'nifty fifty' and macro in one.
Obviously, it is not the same crop as a 50mm, as it is a 60mm, but it is pretty darn close and has macro qualities to boot.
If you're just getting started in investing in your lens collection this is a great combo of a 50mm with the versatility of macro qualities.
If your camera has a cropped sensor, (like my first camera Nikon D300 had a crop factor of 1.5), then the 60mm Macro will become more like a 90mm macro which is close to the professional Canon 100mm Macro.
Another killer lens on this list!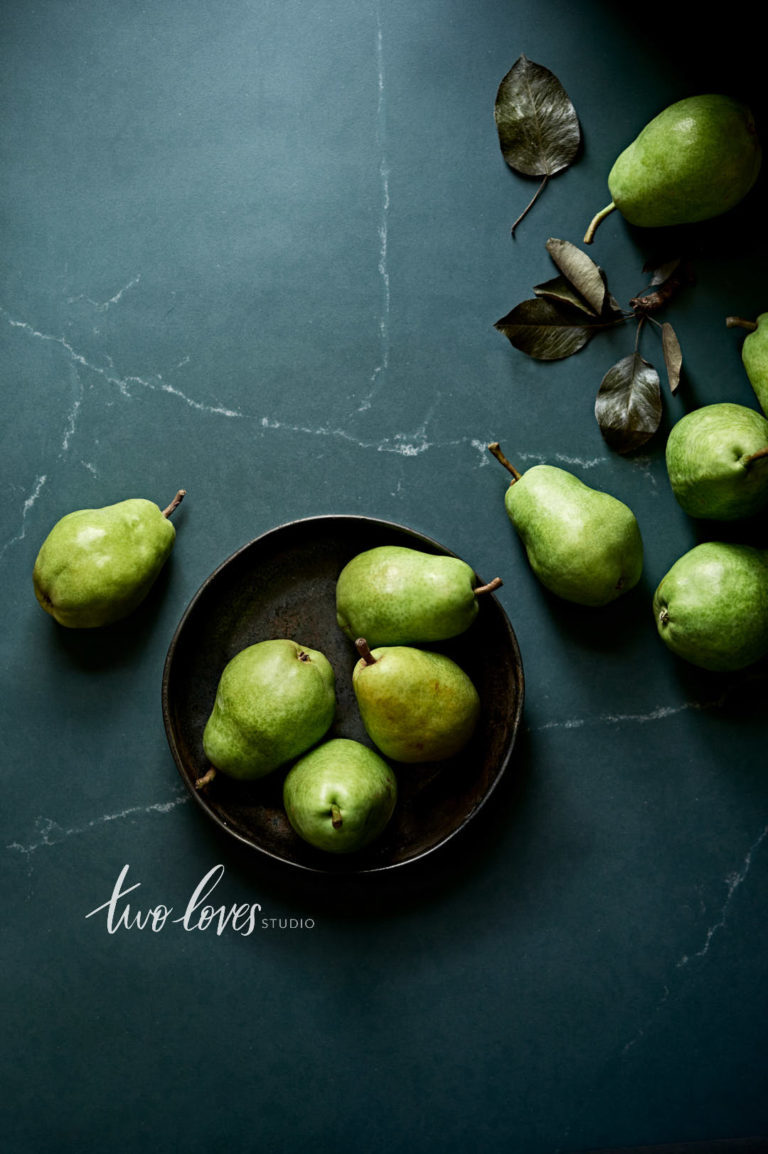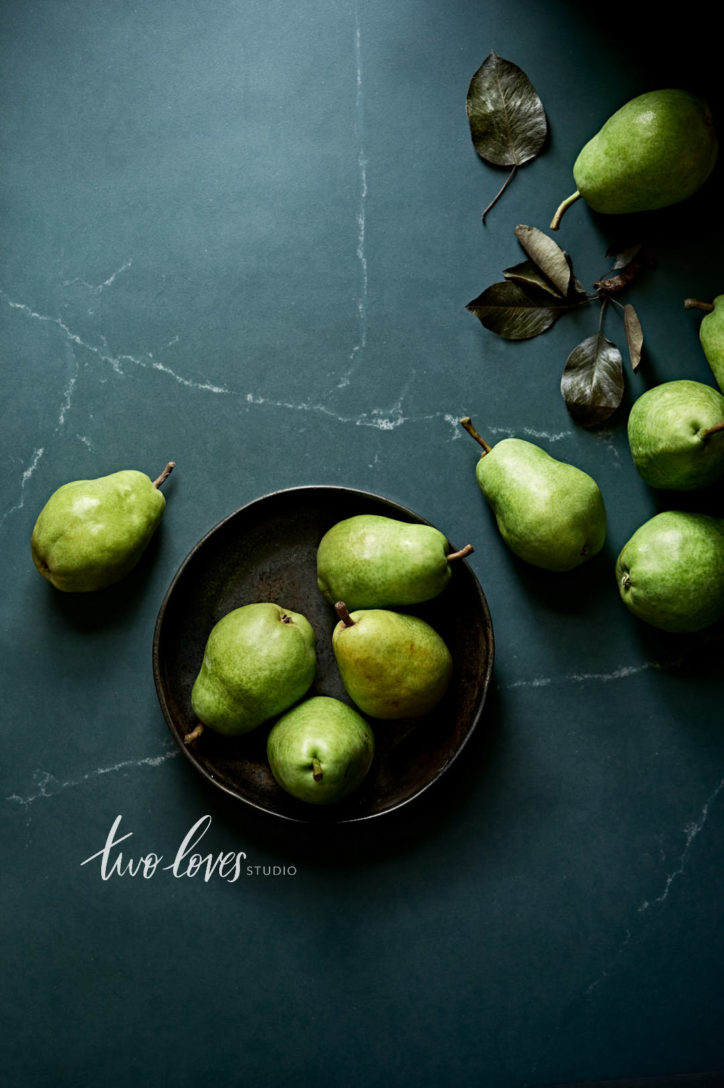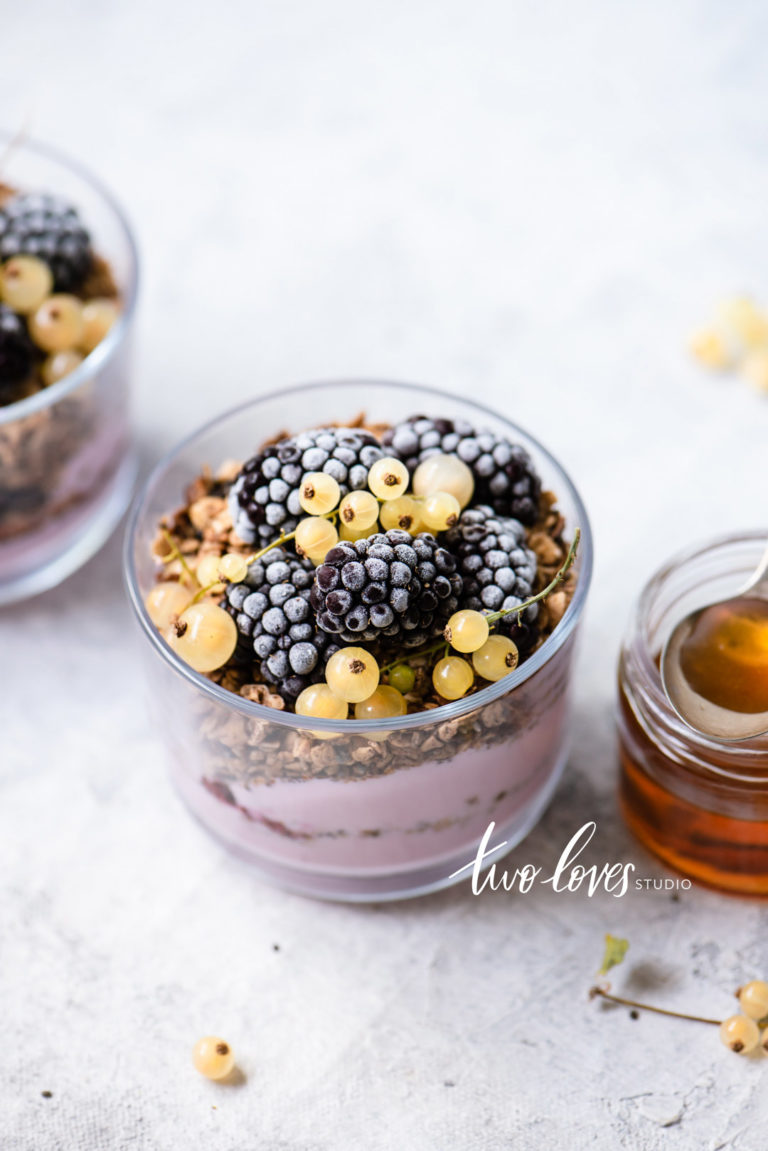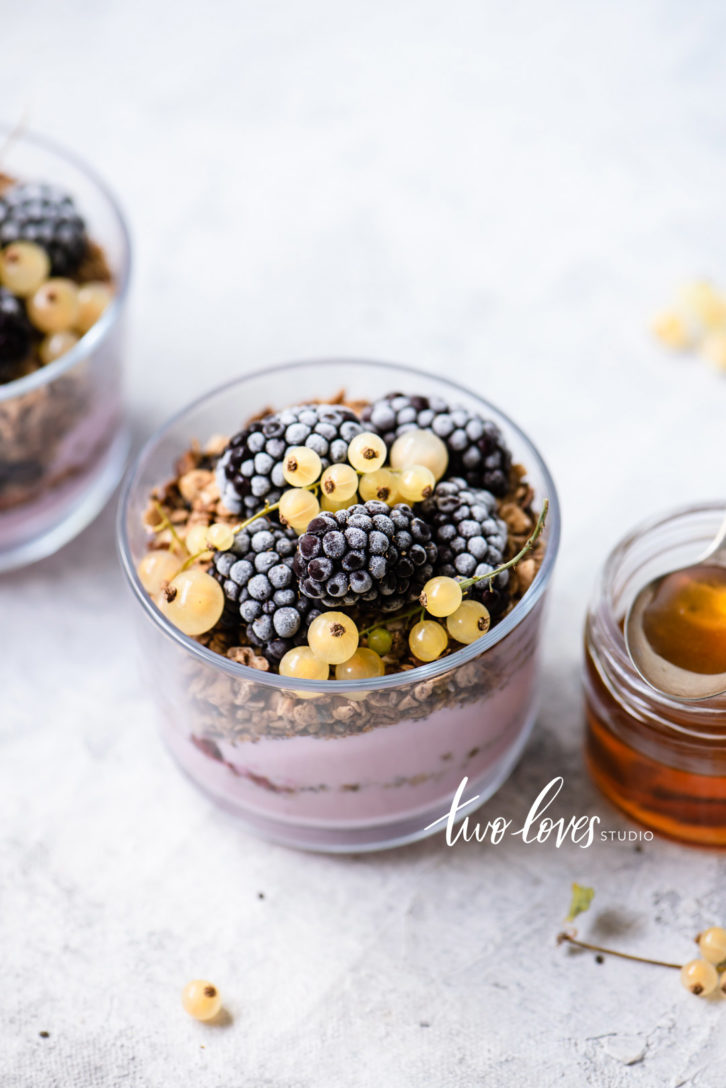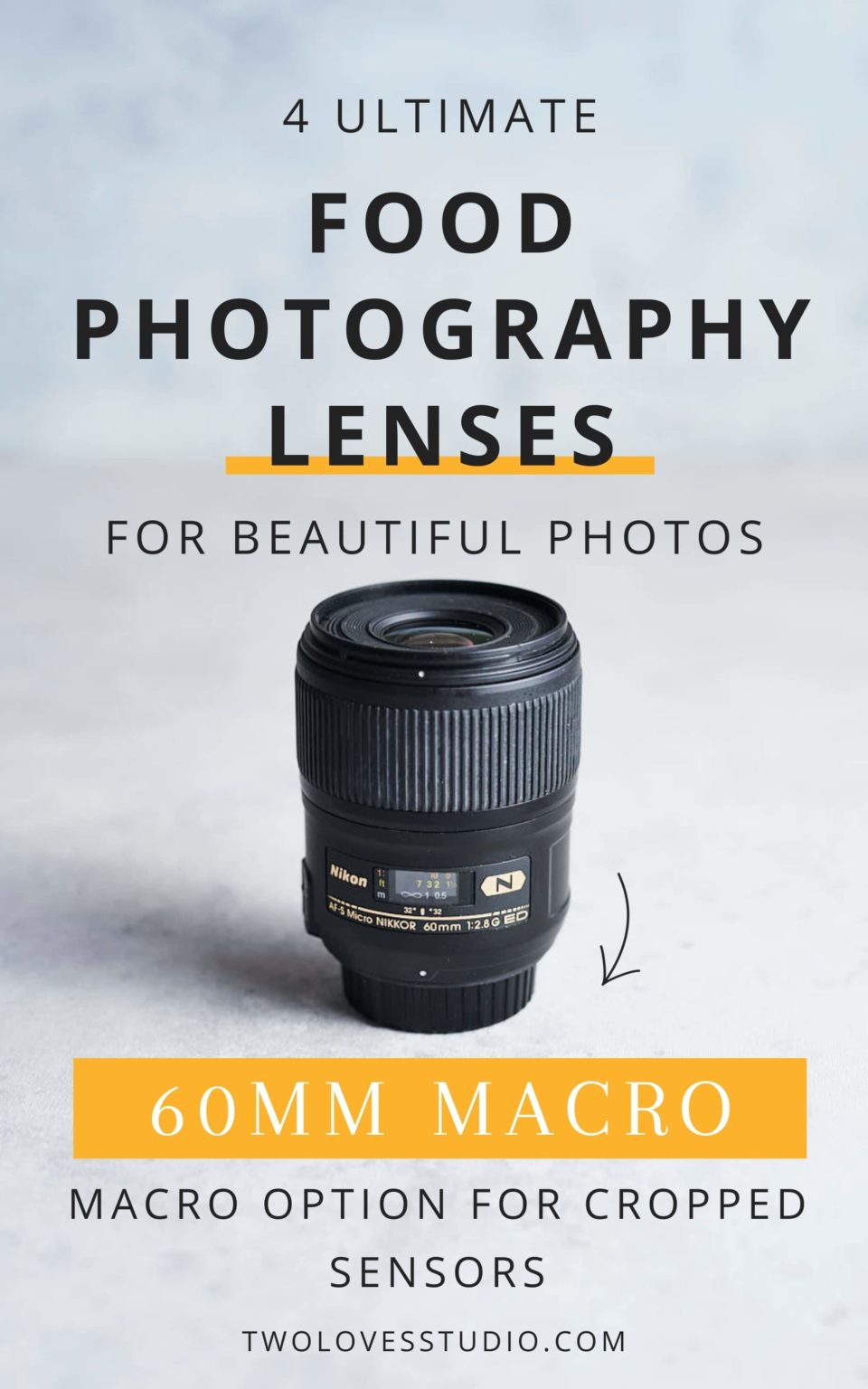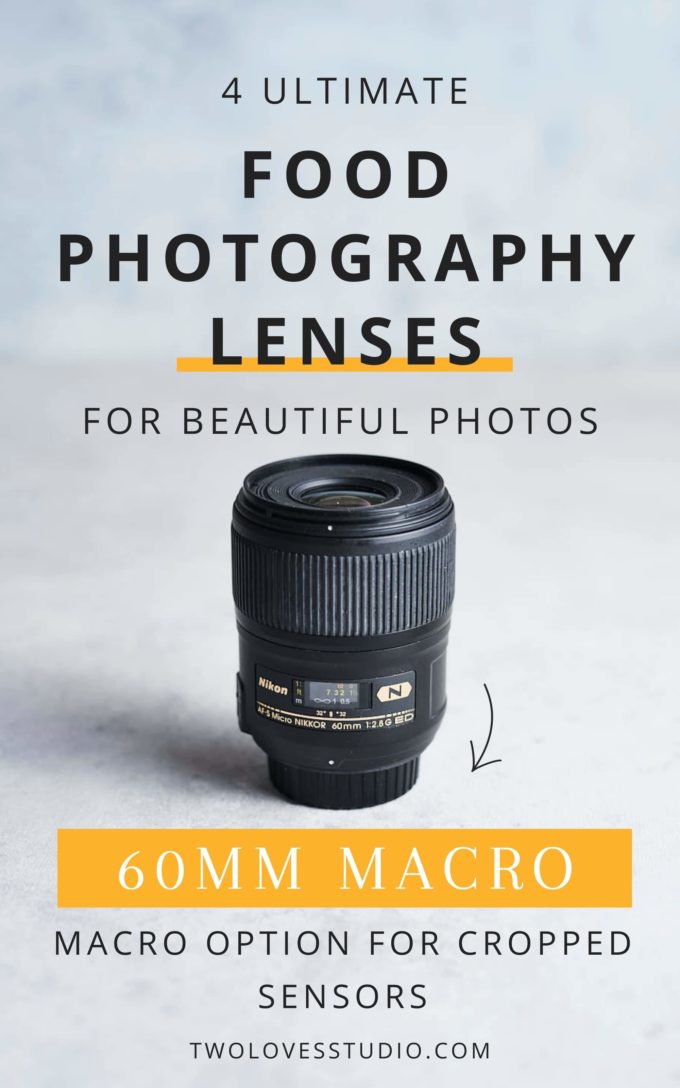 60mm Macro Food Photography Lens
How I use my Nikkor 60mm Micro AF-S f/2.8
I tend to use this lens like I would a 50mm. I shoot overhead with it a lot, especially when I need to get close to a subject.
When shooting at a 25-45 degree angle and I want to get a few more elements into the frame than a tighter crop like the 105mm allows for, I'll go for this lens.
I rarely shoot below f/3.5 for a food shoot, so f/2.8 on this lens suits me perfectly.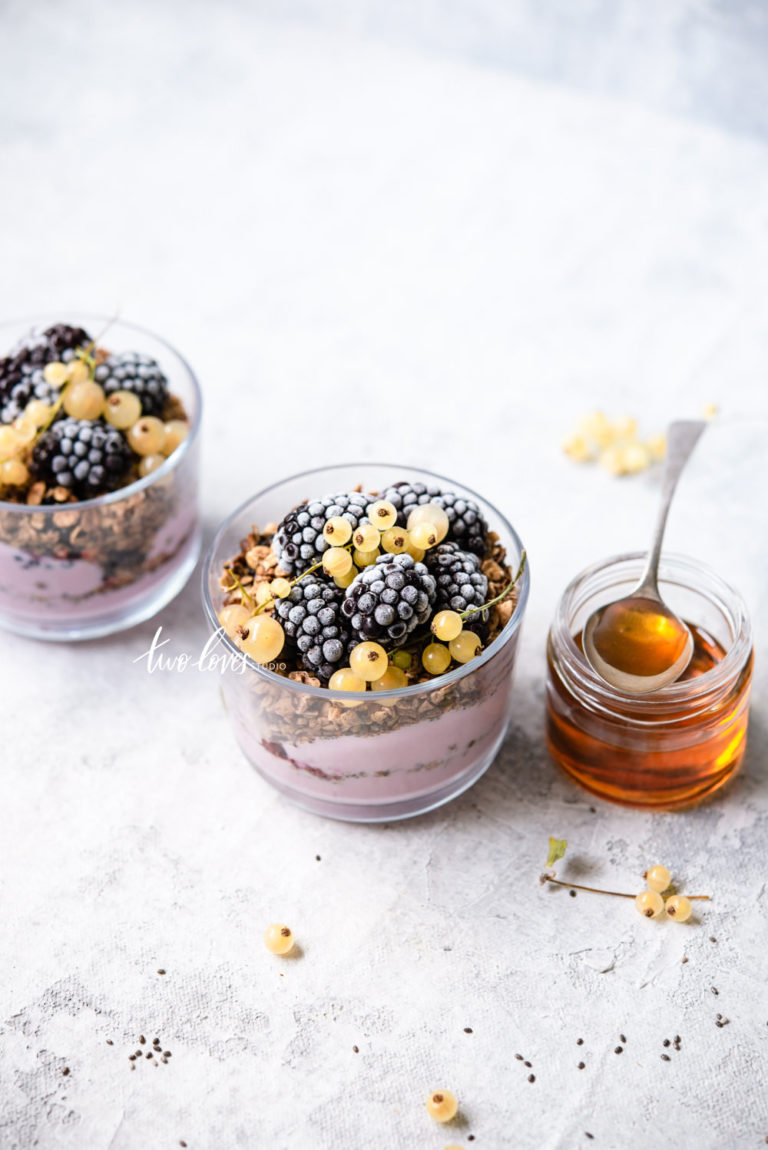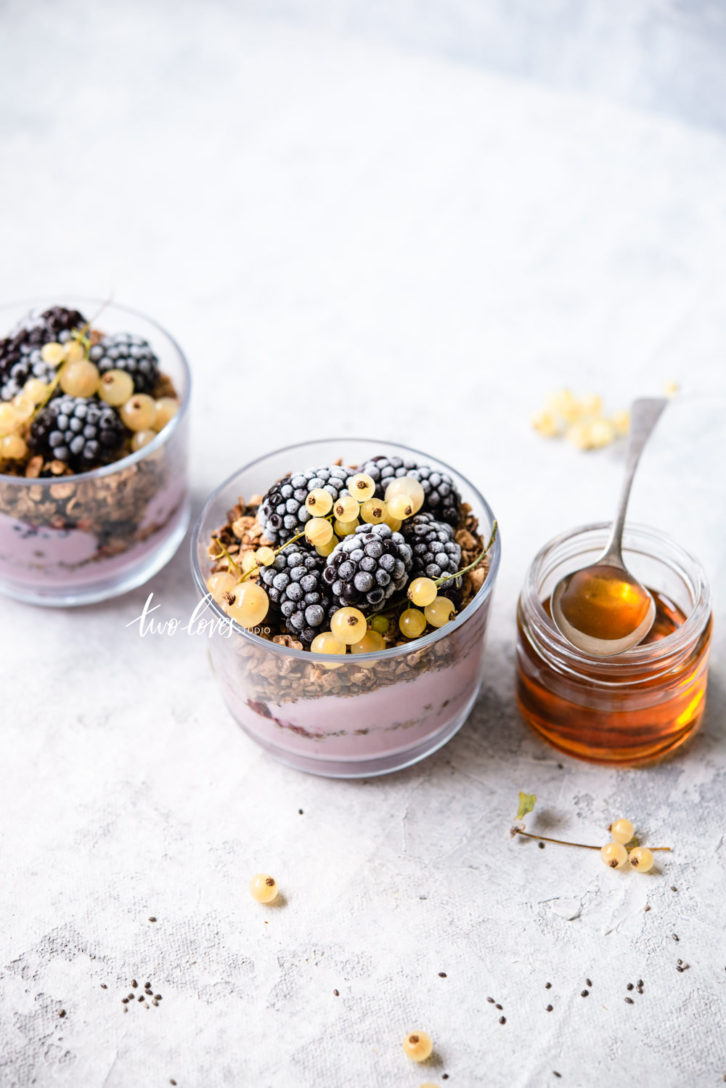 3. The 105mm Micro/ 100mm Macro
The Nikkor 105mm Micro f/2.8 is always with me on a food shoot.
Whilst food photography doesn't equate to macro photography, (viewers will want to see more than a macro shot of a sesame seed on their burger), the ability to get close focus to your subject is where macro lenses come in handy.
As it is a more expensive lens when buying Nikon and Canon, Tamron also have a 90mm Macro that photographers I know swear by for a much more reasonable price.
Why is the 105mm Micro a great food photography lens?
It allows you to get those really flattering and tight 45 degree shots of your dish, whilst keeping a shallow depth of field for the background elements.
Wider angle lenses like the 50mm or the 60mm mentioned above don't provide as flattering an image when used to capture your dish at 45 degrees.
The closer you get with these lenses to 'crop' the dish at 45 degrees, the more distortion you'll see.
The dish won't look right. A zoom lens like a 90-105mm focal length will provide much flattering images of your dish when shot at 45 degrees.
If you're really considering adding a macro lens to your kit, you can read more about which macro lens to consider here.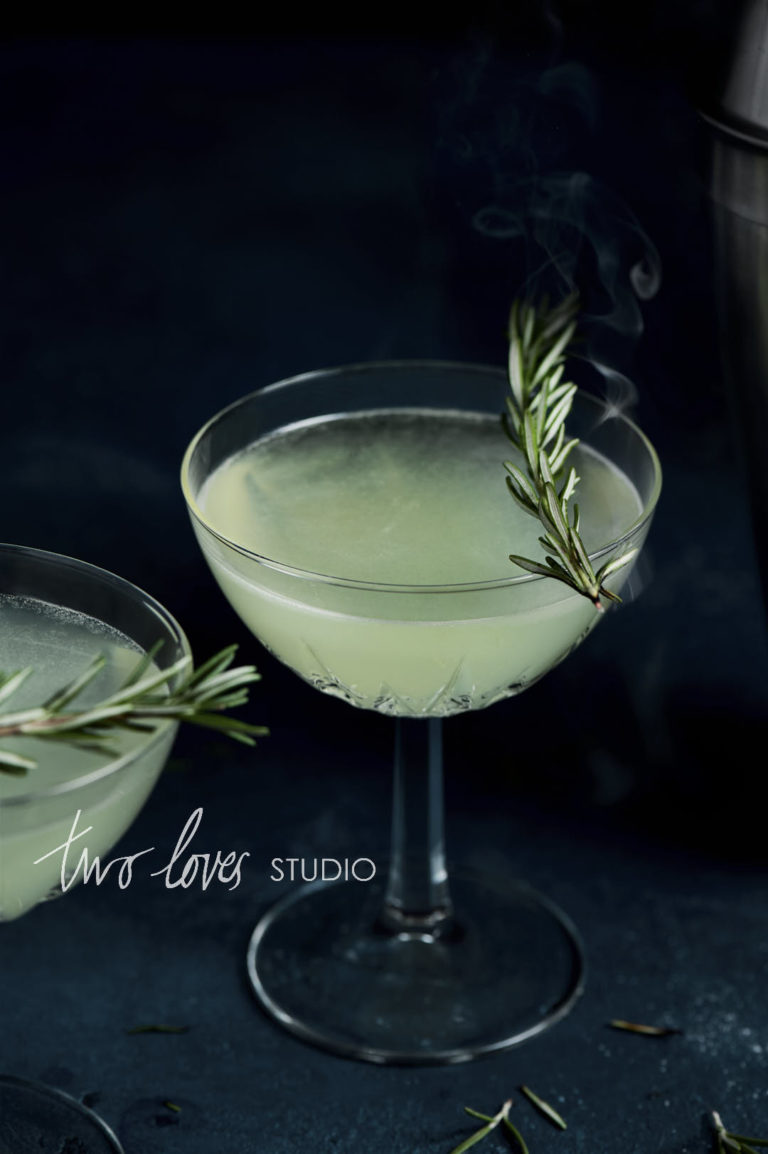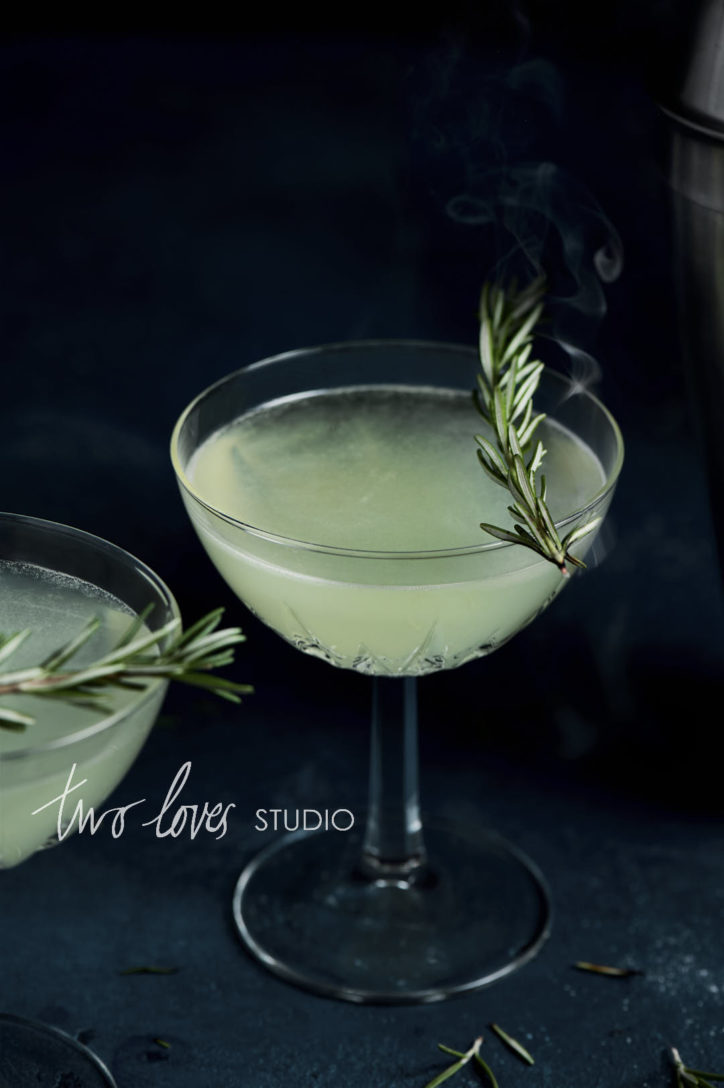 Shot with my Nikkor 105mm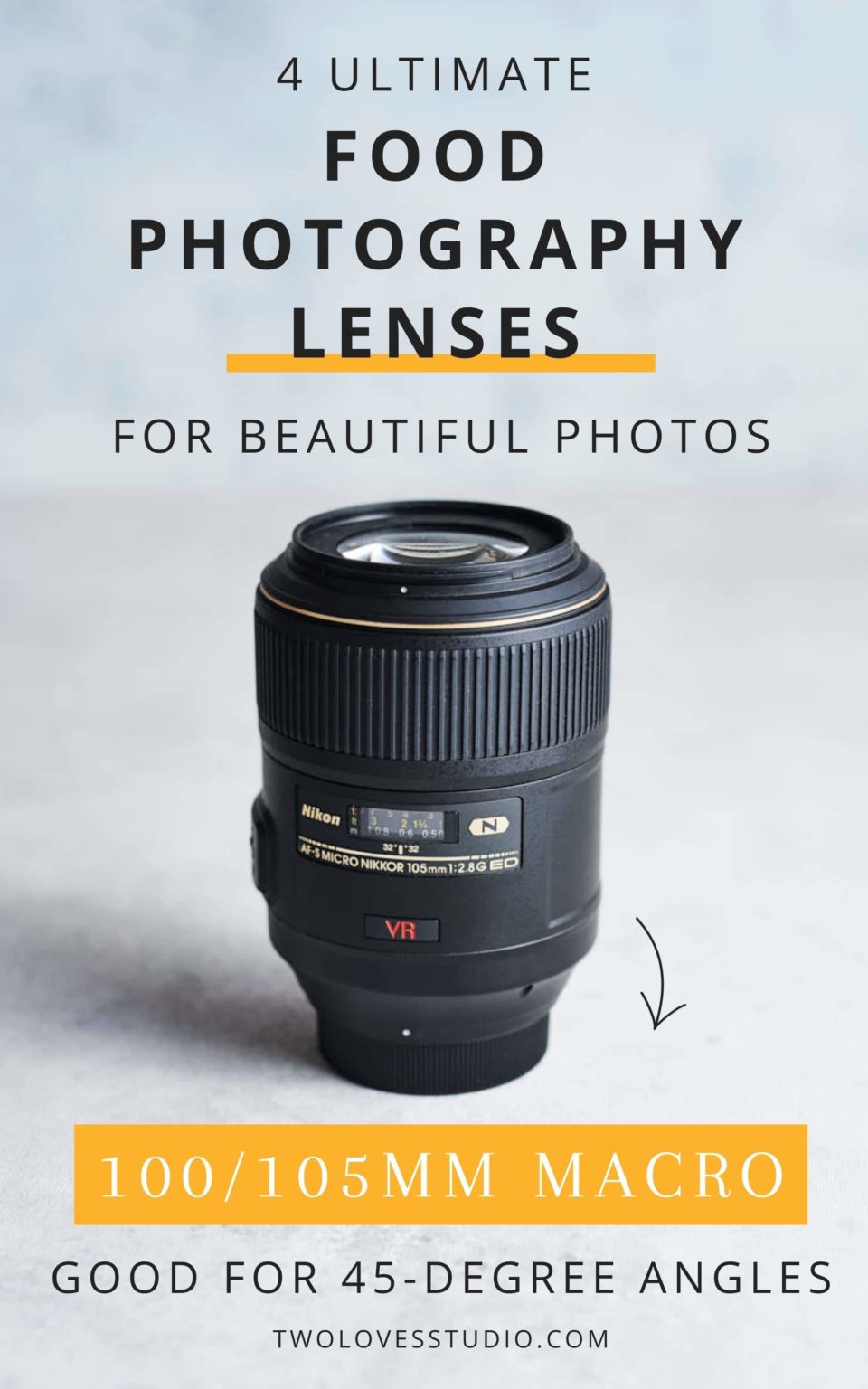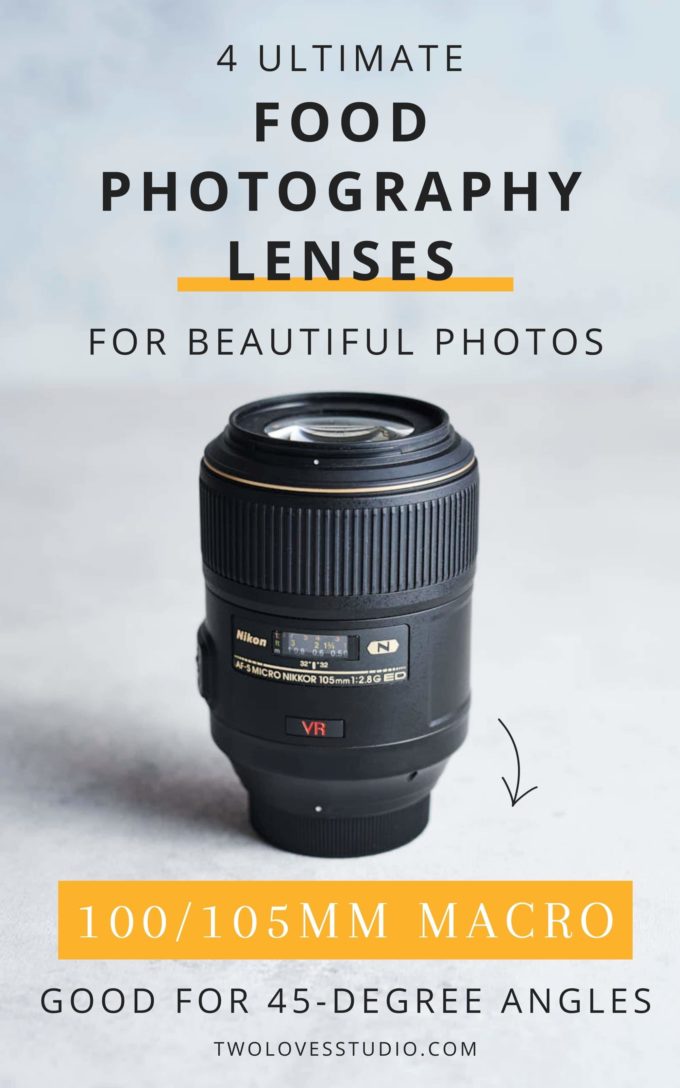 90-105mm Macro Food Photography Lens
How I use my Nikkor 105mm Micro
Overall I reserve this lens solely to shoot dishes with height at angles between 25 and 45 degrees.
I rarely shoot this lens at it's highest aperture, choosing to stay around f/5.6 or f/8 as it has such a shallow depth of field.
The image is an example of this flattering angle shot at f/5.6. Still a gorgeous amount of blur!
As it is a very tight focal length, I do need to be a decent distance from the dish, so I need to have enough space to allow me to explore angles between 25-75 degrees.
This lens does have vibration reduction (VR) for when you are hand holding it, but my hands are still too shaky. I therefore primarily shoot with this lens on a tripod with VR off.
You can also shoot with this lens both overhead and straight on, I just tend to use other lenses for overhead and rarely shoot my subjects straight on.
There is no point in having a great lens if you're not focusing on your subject correctly. You can read more in this post about how to use autofocus correctly in food photography.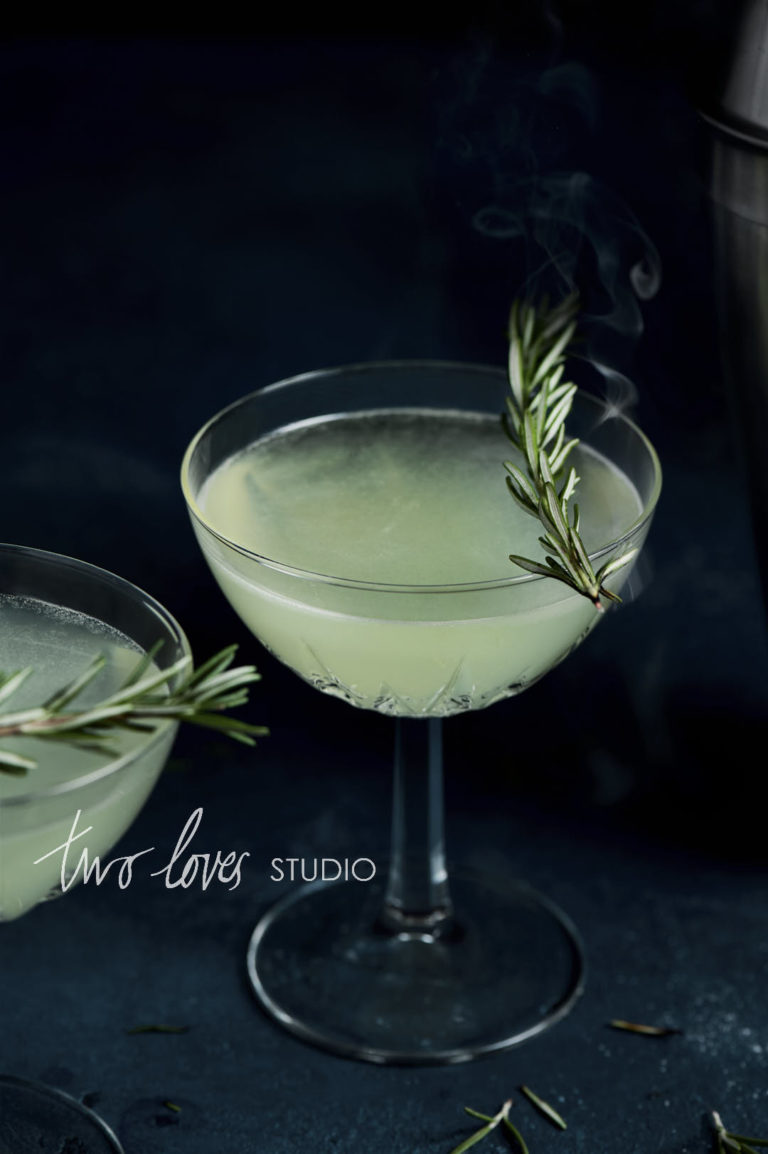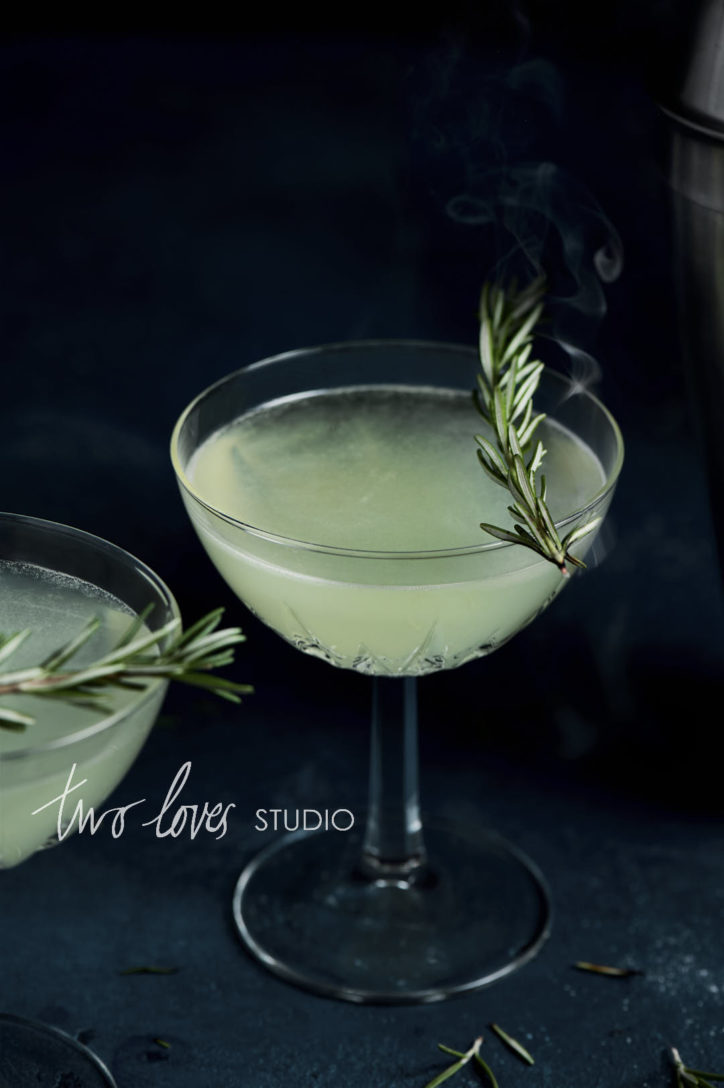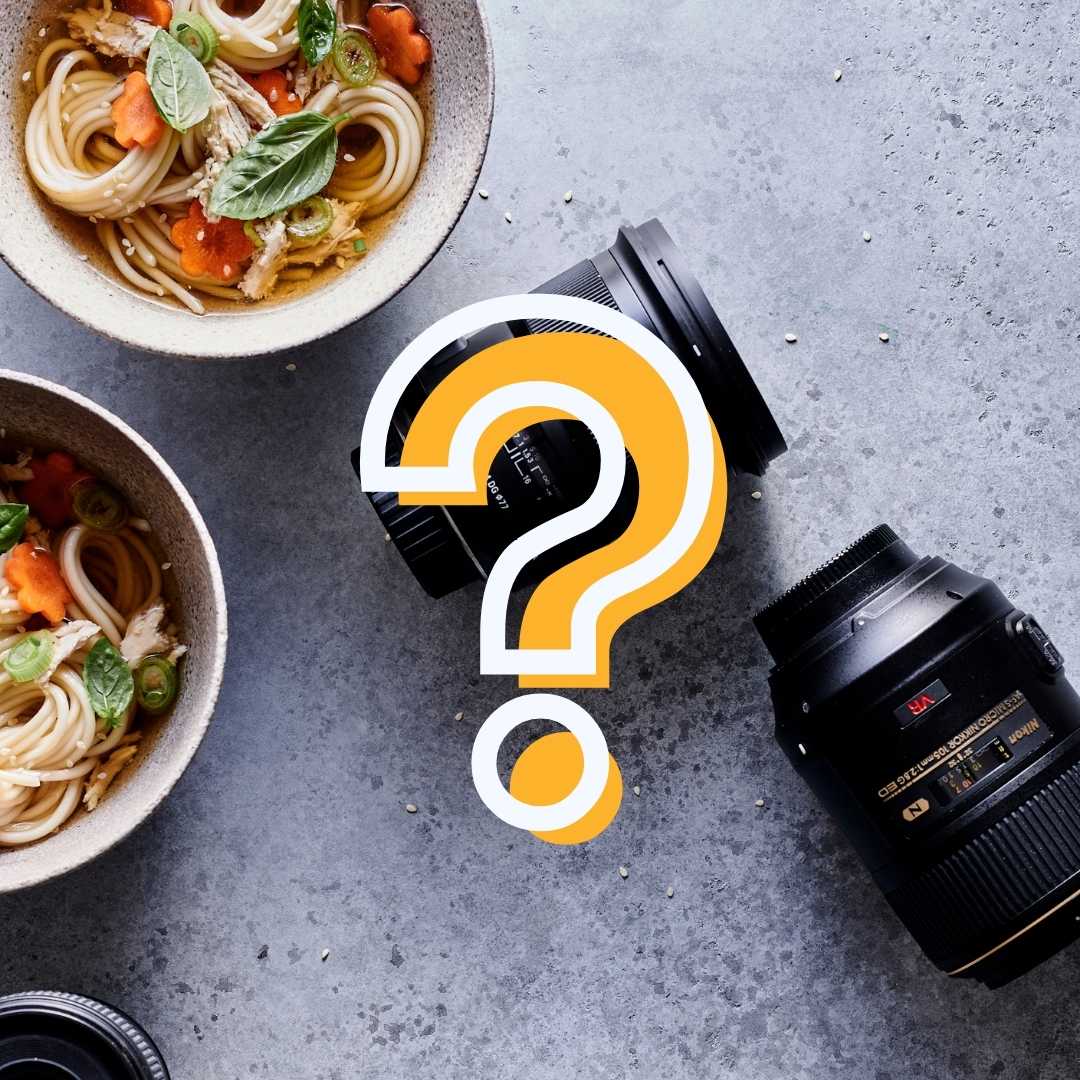 Lens Quiz
Which Lens Matches Your Food Photography Style?
4. The Tilt-Shift Lens
A zoom tilt-shift lens may just be a pro food photographer's lens of choice. It allows you to precisely control the plane of focus like no other lens can.
(Alas I don't have one, but I rent now when I need it for a job. It is the next lens of my list).
Mix of focus/blur control.
You can selectively control the plane of focus, allowing the dish at the front of the image to be super in focus, whilst the background story is superbly out of focus.
Angle/subject position control.
You can shoot a dish at its most flattering angle, and control how much of the story/props around the frame are included without changing the camera angle, distance or the subject placement.
This is really powerful for shooting cover or product/packaging images.
If you want to read more in-depth about the tilt-shift lens, you can read this post.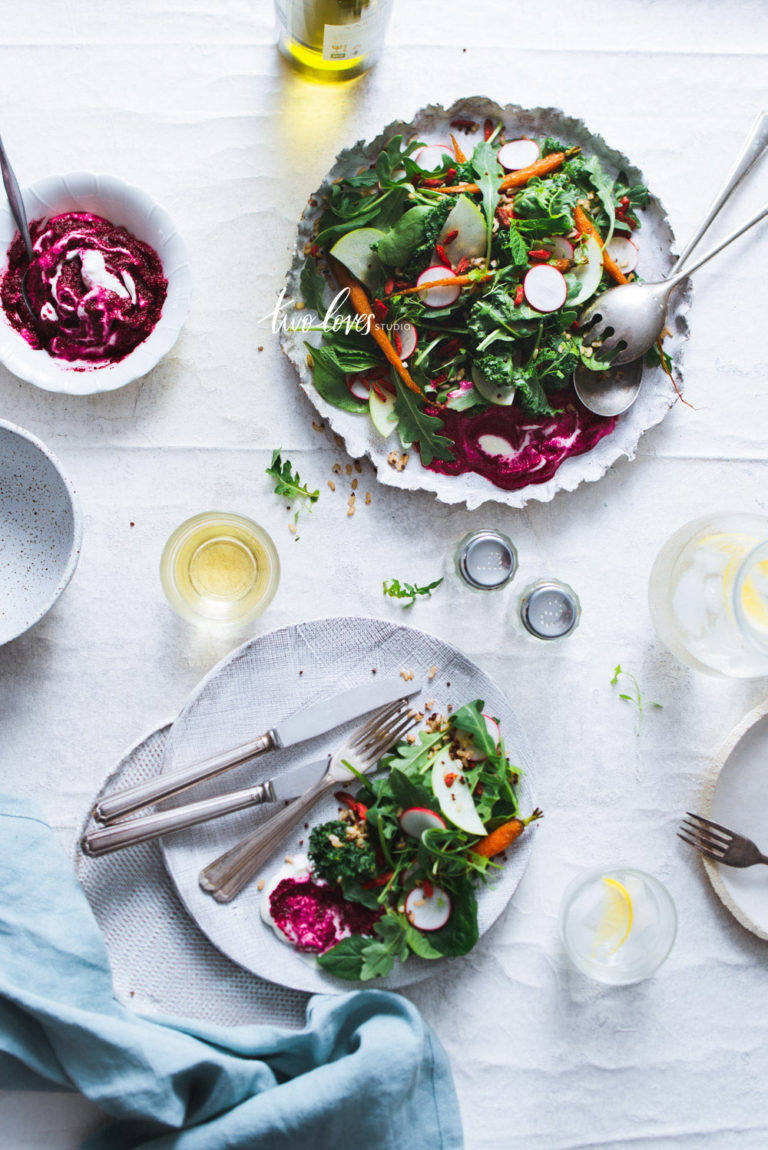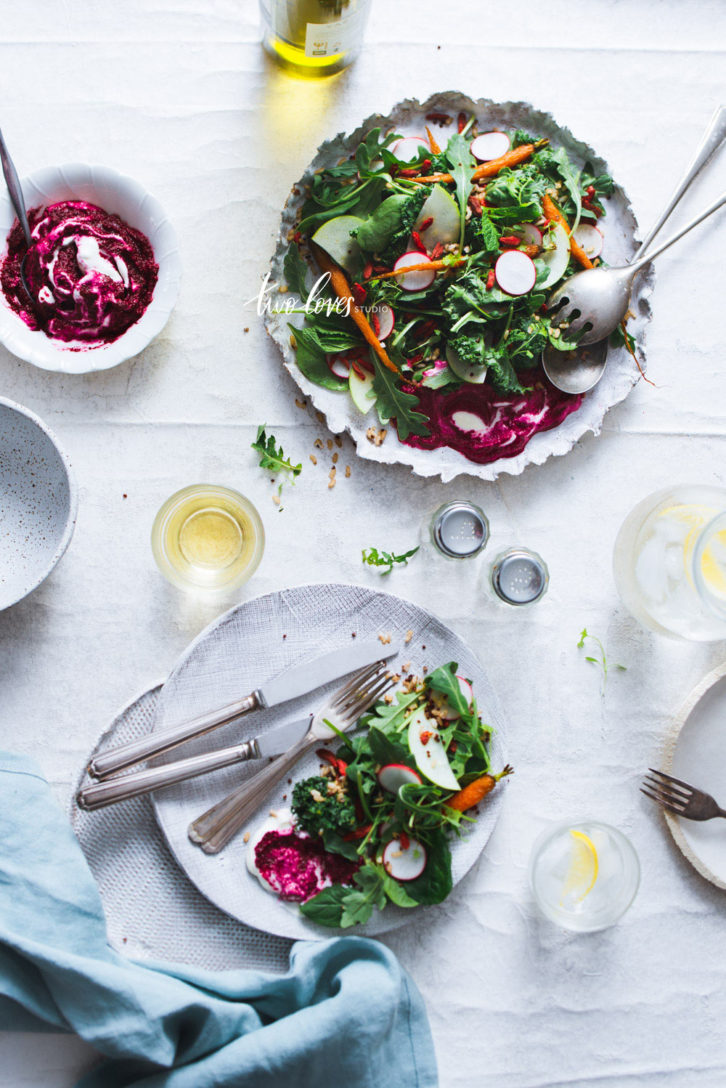 Why is the tilt-shift a great food photography lens?
You can shoot a dish in its most flattering angle, having full control over the plane of focus. Allowing the dish to be perfectly in focus, with the surrounding elements out of focus.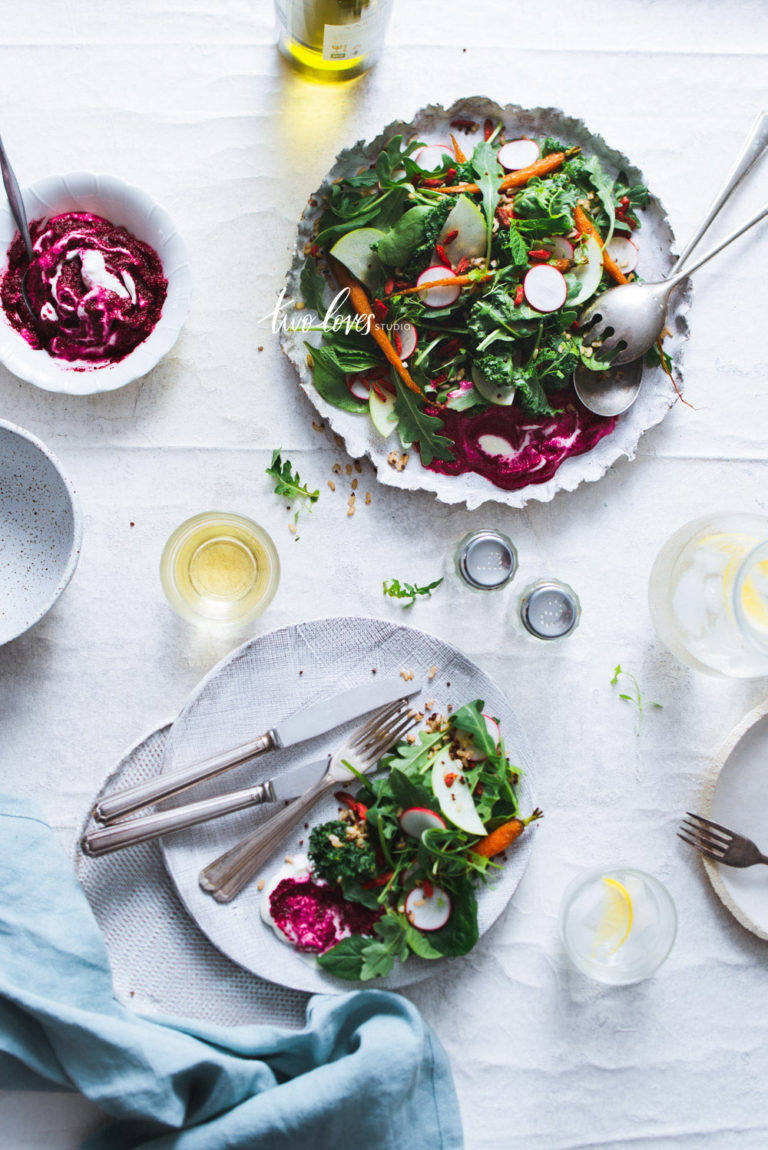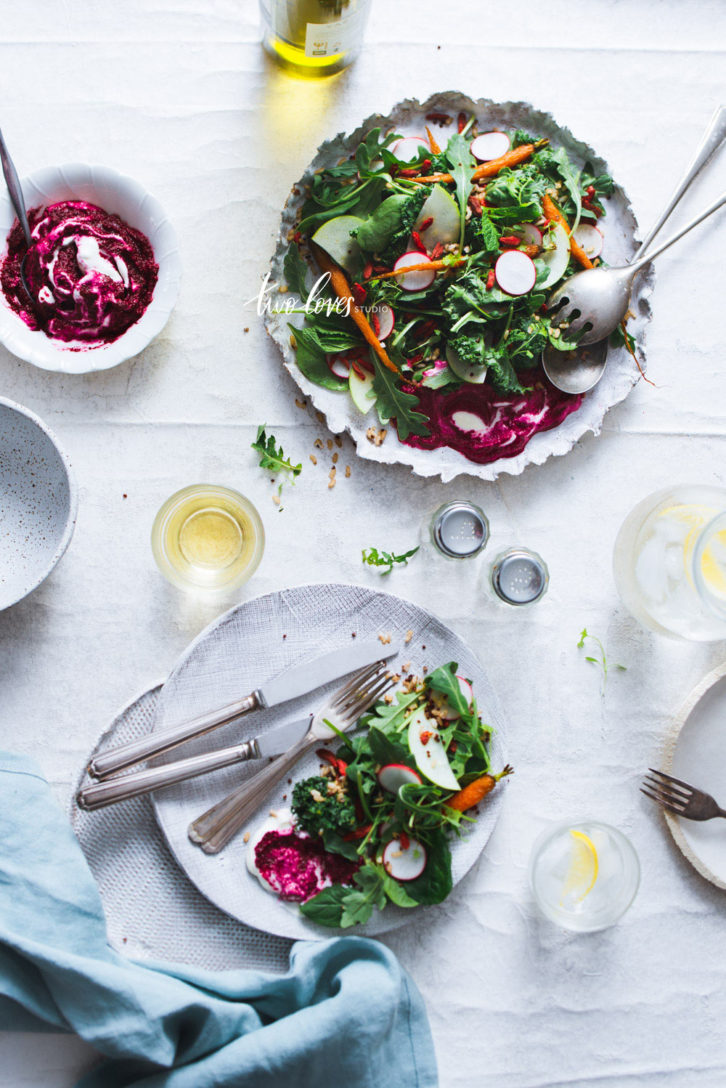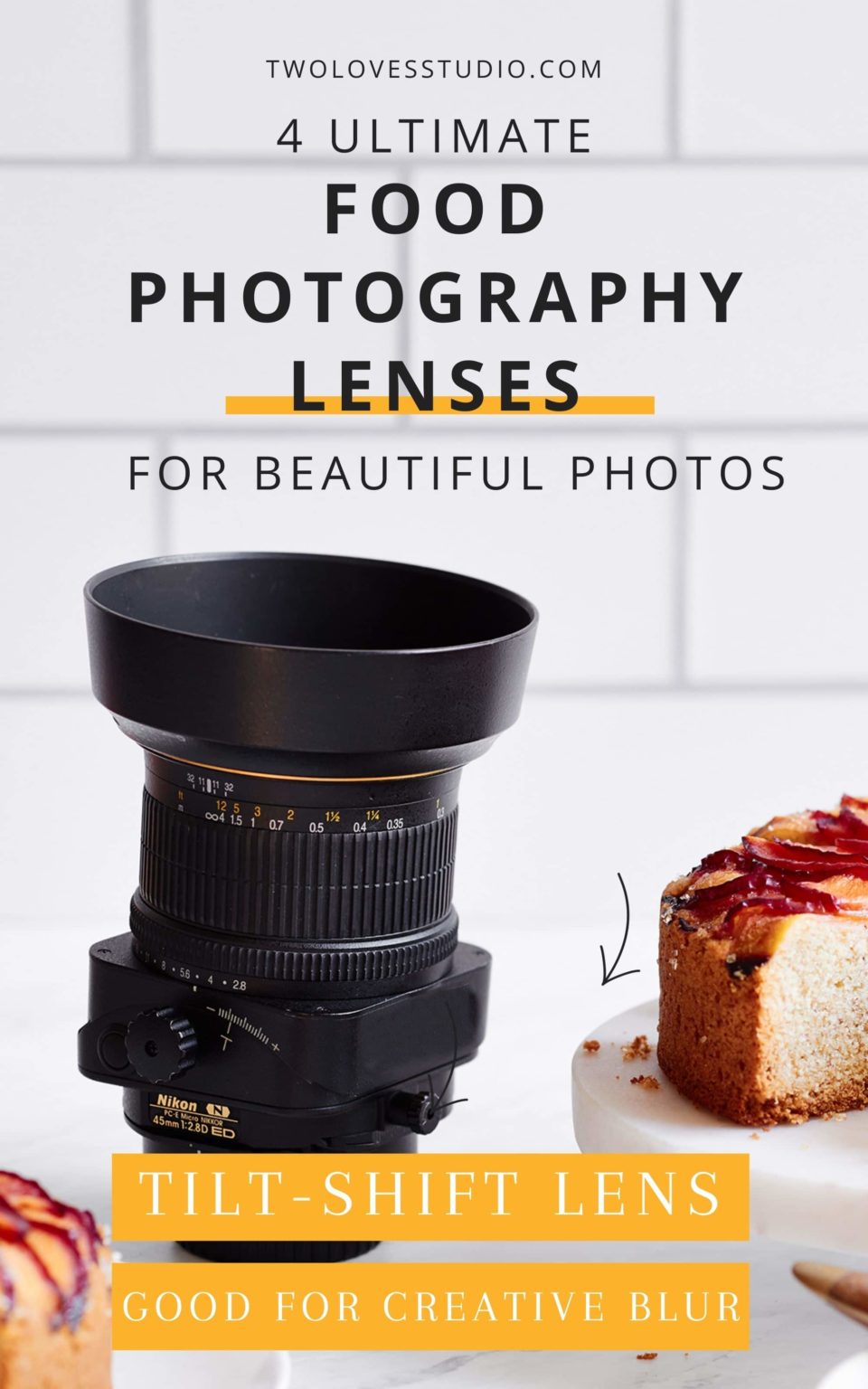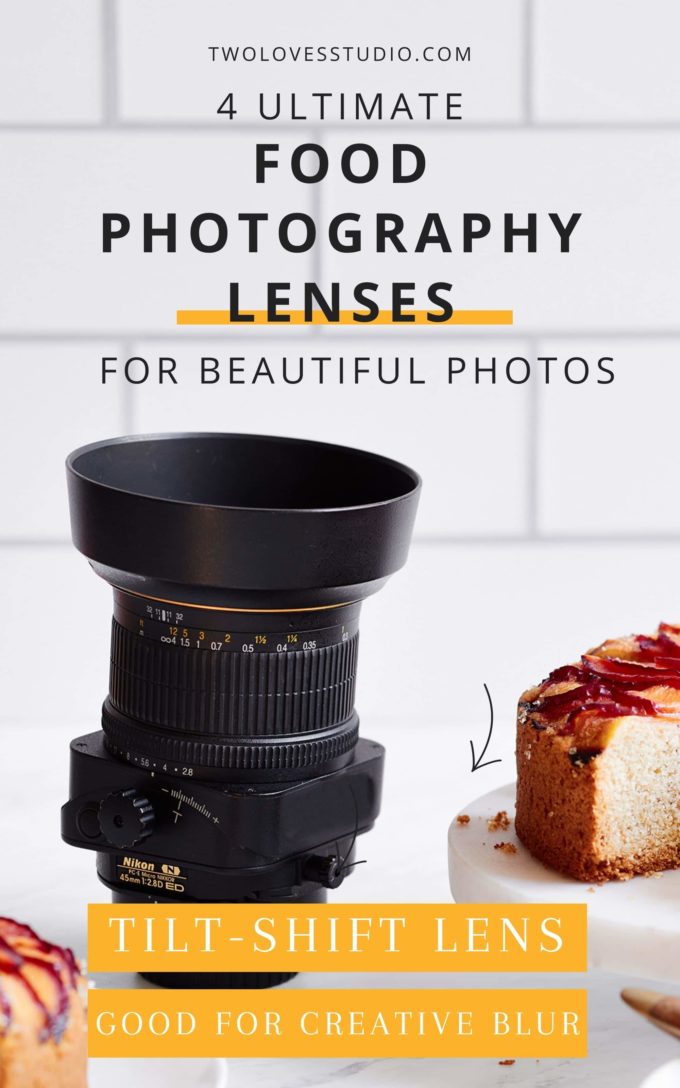 Tilt-Shift Lens For Food Photography
RELATED: Using A Tilt-Shift Lens In Food Photography
Are you looking for your next food photography lenses? Trying to create better food images? Let me know what you're considering buying in the comments below.
Two Loves Studio was not paid to write this post, however, it may contain affiliate links. If you purchase an item from an affiliate link, we do get a commission on the sale which helps us run this site. Only affiliates for products/services we believe in appear on this site.