This post may contain affiliate links from products and services we love and trust.
Everybody loves to talk about lenses! I've been blogging about lenses for food photography for quite a few years now and I don't think there is a question that I haven't been asked.
In fact, I went through every question on the blog and Instagram to compile this Ultimate Guide For Food Photography Lenses.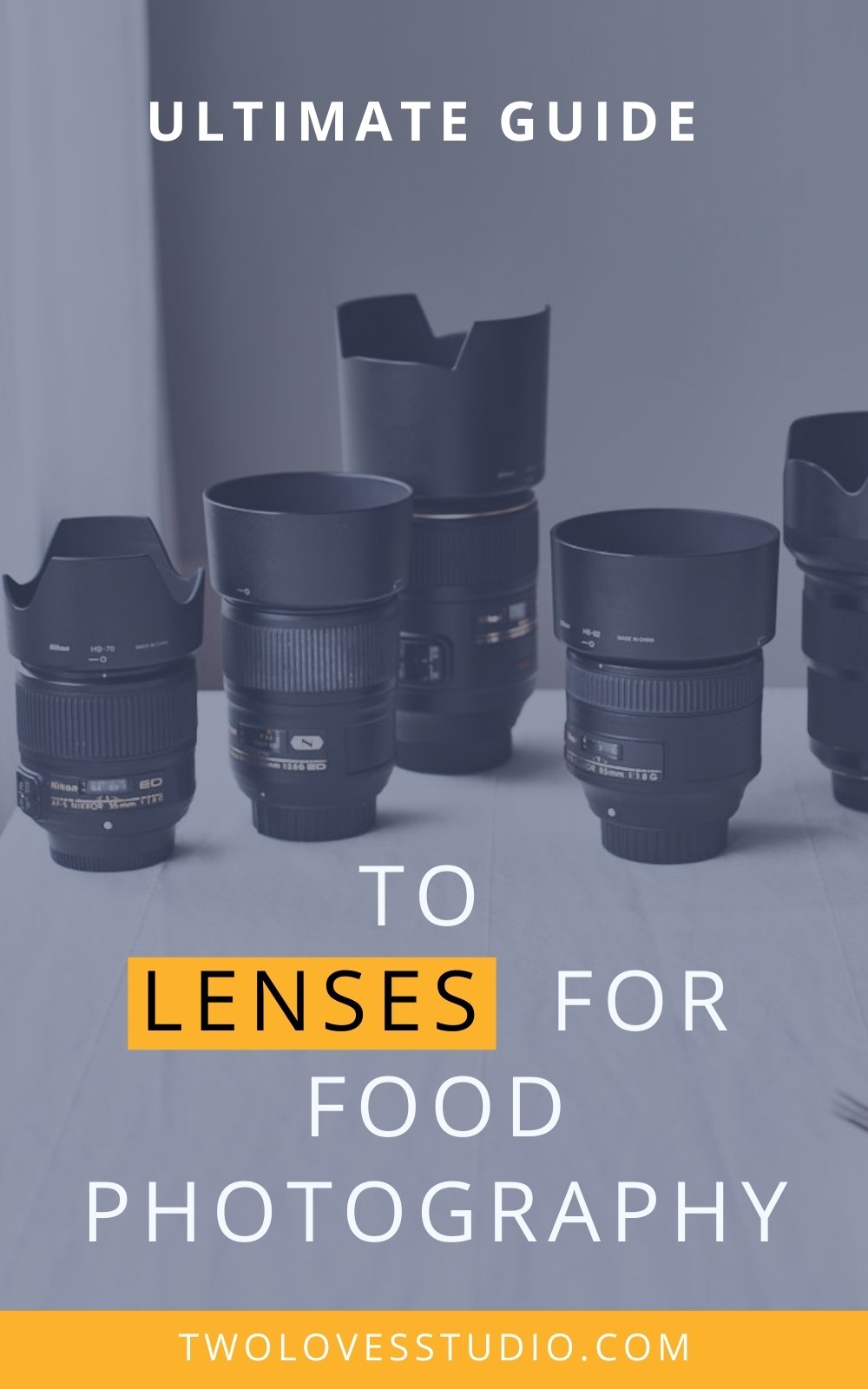 Table of Contents
Top Recommended Lenses
Prime vs Zoom lenses
Got a lens question? Drop me a comment. Let's dive in…
Your First Food Photography Lens
Most photographers will start out with the 18-55mm kit lens. This assumes that you're upgrading from this lens. The lens choice will change depending on your camera type, i.e cropped sensor vs full frame.
If you own a cropped sensor camera and the 18-55mm kit lens, my recommendation is for you to consider the 60mm macro. This will help you get closer to food, capture details and 45-degree shots. Sharp apertures matter more the closer we get to the food.
If you own a full-frame camera and the 18-55mm kit lens, I recommend thinking about what type of images you like to capture. For wide food scenes, consider the 50mm. If you would rather capture sharp 45-degree shots consider the 100mm/105mm macro (or off-brand options like the Tamron 90mm macro).
Keep reading: Your first food photography lens!
Top Recommended lenses
Let's now jump straight into the top lenses and focal lengths that I recommend for food photographers.
4 Ultimate Lenses For Food Photography
The top 4 food photography lenses every food photographer who has a full-frame camera should consider having in their kit are as follows:
You may not need to have both a 50mm and a 60mm, it really comes down to the other qualities of the lens that your camera brand makes. A tilt-shift lens is a special investment you'll likely only make once you've built your collection and have an unlimited budget.
The Two Best Lenses For Cropped Sensors
A cropped sensor is essentially a smaller sensor (than a full-frame) and gets its name from what is known as the 'crop factor'.
It means that if you are shooting the same scene as someone who has a full-frame, your image is going to be 'cropped'. You'll be able to fit less in the frame at the same distance.
The top two lenses recommend for cropped sensor shooters of food photography are:
The Two Best Lenses For Full Frame Cameras
A full-frame camera sensor is equivalent in size to 35mm film, which is considered full frame. It's the largest sensor you will find in a consumer camera. They are typically found in professional or 'high-end' cameras.
The top 2 lenses for food photography and full-frame cameras are:
These two lenses will give you the best combination of focal length for food scenes and portrait shots, a range of large apertures for low light as well as a macro and a generous minimum focusing distance for close up textured shots.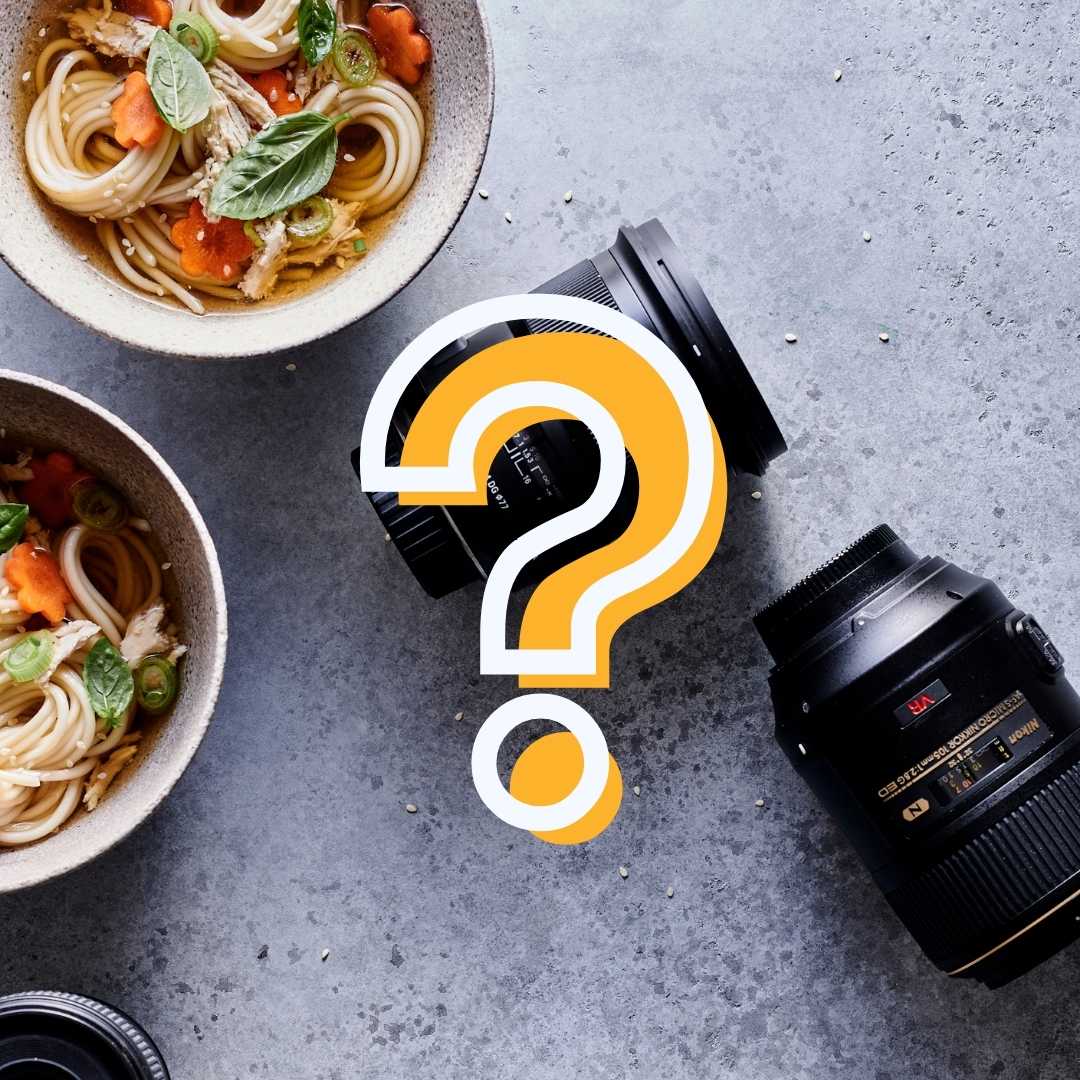 Lens Quiz
Which Lens Matches Your Food Photography Style?
Prime vs Zoom Lens
As each lens has its own unique qualities, it's hard to make general statements. Proper due diligence should be done when comparing particular lenses.
The general consensus on prime vs zoom lenses are as follows:
Recommended Prime Lenses
Prime lenses tend to be sharper at the apertures you'll likely shoot food photography. Generally, you'll also be able to get lenses with larger apertures, which will assist in lower light situations. Prime lenses for food photography to consider are:
35mm and 60mm for cropped sensor cameras
50mm, 85mm or 100mm/105mm for full-frame cameras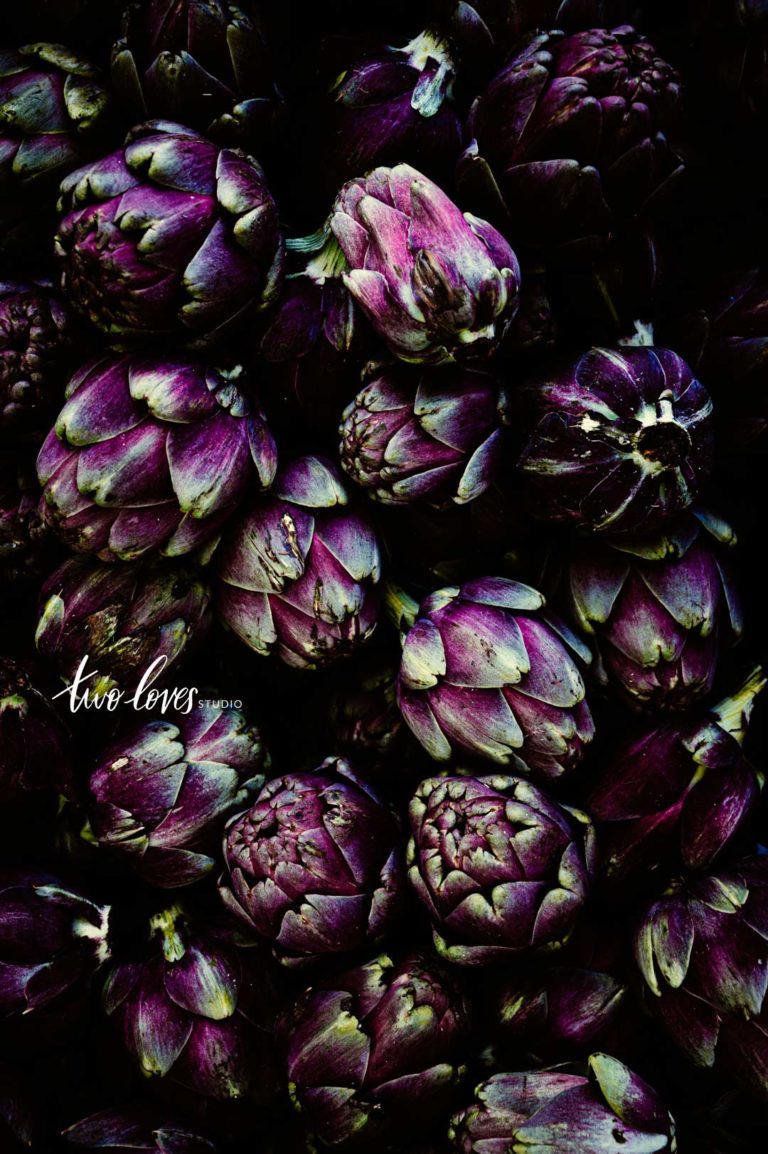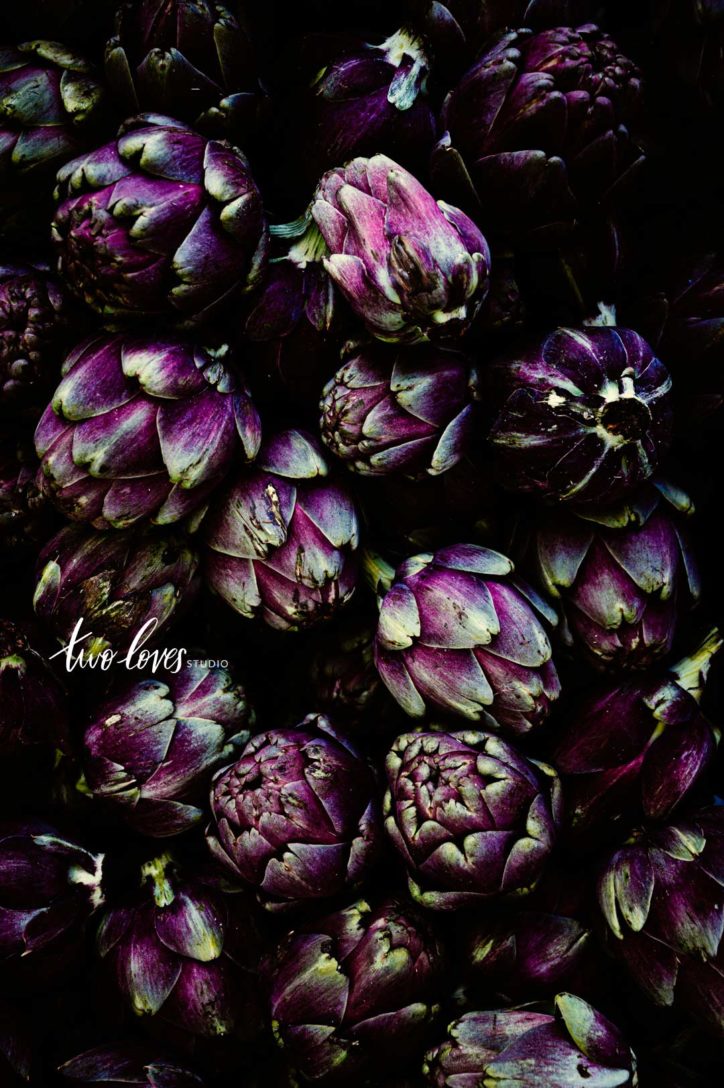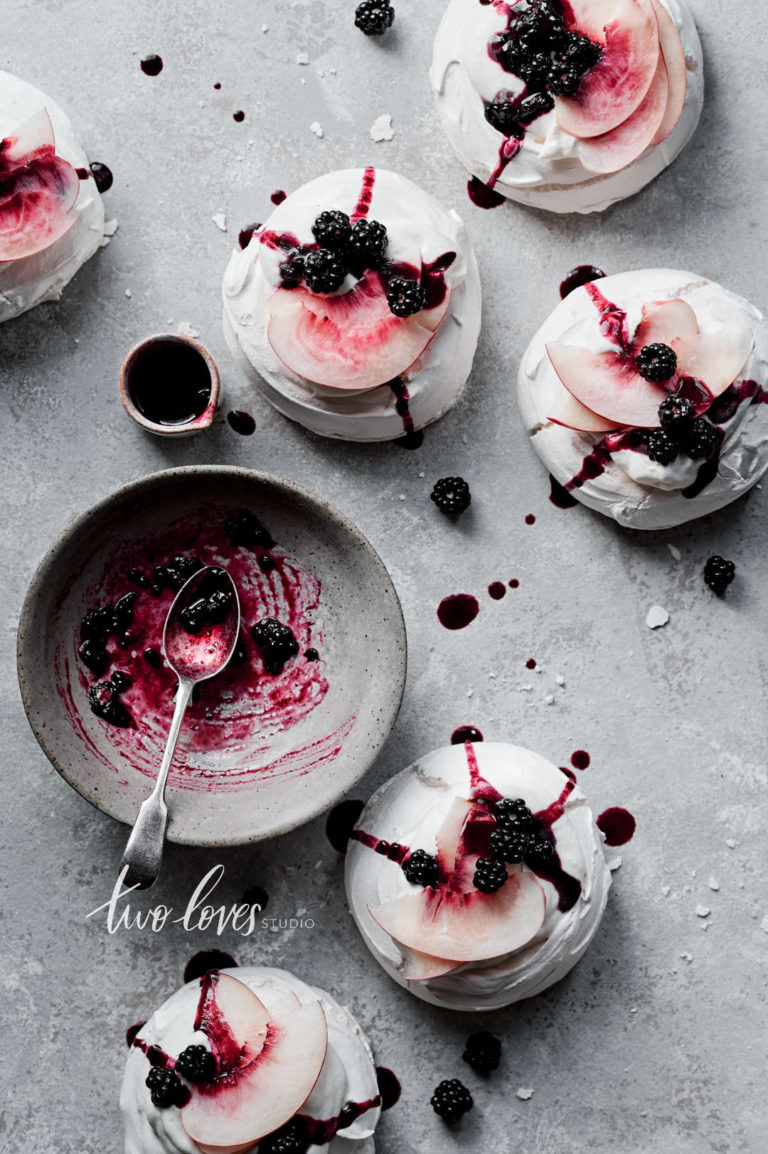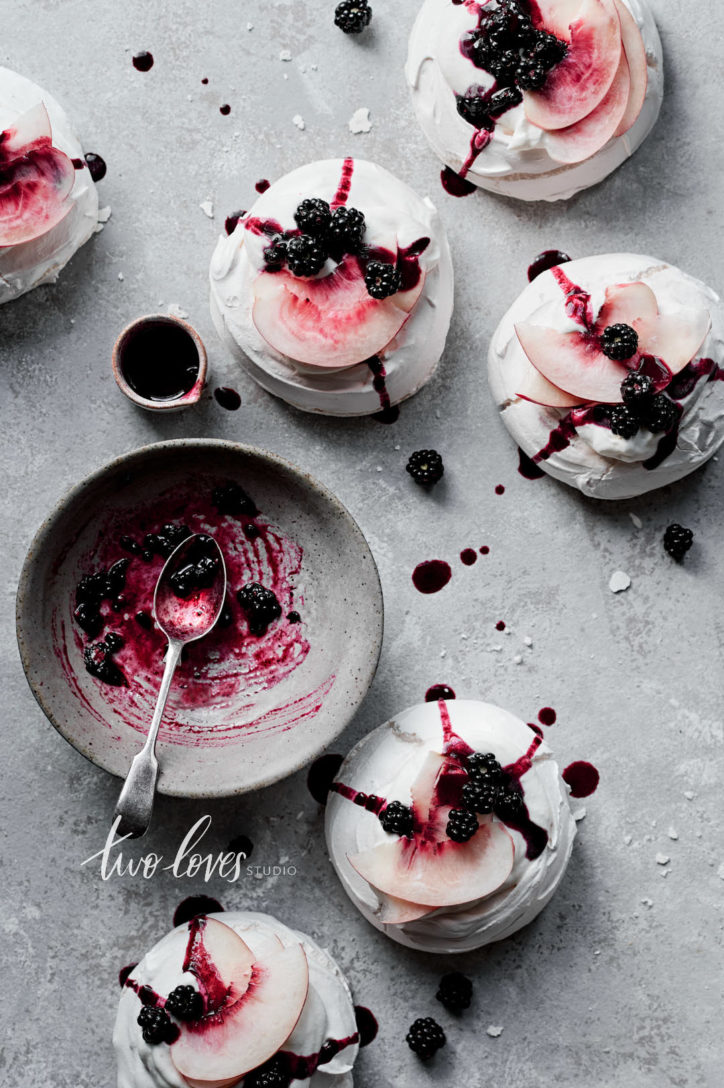 Recommended Zoom Lenses
Zoom lenses are handy because you get access to multiple focal lengths at once. The drawbacks are that they tend to be less sharp than prime lenses. Gaining access to larger focal lengths prime lenses makes zoom lenses larger and more expensive. Zoom lenses for food photography to consider are:
Hint – Rent Before You Buy!
A good lens is a great investment. Invest in the best lens you can afford should last you your entire photography journey. You'll likely upgrade cameras, but you can have the same lenses for life.
This can make the choice of lens a little tougher as you want to make the right choice. If you can rent or borrow a lens before you purchase, it's a great idea to see if you like it or help you decide between two lenses.
When possible, I recommend renting a lens before you buy. Especially if you're using a cropped sensor.
Lenses On A Budget
While photography can be an expensive activity, investment in lenses are almost more important than your camera. Lenses should last you your entire photography journey, so saving up to make the best purchase you can is wise.
But when we're starting out, we have limited budgets. Whilst you need to do your due diligence with a lens purchase, here are some two popular budget options.
A nifty fifty 50mm
Off-brand options like the Tamron 90mm macro
Best Lens For Overhead Shots
Depending on the brand of camera you have, there will be different specs for each specific lens, but here are the best focal lengths to look for.
On a cropped sensor camera, the lens that will capture wide overhead food scenes are:
On a full-frame camera, the lenses that will capture overhead flatlays in a flattering way are:
If you're able to get some height with your tripod above your scene, you can opt for the 85mm to help you reduce some distortion at the edges of the frame.
Keep reading: Lenses For Overhead Shots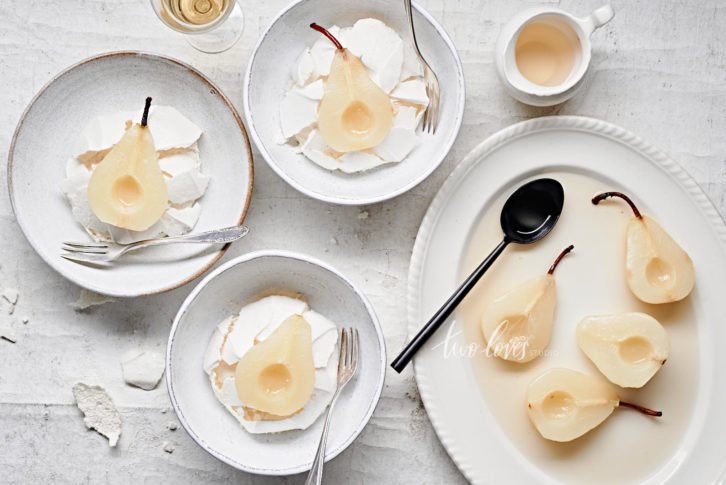 Best Lens for 45-degree Shots
Depending on the brand of camera you have, there will be different specs for each specific lens, but here are the best focal lengths to look for.
On a cropped sensor camera, the lenses that will capture 45-degree shots in a flattering way are:
The 50mm or the 60mm macro
On a full-frame camera, the lenses that will capture 45-degree shots in a flattering way are:
The 85mm or a 90mm/100mm/105mm macro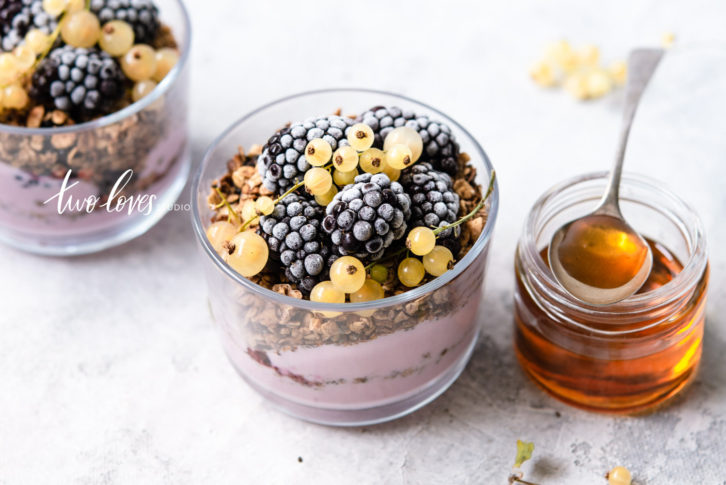 Best Aperture For a Lens
Focal length and aperture are large components of lens choice. There are also many other considerations that go into each lens, so due diligence is needed when reviewing all lens qualities.
There is a general consensus though that larger apertures are more useful because they will:
Assist you in capturing more light in low light situations.
Allow you more creative freedom and control.
Can provide sharper apertures at apertures commonly used for food, (however this is very lens specific and hard to make generalisations).
A lens that has its maximum aperture at f/4 will generally cost less than its f/1.8-f/2.8 counterpart. Which is helpful for tight budgets.
Which Macro Lens? 60mm vs 100/105mm.
A macro lens is a staple for any food photographer, regardless of if you use a cropped sensor or full-frame camera.
Macro lenses will allow you to go beyond overhead food photography shots, capture up-close details of texture, and allow you to have more control with minimum focusing distance. If you'd like to read more check out this complete list of macro lenses.
Which focal lengths macro lens should you invest in? One major factor comes down to your sensor:
To read more about why I recommend the 60mm vs 100/105mm for different users, read this post.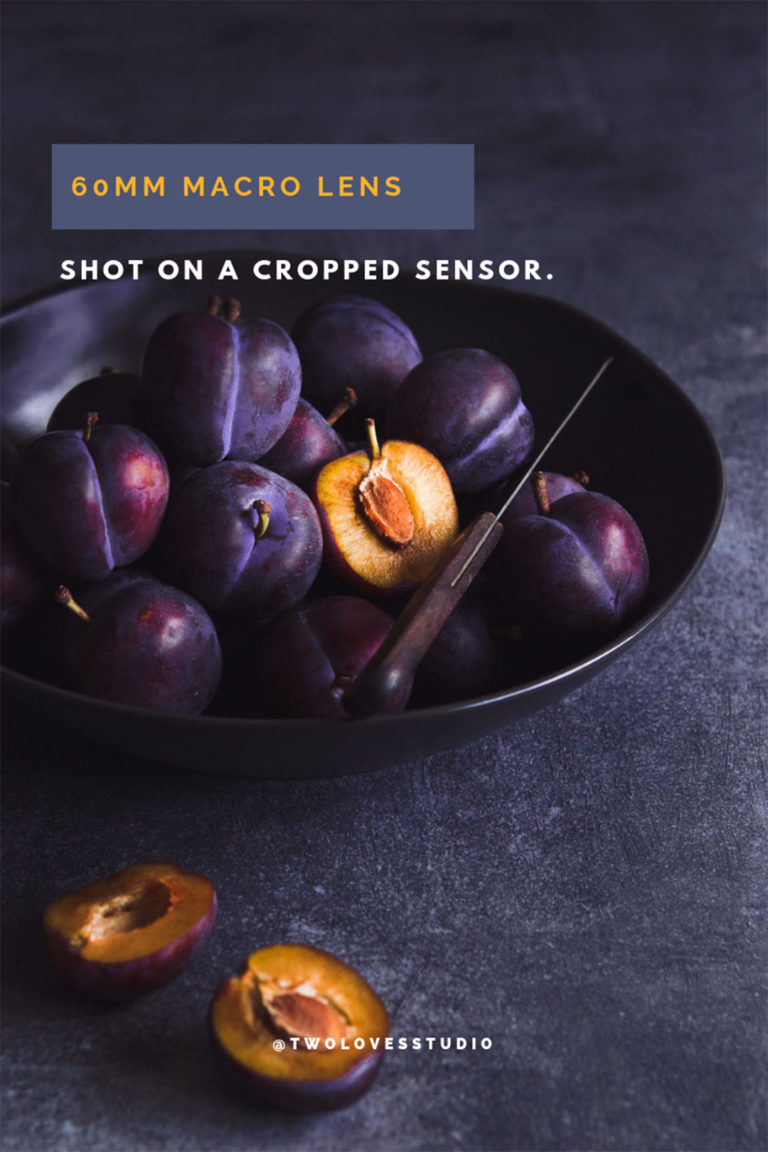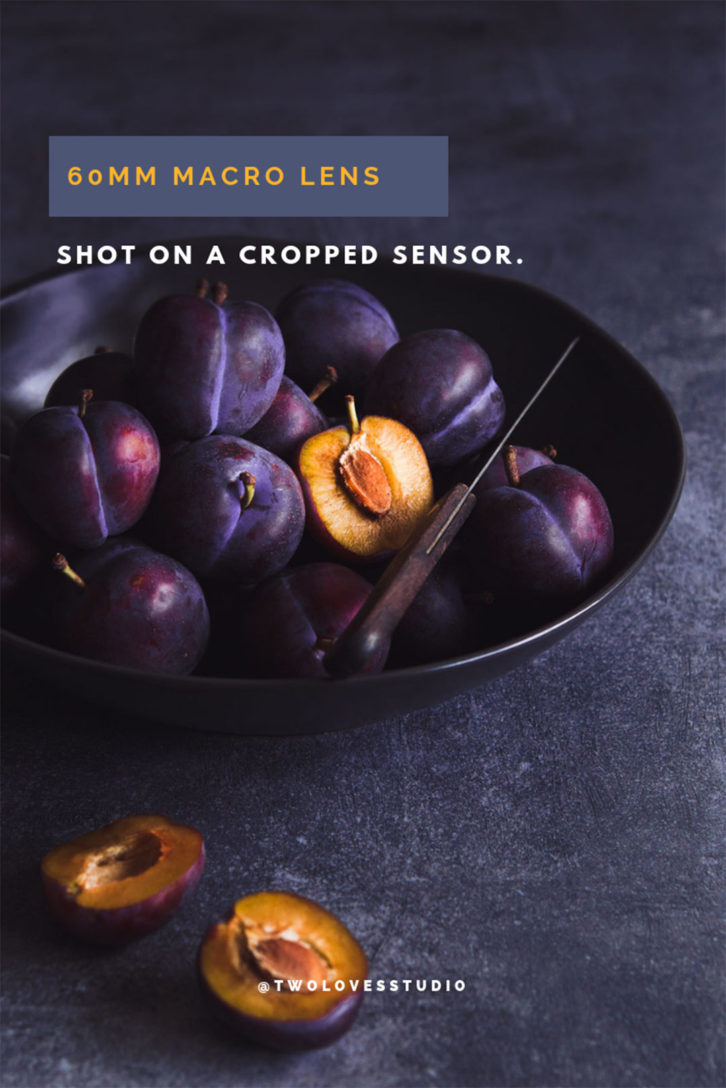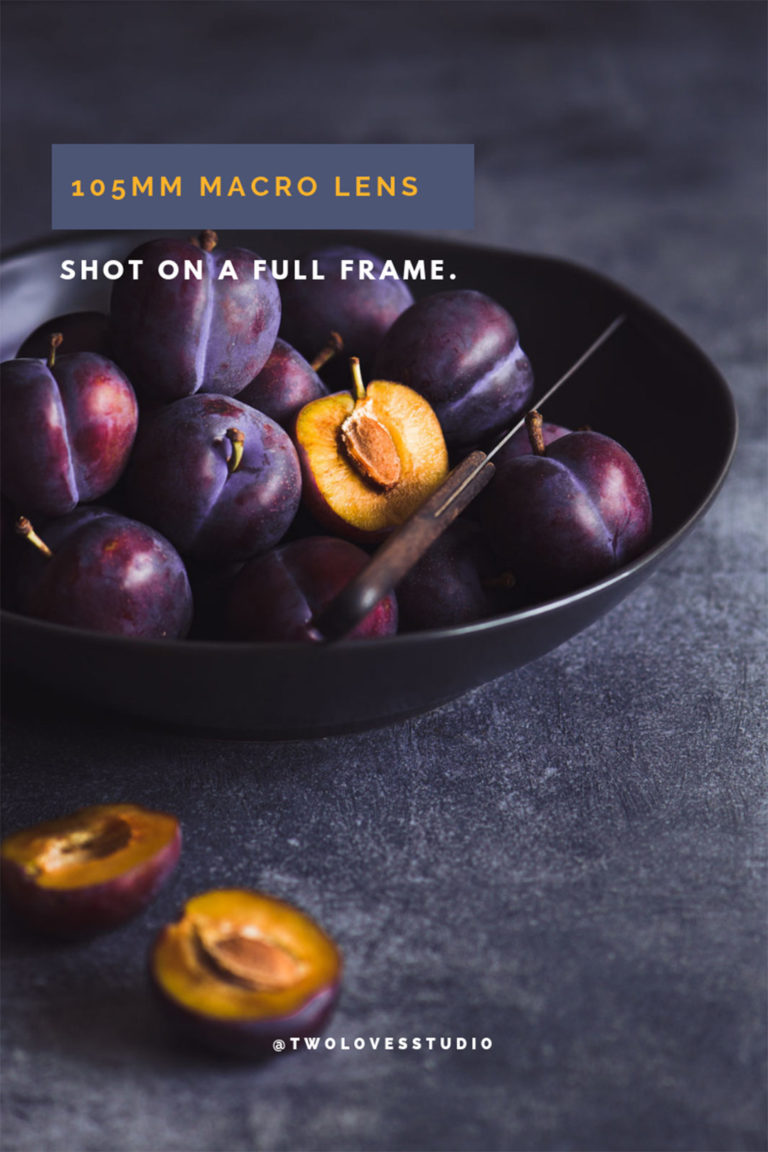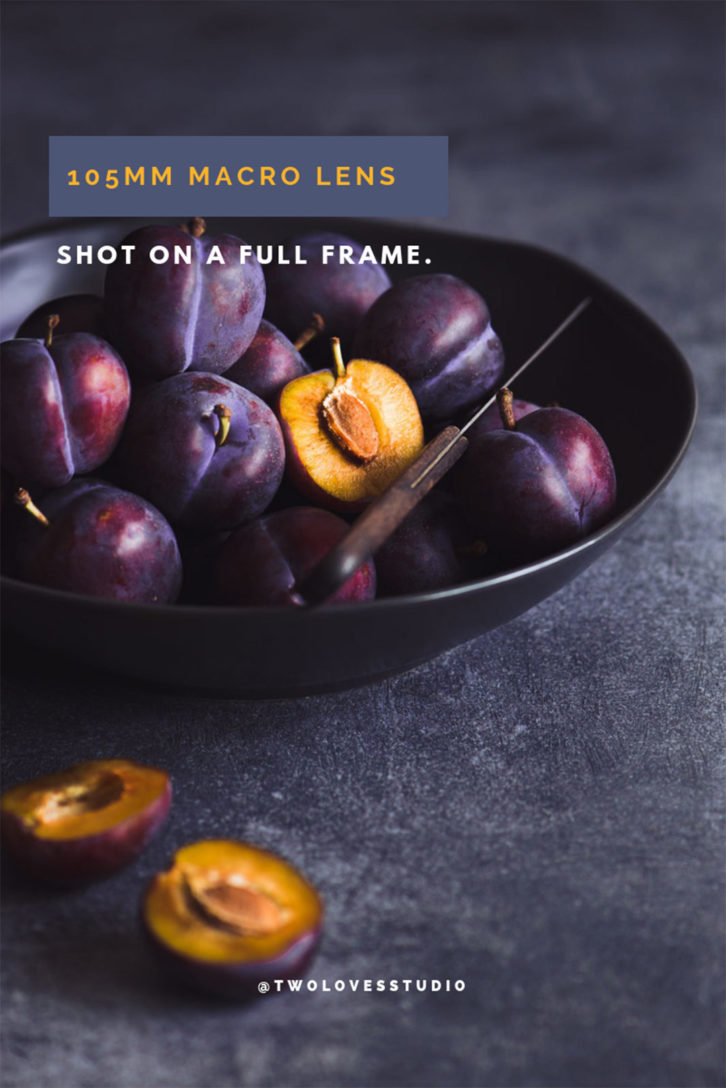 When to Use a Tilt-Shift Lens
Using a tilt-shift lens in food photography can allow you to precisely control the plane of focus like no other lens can. Tilt-shift is a lens that encompasses two unique movements, being a tilt movement and a shift movement.
TILT – the tilt function is used to change the orientation of the plane of focus.
SHIFT – the shift function is used to adjust the position of the subject within the image without moving the camera.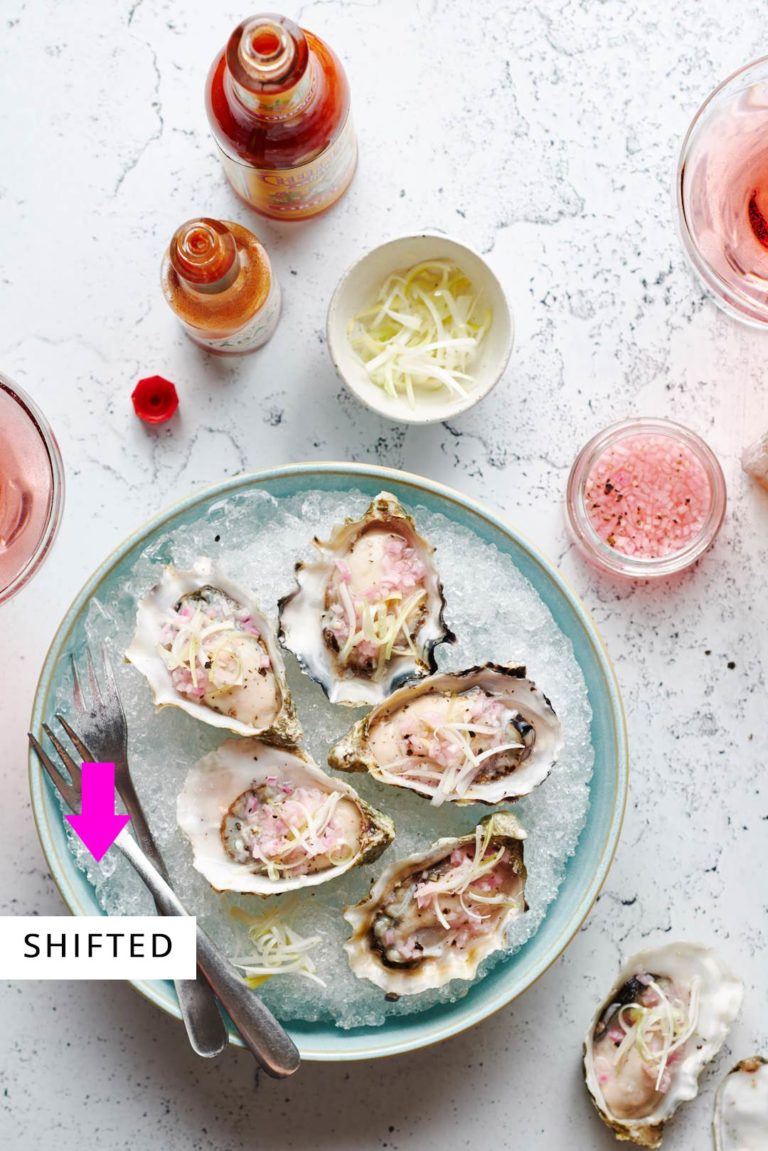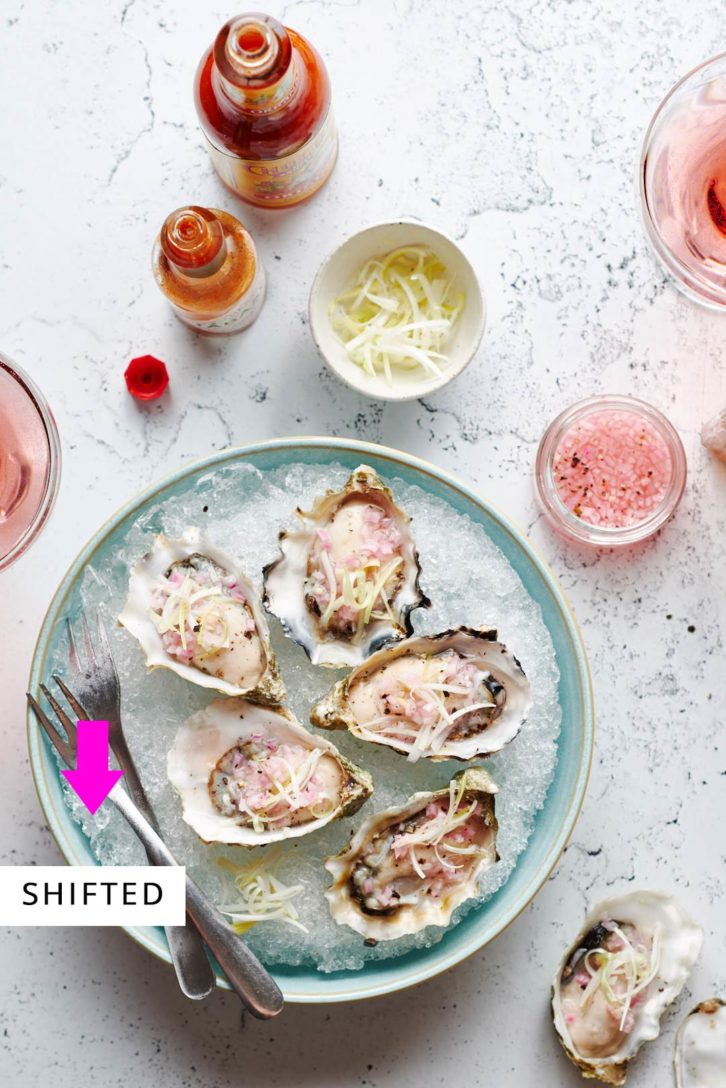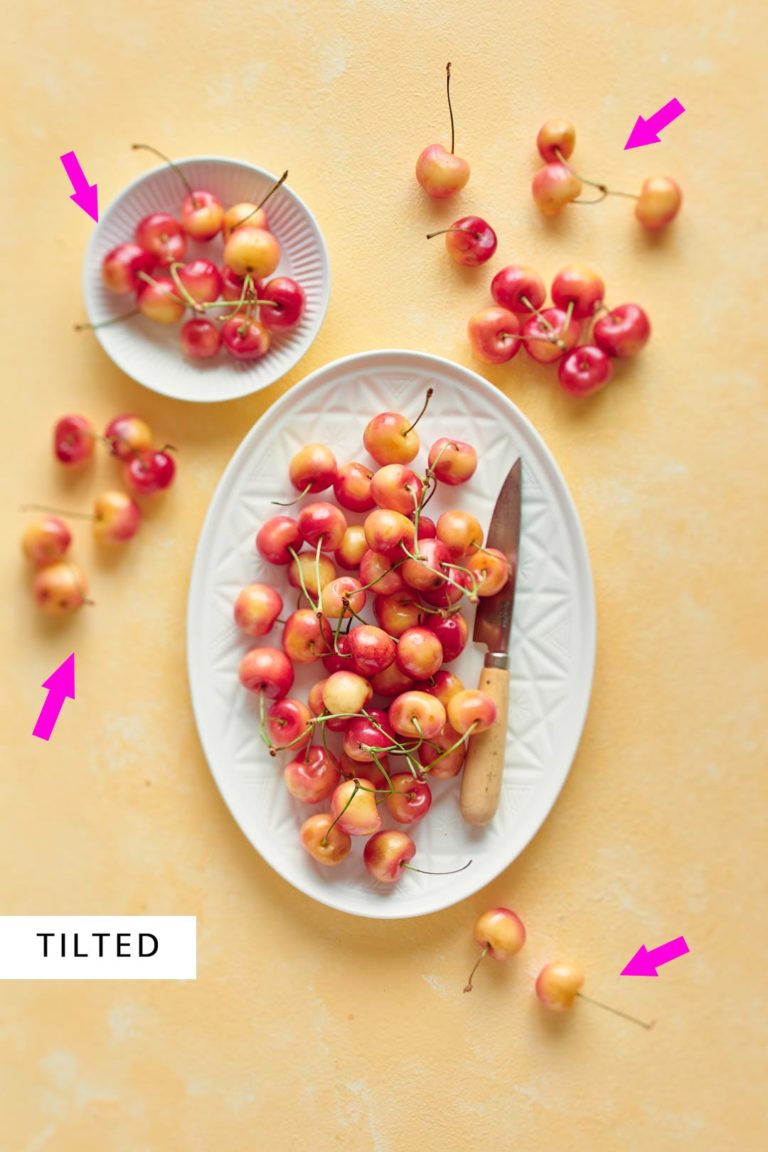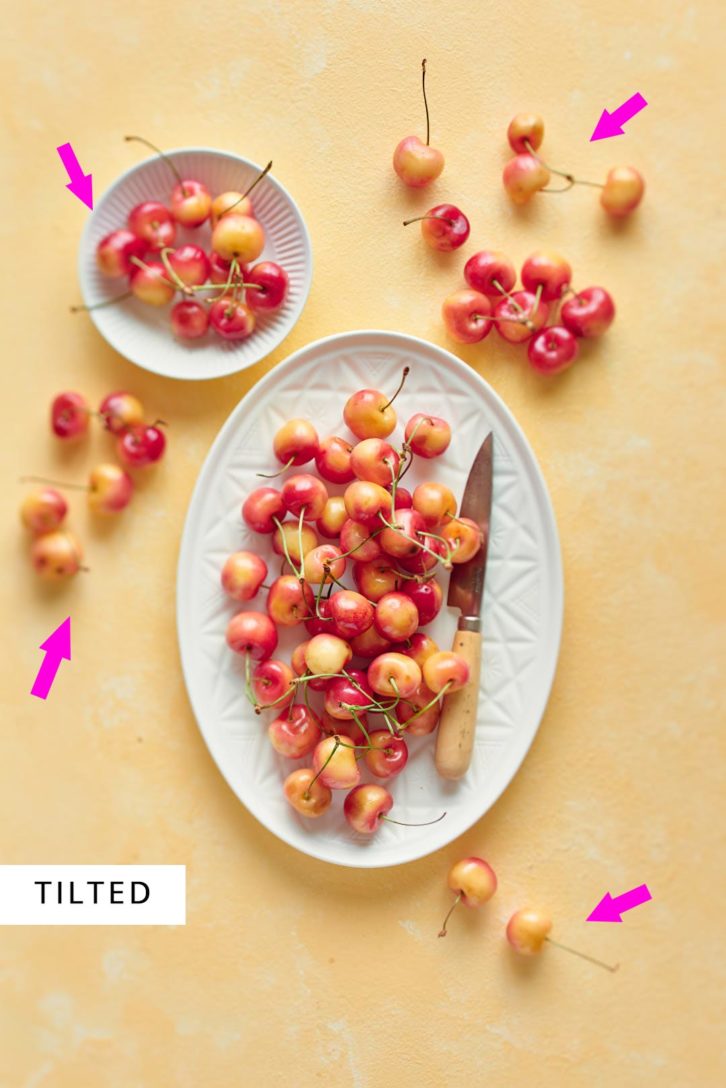 Mix of focus/blur control. Using a tilt-shift allows us to have control over the plane of focus to give the mix of focus and blur we see in this shot.
Angle/subject position control. You can shoot a dish in its most flattering angle, and control how much of the story/props around the frame are included without changing the camera angle, distance or the subject placement.
To learn more about tilt-shift lenses check out this post.
Two Loves Studio was not paid to write this post, however, it may contain affiliate links. If you purchase an item from an affiliate link, we do get a commission on the sale which helps us run this site. Only affiliates for products/services we believe in appear on this site.